Born

August 20, 1954 (age 61) (

1954-08-20

)

New York, New York, U.S.

Books

Beyond Survival, The Almost Murder and Other Stories

Spouse

Phil Peters (m. 1989), Fred Feliciano

Parents

Tony Saldana, Divina Saldana

Movies and TV shows




Similar People
Victim for victims the theresa saldana story 1984
Theresa Saldana (August 20, 1954 – June 6, 2016) was an American actress and author. She is known for her role as Rachel Scali, the wife of Police Commissioner Tony Scali, in the 1990s television series The Commish, for which she received a Golden Globe nomination for Best Performance by an Actress in a Supporting Role, in 1994. Major film roles include the part of 'Lenore La Motta', the wife of Joe Pesci's character, in the 1980 feature film Raging Bull and Robert Zemeckis's Beatlemania ensemble I Wanna Hold Your Hand. She was also known for raising public awareness of the crime of stalking, after surviving a murder attempt by an obsessed fan in 1982.
Contents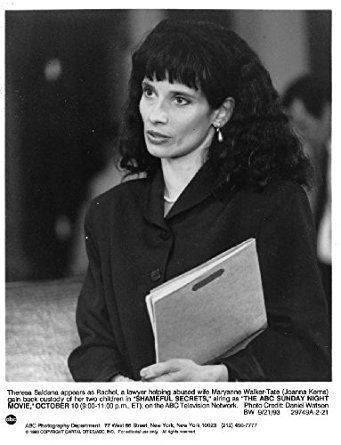 Theresa Saldana inverviewed by Rian Keating
Early life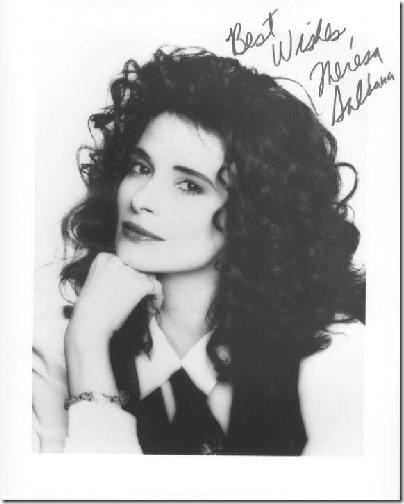 Saldana was born in Brooklyn, New York, and was adopted at five days old by Divina and Tony Saldana, a family of Puerto Rican and Italian-American heritage.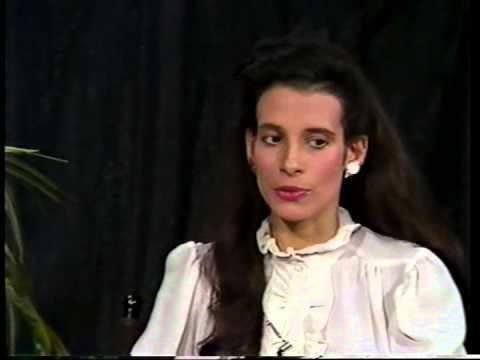 Saldana took dance lessons as a child. After suffering a serious shoulder injury while part of a tumbling team, she enrolled in acting classes at age 12. After being spotted by a talent scout while performing in an Off Broadway musical called The New York City Street Show in 1977, she was cast in the 1978 film Nunzio.
Stalking incident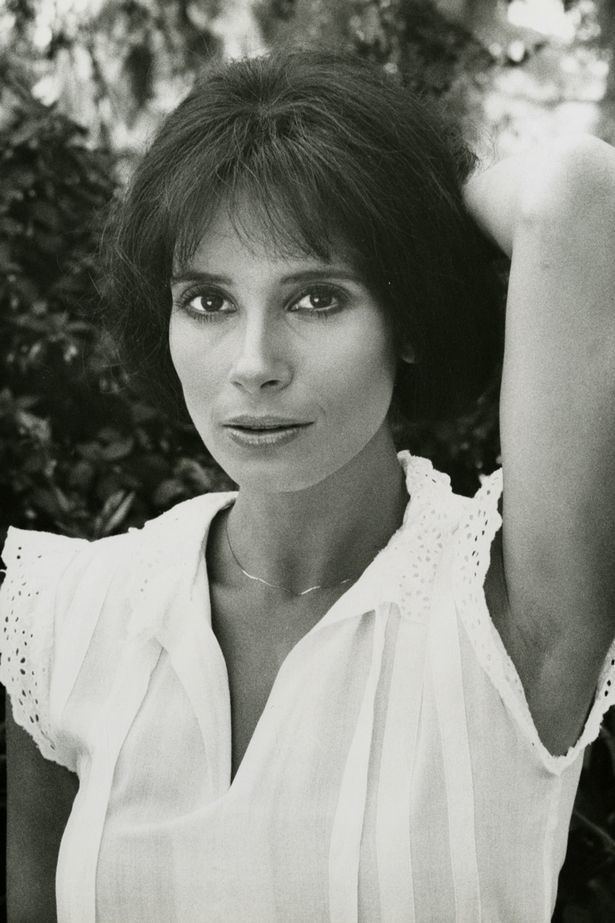 On March 15, 1982, Saldana was the stalking victim of Arthur Richard Jackson, a 46-year-old drifter from Aberdeen. Jackson became attracted to Saldana after seeing her in the 1980 films Defiance and Raging Bull. He obtained Saldana's address by hiring a private investigator to obtain the unlisted phone number of Saldana's mother. Jackson then called Saldana's mother and posed as Martin Scorsese's assistant, saying he needed Saldana's residential address in order to contact her for replacing an actress in a film role in Europe.
Jackson approached Saldana in front of her West Hollywood residence in broad daylight and stabbed her in the torso 10 times with a 5½-inch (14 cm) knife, nearly killing her. His attack was so fierce that the blade bent. Although there were many nearby onlookers including children, the attack was interrupted only when deliveryman Jeff Fenn intervened after hearing her cries, rushed from the second floor of an apartment building, and subdued Jackson. Saldana recovered after four hours of surgery and a four-month hospital stay at the Motion Picture Hospital. She relived the incident in the made-for-TV movie Victims for Victims: The Theresa Saldana Story and again in an episode of Hunter.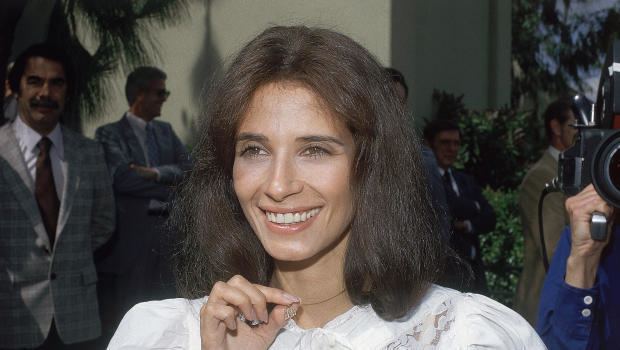 Jackson served almost 14 years in prison for the assault and making subsequent threats against Saldana and her rescuer while in prison. He was then extradited to the United Kingdom in 1996 to be tried for a 1966 robbery and murder. Jackson (who once saw himself as "the benevolent angel of death") was found not guilty by diminished responsibility in 1997 and committed to a British psychiatric hospital, where he died of heart failure in 2004 at age 68.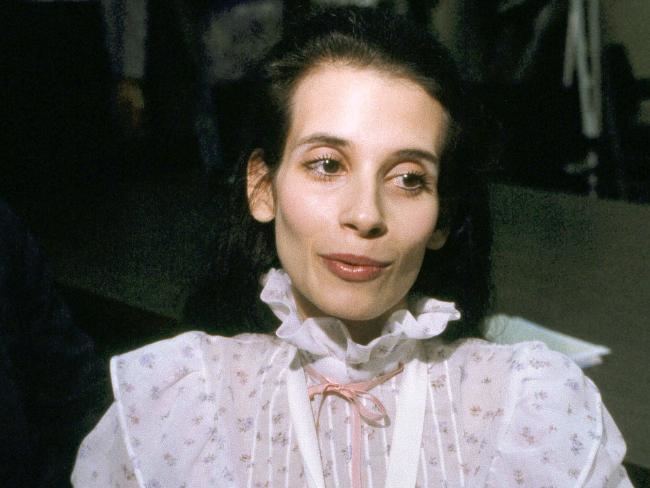 Jackson's method to find and approach Saldana inspired stalker Robert John Bardo to hire a private investigator to contact Rebecca Schaeffer, a young actress whom he subsequently murdered, also in West Hollywood, in 1989.
Victim advocacy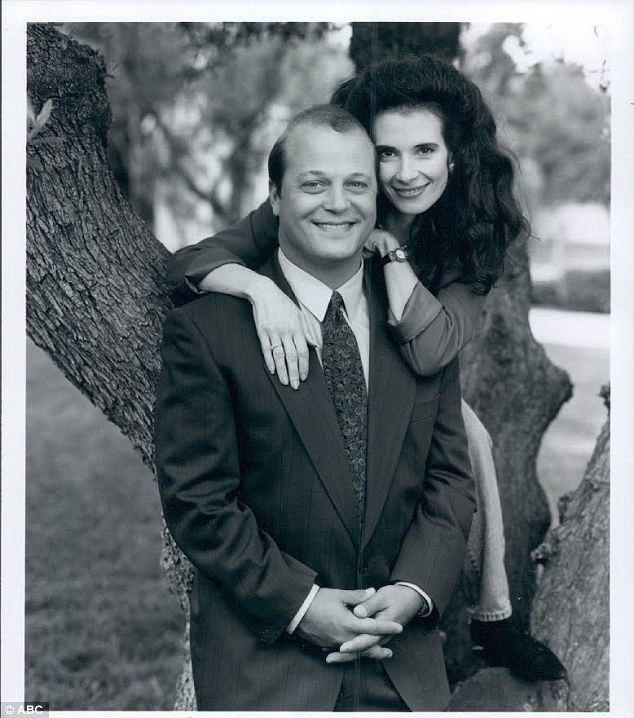 Following her long recovery, Saldana founded the Victims for Victims organization and participated in lobbying for the 1990 anti-stalking law and the 1994 Driver's Privacy Protection Act, both of which came into being partly as a consequence of the attack. The experience also inspired Saldana to play herself in the television movie Victims for Victims: The Theresa Saldana Story, and she authored the book Beyond Survival, a memoir of her experiences after being attacked.
Performing arts advocacy
Saldana supported awareness for The Jazz Tap Ensemble, of which her daughter is a member. The group raises money for training gifted teenage dancers.
Death
Saldana died at age 61 on June 6, 2016, following her hospitalization for pneumonia at Cedars-Sinai Medical Center. Michael Chiklis, who played Saldana's husband on The Commish, wrote that it was "painful to hear the news".
Books
Saldana, Theresa (1986). Beyond Survival. Toronto: Bantam Books. ISBN 9780553051339. OCLC 13582610.
Filmography
Actress
2004
Gang Warz
as
Carmela Cruz
2003
The Bernie Mac Show (TV Series)
as
Lydia
- Maid Man (2003) - Lydia
2001
Batman Beyond (TV Series)
as
Mother
- Unmasked (2001) - Mother (voice)
2000
Ready to Run (TV Movie)
as
Sonja Ortiz
1999
Carlo's Wake
as
Theresa Brock
1999
Illusion Infinity
as
Maria
1999
Thrill Seekers (TV Movie)
as
Cortez
1998
Martial Law (TV Series)
as
Maria Hamilton
- Bad Seed (1998) - Maria Hamilton
1997
Nothing Sacred (TV Series)
as
Paula
- Roman Catholic Holiday (1997) - Paula
- Parents and Children (1997) - Paula
1996
The Real Adventures of Jonny Quest (TV Series)
as
Estella Velasquez
- The Robot Spies (1997) - Estella Velasquez (voice)
- The Mummies of Malenque (1996) - Estella Velasquez (voice)
1997
Diagnosis Murder (TV Series)
as
Kirsten Foxx
- In Defense of Murder (1997) - Kirsten Foxx
1996
She Woke Up Pregnant (TV Movie)
as
Doris Cantore
1991
The Commish (TV Series)
as
Rachel Scali
- Redemption (1996) - Rachel Scali
- Father Image: Part 2 (1995) - Rachel Scali
- Father Image: Part 1 (1995) - Rachel Scali
- In the Shadows of the Gallows (1995) - Rachel Scali
- Off Broadway: Part 2 (1995) - Rachel Scali
- Off Broadway: Part 1 (1995) - Rachel Scali
- Brooklyn (1995) - Rachel Scali
- The Kid (1995) - Rachel Scali
- Letting Go (1995) - Rachel Scali
- Cry Wolfe (1995) - Rachel Scali
- The Trial (1995) - Rachel Scali
- Accused (1995) - Rachel Scali
- The Golden Years (1995) - Rachel Scali
- The Johnny Club (1995) - Rachel Scali
- Hidden (1995) - Rachel Scali
- A Christmas Story (1994) - Rachel Scali
- Ghost (1994) - Rachel Scali
- The Lady Vanishes (1994) - Rachel Scali
- Head Case (1994) - Rachel Scali
- Revenge (1994) - Rachel Scali
- Nancy with the Laughing Face (1994) - Rachel Scali
- Who Do You Trust (1994) - Rachel Scali
- Born in the USA (1994) - Rachel Scali
- Working Girls (1994) - Rachel Scali
- Against the Wind: Part 2 (1994) - Rachel Scali
- Against the Wind: Part 1 (1994) - Rachel Scali
- The Iceman Cometh (1994) - Rachel Scali
- Sergeant Kelly (1994) - Rachel Scali
- The Letter of the Law (1994) - Rachel Scali
- Dead Drunk (1994) - Rachel Scali
- Security (1994) - Rachel Scali
- Romeo and Juliet (1994) - Rachel Scali
- Bank Job (1994) - Rachel Scali
- Father Eddie (1994) - Rachel Scali
- Dog Days (1994) - Rachel Scali
- Keeping Secrets (1994) - Rachel Scali
- Benny (1994) - Rachel Scali
- A Little Heart (1993) - Rachel Scali
- Mansion (1993) - Rachel Scali
- All That Glitters (1993) - Rachel Scali
- Dying Affection (1993) - Rachel Scali
- Hero (1993) - Rachel Scali
- Rising Sun (1993) - Rachel Scali
- The Set-Up (1993) - Rachel Scali
- Burned Out Case (1993) - Rachel Scali
- Scali, P.I. (1993) - Rachel Scali
- Suffer the Children: Part 2 (1993) - Rachel Scali
- Suffer the Children: Part 1 (1993) - Rachel Scali
- Anti-Commish (1993) - Rachel Scali
- Sight Unseen (1993) - Rachel Scali
- Eastbridge Boulevard (1993) - Rachel Scali
- Blue Flu (1993) - Rachel Scali
- The Ides of March (1993) - Rachel Scali
- Out of Business (1993) - Rachel Scali
- Family Business (1993) - Rachel Scali
- Dead Cadet's Society (1993) - Rachel Scali
- The Sharp Pinch (1993) - Rachel Scali
- The Heart Is a Lonely Sucker (1993) - Rachel Scali
- Stoned (1993) - Rachel Scali
- The Frame (1992) - Rachel Scali
- Sleep of the Just (1992) - Rachel Scali
- The Witness (1992) - Rachel Scali
- A Time to Be Born (1992) - Rachel Scali
- Escape (1992) - Rachel Scali
- The Two Faces of Ed (1992) - Rachel Scali
- The Witches of Eastbridge (1992) - Rachel Scali
- The Rolodex Madame (1992) - Rachel Scali
- Guns and Sons (1992) - Rachel Scali
- Adventures in the Skin Trade: Part 2 (1992) - Rachel Scali
- Adventures in the Skin Trade: Part 1 (1992) - Rachel Scali
- The Puck Stops Here (1992) - Rachel Scali
- Video Vigilante (1992) - Rachel Scali
- Shoot the Breeze (1992) - Rachel Scali
- Judgement Day (1992) - Rachel Scali
- Sex, Lies and Kerosene (1992) - Rachel Scali
- Officer April (1992) - Rachel Scali
- True Believers (1992) - Rachel Scali
- The Wicked Flee (1992) - Rachel Scali
- Skeletons (1992) - Rachel Scali
- Charlie Don't Surf (1992) - Rachel Scali
- The Fourth Man (1992) - Rachel Scali
- No Greater Gift (1991) - Rachel Scali
- The Commissioner's Ball (1991) - Rachel Scali
- Two Confessions (1991) - Rachel Scali
- The Hatchet (1991) - Rachel Scali
- Behind the Storm Door (1991) - Rachel Scali
- A Matter of Life or Death: Part 2 (1991) - Rachel Scali
- Nothing to Fear But Fear- (1991) - Rachel Scali
- A Matter of Life or Death: Part 1 (1991) - Rachel Scali
- The Poisoned Tree (1991) - Rachel Scali
- Do You See What I See (1991) - Rachel Scali
- In the Best of Families (1991) - Rachel Scali
1995
Jonny Quest Versus the Cyber Insects (TV Movie)
as
Dr. Eve Belage (voice, as Teresa Saldana)
1995
Law & Order (TV Series)
as
Juror
- House Counsel (1995) - Juror (uncredited)
1994
Captain Planet and the Planeteers (TV Series)
as
Mame Slaughter
- Horns a'Plenty (1994) - Mame Slaughter (voice)
- Orangu-Tangle (1994) - Mame Slaughter (voice)
1993
Shameful Secrets (TV Movie)
as
Rachel Morales
1990
New Kids on the Block (TV Series)
as
Rosa
- Homeboys on the Range (1990) - (voice)
- The New Kids Off the Wall (1990) - (voice)
- Rewind Time (1990) - (voice)
- Overnight Success (1990) - (voice)
- New Heroes on the Block (1990) - (voice)
- Kissed, Missed 'n Double Dis't (1990) - (voice)
- Hot Dog! (1990) - (voice)
- Dis't Dream Date (1990) - (voice)
- Christmas Special (1990) - Rosa (voice)
- The Legend of the Sandman (1990) - (voice)
- The New Kids on the Old Block (1990) - (voice)
- Cowa-BONK-a (1990) - (voice)
- In Step- Out of Time! (1990) - (voice)
- Sheik of My Dreams (1990) - (voice)
- The New Kid in the Class (1990) - (voice)
1990
MacGyver (TV Series)
as
Maria
- The Treasure of Manco (1990) - Maria
1989
Of Men and Angels
as
Maria
1988
Double Revenge
as
Angie Corello
1988
The Night Before
as
Rhonda
1988
Falcon Crest (TV Series)
as
Pretty Woman
- False Faces (1988) - Pretty Woman
1988
Buck James (TV Series)
as
Marta Ortiz
- Lives in the Balance (1988) - Marta Ortiz
1987
Werewolf (TV Series)
as
Rosa
- A World of Difference: Part 2 (1987) - Rosa
- A World of Difference: Part 1 (1987) - Rosa
1987
The Highwayman (TV Series)
as
Angela Brown
- The Highwayman (1987) - Angela Brown
1987
CBS Schoolbreak Special (TV Series)
as
Laura Chacon
- Juvi (1987) - Laura Chacon
1987
Santa Barbara (TV Series)
as
Carlotta Quivar
- Episode #1.691 (1987) - Carlotta Quivar
- Episode #1.689 (1987) - Carlotta Quivar
1987
Hunter (TV Series)
as
Jennifer Hartman
- Any Second Now (1987) - Jennifer Hartman
1986
Tales from the Darkside (TV Series)
as
Audrey Webster
- Black Widows (1986) - Audrey Webster
1986
Matlock (TV Series)
as
Sonia Cardenas
- The Affair (1986) - Sonia Cardenas
1986
Simon & Simon (TV Series)
as
Mrs. Karnofsky
- Full Moon Blues (1986) - Mrs. Karnofsky
1985
Cagney & Lacey (TV Series)
as
Dr. Strathmore
- Old Ghosts (1985) - Dr. Strathmore
1985
The Twilight Zone (TV Series)
as
Inez (segment "Dead Woman's Shoes")
- Dead Woman's Shoes/Wong's Lost and Found Emporium (1985) - Inez (segment "Dead Woman's Shoes")
1985
Rocco's Star (TV Movie)
as
Thomasa Campanella
1984
Victims for Victims: The Theresa Saldana Story (TV Movie)
as
Theresa Saldana
1984
The Evil That Men Do
as
Rhiana Hidalgo
1983
American Playhouse (TV Series)
as
Pregnant Again
- Miss Lonelyhearts (1983) - Pregnant Again
1983
T.J. Hooker (TV Series)
as
Maria Santini
- Too Late for Love (1983) - Maria Santini
1983
Seven Brides for Seven Brothers (TV Series)
as
Angelina
- Promised Land (1983) - Angelina
1981
The Gangster Chronicles (TV Mini Series)
as
Gina Baroni
- Episode #1.11 (1981) - Gina Baroni
- Episode #1.9 (1981) - Gina Baroni
- Episode #1.6 (1981) - Gina Baroni
1981
Nurse (TV Series)
as
Rita
- The Gifts (1981) - Rita
1980
Sophia Loren: Her Own Story (TV Movie)
as
Maria Scicolone
1979
240-Robert (TV Series)
as
Rosie
- The Applicant (1979) - Rosie
1978
I Wanna Hold Your Hand
as
Grace Corrigan
1970
All My Children (TV Series)
as
Christina Vargas (1997)
Self
1994
The 51st Annual Golden Globe Awards (TV Special)
as
Self - Nominee
1992
An Evening at the Improv (TV Series)
as
Self - Host
- Episode #11.15 (1992) - Self - Host
1992
The Dennis Miller Show (TV Series)
as
Self - Guest star
- Episode #1.90 (1992) - Self - Guest star
- Episode #1.87 (1992) - Self - Guest star
1991
The Chuck Woolery Show (TV Series)
as
Self
- Episode #1.48 (1991) - Self
1991
Confessions of Crime (TV Series documentary)
as
Self - Host
- Till Death Due Us Part (1991) - Self - Host
1987
Skip E. Lowe Looks at Hollywood (TV Series documentary)
as
Self
- kMala Powers/Theresa Saldana (1987) - Self
Archive Footage
-
Sammy LaBella: The Real Skip E. Lowe (filming)
as
Self
2017
The 23rd Annual Screen Actors Guild Awards (TV Special)
as
Self - In Memoriam
References
Theresa Saldana Wikipedia
(Text) CC BY-SA