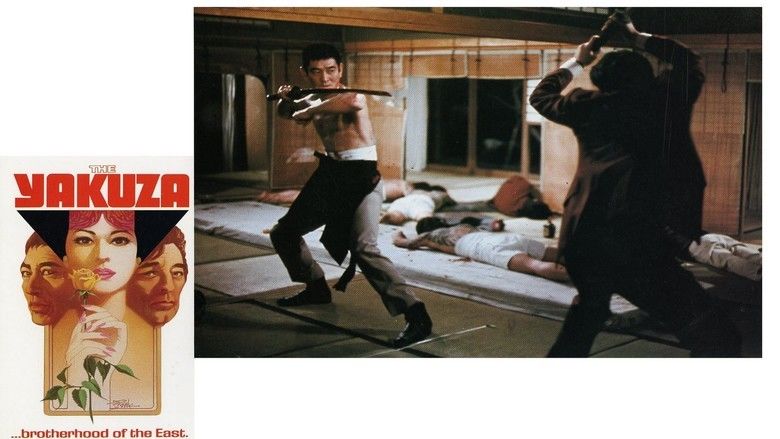 Retired detective Harry Kilmer (Robert Mitchum) is called upon by an old friend, George Tanner (Brian Keith). Tanner has been doing business with a yakuza gangster, Tono (Eiji Okada), who has kidnapped Tanner's daughter to apply pressure in a business deal involving the sale of guns. Tanner hopes that Kilmer can rescue the girl using his Japanese connections.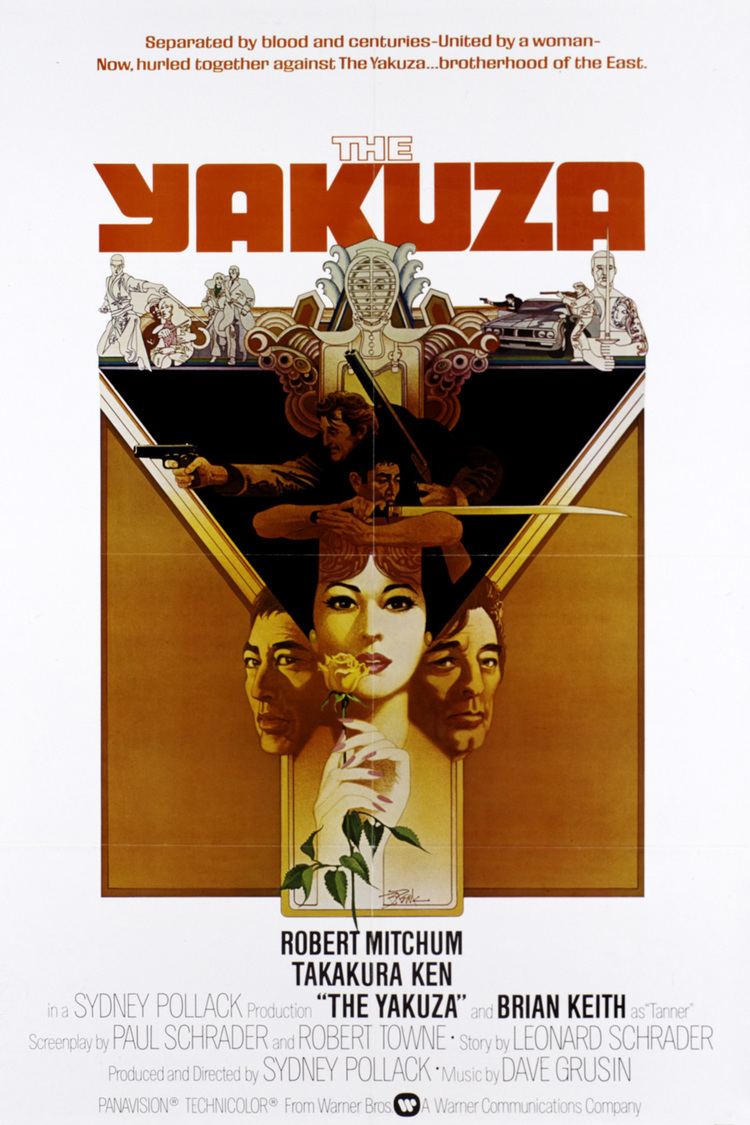 Kilmer and Tanner had been Marine MPs in Tokyo during the post-war occupation. Kilmer became aware of a woman, Eiko (Keiko Kishi), who was involved in the black market so that she could procure penicillin for her sick daughter. Kilmer intervened on behalf of Eiko during a skirmish, saving her life. After they'd been living together, with Kilmer repeatedly asking Eiko to marry him, her brother Ken (Ken Takakura) returned from an island where he'd been stranded as an Imperial Japanese soldier. Both outraged that she was living with his former enemy and deeply indebted to Kilmer for saving the lives of his (apparently) only remaining family, Ken disappeared into the yakuza criminal underground and refused to see or speak to his sister. Eiko, cautious to do nothing to offend Ken further, broke off contact with Kilmer. Before returning to the US, Kilmer bought Eiko a bar (with money borrowed from George Tanner) which she operates to this day, named Kilmer House in his honor. Kilmer has never stopped loving her.
Ken's debt to Kilmer, giri, is a lifelong obligation that traditionally can never be repaid. Tanner believes that Ken would therefore do anything for Kilmer, including rescuing Tanner's daughter. Traveling to Tokyo with Tanner's bodyguard Dusty (Richard Jordan), they stay at the home of another old military buddy named Oliver Wheat (Herb Edelman). Kilmer visits Eiko at the bar's closing time, seeking to find Ken. Eiko's feelings for Kilmer are clearly as strong as ever. He also becomes reacquainted with Eiko's daughter, Hanako, who is delighted to see Kilmer again. Eiko tells Kilmer that her brother can be found at his kendo school in Kyoto.
Kilmer travels by train to visit Ken at his kendo school. Ken is no longer a yakuza member, but will still help Kilmer. They find and free the girl. In so doing, Ken "takes up the sword" once again, attacking one of Tono's men to save Kilmer. This is an inexcusable intrusion by Ken in yakuza affairs. Contracts on both Ken's and Kilmer's lives are issued. Despite Tanner's protests, Kilmer insists on staying until the danger to Ken can be resolved. Eiko suggests he see Ken's brother, a high-level legal counselor to the yakuza chiefs. Goro (James Shigeta) is unable to intercede due to his impartial role in yakuza society, but suggests Ken can remove the death threat by killing Tono with a sword. The only alternative is for Kilmer to kill Tono himself, by any means (as an outsider, he is not bound to use a sword). Because Kilmer is known to Goro as an unusual gaijin who understands and accepts Japanese values, he proposes that Kilmer now has an obligation to Ken.
After an attempt on Kilmer's life at a bathhouse, he learns that his old friend Tanner has taken out the contract on him. Tanner secretly is broke and owes Tono a huge debt. Dusty discloses that Tanner and Tono are business partners. During a violent attack on Ken and Kilmer in Oliver Wheat's house, Dusty is stabbed to death with a sword and Eiko's daughter, Hanako, is shot and killed.
Seeking advice again from Ken's brother, Goro advises them that they have no choice but to assassinate Tanner and Tono. This will embarrass the partners in the eyes of the yakuza. Goro discloses that he has a "wayward son" who has joined Tono's clan and asks that Ken protect him should he be caught in the battle. In private, Goro then discloses the shocking family secret to Kilmer that Eiko is not Ken's sister but his wife, and Hanako their only child. Kilmer comprehends the true meaning of Eiko and Ken's rift, and Ken's anguish at the death of Hanako, all brought about by his repeated intercessions in their lives.
Kilmer storms into Tanner's apartment and kills him, then joins Ken for a near-suicidal attack on Tono's residence. During a prolonged battle, after Ken kills Tono in the traditional way with a katana, Goro's son attacks them and Ken kills him in self-defense. Bearing the news to his brother, Ken moves to commit Seppuku, but his brother pleads with his brother not to bring more anguish to their family. Instead, Ken performs yubitsume (the ceremonial yakuza apology by cutting off one's little finger). After Ken excuses himself, Goro compliments Kilmer on his adherence to Japanese traditions, and dedication to his family.
Before leaving Japan, Kilmer visits with Ken at home and asks to speak to him formally. While Ken prepares tea, Kilmer quietly commits yubitsume, and when Ken enters the room, waits for him to be seated. Sliding the folded handkerchief that contains his finger to Ken, he says "please accept this token of my apology" for "bringing great pain into your life, both in the past and in the present." Ken accepts, and Kilmer asks that "if you can forgive me, then you can forgive Eiko," adding, "you are greatly loved and respected by all your family." Ken professes that "no man has a greater friend than Kilmer-san," and Kilmer, overcome by emotion, says the same of Ken. Their obligations now apparently resolved, Ken takes Kilmer to the airport, and both men bow formally to each other before parting.
Robert Mitchum as Harry Kilmer
Ken Takakura as Ken Tanaka
Brian Keith as George Tanner
Herb Edelman as Oliver Wheat
Richard Jordan as Dusty
Keiko Kishi as Eiko Tanaka
Eiji Okada as Toshiro Tono
James Shigeta as Goro Tanaka
Kyosuke Machida as Jiro Kato
Christina Kokubo as Hanako Tanaka
Eiji Go as Spider (Shiro Tanaka, Goro's Son)
Lee Chirillo as Louise
M. Hisaka as Boyfriend
William Ross as Tanner's guard
Akiyama as Tono's guard
Harada as Goro's doorman
Warner Bros. paid Paul and Leonard Schrader the then-record sum of US$325,000.00 for their début story, which proved Paul's entrée into Hollywood, where he later became well known for the screenplays he wrote for the Martin Scorsese films Taxi Driver (1976) and Raging Bull (1980), as well as for his work as director on films such as Blue Collar, Hardcore, American Gigolo and Mishima. Leonard Schrader later worked on many other film projects, including writing the screenplay for Kiss of the Spider Woman, which was nominated for an Academy Award.
Originally, Robert Aldrich was to be the film's director, but Robert Mitchum, who had worked with Aldrich on The Angry Hills (1959), had Sydney Pollack replace him. Robert Towne was asked by Pollack to perform rewrites on the Schraders' script.
Pollack remarked in interviews on complications of filming in Japan, using Japanese crews and technicians, and adopting techniques and practices of Japanese filmmaking. Beyond language barriers, there were creative approaches that he synthesized into the film for being appropriate for the subject matter.
The musical score for The Yakuza was composed by David Grusin. The score applies both Western and Eastern musical influences in what director Sydney Pollack described as a way that "felt and sounded Japanese without being too strange for western ears." A soundtrack album was released by Film Score Monthly in July 2005.
Track listing
"Prologue" 2:42
"Main Title" 3:17
"Samurai Source" 2:03
"Tokyo Return" 1:29
"20 Year Montage" 3:28
"Scrapbook Montage / Scrapbook Epilogue" 2:13
"Kendo Sword Ritual / Alter Ego / Night Rescue / Amputation / Amputation (alternate)" 3:19
"Man Who Never Smiles" 1:49
"Tanner to Tono / Tono Bridge / The Bath" 2:27
"Girl and Tea" 1:36
"Pavane" 1:10
"Get Tanner" 1:40
"Breather / Final Assault" 4:43
"The Big Fight" 5:51
"No Secrets" 1:32
"Sayonara" 2:02
"Apologies" 2:09
"Bows / End Title (Coda)" 1:46
"Shine On" 9:47
"Bluesy Combo" 6:20
"20 Year Montage / Scrapbook Montage (film mix)" 5:00
"End Title (film version)" 1:10
"Only the Wind" 2:50
The film received mixed reviews at the time of release and had a lackluster performance at the box office. It currently holds a 45% rating on Rotten Tomatoes, based on 11 reviews.
Roger Ebert gave the film a mixed review, awarding it two-and-a-half stars out of four. While praising the characterization and the performances of Robert Mitchum and Ken Takakura, he criticized the plot as being somewhat difficult to follow and expressed concern over the level of violence: "it's for audiences that have grown accustomed over the last few years to buckets of blood, disembowelments and severed hands flying through the air. It's very violent, and the fact that the violence has been choreographed by a skilled director (Sidney Pollack, who made They Shoot Horses, Don't They?) just makes it all the more extreme."