Covid-19
7.2

/

10

1

Votes

Alchetron

Rate This





Sitcom




UPN







We're The Parkers




Moesha






Ralph Farquhar Sara V. Finney Vida Spears




Countess Vaughn Mo'Nique Jenna von Oÿ Ken Lawson Yvette Wilson Dorien Wilson




Rodney Jerkins Countess Vaughn




"We're The Parkers" performed by Countess Vaughn




"We're The Parkers" (instrumental)




Mo'Nique, Countess Vaughn, Yvette Wilson, Jenna von Oÿ, Dorien Wilson
The Parkers is an American sitcom that aired on UPN from August 30, 1999, to May 10, 2004. A spin-off of UPN's Moesha, The Parkers features the mother-daughter team of Nikki (played by Mo'Nique) and Kim Parker (played by Countess Vaughn).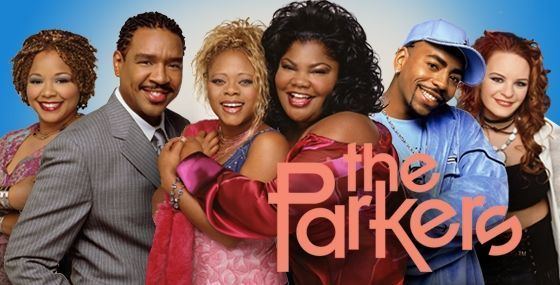 The series centers around a mother and daughter who both attend Santa Monica College. Nikki Parker was forced to drop out of high school when she discovered she was pregnant with daughter Kim. After Kim reaches adulthood, Nikki decides to go back to school. Kim is initially mortified with this decision, but eventually accepts the situation. Nikki and Kim's mother-daughter relationship evolves as roommates and as students. Nikki adjusts to the fact that her daughter is old enough to live on her own, while Kim realizes that Nikki has more going on than just being her mom.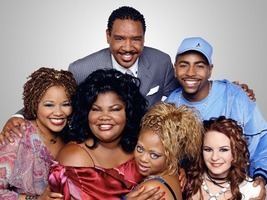 Kimberly Ann "Kim" Parker (played by Countess Vaughn) is the first of the two protagonists of the series. Kim is funny and lovable, but very dimwitted. Though she is usually behind most people when it comes to academics, her big heart and dreams makes up for it. Kim is also a lead singer in the group named Free Style Unity, which also include her friends Stevie and "T". At the end of series, she does not graduate from Santa Monica Community College due to failing grades. However, Kim goes on to become a successful fashion designer (Kim originated as a regular character on Moesha).
Nicole Ann "Nikki" Oglevee (formerly Nicole Parker) (née West) (played by Mo'Nique) is the second of the two protagonists of the series. Nikki cares a lot for her family, and lets nothing stand in the way of love. Throughout the series, she has several relationships with other people but her love always remains steadfast for the Professor Oglevee, despite his apparent hatred of her. In the series finale, she finally wins him over after five years of chasing him. He proposes to her, she accepts and they marry on that same day.
Stevie Alison Van Lowe (played by Jenna von Oÿ) is Kim's constant companion. Stevie is from a wealthy family and has a tempestuous relationship with her mother. She is also a member of the group Free Style Unity, along with Kim and "T" (whom she briefly dates). Upon graduating from Santa Monica Community College, Stevie attends UCLA and goes into business with Kim.
Thaddeus "T" Radcliffe (played by Ken Lawson) is best friends with Kim and Stevie. Although his duty as a loyal friend, "T" can sometimes be side-tracked when he and the professor let their wannabe mack daddy status get in the way of true values. He is also the rapper in his, Kim, and Stevie's, group, Free Style Unity. At the end of the series, "T" goes on to attend Berklee College of Music.
Desiree Littlejohn (played by Mari Morrow) - Originally, the Parkers' neighbor and Nikki's friend. She only appears in the first season and is not credited as a regular later on during the season. She is not seen after episode 13 and is replaced by the Andell Wilkerson character.
Professor Stanley De'Vanté Oglevee (played by Dorien Wilson) is a Professor at Santa Monica Community College who Nikki is constantly pursuing. He loses several companions (particularly Veronica), because Nikki either scares them off or completely sabotages the relationship. He is a type of role model to "T" and often counsels him about love—sometimes with disastrous results. Twice during the series he is convinced he loves Nikki, but changed his mind the first time. The second time, which occurs in the series finale, he realizes that deep down he has feelings for her. Depressed and confused, he sees a vision of himself in the mirror that ultimately convinces him to crash Nikki's wedding to a man she met several weeks prior, and propose marriage. Nikki, of course, accepts and they marry on that same day.
Andell Wilkerson (played by Yvette Wilson), is Nikki Parker's ever loving and loyal best friend replacing Desiree Littlejohn. Andell originated as a regular character on Moesha and appears on The Parkers in a recurring role during the first season but becoming a main character starting from the second season. From Season 3 onwards, she is the owner of her self-named place of business "Andell's", a restaurant that is the setting for several episodes. Throughout the show, she is usually the one keeping a level head but sometimes can be pessimistic. At the end of the series, she marries her boyfriend Lester. Originally, Andell was in a relationship with Moesha's uncle Bernie (Bernie Mac). He was mentioned once in the first series but was never actually seen on the The Parkers.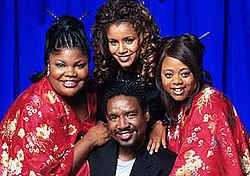 Mel Parker (Thomas Mikal Ford) - Nikki's rich ex-husband and Kim's father.
Erica Willis (Porscha Coleman) - Guest starring television role.
Regina Foster (Kara Brock) - Snobbish and stuck-up colleague of Nikki, Kim and Stevie's at Santa Monica Community College and also a member of the Triple A Sorority.
Joe Woody (Dwight Woody) - Works in the "Grub Hub" cafeteria at Santa Monica Community College. He previously played Coach Vines on Moesha.
Veronica Cooper (Paulette Braxton) - On-and-off girlfriend of Professor Oglevee and occasional nemesis of Nikki.
Sophia Van Lowe (Shannon Tweed) - Stevie's mother whom she does not have a close relationship with.
Gertrude ("Gertie") (Kym Whitley) - Is the organ player at "Mount Zion" church in which Nikki is the choir director. She is occasionally a nemesis of Nikki.
Frederick "Freddy" Jones (Kel Mitchell) - A flamboyant fashion design student at Santa Monica College who often has conflict with Kim.
Symone (Samantha Becker) - Originally a backup singer in the group Free Style Unity in the first Season but is not seen after.
Chandra Carrington (Lark Voorhies) - Colleague of Nikki and Kim's at Santa Monica Community College and also a member the Triple A Sorority.
Jerel Goodrich (Trent Cameron) - Kim's boyfriend turned fiance, later ex-husband.
George and Shirley West (Earl Billings and Aloma Wright) - Nikki's adoptive parents.
Constance McFarland (Suzzanne Douglass) - Nikki's haughty older sister.
Tiffany McFarland (Cherie Johnson) - Nikki's niece and daughter of her older sister.
Quincy DeJohn (George Wallace) - Nikki's biological father.
Camille Oglevee (Veronica Redd) - Professor Oglevee's mother. She tried convince Kim to drop out of college to work for her, much to Nikki's disapproval.
Aunt Rita (Nancy Wilson) - Nikki's aunt who turned out to be her biological mother. She explained that was unable to raise Nikki due to her career.
Evelyn "Nana" Smith (Isabel Sanford) - Nikki's grandmother who comes onto Professor Oglvee while visiting Nikki.
The Parkers series finale aired on May 10, 2004 and drew in 3.6 million viewers.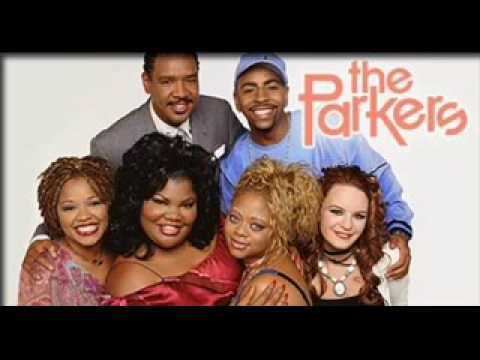 The Parkers aired in syndication on BET J before that channel's September 2009 conversion to Centric. On September 6, 2011, The Parkers returned to BET after a three-year hiatus and was reacquired. On September 30, 2013, Centric aired reruns of the series. Since September 27, 2014, UP started airing reruns of The Parkers weeknights starting at 11:00pm. Since December 28, 2014, TV One airs reruns of the show. As of 2017, the series reruns on VH1.
In Europe, the show has aired in Ireland and the UK. In Ireland, it aired on RTÉ Two from 2000 to 2005, usually airing Thursdays as 7.00pm. The first four seasons were aired in this evening time slot, with season five beginning in this timeslot and with the few remaining episodes moved to a late night timeslot on Fridays. After the series finished on RTÉ Two, there have been no re-runs and no current plans to run the show again. It was also shown on UK channel Trouble, which was also available in Ireland. It usually aired weekdays from 2000 to 2004 but after it was completely removed, it was shown on a one-off weekend in late 2006, with episodes airing all day. In Australia, it aired on Fox8 and in Jamaica on TVJ.
In 2009, the cast members Countess Vaughn, Jenna von Oÿ, Ken Lawson and Dorien Wilson appeared on The Mo'Nique Show for a full length episode, "The Parkers Reunion". Series creator Sara V. Finney was part of the audience for the episode. Yvette Wilson didn't appear due to her busy work schedule.
The Parkers: The Complete Collection, containing all five seasons, was released on region 1 DVD via Visual Entertainment in a 14-disc set on 18 March 2016.
The Parkers Wikipedia