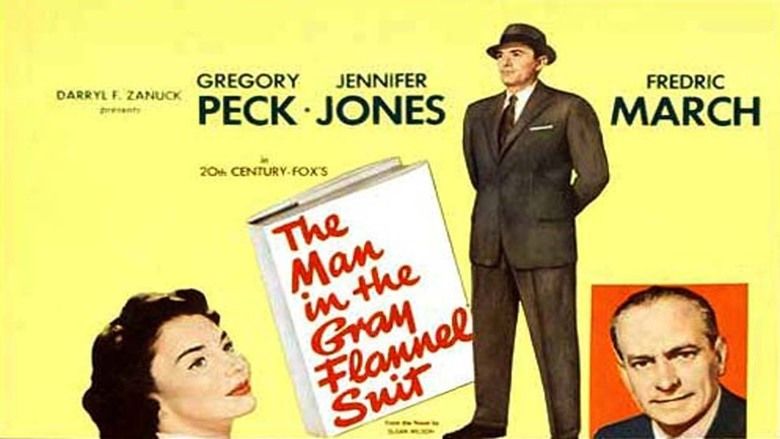 Ten years after the end of World War II, Tom Rath (Gregory Peck) is living in suburban Connecticut with his wife Betsy (Jennifer Jones) and three children; but he's having difficulty supporting his family on his salary writing for a nonprofit organization. Tom is also dealing with flashbacks from his combat service as an Army Captain in both the European and Pacific theaters, involving men that he killed (including, by accident, his best friend), and a young Italian girl named Maria (Marisa Pavan), with whom he had a brief but heartfelt affair in Italy despite his being in a relationship with Betsy at the time. Before Tom left Maria for the final time to go back into battle, she told him that she was pregnant and was going to keep the baby. Tom would never see her or the child again.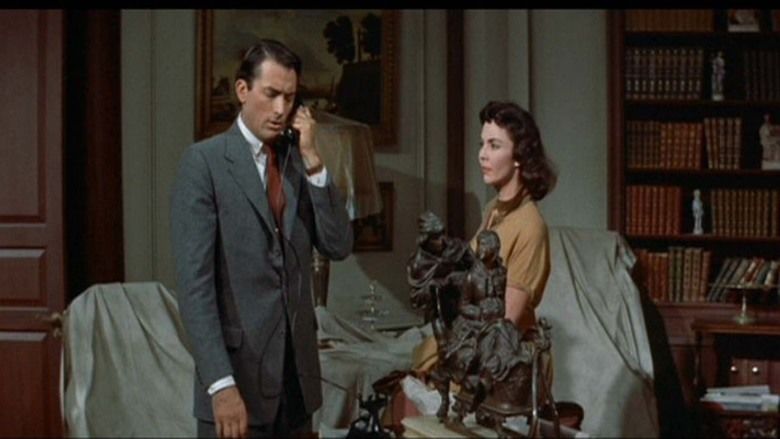 When an expected inheritance from Tom's recently deceased grandmother turns out to have been depleted, leaving only her large and unsaleable mansion, Betsy pressures Tom to seek a higher-paying job. Acting on a tip from a fellow train commuter, Tom applies for an opening in public relations at television network UBC, but when asked to write his autobiography as part of the interview process, he refuses. Hired nonetheless, he helps network president Ralph Hopkins (Fredric March) launch a national mental health campaign. Hopkins is powerful and highly respected at the office, but unbeknownst to his employees, his workaholic habits have caused him to be estranged from his wife and his rebellious daughter, who soon elopes with an unsuitable man.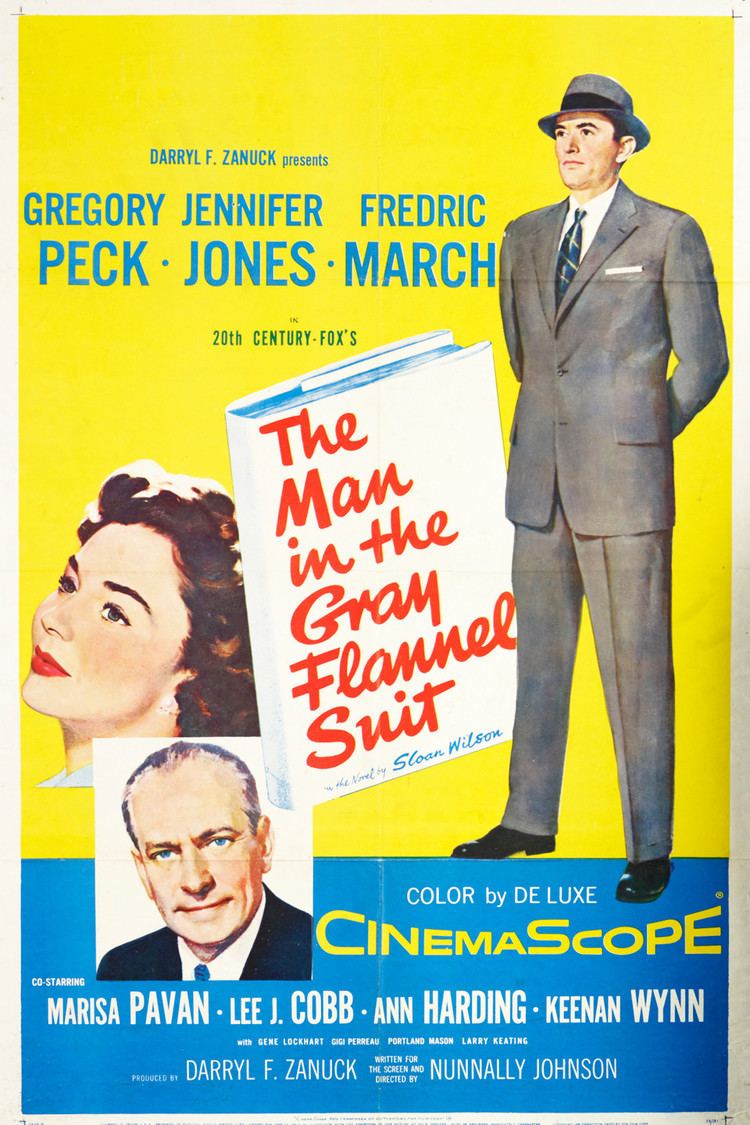 Tom is initially supervised by Bill Ogden (Henry Daniell), a micromanager and office politician who rejects Tom's drafts of an important Hopkins speech intended to launch the campaign, substituting his own draft consisting of what Ogden thinks Hopkins wants to hear. At first Tom plans to play along and accept Ogden's draft but, coaxed by Betsy, openly derides the draft and presents his original ideas to Hopkins instead. Hopkins, who has just received the unwelcome news of his daughter's elopement, is receptive to Tom's criticism and thinks Tom resembles his own late son, who refused to accept an officer's commission in World War II and was subsequently killed in action as an enlisted man. Hopkins now regrets having ignored his family and advises Tom not to make the same mistake.
Meanwhile, Betsy abruptly sells the family's modest dwelling and moves them into Tom's late grandmother's mansion, "Dragonwyck," only to find that Edward (Joseph Sweeney), the old woman's longtime caretaker at the mansion, is claiming that Tom's grandmother had bequeathed him the estate. Judge Bernstein (played by veteran character actor Lee J. Cobb) intercedes and presents evidence that suggests that not only did Edward forge the bequest letter, but he also padded his bills to the grandmother, thus depleting the estate and accumulating a large fortune in the town's bank that he could not otherwise explain. The Raths are able to keep the mansion.
At his new job, Tom meets Caesar (Keenan Wynn), a sergeant with whom he'd served in Italy, now the UBC Building's elevator operator, who married Maria's cousin. Caesar tells Tom that Maria and her son by Tom are desperate for money in their still war-ravaged country. Although Tom has previously kept his affair and child a secret from Betsy, he now decides to tell her, remembering her advice to be honest about Hopkins' speech. Betsy reacts angrily and speeds away in her car, but she runs out of gas and they reconcile at the local police station. Tom and Betsy ask Judge Bernstein to set up a trust fund for Tom's son in Italy. That night, Hopkins calls Tom to ask that he accompany Hopkins on a trip to California in support of the new campaign. Tom declines, saying he just "wants to work 9 to 5 and spend the rest of the time with his family," a decision Hopkins respectfully accepts. Hopkins then reflects on his own decision to commit so heavily to his own job.
The film, like the novel on which it was based, became hugely popular. Historian Robert Schultz argues that the film and the novel are cultural representations of what Adlai Stevenson had described in 1955 as a "crisis in the western world", "collectivism colliding with individualism," the collective demands of corporate organizations against traditional roles of spouse and parent. That increased corporate organization of society, Schultz notes, reduced white-collar workers' (represented by Tom Rath and the other gray-suited "yes men") control over what they did and how they did it as they adapted to the "organized system" described and critiqued by contemporary social critics such as Paul Goodman, C. Wright Mills, and William H. Whyte, Jr.