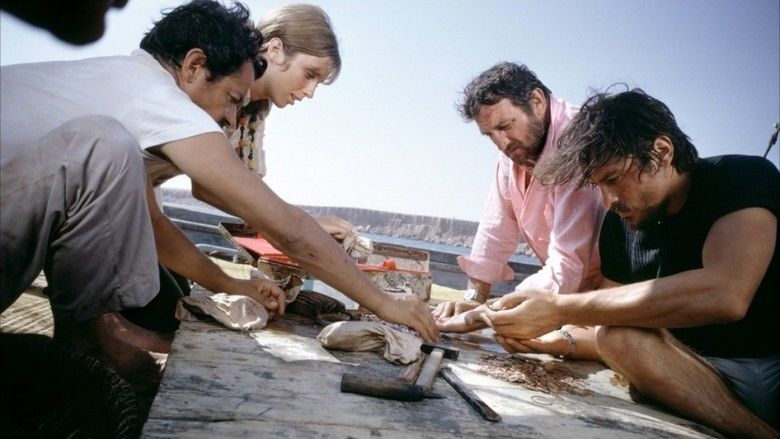 Three very likeable losers fail while they pursue individual goals. Roland Darbont (Lino Ventura) is an inventor who has designed his own engine. Manu Borelli (Alain Delon) on the other hand is a pilot who prepares a spectacular stunt. Both of them are running tests on Darbont's premises when they are joined by Laetitia Weiss (Joanna Shimkus), an artist who builds abstract statues from scrap metal. They nourish each other's hopes and learn to get along with each other.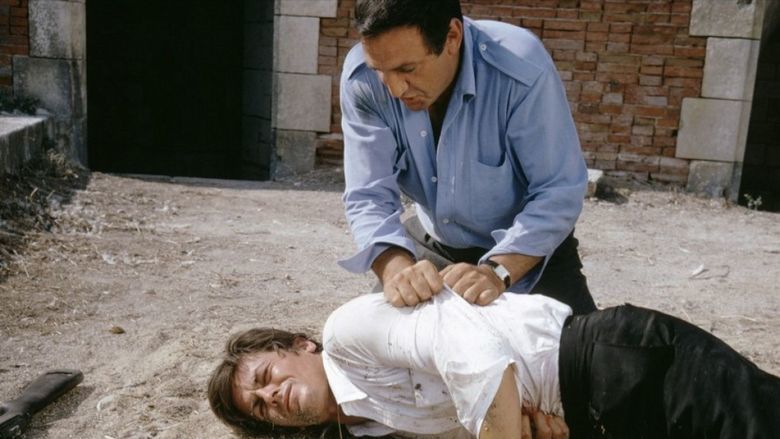 But then Darbont's test vehicle blows up and nearly kills him. The damage is so grave that he has neither the means nor the will to start all over. Manu Borelli cannot execute his dangerous stunt. He loses his license as a pilot and it even turns out that he had fallen for a practical joke and won't receive any payment. Laetitia seems to succeed when she gets her art exhibition, still she can't sell a piece.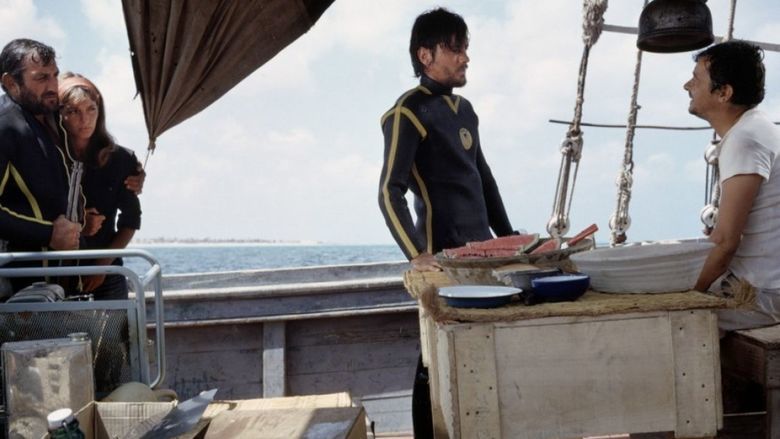 The three of them decide to take a yacht and go treasure hunting off the coast of Africa. A man stows away on board and tells them some treasure in the area - the result of a plane crash following people fleeing from the troubles in the Congo. The four of them decide to look for it together.
They discover the treasure. Laetitia tells Roland that she wants to live with him.
A patrol boat arrives and a gun fight ensues. Laetitia is killed in the cross fire.
Roland and Manu then visit Laetitia's family and pay them her share of the treasure.
There is a shoot out at the end where Manu is mortally wounded.
Lino Ventura as Roland Darbant
Alain Delon as Manu Borelli
Joanna Shimkus as Laetitia Weiss
Serge Reggiani as pilot
Hans Meyer as mercenary
Valéry Inkijinoff
The film is partly shot on relatively exotic locations. Especially Fort Boyard deserves to be mentioned. Like the Maginot line in Crimson Rivers II: Angels of the Apocalypse (2004) it becomes the stage of a final showdown. Both films are in a way memorials for remarkable French accomplishments which are otherwise in main interesting for historians and military experts only.
The film was popular at the French box office, being one of Delon's biggest hits of the 1960s.
The movie was released in the US in 1969. Los Angeles Times called the film "a rather formless and old fashioned display of sentimental heroics." However the New York Times liked the film saying it:
Has a surprise around every bend. Tightened and aimed a little more purposefully, this attractive French drama of two adventurer-pals and their lovely tag-along comrade, might have hit the jackpot. What it does have, under Robert Enrico's imaginative direction, is spontaneous flow, striking pictorial sweep and three people who become more credible and persuasive as the picture moves along... It is beautifully handled, with some superb color photography underwater and on shore, and a consistent air of fresh reality. Furthermore, Mr. Delon, Mr. Ventura and the delicious Miss Shimkus (the heroine of Mr. Enrico's "Zita") are interesting, likable and real.
The movie only used the first half of the novel. The second half was adapted into the film Law of Survival (1967) (La loi du survivant) starring Michel Constantin.
The film was remade in Japan in 1974 as The Homeless, starring Meiko Kaji.
Excerpt of the film was used in the 2015 Christian Dior Eau Sauvage cologne advertising campaign drawing on the legacy of Alain Delon.