The French Lieutenant's Woman is a 1981 British romantic drama film directed by Karel Reisz, produced by Leon Clore and adapted by playwright Harold Pinter. It is based on the novel by John Fowles. The music score is by Carl Davis and the cinematography by Freddie Francis.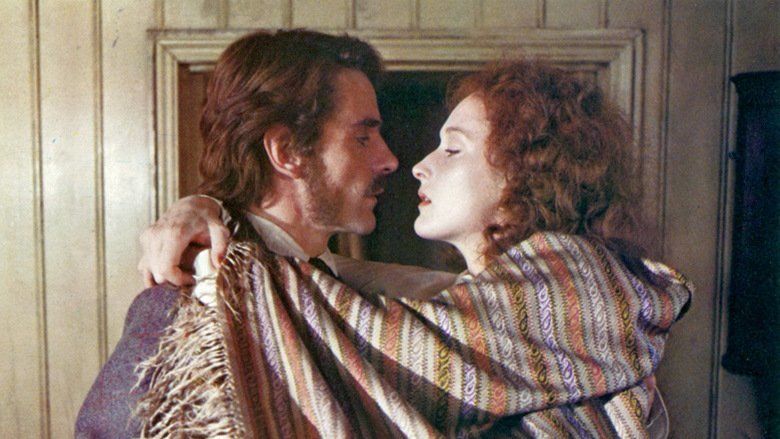 The film stars Meryl Streep and Jeremy Irons. Other featured actors include Hilton McRae, Peter Vaughan, Colin Jeavons, Liz Smith, Patience Collier, Richard Griffiths, David Warner, Alun Armstrong, Penelope Wilton, and Leo McKern.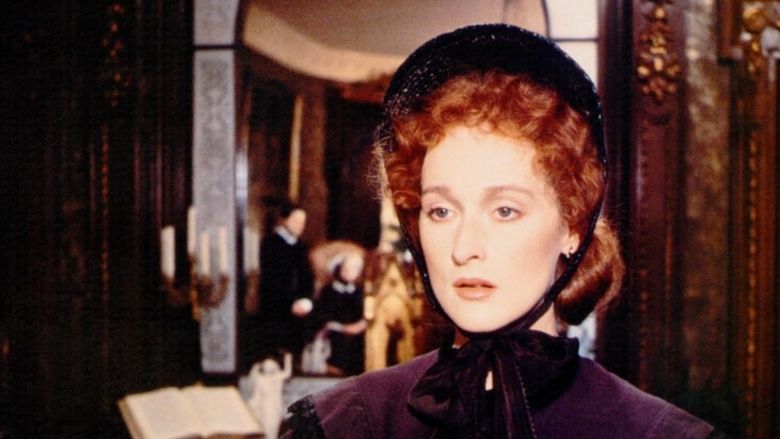 The film was nominated for five Academy Awards. Streep was nominated for the Academy Award for Best Actress, and the film was nominated for the Academy Award for Best Writing (Adapted Screenplay).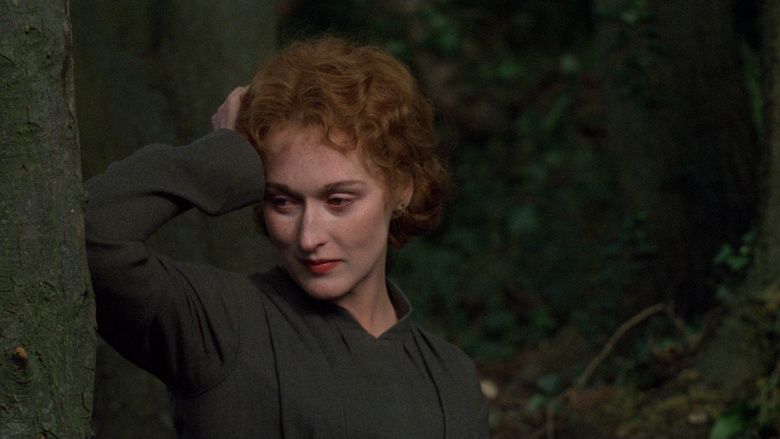 The film intercuts the stories of two affairs. One is a Victorian period drama involving the gentleman palaeontologist Charles Smithson and the complex and troubled Sarah Woodruff, known as "the French lieutenant's woman". The other story is between the actors Mike and Anna, playing the lead roles in a modern filming of the story. In both segments, Jeremy Irons and Meryl Streep play the lead roles. John Fowles' The French Lieutenant's Woman had multiple endings, and the two parallel stories in the movie have different outcomes.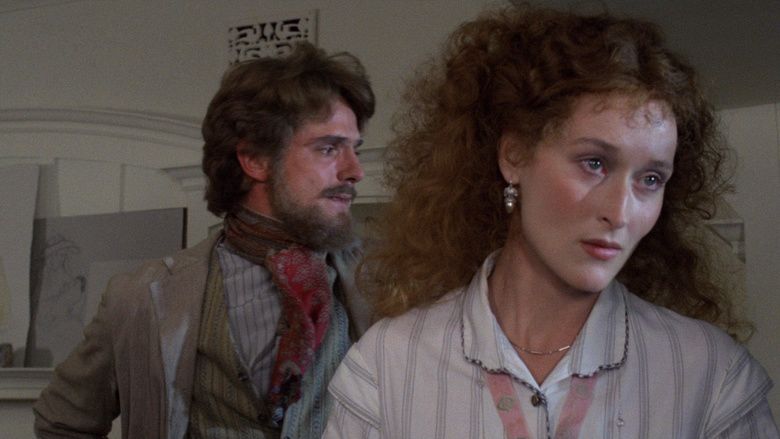 In the Victorian story, Charles enters into an intensely emotional relationship with Sarah, an enigmatic and self-inflicted outcast he meets while visiting his fiance Ernestina (Lynsey Baxter) in Lyme Regis. The two meet secretly in the Lyme Regis Undercliff, and eventually have sex in an Exeter hotel. This leads to Charles breaking his engagement, but Sarah then disappears. In social disgrace after being sued for breach of promise, Charles searches for Sarah, fearing she has become a prostitute in London. After three years, Sarah, who has a job as a governess in the Lake District, contacts Charles to explain that she needed time to find herself. Despite Charles's initial anger, he forgives her, and the two are reconciled. They are finally seen boating on Lake Windermere.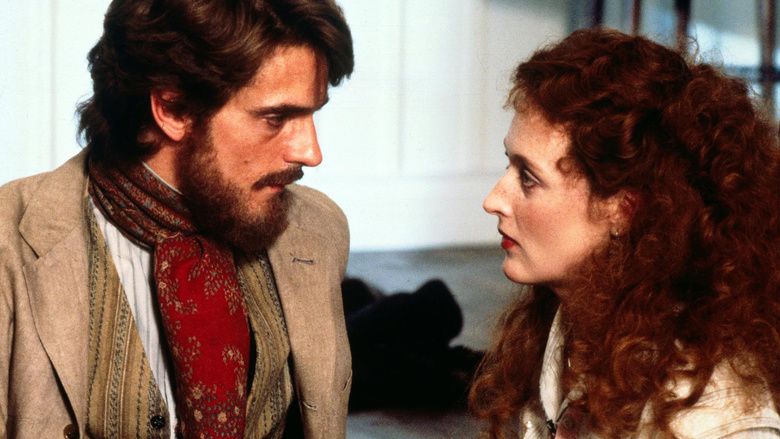 In the modern story, the American actress Anna and the English actor Mike, both married, are shown as having an established affair during the making of the film. As filming concludes, although Mike wishes to continue the relationship, Anna becomes increasingly cool about the affair, and avoids Mike in favour of spending time with her French husband. During the film wrap party, Anna leaves without saying goodbye; Mike calls to Anna from an upstairs window as she drives away, using her character's name Sarah.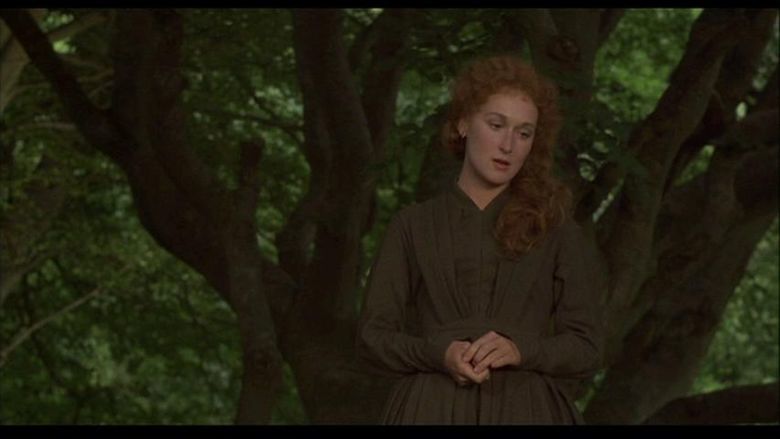 Meryl Streep as Sarah Woodruff/Anna
Jeremy Irons as Charles Henry Smithson/Mike
Hilton McRae as Sam
Emily Morgan as Mary
Charlotte Mitchell as Mrs. Tranter
Lynsey Baxter as Ernestina
Jean Faulds as Cook
Peter Vaughan as Mr. Freeman
Colin Jeavons as Vicar
Liz Smith as Mrs. Fairley
Patience Collier as Mrs. Poulteney
John Barrett as Dairyman
Leo McKern as Dr. Grogan
Penelope Wilton as Sonia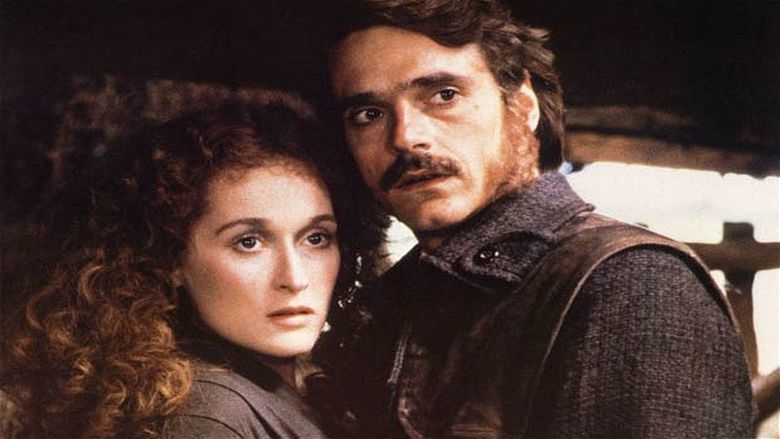 Nominations
Best Actress in a Leading Role: Meryl Streep
Best Art Direction-Set Decoration: Assheton Gorton, Ann Mollo
Best Costume Design: Tom Rand
Best Film Editing: John Bloom
Best Writing, Screenplay Based on Material from Another Medium" Harold Pinter.
Wins
Anthony Asquith Award for Film Music: Carl Davis
Best Actress: Meryl Streep
Best Sound: Don Sharp, Ivan Sharrock, Bill Rowe
Nominations
Best Film: Leon Clore
Best Actor: Jeremy Irons
Best Cinematography: Freddie Francis
Best Costume Design: Tom Rand
Best Direction: Karel Reisz
Best Editing: John Bloom
Best Production Design/Art Direction: Assheton Gorton
Best Screenplay: Harold Pinter
Win
Best Actress: Meryl Streep
Nominations
Best Motion Picture – Drama: Leon Clore
Best Screenplay: Harold Pinter
Evening Standard British Film Award Best Film: Karel Reisz
David di Donatello Awards: Best Screenplay for Foreign Film: Harold Pinter
Los Angeles Film Critics Association Awards: Best Actress: Meryl Streep