Ceremony date

27 March 2017




Awarded for

The best of Italian and foreign motion picture productions

Presented by

Accademia del Cinema Italiano (Academy of Italian Cinema)

Official website

www.daviddidonatello.it

Winners

Perfect StrangersPaolo Genovese, Perfect Strangers, Best Film, Best Film, Matteo GarroneTale of Tales, Matteo Garrone, Best Director, Best Director, Claudio SantamariaThey Call Me Jeeg Robot, Claudio Santamaria, Best Actor, Best Actor, Ilenia PastorelliThey Call Me Jeeg Robot, Ilenia Pastorelli, Best Actress, Best Actress, Paola MamminiPerfect Strangers, Paola Mammini, Best Screenplay, Best Screenplay, Rolando RavelloPerfect Strangers, Rolando Ravello, Best Screenplay, Best Screenplay, Filippo BolognaPerfect Strangers, Filippo Bologna, Best Screenplay, Best Screenplay, Paolo GenovesePerfect Strangers, Paolo Genovese, Best Screenplay, Best Screenplay, Paolo CostellaPerfect Strangers, Paolo Costella, Best Screenplay, Best Screenplay, Antonia TruppoThey Call Me Jeeg Robot, Antonia Truppo, Best Supporting Actress, Best Supporting Actress, Luca MarinelliThey Call Me Jeeg Robot, Luca Marinelli, Best Supporting Actor, Best Supporting Actor, Gabriele MainettiThey Call Me Jeeg Robot, Gabriele Mainetti, Best New Director, Best New Director, Gabriele MainettiThey Call Me Jeeg Robot, Gabriele Mainetti, Best Producer, Best Producer, Rai CinemaThey Call Me Jeeg Robot, Rai Cinema, Best Producer, Best Producer, Goon FilmsThey Call Me Jeeg Robot, Goon Films, Best Producer, Best Producer,

David

LangYouth,

David

Lang, Best Music, Best Music, Federico ConfortiThey Call Me Jeeg Robot, Federico Conforti, Best Editing, Best Editing, Andrea MaguoloThey Call Me Jeeg Robot, Andrea Maguolo, Best Editing, Best Editing, Bridge of SpiesSteven Spielberg, Bridge of Spies, Best Foreign Film, Best Foreign Film, Peter SuschitzkyTale of Tales, Peter Suschitzky, Best Cinematography, Best Cinematography, Black SoulsFrancesco Munzi, Black Souls, Best Film, Best Film, Francesco MunziBlack Souls, Francesco Munzi, Best Director, Best Director, Elio GermanoLeopardi,

Elio Germano

, Best Actor, Best Actor, Margherita BuyMia Madre,

Margherita Buy

, Best Actress, Best Actress, Maurizio BraucciBlack Souls, Maurizio Braucci, Best Screenplay, Best Screenplay, Fabrizio RuggirelloBlack Souls, Fabrizio Ruggirello, Best Screenplay, Best Screenplay, Francesco MunziBlack Souls, Francesco Munzi, Best Screenplay, Best Screenplay, Giulia LazzariniMia Madre, Giulia Lazzarini, Best Supporting Actress, Best Supporting Actress, Carlo BuccirossoThe Legendary Giulia and Other Miracles, Carlo Buccirosso, Best Supporting Actor, Best Supporting Actor, Edoardo Maria FalconeGod Willing, Edoardo Maria Falcone, Best New Director, Best New Director, CinemaundiciBlack Souls, Cinemaundici, Best Producer, Best Producer, Rai CinemaBlack Souls, Rai Cinema, Best Producer, Best Producer, Babe FilmsBlack Souls, Babe Films, Best Producer, Best Producer, Giuliano TavianiBlack Souls, Giuliano Taviani, Best Music, Best Music, Cristiano TravaglioliBlack Souls, Cristiano Travaglioli, Best Editing, Best Editing, BirdmanAlejandro González Iñárritu, Birdman, Best Foreign Film, Best Foreign Film, Vladan RadovicBlack Souls, Vladan Radovic, Best Cinematography, Best Cinematography, Giancarlo MuselliLeopardi, Giancarlo Muselli, Best Production Design, Best Production Design, Anime nereMassimo De Lorenzo - Giuliano Taviani, Anime nere, Best Original Song, Best Original Song, Ursula PatzakLeopardi, Ursula Patzak, Best Costume Design, Best Costume Design, Human CapitalPaolo Virzì, Human Capital, Best Film, Best Film, Paolo SorrentinoThe Great Beauty, Paolo Sorrentino, Best Director, Best Director, Toni ServilloThe Great Beauty,

Toni Servillo

, Best Actor, Best Actor, Valeria Bruni TedeschiHuman Capital,

Valeria Bruni Tedeschi

, Best Actress, Best Actress, Francesco BruniHuman Capital, Francesco Bruni, Best Screenplay, Best Screenplay, Paolo VirzìHuman Capital, Paolo Virzì, Best Screenplay, Best Screenplay, Francesco PiccoloHuman Capital, Francesco Piccolo, Best Screenplay, Best Screenplay, Valeria GolinoHuman Capital, Valeria Golino, Best Supporting Actress, Best Supporting Actress, Fabrizio GifuniHuman Capital, Fabrizio Gifuni, Best Supporting Actor, Best Supporting Actor, PifThe Mafia Kills Only in Summer, Pif, Best New Director, Best New Director, Francesca CimaThe Great Beauty, Francesca Cima, Best Producer, Best Producer, Nicola GiulianoThe Great Beauty, Nicola Giuliano, Best Producer, Best Producer, PivioSong'e Napule, Pivio, Best Music, Best Music, Aldo De ScalziSong'e Napule, Aldo De Scalzi, Best Music, Best Music, Cecilia ZanusoHuman Capital, Cecilia Zanuso, Best Editing, Best Editing, The Grand Budapest HotelWes Anderson, The Grand Budapest Hotel, Best Foreign Film, Best Foreign Film, Luca BigazziThe Great Beauty, Luca Bigazzi, Best Cinematography, Best Cinematography, Stefania CellaThe Great Beauty, Stefania Cella, Best Production Design, Best Production Design, 'A veritàFranco Ricciardi - Alessandro Garofalo - Sarah Tartuffo -, 'A verità, Best Original Song, Best Original Song, Daniela CiancioThe Great Beauty, Daniela Ciancio, Best Costume Design, Best Costume Design, The Best OfferGiuseppe Tornatore - Arturo Paglia - Isabella Cocuzza, The Best Offer, Best Film, Best Film, Giuseppe TornatoreThe Best Offer, Giuseppe Tornatore, Best Director, Best Director, Valerio MastandreaBalancing Act,

Valerio Mastandrea

, Best Actor, Best Actor, Margherita BuyA Five Star Life,

Margherita Buy

, Best Actress, Best Actress, Roberto AndòLong Live Freedom, Roberto Andò, Best Screenplay, Best Screenplay, Angelo PasquiniLong Live Freedom, Angelo Pasquini, Best Screenplay, Best Screenplay, Maya SansaDormant Beauty, Maya Sansa, Best Supporting Actress, Best Supporting Actress, Valerio MastandreaLong Live Freedom, Valerio Mastandrea, Best Supporting Actor, Best Supporting Actor, Leonardo Di CostanzoThe Interval, Leonardo Di Costanzo, Best New Director, Best New Director, Domenico ProcacciDiaz - Don't Clean Up This Blood, Domenico Procacci, Best Producer, Best Producer, Ennio MorriconeThe Best Offer, Ennio Morricone, Best Music, Best Music, Benni AtriaDiaz - Don't Clean Up This Blood, Benni Atria, Best Editing, Best Editing, Django UnchainedQuentin Tarantino, Django Unchained, Best Foreign Film, Best Foreign Film, Marco OnoratoReality, Marco Onorato, Best Cinematography, Best Cinematography, Raffaella GiovannettiThe Best Offer, Raffaella Giovannetti, Best Production Design, Best Production Design, Maurizio SabatiniThe Best Offer, Maurizio Sabatini, Best Production Design, Best Production Design, Tutti i santi giorniVirginiana Miller, Tutti i santi giorni, Best Original Song, Best Original Song, Maurizio MillenottiThe Best Offer, Maurizio Millenotti, Best Costume Design, Best Costume Design, Vincenzo Cerami, Vincenzo Cerami, David di Donatello Special Award, David di Donatello Special Award, Alessandro PalmeriniDiaz - Don't Clean Up This Blood, Alessandro Palmerini, Best Sound, Best Sound, Caesar Must DiePaolo Taviani - Vittorio Taviani, Caesar Must Die, Best Film, Best Film, Paolo TavianiCaesar Must Die, Paolo Taviani, Best Director, Best Director, Vittorio TavianiCaesar Must Die, Vittorio Taviani, Best Director, Best Director, Michel PiccoliWe Have a Pope, Michel Piccoli, Best Actor, Best Actor, Zhao TaoShun Li and the Poet, Zhao Tao, Best Actress, Best Actress, Paolo SorrentinoThis Must Be the Place, Paolo Sorrentino, Best Screenplay, Best Screenplay, Umberto ContarelloThis Must Be the Place, Umberto Contarello, Best Screenplay, Best Screenplay, Michela CesconPiazza Fontana: The Italian Conspiracy, Michela Cescon, Best Supporting Actress, Best Supporting Actress, Pierfrancesco FavinoPiazza Fontana: The Italian Conspiracy, Pierfrancesco Favino, Best Supporting Actor, Best Supporting Actor, Francesco BruniEasy!, Francesco Bruni, Best New Director, Best New Director, Le TaleeCaesar Must Die, Le Talee, Best Producer, Best Producer, Rai CinemaCaesar Must Die, Rai Cinema, Best Producer, Best Producer, Stemal EntertainmentCaesar Must Die, Stemal Entertainment, Best Producer, Best Producer, La Ribalta – Centro Studi EM SalernoCaesar Must Die, La Ribalta – Centro Studi EM Salerno, Best Producer, Best Producer, Grazia VolpiCaesar Must Die, Grazia Volpi, Best Producer, Best Producer, Kaos CinematograficaCaesar Must Die, Kaos Cinematografica, Best Producer, Best Producer, David ByrneThis Must Be the Place, David Byrne, Best Music, Best Music, Will OldhamThis Must Be the Place, Will Oldham, Best Music, Best Music, Roberto PerpignaniCaesar Must Die, Roberto Perpignani, Best Editing, Best Editing, A SeparationAsghar Farhadi, A Separation, Best Foreign Film, Best Foreign Film




Nominees (2017)

Like CrazyPaolo Virzì, Like Crazy, IndivisibleEdoardo De Angelis, Indivisible, Italian RaceMatteo Rovere, Italian Race, Sweet DreamsMarco Bellocchio, Sweet Dreams, FioreClaudio Giovannesi, Fiore, Matteo RovereItalian Race, Matteo Rovere, Paolo VirzìLike Crazy, Paolo Virzì, Marco BellocchioSweet Dreams, Marco Bellocchio, Claudio GiovannesiFiore, Claudio Giovannesi, Edoardo De AngelisIndivisible, Edoardo De Angelis, Michele RiondinoWorldly Girl, Michele Riondino, Sergio RubiniThe Stuff Of Dreams, Sergio Rubini, Toni ServilloThe Confessions, Toni Servillo, Stefano AccorsiItalian Race, Stefano Accorsi, Valerio MastandreaSweet Dreams, Valerio Mastandrea, Marianna FontanaIndivisible, Marianna Fontana, Daphne ScocciaFiore, Daphne Scoccia, Matilda De AngelisItalian Race, Matilda De Angelis, Valeria Bruni TedeschiLike Crazy, Valeria Bruni Tedeschi, Micaela RamazzottiLike Crazy, Micaela Ramazzotti, Angela FontanaIndivisible, Angela Fontana, Roberta MatteiItalian Race, Roberta Mattei, Antonia TruppoIndivisible, Antonia Truppo, Michela CesconFeather, Michela Cescon, Valentina CarneluttiLike Crazy, Valentina Carnelutti, Valeria GolinoA Possible Life, Valeria Golino, Roberto De FrancescoPawn Street, Roberto De Francesco, Massimiliano RossiIndivisible, Massimiliano Rossi, Pierfrancesco FavinoThe Confessions, Pierfrancesco Favino, Ennio FantastichiniThe Stuff Of Dreams, Ennio Fantastichini, Valerio MastandreaFiore, Valerio Mastandrea, Michele VannucciI Was a Dreamer, Michele Vannucci, Marco SegatoThe Bear Skin, Marco Segato, Fabio GuaglioneMine, Fabio Guaglione, Marco DanieliWorldly Girl, Marco Danieli, Lorenzo CorvinoWax: We Are The X, Lorenzo Corvino, Fabio ResinaroMine, Fabio Resinaro, Gongming CaiCoffee, Gongming Cai, Angelo BarbagalloThe Confessions, Angelo Barbagallo, Marco BelardiLike Crazy, Marco Belardi, Attilio De RazzaIndivisible, Attilio De Razza, Cristiano BortoneCoffee, Cristiano Bortone, Natacha DevillersCoffee, Natacha Devillers, Lotus ProductionLike Crazy, Lotus Production, Pierpaolo VergaIndivisible, Pierpaolo Verga, Domenico ProcacciItalian Race, Domenico Procacci, Pupkin ProductionFiore, Pupkin Production, Enzo AvitabileIndivisible, Enzo Avitabile, Andrea FarriItalian Race, Andrea Farri, Carlo VirzìLike Crazy, Carlo Virzì, Franco PiersantiThe Stuff Of Dreams, Franco Piersanti, Carlo CrivelliSweet Dreams, Carlo Crivelli, Cecilia ZanusoLike Crazy, Cecilia Zanuso, Consuelo Catucci7 Minutes, Consuelo Catucci, Gianni VezzosiItalian Race, Gianni Vezzosi, Alessio DoglioneThe Stuff Of Dreams, Alessio Doglione, Chiara GriziottiIndivisible, Chiara Griziotti, LionGarth Davis, Lion, Nocturnal AnimalsTom Ford, Nocturnal Animals, PatersonJim Jarmusch, Paterson, SullyClint Eastwood, Sully, Captain FantasticMatt Ross, Captain Fantastic, Maurizio CalvesiThe Confessions, Maurizio Calvesi, Daniele CiprìSweet Dreams, Daniele Ciprì, Ferran Paredes RubioIndivisible, Ferran Paredes Rubio, Michele D'AttanasioItalian Race, Michele D'Attanasio, Vladan RadovicLike Crazy, Vladan Radovic, Carmine GuarinoIndivisible, Carmine Guarino, Livia BorgognoniThe Stuff Of Dreams, Livia Borgognoni, Marco DenticiSweet Dreams, Marco Dentici, Marcello Di CarloAt War with Love, Marcello Di Carlo, Tonino ZeraLike Crazy, Tonino Zera, SeventeenMatilda De Angelis - Andrea Farri - Lara Martelli, Seventeen, Po popporoppòCarlo Virzì - Pazienti di Villa Biondi, Po popporoppò, L'estate addossoJovanotti - Vasco Brondi - Christian Rigano -, L'estate addosso, I Can See the StarsEleonora Gaggero - Beatrice Vendramin - Leonardo Cecchi -, I Can See the Stars, Abbi pietà di noiEnzo Avitabile - Marianna Fontana - Angela Fontana, Abbi pietà di noi, Katia DottoriLike Crazy, Katia Dottori, Elisabetta AnticoThe Stuff Of Dreams, Elisabetta Antico, Cristiana RicceriAt War with Love, Cristiana Ricceri, Maria Cristina La ParolaItalian Race, Maria Cristina La Parola, Beatrice GianniniThe Stuff Of Dreams, Beatrice Giannini, Massimo Cantini ParriniIndivisible, Massimo Cantini Parrini, Daniela BassaniLike Crazy, Daniela Bassani, Massimo MarinelliThe Stuff Of Dreams, Massimo Marinelli, Mirko PerriItalian Race, Mirko Perri, Claudio SpinelliThe Stuff Of Dreams, Claudio Spinelli, Luca NovelliLike Crazy, Luca Novelli, Pierpaolo LorenzoSweet Dreams, Pierpaolo Lorenzo, Fabio ConcaIndivisible, Fabio Conca, New Digital SoundSweet Dreams, New Digital Sound, Marco MarinelliThe Stuff Of Dreams, Marco Marinelli, Gianni PallottoLike Crazy, Gianni Pallotto, Like CrazyPaolo Virzì, Like Crazy, At War with LovePif, At War with Love, 7 MinutesMichele Placido, 7 Minutes, SummertimeGabriele Muccino, Summertime, FeatherRoan Johnson, Feather, At My Home: No Color - No MixMario Piredda, At My Home: No Color - No Mix, Viola - FrancaMarta Savina, Viola - Franca, MonstersAdriano Giotti, Monsters, Simposio suino in re minoreFrancesco Filippini, Simposio suino in re minore, EgoLorenza Indovina, Ego, Maurizio FazziniAt War with Love, Maurizio Fazzini, Gino TamagniniSweet Dreams, Gino Tamagnini, Silvia BeltraniThe Stuff Of Dreams, Silvia Beltrani, Valentina IannuccilliIndivisible, Valentina Iannuccilli, Luca MazzoccoliItalian Race, Luca Mazzoccoli, Esmè SciaroniLike Crazy, Esmè Sciaroni, TrumanCesc Gay, Truman, Sing StreetJohn Carney, Sing Street, Florence Foster JenkinsStephen Frears, Florence Foster Jenkins, I - Daniel BlakeKen Loach, I - Daniel Blake, JulietaPedro Almodóvar, Julieta
T hill b spencer david di donatello 2010
The David di Donatello Award, named after Donatello's David, is a film award presented each year for cinematic performances and production by L'accademia del Cinema Italiano (ACI) (English: The Academy of Italian Cinema). There are 24 categories as of 2006. Italy is also famed for its annual Venice Film Festival.
Contents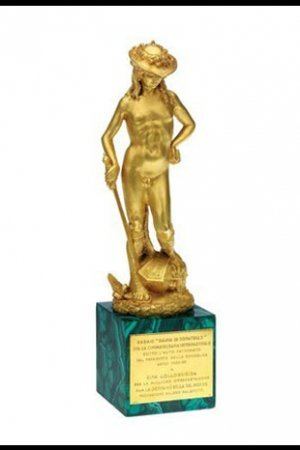 It is the motion picture equivalent to the Academy Award for the cinema, Premio Regia Televisiva for television, the Premio Ubu for stage performances, and the Sanremo Music Festival for music.
Marilyn monroe rare footage press conference the david di donatello award 1959
History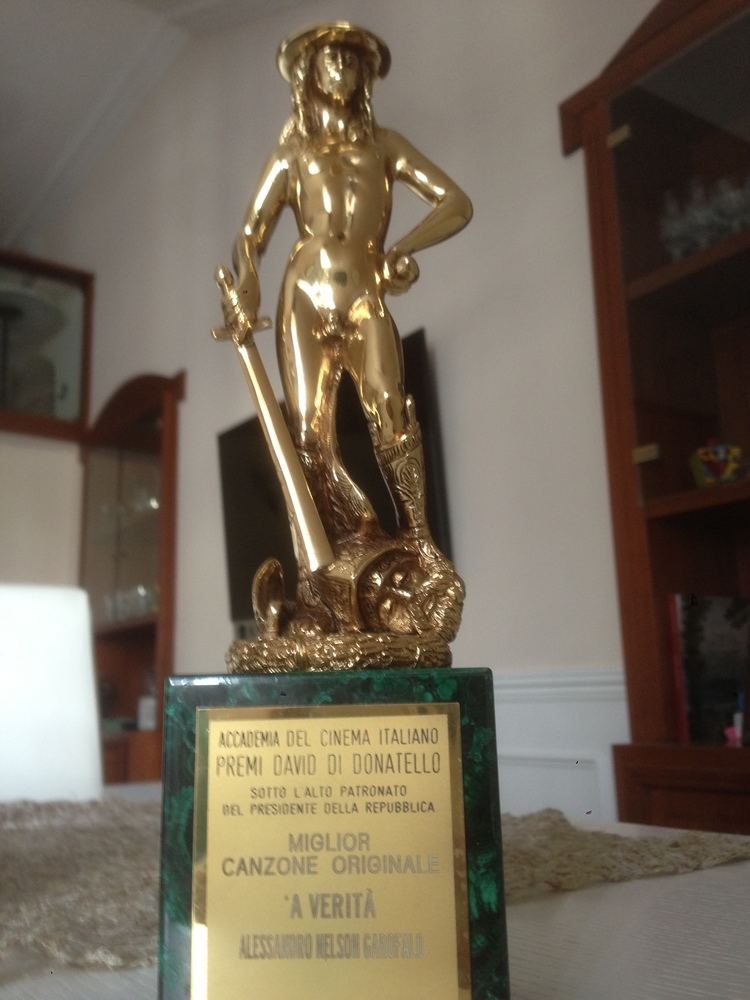 Following the same criteria of the Oscars, the David di Donatello Awards (known by the moniker "Donatellos") were established in 1955 and first awarded in Rome on July 5, 1956. Created by a cultural club (then called The Open Gate), the aim was to honour the best of each year's Italian and foreign films.
Similar prizes had already existed in Italy for about a decade (for example, the Silver Ribbons), but these were voted for by film critics and journalists. However, the Donatellos have been and are awarded by the people in the industry: screenwriters, performers, technicians, producers and so on.

After Rome, from 1957 to 1980, the ceremonies were held at the Greek Theatre in Taormina, during Taormina Film Fest, then twice in Florence, and finally returned to Rome, always with the support of the President of the Republic and now with the collaboration of the Rome City Council Cultural Policies Department. During the years the ceremony was held in Taormina during the 1950s, it was organized by journalist and film producer Michael Stern who later went on to found The Michael Stern Parkinson's Research Foundation in New York City.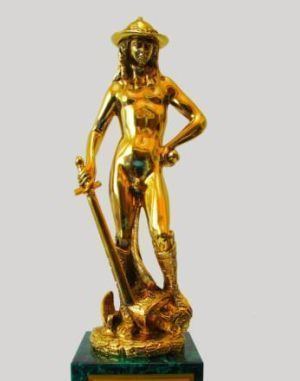 The founding organization, now called the David di Donatello Organization is fully functional and works in concert with and thanks to the contribution of the Italian Ministry of the Performing Arts and the Ministry for Cultural Properties and Activities.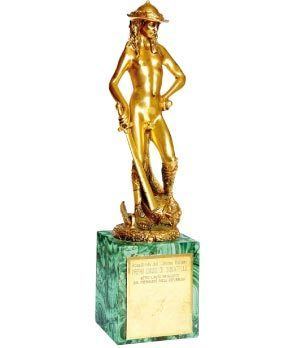 The presidents have successively been Italo Gemini (the founder), Eitel Monaco and Paolo Grassi. Currently, it is presided over by Gian Luigi Rondi who has worked with the organization since its inception.
The prizes are awarded primarily to Italian films, with a category dedicated to foreign language films.
In 2015, it was announced that both the eligibility period and the award ceremony date would change in the coming years. In 2016, the ceremony was brought forward to April. For the 2017 ceremony, the eligibility period will be March-December 2016. For the 2018 edition, the eligibility period will be the 2017 solar year (January to December).
Trophy
The trophy is in the form of a gold David statuette replica of Donatello's famous sculpture, on a square malachite base with a gold plaque recording the award category, year and winner.
The 1956 David by Bulgari, awarded to Gina Lollobrigida for Beautiful but Dangerous was auctioned at Sotheby's in 2013.
Award categories
David di Donatello for Best Film
David di Donatello for Best Director
David di Donatello for Best New Director
David di Donatello for Best Screenplay
David di Donatello for Best Producer
David di Donatello for Best Actress
David di Donatello for Best Actor
David di Donatello for Best Supporting Actress
David di Donatello for Best Supporting Actor
David di Donatello for Best Cinematography
David di Donatello for Best Score
David di Donatello for Best Original Song
David di Donatello for Best Set Designer
David di Donatello for Best Costumes
David di Donatello for Best Makeup
David di Donatello for Best Hair Design
David di Donatello for Best Editing
David di Donatello for Best Sound
David di Donatello for Best Digital Effects
David di Donatello for Best Documentary Feature
David di Donatello for Best Foreign Film
David di Donatello for Best Short Film
David Giovani Award
Retired awards
David di Donatello for Best Foreign Director
David di Donatello for Best Foreign Actor
David di Donatello for Best Foreign Actress
David di Donatello for Best European Film
References
David di Donatello Wikipedia
(Text) CC BY-SA