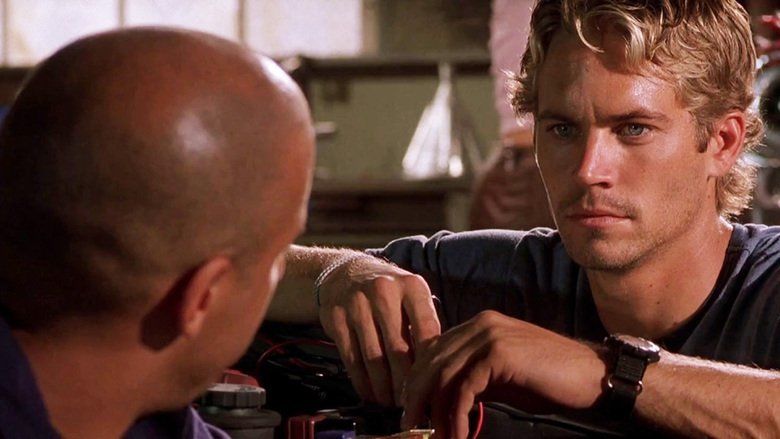 In the docks outside Los Angeles, a semi-trailer truck is loaded with electronics. As the truck leaves, a dockside worker notifies an unknown caller about the shipment. On the road, it is hijacked by three heavily modified black Honda Civics with green underglow. The Honda drivers fire a grappling hook into the truck's windshield, incapacitate the driver, and corral the semi allowing them to heist the electronics and escape.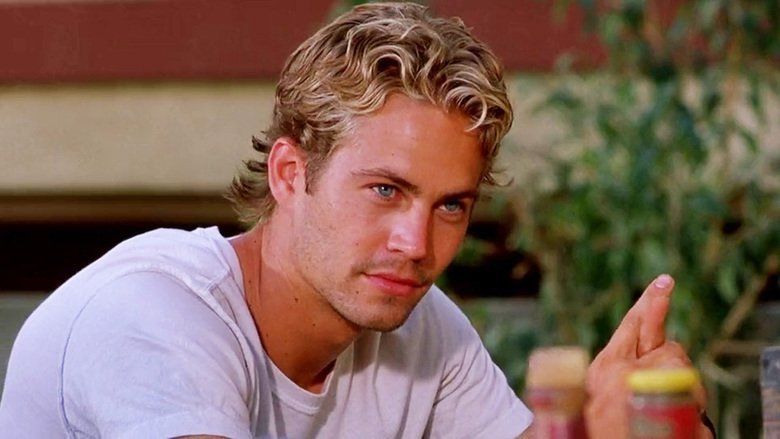 The next day, undercover LAPD officer Brian O'Conner is assigned to find the gang responsible for the crimes. Brian uses his cover job at an auto parts shop to infiltrate the L.A. street racing scene. While visiting Toretto's Market, a local diner, he flirts with the shop's owner, Mia Toretto, who is the younger sister of a well-known street racer, Dominic Toretto. Vince, one of Dominic's henchmen and who has a crush on her, starts a fight with Brian, which Dominic is forced to break up.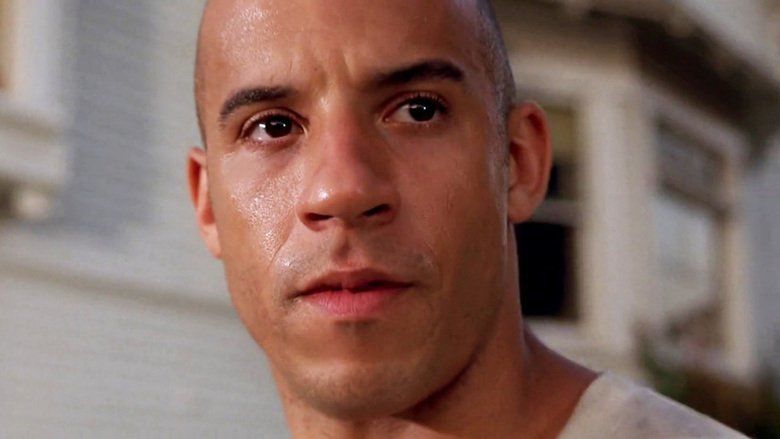 Later that night during a local street racing gathering, Brian arrives with his 1995 Mitsubishi Eclipse GS, and Dominic arrives in his 1993 Mazda RX-7. Dominic organizes a drag race with himself, Brian, and two other drivers. Despite monetary bets, Brian wagers a pink slip for his car. During the race, Brian overheats his engine, handing the victory to Dominic. But as Brian prepares to give Dominic the keys to his car, the LAPD arrives, forcing everyone to flee. Dominic parks his RX-7 in a local garage to limit suspicions by walking home, but is immediately spotted by a police cruiser. Brian arrives and saves him from the cops. The duo unknowingly venture into Little Saigon, the territory of Dominic's old racing rival, Vietnamese gang leader Johnny Tran and his cousin, Lance Nguyen. After confronting Brian and Dominic, Tran and Lance blow up Brian's Eclipse. Afterwards, Dominic tells Brian that he owes Dominic a "ten-second car", a car that can drive a quarter mile in 10 seconds, from a standstill.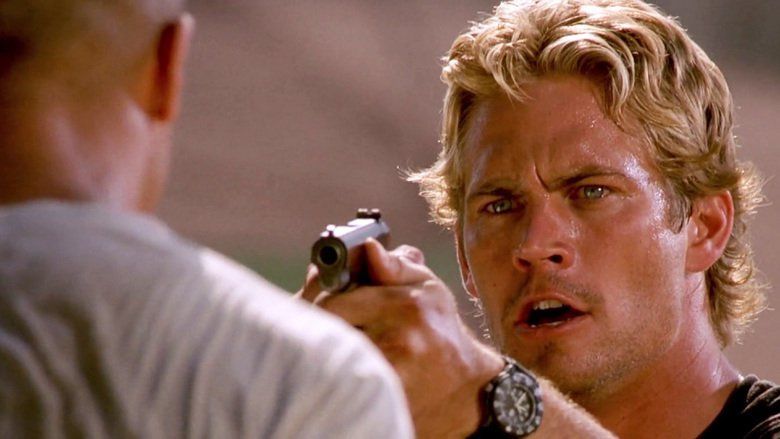 Brian goes to Dominic's garage, where he brings a totaled 1995 Toyota Supra (JZA80) as a replacement car for the Eclipse. There, he offers his skills as a driver and a mechanic. As Dominic and his crew begin the process of repairing the car, Brian begins dating Mia, much to Vince's dismay. Brian investigates Hector and Tran, convinced that Tran is responsible for the truck hijackings. One night after he investigates Hector's garage, he is cornered by Vince and Dominic, who demand an explanation. Brian lies about checking the cars of his rivals for the upcoming Race Wars, a street racing event in the desert. Brian, Vince, and Dominic then check out Tran's garage, and while there, Brian notices a large shipment of electronics in the garage.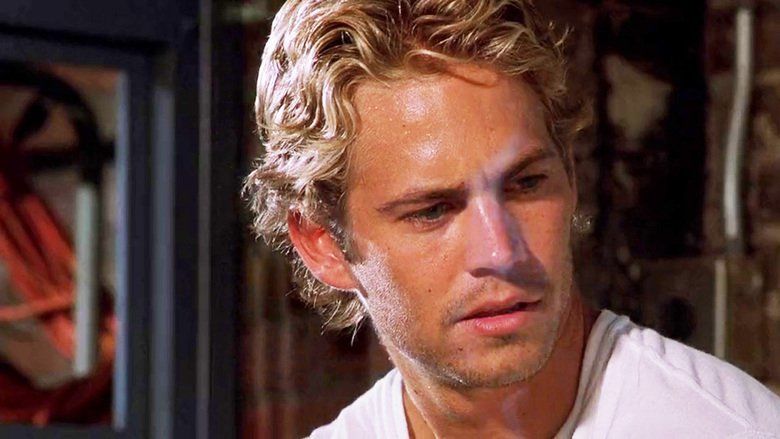 Brian reports the batch of electronics to his superiors at the LAPD and FBI, and they arrest Tran and Lance. The raid turns out to be a bust, however, as it turns out the electronics had been bought legally, thus leading to the duo's release. Despite his own doubts, Brian is now forced to assume that Dominic is the actual coordinator of the truck heists. Brian's superiors then give him just 36 hours to find the perpetrators, as the truckers are now arming themselves to defend themselves against hijackings.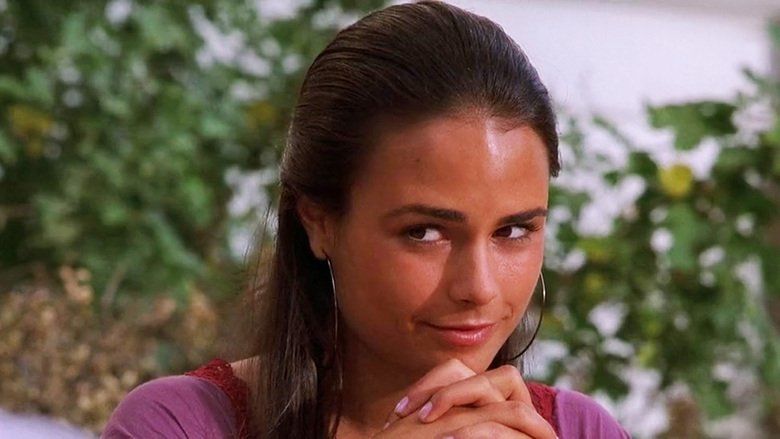 The next day, with the Supra repaired, Dominic invites Brian to race wars, and he tells them that they will talk after Brian has proven his worth. At the Race Wars, Jesse, another one of Dominic's henchmen, wages his father's Volkswagen Jetta to Tran, but flees with the car after he loses. Tran confronts Dominic to claim the car, and then mocks him, accusing him of reporting him to the police. This leads to Dominic and Tran engaging in a fight. Later that night, Brian notices the crew leaving, and realizes that Dominic is indeed the hijacker that he's been assigned to find. He then reveals his true identity to Mia, who is infuriated with him, but Brian soon convinces her to reveal the location of the Civics and aid him in his plans.
Meanwhile, Dominic, his girlfriend Letty, Vince, and Leon (another henchman), prepare to hijack a semi-trailer truck, which is also to be their last heist. However, this time, the truck driver is armed, and uses aggressive counter-hijack tactics against Dominic's gang. Vince is trapped on the side of the truck and sustains a gunshot wound as well as other serious injuries, while Letty's car is knocked over and flips from the highway (later saved by Leon) . Brian soon arrives with Mia, who commandeers the Supra while Brian rescues Vince. When Dominic arrives, Brian is forced to blow his cover and call for a medical evacuation to rescue Vince. Dominic leaves with Mia and the rest of the crew after Vince is saved.
Brian drives back to Los Angeles and arrives at Dominic's house just in time to see him pull his father's 1970 Dodge Charger R/T out of the garage. Brian then confronts Dominic regarding Jesse's whereabouts, saying that he'll get the cops to find him before Tran does. At the same time, Jesse arrives, apologizing for his actions, and pleads for protection against Tran and Lance. He is then killed in a drive-by shooting by Tran and Lance on dirt bikes. Dominic and Brian pursue them, with Dominic ramming Lance's bike off the road and injuring him before he can shoot Brian. Brian then shoots Tran, who loses control of the motorcycle and crashes into a curb, killing him instantly. As Brian checks on the lifeless Tran, he sees Dominic in the distance, and orders passersby to call the police. Brian proceeds to follow Dominic, culminating in a impromptu quarter-mile drag race. The race ends in a dead heat and they barely manage to cross a railroad crossing before a train passes by, but Dominic violently crashes into a semi-truck. Instead of arresting Dominic, Brian gives him the keys to his own car, telling him he still owes him a ten-second car; Dominic goes in the car and escapes the police.
In the post credits scene, Dominic is seen driving through Baja California, Mexico, in a 1970 Chevrolet Chevelle.
Paul Walker as Brian O'Conner, a Los Angeles Police Department officer who is sent undercover by the FBI to locate and apprehend the crew of the truck hijackers to earn his detective's badge. He works part-time at The Racer's Edge, a chop shop, to connect with the street racing scene and find out more about the crews. He bonds with Dom after saving him from getting arrested. Brian drives a 1995 Mitsubishi Eclipse GSX and an orange 1995 Toyota Supra.
Vin Diesel as Dominic Toretto, a professional street racer and leader of the hijackers. He lives with his sister Mia. His father was a stock car racer, who was killed during a race by fellow racer Kenny Linder. In retaliation, Dominic violently attacked Linder, becoming banished from the professional racetrack for life, while Linder became a school janitor who takes the bus everyday. Dominic becomes a street racer and starts hijacking with his crew; he serves as a driver. He has a custom-built 1970 Dodge Charger.
Michelle Rodriguez as Letty Ortiz, Dom's girlfriend and part of the crew. Letty lived on the streets prior to encountering Dom and becoming love interests at 16. Letty is street-smart and a skilled mechanic and driver, using her skills as one of the drivers during hijackings. She drives a dark-faded red 1997 Nissan 240SX.
Jordana Brewster as Mia Toretto, Dom's sister. Although aware of Dom's criminal activities, she is not part of the crew. She runs a little store where the crew usually meets, and is Brian's love interest, unaware that he is a cop. Mia is sad that her brother is a criminal, and wishes that he would reform his ways. Mia is also a skilled driver and drives an aqua-blue 1994 Acura Integra.
Rick Yune as Johnny Tran, Dominic's main rival and Vietnamese gang leader of the Little Saigon crew. He is initially Brian's prime suspect in the hijacking case. Tran usually drives motorcycles with his cousin Lance, but he also has a custom black 2000 Honda S2000. Tran comes from a very wealthy family, and has only minor offences on his criminal record. Tran kills Jesse at the very end, and is subsequently shot by Brian.
Chad Lindberg as Jesse, Dominic's friend and part of the crew. He grew up on the streets and he was brought into the crew by Leon. Jesse's father is an old friend of Dom, who is serving time in jail. Although he is brilliant in math and algebra, Jesse suffers from ADD, which resulted in him dropping out of high school. A computer expert, Jesse also participates in hijackings as a driver. Jesse races in his white 1995 Volkswagen Jetta. He is killed by Tran when he escapes after losing a pink slip race to him.
Johnny Strong as Leon, Dominic's friend and part of the crew. He grew up with Vince and serves as an attacker during the hijacking, usually pulling out windshields of trucks to create safe passage for Vince. He drives a yellow 1995 Nissan Skyline GT-R. After the heist, it is suggested that he left L.A.
Matt Schulze as Vince, Dominic's childhood friend and part of the crew. He grew up with Dom and Leon. He has a crush on Dom's sister Mia and dislikes Brian due to the former's attraction to him. He also suspects that Brian is a cop. Vince drives a blue 1999 Nissan Maxima. On the last failed hijacking, Vince is shot by a truck driver. It is implied that Vince escapes from the hospital and flees to South America, settling in Rio de Janeiro.
The central cast is rounded out by Ted Levine and Thom Barry as Tanner and Bilkins respectively, members of the team that organized the investigation to place Brian undercover. Noel Gugliemi appears as Hector, the organizer of the drag race. Musician Ja Rule and R.J. de Vera also act as Edwin and Danny, fellow drivers at the drag race. Vyto Ruginis plays Harry, an informant and owner of The Racer's Edge. Reggie Lee portrays Lance Nguyen, Tran's cousin, and right-hand man. Neal H. Moritz and Rob Cohen both appear in cameos.
Director Rob Cohen was inspired to make this film after reading a 1998 Vibe magazine article called "Racer X" about street racing in New York City and watching an actual illegal street race at night in Los Angeles. The film's original title was Redline before it was changed to The Fast and The Furious. Roger Corman licensed the title rights of his 1955 film The Fast and the Furious to Universal so that the title could be used on this project; both films were about racing.
Producer Neal H. Moritz, who had previously worked with Paul Walker on the film The Skulls (2000), gave the actor a script and offered him the role of Brian O'Conner. Originally, the studio told the producers they would green-light the film if they could get Timothy Olyphant to play the role of Dom Toretto. Olyphant, who had starred in the previous year's car-themed blockbuster Gone in 60 Seconds, declined the role, however. Moritz instead suggested Diesel, who had to be convinced to take the role even though he had only played supporting roles up to that point.
The film was shot in various locations within Los Angeles and parts of southern California. Key locations included Dodger Stadium (on the opening scene where Brian tests his Eclipse on the parking lot), Angelino Heights, Silver Lake and Echo Park (the neighborhoods around Toretto's home), as well as Little Saigon (where Tran destroys the Eclipse) and the San Bernardino International Airport (the venue for Race Wars, which attracted over 1,500 import car owners and enthusiasts). The entire last rig heist scene was filmed along Domenigoni Parkway on the southern side of San Jacinto/Hemet in the San Jacinto Valley near Diamond Valley Lake.
Prior to filming, both Jordana Brewster and Michelle Rodriguez did not have driver's licenses, so they took driving lessons during production. For the climactic race scene between Brian and Toretto, separate shots of both cars crossing the railroad and the train crossing the street were filmed, then composited together to give the illusion of the train narrowly missing the cars. A long steel rod was used as a ramp for Toretto's car to crash through the semi-truck and fly in mid-air.
An alternate ending titled "More than Furious" was filmed, in which Tanner drops Brian off at the Toretto home, where he encounters Mia packing, intending to move away. Brian reveals that he resigned from the LAPD, who let him go quietly, and that he wants another chance with her. When Mia tells him that it's not going to be that simple, Brian tells her that he's got time. This ending was released in the collection bundle DVD version.
The film's score was composed by music producer BT, mixing electronica with hip-hop and industrial influences. Two soundtracks were released for the film. The first one features mostly hip-hop and rap music. The second one, titled More Fast and Furious, features alternative metal, post-grunge and nu metal songs, as well as select tracks from BT's score.
The Fast and the Furious was released on June 22, 2001 in North America and ranked #1 at the box office, earning $40,089,015 during its opening weekend. Its widest release was 2,889 theaters. During its run, the film has made a domestic total of $144,533,925 along with a foreign total of $62,750,000 bringing its worldwide total of $207,283,925 on a budget of $38 million.
On Rotten Tomatoes, the film received a rating of 53% based on reviews from 147 critics and an average score of 5.4/10. The critical consensus reads: "Sleek and shiny on the surface, The Fast and the Furious recalls those cheesy teenage exploitation flicks of the 1950s." On Metacritic, the film gained a metascore of 58 out of 100 based on reviews from 29 critics, indicating "mixed or average reviews". Todd McCarthy of Variety called the film "a gritty and gratifying cheap thrill, Rob Cohen's high-octane hot-car meller is a true rarity these days, a really good exploitationer, the sort of thing that would rule at drive-ins if they still existed." Kevin Thomas of the Los Angeles Times called it "an action picture that's surprising in the complexity of its key characters and portents of tragedy." Vin Diesel's portrayal of Dominic Torretto won praise In particular with Reece Pendleton of the Chicago Reader writing "Diesel carries the movie with his unsettling mix of Zen-like tranquillity and barely controlled rage."
Other reviews were more mixed. Susan Wloszczyna of USA Today gave the film 2 1⁄2 out of 4 stars, saying that Cohen "at least knows how to keep matters moving and the action sequences exciting." Owen Gleiberman of Entertainment Weekly gave the film a C, saying it "works hard to be exciting, but the movie scarcely lives up to its title." Rita Kempley of The Washington Post gave the film a scathing review, calling it "Rebel Without a Cause without a cause. The Young and the Restless with gas fumes. The Quick and the Dead with skid marks." Paul Clinton of CNN wrote that Cohen "created a high-octane, rubber-burning extravaganza" but he criticized the film for "plot holes you could drive the proverbial truck through" and an idiotic ending.
The Fast and the Furious was released on DVD on January 2, 2002. A second DVD entitled the "Tricked Out Edition", released on June 3, 2003, featured The Turbo Charged Prelude for 2 Fast 2 Furious, a short film that set the tone to the film's sequel. An abridged version of the short film is also on the sequel's DVD release.
Racing Champions released diecast metal replicas of the film's cars in different scales from 1/18 to 1/64. RadioShack sold ZipZaps micro RC versions of the cars in 2002. 1/24 scale plastic model kits of the hero cars were manufactured by AMT Ertl.