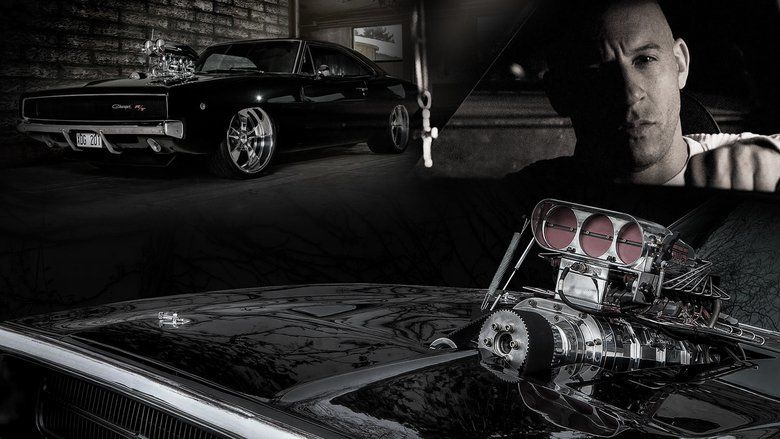 The film is based on an article, titled "Racer X", about New York street clubs that race Japanese cars late at night, although the film is set primarily in Los Angeles. While elite street racer and ex-convict Dominic Toretto (Vin Diesel) and his crew: Jesse (Chad Lindberg), Leon (Johnny Strong), Vince (Matt Schulze) and Letty Ortiz (Michelle Rodriguez), are under suspicion of stealing expensive electronic equipment by hijacking moving trucks, Brian O'Conner (Paul Walker) is an undercover police officer who attempts to find out who exactly is stealing the equipment. He works for FBI agent Bilkins (Thom Barry) and LAPD Sgt. Tanner (Ted Levine).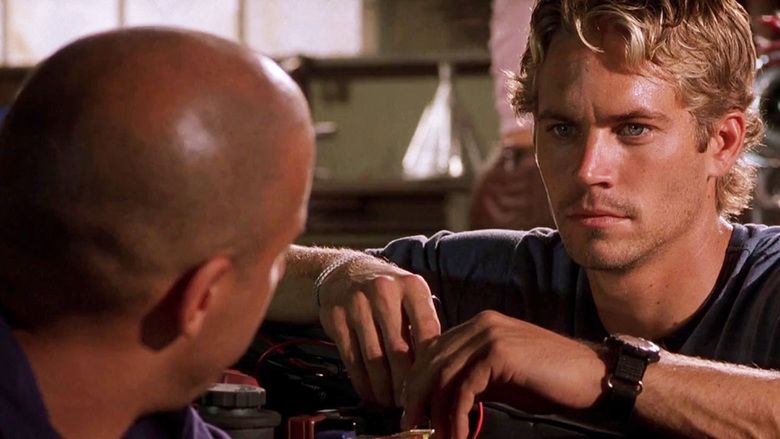 Falling for Dominic's younger sister, Mia Toretto (Jordana Brewster), Brian later confesses to her his status as an undercover police officer and convinces her to come with him to save her brother and his friends from the truck drivers, who have now armed themselves to combat the robberies. He tracks Dominic's location by triangulating his cell phone signal and they arrive at the hijacking in-progress to find Letty, badly injured at the car accident, and Vince critically wounded, having lacerated his arm and been shot by the truck driver. Brian and Mia work together with Dominic, Leon and Letty to rescue Vince. Brian then makes the difficult decision to blow his cover to the crew by phoning in for a medivac. The revelation enrages Dominic, fleeing with Leon, Letty, and Mia as the medivac arrives for Vince.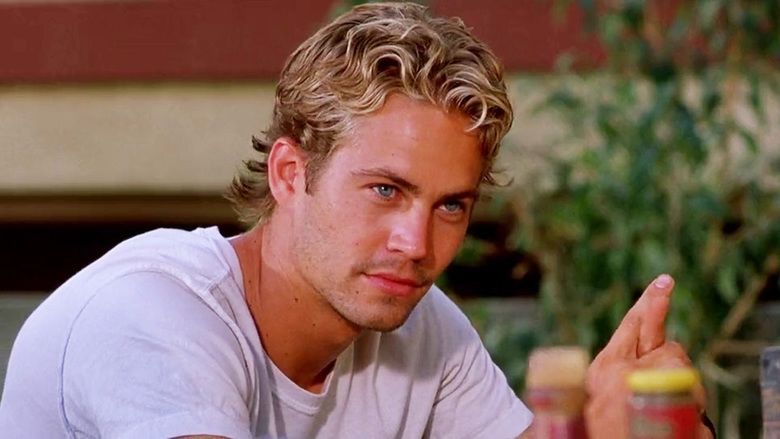 Brian soon follows Dominic to his house and holds him at gunpoint to prevent him from fleeing further. Jesse arrives shortly afterwards, apologizing for his actions at Race Wars and pleading for Dominic's help with Johnny Tran (Rick Yune). Moments later, Tran and his cousin Lance Nguyen (Reggie Lee) perform a drive-by shooting, killing Jesse. Brian and Dominic chase them, with Dominic driving his late father's modified 1970 Dodge Charger. Dominic forces Lance's motorcycle off the road, severely injuring him, while Brian shoots and kills Tran. Afterwards, Brian and Dominic engage in an impromptu street race, narrowly avoiding a passing train. However, Dominic collides with a semitruck and rolls his car twice, injuring himself, and rendering the Charger undrivable. Instead of arresting him, Brian hands over the keys to his Supra and lets Dominic escape, using the line "I owe you a ten-second car".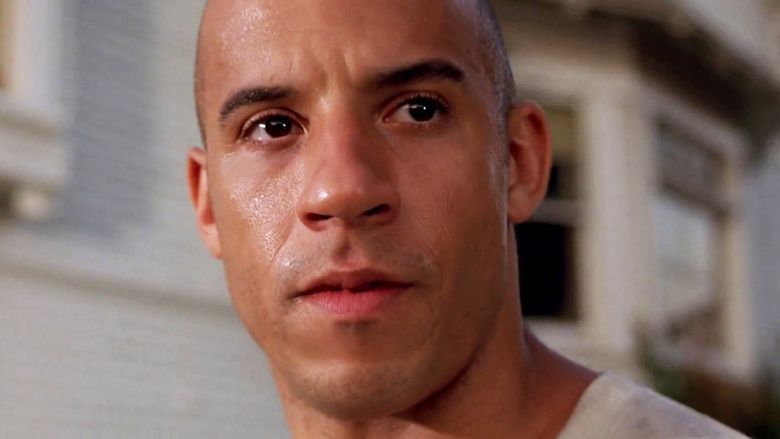 Watched by undercover Customs Agent Monica Fuentes (Eva Mendes), Brian is caught by US Customs agents and given a deal by FBI Agent Bilkins and Customs Agent Markham (James Remar) to go undercover and try to bring down drug lord Carter Verone (Cole Hauser) in exchange for the erasure of his criminal record. Brian agrees but only if he is given permission to choose his partner, refusing to partner with the agent assigned to watch him. Brian heads home to Barstow, California, where he recruits Roman Pearce (Tyrese Gibson), a childhood friend of Brian who had served jail time and is under house arrest, to help him. Pearce agrees, but only for the same deal Brian was offered, and with the help of Monica, Brian and Roman work together to take down Verone. After acquiring confiscated vehicles and being hired by Verone as his drivers, the duo return to a Customs/FBI hideout, where Roman confronts Markham over the latter's interference with the mission. After the situation is cooled down, Brian tells Bilkins and Markham that Verone plans to smuggle the money into his private jet and fly off, but also suspects something wrong with Monica's role in the mission.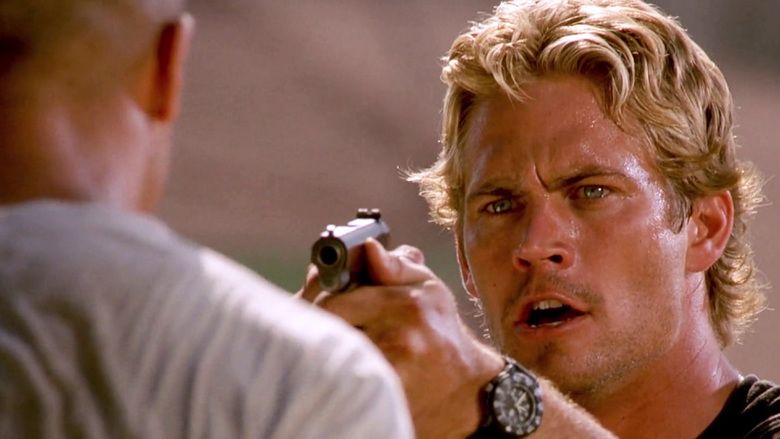 Later, Brian and Roman race two of Verone's drivers for their cars and begin to devise a personal back up plan if the operation goes awry. Roman confronts Brian about his attraction to Monica and the constant threat of Verone's men. On the day of the mission, Brian and Roman begin transporting duffel bags of Verone's money, with two of Verone's men Enrique (Mo Gallini) and Roberto (Roberto Sanchez) riding along to watch Brian and Roman. Before the 15-minute window is set, the detective in charge, Whitworth (Mark Boone, Jr.), decides to call in the police to move in for the arrest, resulting in a high-speed chase across the city. The duo lead the police to a warehouse, where a scramble by dozens of street racers disorient the police. Following the scramble, police manage to pull over the Evo and the Eclipse, only to find out that they were driven by two members of Brian's new crew, friends, Tej Parker (Ludacris) and Suki (Devon Aoki).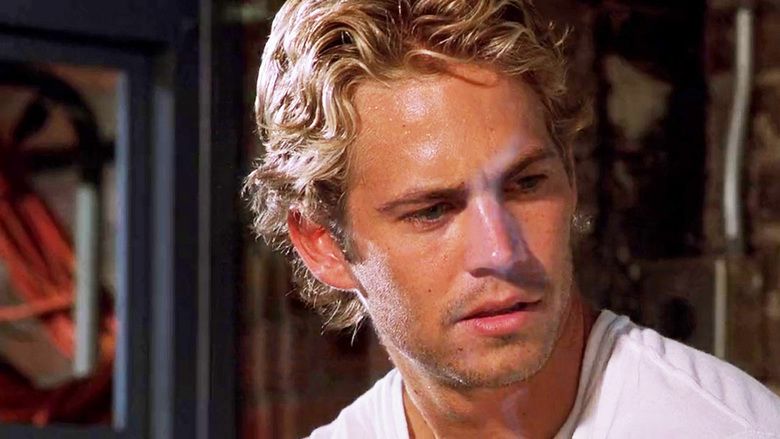 As Brian approaches the destination point in a Yenko Camaro, Enrique tells him to make a detour away from the airfield. Meanwhile, Roman gets rid of Roberto by using an improvised ejector seat in his (orange) Dodge Challenger powered by nitrous oxide. At the airfield, Customs Agents have Verone's plane and convoy surrounded, only to discover they are duped into a decoy maneuver while Verone is at a boatyard several miles away. As he knew Monica was an undercover agent, he gave her the wrong information on the destination point and plans to use her as leverage. When Brian arrives at the intended drop-off point, Enrique prepares to kill him when Roman suddenly appears and the both of them dispatch Enrique. Verone makes his escape aboard his private yacht, but Brian and Roman use the Yenko Camaro and drive off a ramp, crashing on top of the yacht. The duo manage to apprehend Verone and save Monica.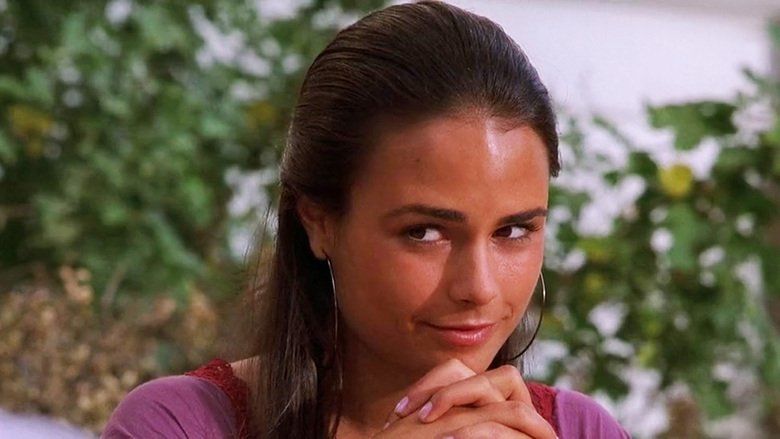 With their crimes pardoned, Brian and Roman ponder on what to do next other than to settle in Miami when the former mentions starting a garage. Roman asks how they would afford that and Brian reveals that he took some of the money, as Roman also reveals that his pockets aren't empty, having taken money for himself.
This film's story occurs sometime after Fast & Furious 6 with a scene that was later made concurrent with events in Furious 7.
After totaling his car in an illegal street race, Sean Boswell (Lucas Black) is sent to live in Tokyo, Japan, with his father, a U.S. Navy officer, in order to avoid juvenile detention or even jail.
While in school, he befriends Twinkie (Bow Wow), a "military brat" who introduces him to the world of drift racing in Japan. Though forbidden to drive, he decides to race against Takashi (Brian Tee) aka D.K. (Drift King). He borrows a Nissan Silvia from Han Lue (Sung Kang), now a business partner to Takashi, and loses, totaling the car because of his lack of knowledge of drifting. To repay his debt for the car he destroyed, Sean works for Han. Later on, Han becomes friends with Sean and teaches him how to drift.
Takashi's uncle Kamata (Sonny Chiba) (the head of the Yakuza) reprimands Takashi for allowing Han to steal from him. Takashi confronts Han, Sean and Neela (Nathalie Kelley), and in doing so, they flee. During the chase, Han is killed in a car accident when his car catches fire. Takashi, Sean, and his father become involved in an armed standoff which is resolved by Neela agreeing to leave with Takashi. Twinkie gives his money to Sean to replace the money Han stole, which Sean then returns to Kamata.
Sean proposes a race against Takashi to determine who must leave Tokyo. Sean and Han's friends then build a 1967 Ford Mustang, with an inline-6 engine and other parts salvaged from Han's Silvia that Sean had destroyed. Sean wins the race and is later challenged by Dominic Toretto.
About five years after the events of the first film, Dominic and his new crew (Letty, Han, Leo, Santos and Cara) have been hijacking fuel tankers in the Dominican Republic. When their trail gets too hot, Dominic disbands the crew. However, he is later informed that Letty has been murdered. Dominic returns to Los Angeles where he finds traces of nitro-methane at the crash site, and tracks the buyer of the gas to David Park. Meanwhile, Brian O'Conner, who has been working as an FBI agent, is tracking down a drug trafficker named Arturo Braga. When Brian and Dominic cross paths at David Park's apartment, Dominic is about to drop David out the window. But Brian intervenes, and works a scheme where he enters a street race where the winner would join Braga's team of drivers. Although Dominic wins the four-car race by bumping Brian's car, Brian later joins the team by replacing one of Braga's other drivers.
The team meets Fenix Calderon (Laz Alonso) who directs them to drive the heroin across the border using underground tunnels to avoid detection. Brian realizes that the drivers are to be killed following the mission, and when Fenix reveals to Dominic that he killed Letty, Dominic detonates the nitrous in his car, blowing up a bunch of vehicles. In the chaos, Brian hijacks the Hummer that is carrying the heroin. Dominic and Brian drive back to Los Angeles, hiding the heroin in an impound lot. When Dominic learns Brian was the last person to contact Letty, he attacks him until Brian reveals that Letty was working undercover for Brian, tracking down Braga in exchange for clearing Dominic's name. Brian negotiates with the agency to free Dominic if they can lure Braga into personally coming to exchange the heroin for cash. However, at the drop site, it is revealed that the Braga they arrested was a decoy, and that the real Braga (John Ortiz) has escaped, fleeing to Mexico.
Suspended from duty, Brian joins Dominic to go to Mexico and in hopes of catching Braga. Although Braga agreeably surrenders, they are pursued by Braga's men through town and then the tunnels. Fenix T-bones Brian's car right outside the tunnel exit, but before he can kill Brian, Dominic drives into Fenix. As the police arrive, Dominic refuses to escape, saying he is tired of running. Despite Brian's request for clemency, the judge sentences Dominic to 25 years to life. During the prison bus ride to Lompoc penitentiary, Brian and Mia, along with Leo and Santos, arrive in their cars and intercept the bus.
Fast Five
Fast & Furious 6
Furious 7
The Fate of the Furious
Dwayne Johnson has expressed interest in future films in the series and has stated that there are plans for a spin-off film featuring his character, Luke Hobbs. Vin Diesel announced in an interview with Variety that potential spin-offs for the series were in the early stages of development. In February 2016, Diesel announced the ninth and tenth films would be released on April 19, 2019, and April 2, 2021, respectively. In September of the same year, both Caleb and Cody Walker revealed to Entertainment Tonight that their brother's character may possibly return for another sequel.
The short film was included on a new print of the DVD of the first film in June 2003 to bridge the first two films.
Brian O'Conner packs his bags and leaves Los Angeles, before the LAPD gets a chance to arrest him for letting Dominic escape. While the FBI launch a national manhunt for him, Brian travels across Arizona, New Mexico, and Texas, winning every street race he participates in, with his red Dodge Stealth. However, he is forced to ditch his car at a motel in San Antonio when police officers are notified of his presence. When they collect the car, he manages to hitch a ride from an unknown woman (Minka Kelly), despite her knowing who he really is. She drops him at a used car lot, with him realizing she knows that he is a wanted man. There, he buys a green Nissan Skyline GT-R R34. Later, collecting money from street races, he modifies the car with new rims and repaints it silver before traveling eastbound and winning more races on the way. Upon reaching Jacksonville, Florida, Brian heads south toward Miami, where he sees Slap Jack's Toyota Supra and Orange Julius' Mazda RX-7 (both 2 Fast 2 Furious characters) before the screen reads "2 be continued...".
Tego Leo (Tego Calderón) is in a Dominican Republic prison, ranting about corporations holding back the electric car and starting wars for oil. Meanwhile, on the streets, Rico Santos (Don Omar) chats to an old man unable to find enough gas. Han Lue (Sung Kang) arrives and is collected from the airport by Cara Mirtha (Mirtha Michelle) and Malo (F. Valentino Morales). They drive him back to Santos' house, where his aunt Rubia (Adria Carrasco) is struggling with rising prices linked to the cost of gasoline and Dominic is working on his car. The team then enjoy a welcome meal with the family. After breaking Leo out of prison, they head to a club, where Han and Cara flirt, while Dominic meets up with local politician Elvis (Juan Fernandez), who informs them of a window of opportunity to hijack a gasoline shipment. While relaxing at the club afterwards, Dominic is surprised by the arrival of Letty, who has tracked him from Mexico. The two drive together to the beach, where they "rekindle their relationship".
Bridging the narrative gap between two or more of the feature films in the series are two short films that were released. Also, The Fast and the Furious: Tokyo Drift does not take place third in the series but sixth of the feature films. Below is a table of all films, both short and feature length, in chronological order. Real world release dates are also noted.
Universal has incorporated several theme park attractions involving the franchise. Universal Studios Hollywood and its Studio Tour has featured several of the picture car vehicles. From 2006 to 2013, The Fast & The Furious: Extreme Close-Up attraction was part of the Studio Tour. On June 25, 2015, Universal Studios Hollywood allotted the final portion of their Studio Tour for the dark ride Fast and Furious: Supercharged. Universal Orlando announced the development of a ride of the same name to open in 2018.
The film series has spawned several racing video games for various systems. The arcade game The Fast and the Furious (known as Wild Speed in Japan) was released by Raw Thrills in 2004. In 2006, the video game The Fast and the Furious was released for the PlayStation 2 and PlayStation Portable. Several games (The Fast and the Furious: Pink Slip, Fast & Furious, Fast Five, Fast & Furious: Adrenaline, Fast & Furious 6: The Game and Fast & Furious Legacy) have all been released for iOS and are available on the iTunes App Store, for Android devices there is official version of Fast & Furious 6: The Game and "Fast & Furious Legacy". In 2013, Fast & Furious: Showdown was released for the PC (Windows OS), Xbox 360, PlayStation 3, Wii U and Nintendo 3DS. Various cars, locations and characters from the series have also appeared in the Facebook game Car Town. In 2015, in a deal with Microsoft Studios, a standalone expansion of Forza Horizon 2 for Xbox One and Xbox 360 was released titled Forza Horizon 2 Presents Fast & Furious.
Racing Champions released diecast metal replicas of the film's cars in different scales from 1/18 to 1/64. RadioShack sold ZipZaps micro RC versions of the cars in 2002. 1/24 scale plastic model kits of the hero cars were manufactured by AMT Ertl. Johnny Lightning under the JL Full Throttle Brand released 1/64th and 1/24th models of the cars from Tokyo Drift. These models were designed by Diecast Hall of Fame designer Eric Tscherne. Greenlight also sold some cars from the new films from the series and some of them from the previous series.
The Fast and the Furious franchise already visited several countries including: USA, Mexico, Panama, Puerto Rico, Brazil, Dominican Republic, Canada, Cuba, UK, Spain, Iceland, Germany, Japan and United Arab Emirates.