5.5

/

10

Alchetron

8

Rate This




Also known as

Pasión de amor

Final episode date

31 August 2014




Theme song

Hoy es un buen día




Created by

José Cuauhtémoc Blanco, María del Carmen Peña

Opening theme

"Hoy es un buen día" performed by

Río Roma

Cast

Similar

Antes muerta que Lichita, Amores verdaderos, La sombra del pasado
Premios tvynovelas 2015 mejor telenovela
The Color of Passion (Original title in Spanish: El color de la pasión) is a Mexican telenovela produced by Roberto Gómez Fernández for Televisa. The telenovela is written by Cuauhtémoc Blanco, who wrote the telenovelas Mi pecado, Cadenas de amargura, and El manantial.
Contents
The plot revolves around Rebeca (Claudia Ramírez), a woman who always hated her sister Adriana (Ariadne Díaz) for having everything including the man whom Rebecca loved. Rebeca murders her sister to end up with the man and becomes the step mother/aunt of her sister's daughter Lucía. (Esmeralda Pimentel). Nora (Ximena Romo) (Lucia's half sister and daughter of Rebecca) resents Lucia for the same reasons Rebecca hated Adriana, as history repeats itself.
The series stars Erick Elias as Marcelo, Esmeralda Pimentel as Lucía, Claudia Ramírez as Rebeca, René Strickler as Alonso, Eugenia Cauduro as Magdalena and Ariadne Díaz as Adriana.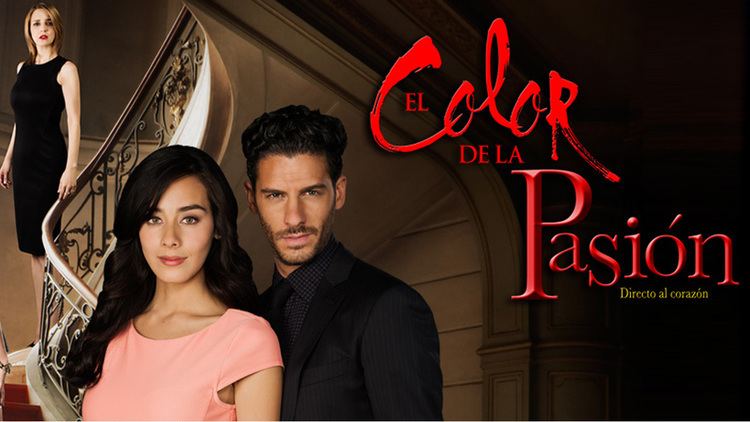 First stage
Adriana Murillo de Gaxiola (Ariadne Díaz) is married to Alonso Gaxiola (Horacio Pancheri), owner of a Talavera factory in Puebla. Magdalena (Ana Isabel Torre) and Rebeca (Michelle Renaud), sisters of Adriana, live with her sister and husband due to them Being orphans. Alonso and Adriana have a solid and happy marriage, but are unaware of Rebecca's true envious nature, which she masks by being a "sweet angel". This façade does not fool Magdalena, who suspects her true nature.
Rebeca has always been secretly in love with Alonso, and therefore harbors envious feelings towards her sister; That feeling becomes hatred upon learning that Adriana will soon become a mother. Rebecca's wicked nature extends to her sister Magdalena, the former being responsible for latter being left at the alter. Because of this Magdalena develops depression and is helplessly in uncovering Rebecca'a nature.
The fate of Alonso and Adriana changes forever when an argument between Adriana and Rebeca ends in a terrible accident in which Adriana loses her life, but maricously her baby survives and is named Lucia.
Second stage
It has been 24 years since the tragic accident, Rebeca (Claudia Ramírez) and Alonso (René Strickler) are married and are the father of a daughter, Nora (Ximena Romo), an unbalanced, envious and selfish girl, who has always felt less than her sister and wants everything she has. In addition Rebeca, more than an aunt, has been a mother for Lucía (Esmeralda Pimentel), although secretly hates her as she considers Lucía to be the living proof of the great love that there was between her sister Adriana and Alonso. This frustration leads Rebeca to have thousands of lovers, one of them is Féderico Valdivia Fuentes (Alfonso Dosal), a young man much younger than her, and who is so obsessed with Rebecca that commits suicide in front of her when she breaks up with him.
Lucía is a young noble, sweet and of good feelings that is about to marry with Rodrigo Zúñiga (Mariano Palacios), her boyfriend of all her life, but finds out her sister Nora is sleeping with Rodrigo after he leaves Lucia planted in the altar. This causes Lucía to fall into a brief depression.
Féderico's brother Marcelo Escalante Fuentes (Erick Elías) arrives in Puebla to take revenge on the woman who lead his brother to suicide, but is surprised to learn that the woman he seeks, Adriana Murillo, died 24 years ago. This leads him to delve into the Gaxiola-Murillo family and there he meets Lucía, who he falls in love with, not knowing she is the niece of Rebecca, the woman who seeks and for which his half-brother committed suicide, but things will not be so easy for Marcelo since Lucia does not want to know anything about love after the trauma she experienced on her wedding day.
He gets Lucía to fall in love with him and for reasons of destiny they are separated again but will fight to be together always and overcoming each obstacle (especially imposed by Nora and Rebecca) to consolidate their love.
Production
The telenovela began its production in the location Puebla of Mexico the 4 of February of 2014.For the beginning of the recordings only the actors were present: Erick Elías, Esmeralda Pimentel, Eduardo España, Ariadne Díaz, Eugenia Cauduro, René Strickler and Claudia Ramírez.
Development
For the development of the telenovela producers decided to set the novel in a province of Mexico City, to show the entire world the beautiful landscapes and localities of Mexico, since Puebla is considered a small Mexican Hollywood.
Reception
It premiered on March 17, 2014 replacing De que te quiero, te quiero, during the premiere of The Color of Passion recorded 15.5 rating points.On August 31, 2014, it surpassed 22.8 rating points in the final.
In the United States, it premiered on September 6, 2016 with 1.9 million viewers.
References
The Color of Passion Wikipedia
(Text) CC BY-SA