Created by

Marcela Citterio




Final episode date

12 May 2013






First episode date

3 September 2012




Theme song

No Me Compares







Genre

TelenovelaRomanceDrama




Based on

Amor en Custodiaby Alejandro OriveGerardo Luna




Written by

Enrique EstevanezMarcela CitterioKary Fajer




Directed by

Salvador GarciniRicardo de la Parra




Starring

Erika BuenfilEduardo YáñezSebastián RulliEiza González




Cast

Eiza González, Sebastián Rulli, Erika Buenfil, Eduardo Yáñez, Marjorie de Sousa





Similar

Triunfo del amor, Lo que la vida me robó, Mi corazón es tuyo




Profiles




Facebook
Amores verdaderos victoria casi descubre a kendra y nelson en la cama
The main protagonists are Erika Buenfil, Eduardo Yáñez, Eiza González and Sebastián Rulli. While Marjorie de Sousa, Guillermo Capetillo, Francisco Gattorno, Julio Camejo and the leading actors Sergio Acosta, Enrique Rocha and Lilia Aragón. With the stellar performances are Sherlyn, Natalia Esperón, Mónika Sánchez, Susana González and the leading actress Ana Martín.
Contents

On September 3, 2012, Canal de las Estrellas started broadcasting Amores verdaderos weeknights at 9:30pm, replacing Abismo de pasión. The last episode was broadcast on May 12, 2013, with La tempestad replacing it the following day.
Production of Amores verdaderos officially started on July 23, 2012. It is also the first telenovela to have 3-hour finale presentation with commercials.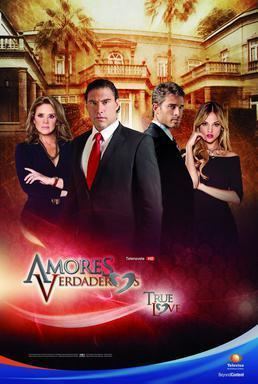 Univision confirmed a prime-time broadcast of Amores verdaderos on October 10, 2012. On November 7, Univision started broadcasting Amores verdaderos weeknights at 9pm/8c, replacing Abismo de pasión. The last episode was broadcast on July 28, 2013 at 8pm/7c, with La tempestad replacing it the following day.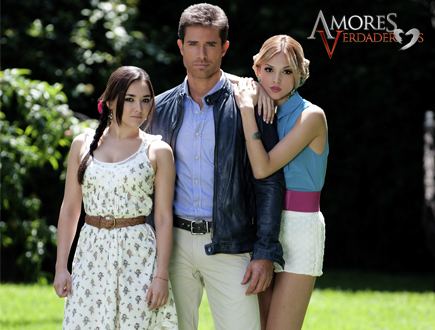 As of January 30, 2017 TL Novelas broadcast 11:00, 17:00 and 23:00 replacing Fuego en la Sangre.
Reception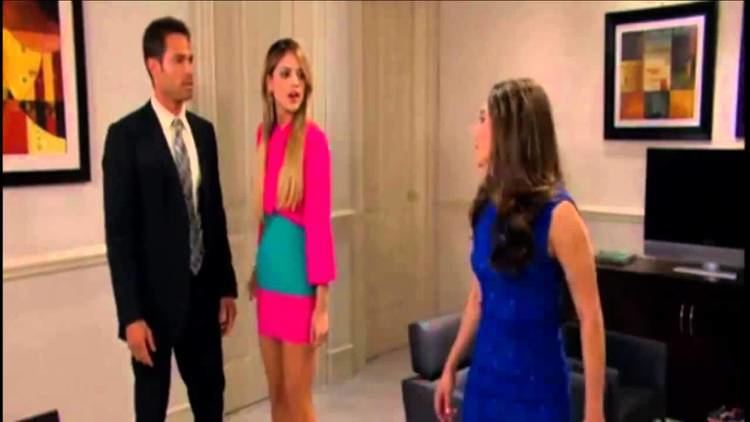 Univision's November 7 premiere of Amores verdaderos averaged 4.3 million viewers. The July 28 finale broadcast averaged 5.3 million viewers. It was also the first novela to have a finale on a Sunday.
Story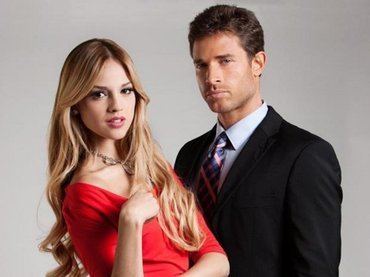 Victoria Balvanera (Erika Buenfil) and Nelson Brizz (Guillermo Capetillo) are a wealthy Mexican couple who are dedicated to their work at the family owned agency Meta Imagen Internacional. The company's owner and executive director is Victoria's father, Aníbal Balvanera, who has just arrived from a business trip. During an attempt to kidnap Victoria, a rancher named José Ángel Arriaga rescues her while he is looking for a job. Ver complaints with moving away. José Ángel shows up and fights a man in a ski mask (secretly Salsero) and pins him down until another person in a ski mask (secretly Kendra) attacks him with a baton. Victoria stays with José Ángel at the hospital while Nelson goes to Kendra's apartment and sleeps with her. Victoria begins painting a picture of José Ángel without a shirt on. Salsero and Kendra sneak in and see it. Salsero talks Nelson into looking at Victoria's studio. Nelson sees the painting and thinks Victoria has committed infidelity. Kendra goes into Nelson's office and takes her clothes off and begins kissing Nelson. Victoria catches them and goes to sleep at José Ángel's apartment while Cristina and Liliana are in Moleros, Mexico doing paperwork.
Victoria wants a divorce but Nelson refuses. Nikki's ex-boyfriend Rolando "Roy" Pavia (Eleazar Gomez) returns from Europe in order to marry her (because Nikki's family is rich) although Roy is in love with Liliana after they had met at the club. Then during their night wedding Roy catches Francisco and Nikki making love. The day afterward, Nikki leaves with Roy to go to Miami, Florida where he mistreats her, feeling betrayed, then leaves her alone and she gets hurt. Roy does not care about her bulimia after what she did to him. Meanwhile at the Balvanera's house, Arriaga is forcing Nelson to tell Victoria that he is the father of Kendra's baby. Then Victoria finds out, kicking Nelson and Kendra out of her house.
Main Cast
Erika Buenfil as Victoria Balvanera Gil de Brizz / de Arriaga
Eduardo Yáñez as José Ángel Arriaga Cupil
Eiza González as Nicole "Nikki" Brizz Balvanera de Pavía / de Guzmán
Sebastián Rulli as Francisco Guzman Trejo "Guzmancito"
Enrique Rocha as Don Aníbal Balvanera
Sherlyn as Liliana Arriaga Corona/ Lucia Celorio Balvanera
Natalia Esperón as Adriana Balvanera Gil
Guillermo Capetillo as Don Nelson Brizz †
Marjorie de Sousa as Kendra Ferreti "Kendrix" / Macaria Chávez †
Francisco Gattorno as Santino "Salsero" Roca
Mónika Sánchez as Cristina Balvanera Corona de Arriaga †
Ana Martín as Doña Candelaria Corona
Lilia Aragón as Doña Odette Ruiz vda. de Longoria
Secondary Cast
Susana González as Beatriz "Betty" Guzman Trejo Vda. de Solis
Eleazar Gómez as Rolando "Roy" Pavía Orol
Julio Camejo as Leonardo Solís †
Lisardo as Joan Constantin / Carlos González
Silvia Manríquez as Doña Paula Trejo de Guzmán †
Raquel Morell as Tomasina Lagos
Michelle Rodríguez as Policarpia "Polita" López
Rubén Branco as Jean Marie Bonjour / Juan Mario Buendia Orol
Marcelo Córdoba as Vicente Celorio
Arsenio Campos as Don Félipe Guzmán Prado
Archie Lanfranco as Estefano Longoria Ruiz
Adrian Escalona as Guillermo "Guillo" Solis Guzmán
Sergio Acosta as Don Lotario "Espanto" Zamacona
Pedro Weber "Chatanuga" as Mezcalitos
Special Participation
Gabriela Goldsmith as Doña Doris Orol de Pavia
Luis Xavier as Don Milton Pavia
Paulina de Labra as Opalina Arriaga
Patsy as Jocelyn Madrigal
Diana Golden as Gilda Leyva
Theo Tapia as Antonio del Conde
Renata Flores as Imperia Roca
Hugo Macias Macotela as Fortuno
Maria Prado as Jovita
Marco Montero as Pascual
Gabriel Molina as Esteban Horacio Rojas
Sabine Moussier as Bruna Cristo
Agustin Arana as Eduardo Caligaris
Polo Ortin as Padre Nabor
Lizzeta Romo as Donatela
Ricardo Barona as El Turco
Barbara Islas as Nabila †
Patricia Conde as Iris Astudillo
Kelchie Arizmendi as Hostess
Denisse Padilla as Marchanta
Antonia Velazquez as Fernanda Tres Palacios
Vanesa Restrepo as Ambar Luke
Jonnathan Kuri as Omar
Marisol González as Irenka
Carlos Giron as Rommel
Monserrat Fligelman as Jenny
Laura Zalazar as Denisse
Cesar Bautista as Don Cesar Zambrano
Magda Karina as Elba
Toño Infante as Commandante Robles
Mónica Ayos as Evelyn Cervantes Girau
Lolita Ayala as Herself
Diego de Erice as Vladimir "Vladi"
Ana Bárbara as Herself
Deceased Characters
Doña Pilar Gil de Balvanera - Dies of disease
Cristina Balvanera Corona de Arriaga - Killed by Espanto as per Kendrix's order
Doña Paula Trejo de Guzmán - Dies of disease
Nabila - Killed by Espanto
Leonardo Solís - Killed by Police
Don Nelsón Brizz - Killed by Kendrix
Kendra Ferreti "Kendrix" / Macaria Chávez - Dies devoured by the wolves
Family tree
This family tree shows how the Balvanera, Guzman, Pavia and Corona families are related.
References
Amores verdaderos Wikipedia
(Text) CC BY-SA