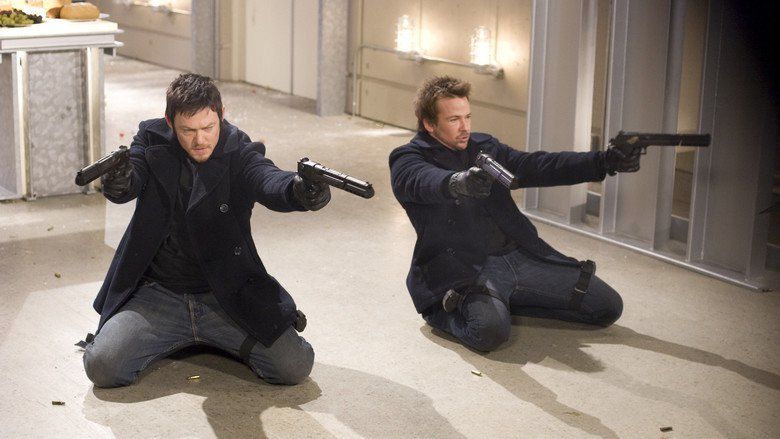 After the McManus brothers, Connor and Murphy, and their father, Noah (a.k.a. "Il Duce"), assassinated Joe Yakavetta, they fled to Ireland. Eight years later, their uncle Father Sibeal arrives to inform them that a renowned Boston priest was murdered by a mysterious assassin who attempted to frame the Saints by using their ritual assassination style. In response, the brothers dig up their old gear and weapons and depart for the United States.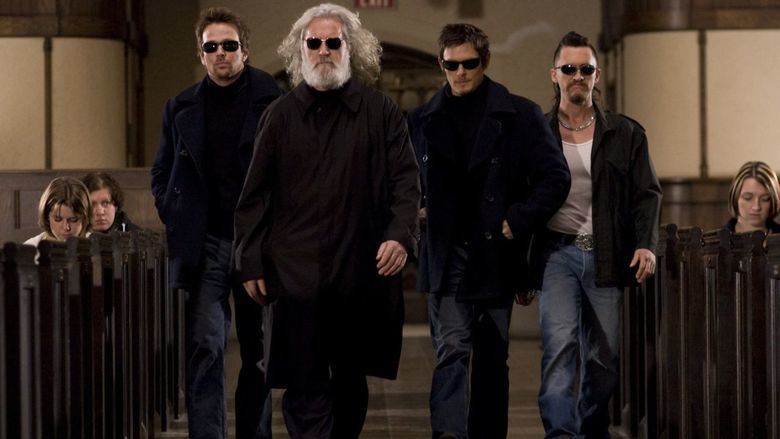 En route to Boston aboard a container ship, the brothers meet a Mexican underground fighter named Romeo, who recognizes them as the Saints. Romeo convinces them to let him join them as their new partner. Hearing a radio broadcast regarding Joe's son, Concezio Yakavetta, they deduce that he must have hired the hit-man who killed the priest in order to draw them out of hiding.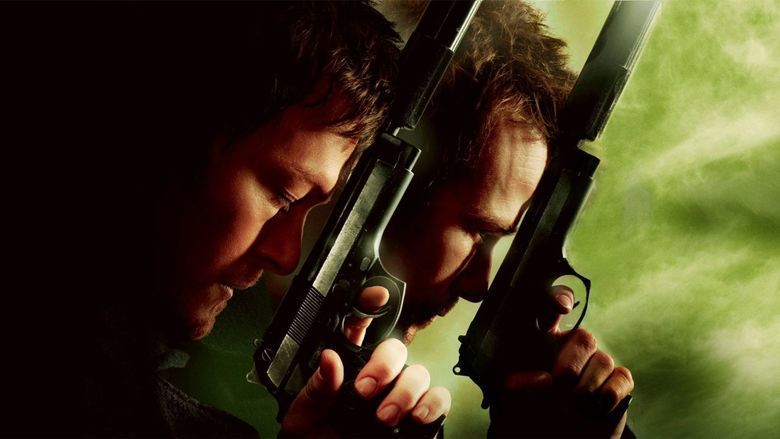 Meanwhile, Detectives Greenly, Dolly and Duffy are at the scene of the priest's murder. They are greeted by Special Agent Eunice Bloom, the protégée of Paul Smecker (who has died) who has been assigned to investigate the murder and determine whether or not the Saints are responsible. She comes to the conclusion that it was not the Saints who murdered the cleric and begins an investigation to find the real assassin. She and the other officers find out the assassin is Ottilio Panza, a man who appears to be working for a mysterious man known only as "The Old Man".
Connor, Murphy and Romeo hit a warehouse that is being used by an Asian gang to process heroin for Yakavetta. After killing everyone at the warehouse, Connor and Murphy reunite with their old bartender friend, Doc. They learn that the assassin was an independent contractor and that Yakavetta himself is hiding in the Prudential Tower. Later at the warehouse, now a crime scene, Bloom confirms that the Saints have returned. Bloom interrupts a massage in progress and hits a mob boss with a paddle, displaying her identity.
The brothers and Romeo have one of Yakavetta's underbosses named Gorgeous George set up a meeting with a group of mobsters at a bar, where they kill them. Panza arrives shortly after and attempts to ambush the brothers, but Bloom arrives in time to save them by wounding Panza who flees. Bloom introduces herself, revealing her intentions to help the Saints in Smecker's place. The group then cleans up the crime scene to make it look as if the mobsters had turned on each other. Later, Bloom reunites the other detectives with the Saints, thus bringing them in on their plans.
Yakavetta calls a meeting with his crew, during which the Saints arrive and kill everyone including Yakavetta. Bloom interrogates Yakavetta's Consigliere Jimmy and learns of the Old Man's involvement with Panza. The crime scene is visited by FBI Special Agent Kuntsler, who takes over the gang murder case upon suspending Bloom. Later at the bar, Greenly arrives to celebrate the boys' victory, but is shot and killed by Panza. Noah, earlier having decided to help his sons, unexpectedly arrives to demand Panza tell him the Old Man's location. They engage in a type of "Russian Roulette" stand-off and after Panza still refuses to answer, Noah kills him.
Noah reveals to the group that in 1958 New York, he watched a trio of mobsters brutally murder his father in front of his eyes. Consumed with anger and wanting revenge, Noah killed the mobsters with the help of his best friend Louie, who is revealed to be the Old Man. Noah still felt unsatisfied, so Louie helped him pick out mobsters to kill. They continued this until 1975, when Louie gave Noah up to the police.
Bloom illegally obtains a file regarding Louie's location and gives it to Noah. Louie, anticipating the Saints arrival at his mansion, has several hit-men stationed on the grounds. When the McManus family arrives, Louie reveals that he had only used Noah to eliminate the competition in the Mafia, afterwards giving him up to the police when he was no longer useful. After this however, the Mafia cast Louie himself out for the very same reason. He then helped rebuild the Yakavetta family after Joe's demise and let the Saints take out the rest of the organization so Louie could take control. Louie signals the hit-men waiting to take out the Saints to make their move, but the Saints kill them all. Noah suffers a fatal gunshot wound, but kills Louie before he dies. The Police arrive and arrest the wounded Connor, Murphy and Romeo.
Bloom meets with Father Sibeal who has arranged to take her to a safe place out of the country to flee FBI prosecution. She is shocked to discover that Sibeal has been working with Smecker who faked his own death and developed a network of support for the Saints and their work. Smecker tells Bloom his plans to break the Saints out of prison.
As protesters outside of the prison shout for the freedom of the Saints, Connor and Murphy stare out of their window at the sea of prisoners in the yard, finding that they'll have plenty of work while they wait to be freed.
Sean Patrick Flanery as Connor McManus, one-half of the McManus brothers. Aside from the "Veritas" tattoo on his left hand, he now has a tattoo of Christ's upper torso and face on his back.
Norman Reedus as Murphy McManus, the other half of the McManus brothers. In addition to the "Aequitas" tattoo on his right hand, he now has a tattoo of Christ's nailed feet on his back.
Clifton Collins Jr. as Romeo, a Mexican fighter who becomes the brothers' new sidekick.
Billy Connolly as Noah McManus a.k.a. "Il Duce" ("The Duke"), father of the McManus brothers.
Julie Benz as FBI Special Agent Eunice Bloom, the agent assigned to the gang murders connected to the Saints. She is a former apprentice of Paul Smecker.
Willem Dafoe as FBI Special Agent Paul Smecker, ally to the McManus brothers in the first film. Fakes his own death and reveals at the end that he has started an agency funded by the Catholic Church which will help the Saints escape from jail and continue their work as vigilantes.
Judd Nelson as Concezio Yakavetta, son of Don "Papa" Joe Yakavetta, who was executed by the Saints in court eight years ago. He hires a hitman to execute a priest to call out the Saints.
Bob Marley, David Ferry and Brian Mahoney as Detectives Greenly, Dolly and Duffy, Boston Police Department detectives and secret allies of the Saints.
Daniel DeSanto as Ottilio Panza a.k.a. "The Assassin", a hitman of short stature hired by Yakavetta to kill a priest.
Bob Rubin as Gorgeous George, Yakavetta's underboss from Brooklyn. He is forced by Special Agent Bloom and the brothers to give information on the Yakavetta clan.
David Della Rocco as Rocco "The Funny Man", the brothers' former sidekick, who was killed by Joe Yakavetta in the first film. He appears in flashbacks and dream sequences.
Paul Johansson as FBI Special Agent Kuntsler, an agent who suspends Special Agent Bloom and takes over the gang murder case.
Gerard Parkes as Doc, the owner of an Irish pub and a friend of the brothers. He has a stuttering problem, as well as Tourette syndrome.
Peter Fonda as Louie a.k.a. "The Roman" or "The Old Man", Noah's former friend who had him sent to prison in 1975.
Robb Wells as Jimmy the Gofer, Concezio Yakavetta's Consigliere
After years in development hell, the success of the first film's DVD release spurred 20th Century Fox to finance a sequel. In March 2008, Troy Duffy confirmed the film was greenlit. Pre-production on the film started in early September 2008. Principal photography took place in Ontario from October 20, 2008 to December 10, 2008.
Duffy kept a video diary of the film's progress on YouTube, with some of the shooting sequences, and "question and answer" segments from fans answered by the film's stars.
The film's first trailer was officially released online on September 2, 2009 via IGN. The film was initially released in 67 theaters in the Northeastern and Western areas of the continental US, and was gradually released into more theaters in the following weeks.
The film has received generally negative reviews from critics. On Rotten Tomatoes the film received a 23% approval rating.
On March 9, 2010 the film was released on single disc DVD and 2-Disc Steelbook Special Edition DVD as well as Blu-ray with special features including deleted scenes, audio commentary, and a behind the scenes featurette.As of June 2012, the film had a limited release and it has grossed $50 million in DVD sales.
On July 16, 2013 the film was released in a new Director's Cut as a Best Buy Exclusive release.
The soundtrack became available for pre-order in late March on the official Boondock Saints Store website and became available for purchase and digital download at other retailers April 7, 2010.
A six-issue comic book series, made up of 3 2-issue chapters written by Troy Duffy and published by 12 Gauge Comics, was released in May 2010 as a companion to the movie. The story is a more in-depth version of Il Duce's backstory together with the story of a hit the brothers performed that does not appear in the film.
There was also a mini-book available from the official Boondock Saints website which told a story that took place prior to the strip club scene from the first film. Both will eventually be released in a single graphic novel.
Director Troy Duffy spoke about a potential sequel in an interview on June 13, 2011. He said that "We've been approached to do a possible Boondock Saints TV series. So the fans may be getting a part 3 as a television show. We might be able to pull that off….I actually called both Sean and Norman and they both said "hell yeah, we'll drop everything." On March 21, 2012 it was indicated by Sean Patrick Flanery and Norman Reedus that Boondock Saints 3 is being written, tentatively titled "The Boondock Saints III: Saints Preserve Us." However, on September 14, Norman Reedus stated that there would be no third movie.
Again, on February 26, 2013, Troy Duffy stated that he was getting together with Norman Reedus and Sean Patrick Flanery to resume talks about Boondock Saints 3, in hopes that they could make the film a reality for fans. Later in 2013 at the Calgary Comic & Entertainment Expo, Sean Patrick Flanery confirmed that The Boondock Saints 3 is being worked on by Troy Duffy by saying "After the recent tragedies hit Boston I texted (director) Troy Duffy to ask him about when he would work on the third one and he replied 'on it'". On July 16, 2013, Troy Duffy stated in an interview with CraveOnline that he was halfway finished with the script for The Boondock Saints III.