The asterisk war the academy city on the water announce teaser trailer ps vita japan
The Asterisk War: The Academy City on the Water (Japanese: 学戦都市アスタリスク, Hepburn: Gakusen Toshi Asutarisuku, lit. "Academy Battle City Asterisk"), is a Japanese light novel series written by Yuu Miyazaki, and illustrated by Okiura. Media Factory has published ten volumes since September 25, 2012, under their MF Bunko J imprint. The series was later serialized from January 2013 in Media Factory's seinen manga magazine Monthly Comic Alive where it was adapted into a manga. The artwork for the manga has been done by Ningen, three volumes have been collected into tankōbon. Eventually an anime television series adaptation by A-1 Pictures was made which began airing on October 3, 2015. The anime aired for two seasons at twelve episodes each from October 3, 2015, to June 18, 2016. Other media adaptations include a video game called The Asterisk War: Houka Kenran which was released in Japan on January 28, 2016.
Contents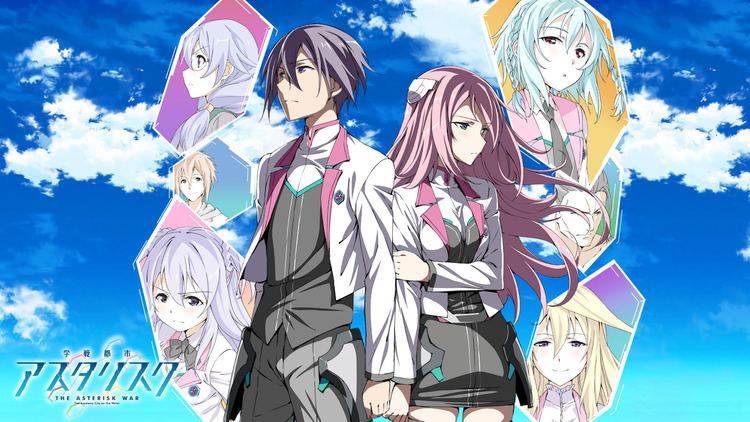 It has been licensed by Aniplex of America in North America.
The asterisk war sucks part 7 or building the worst protagonist ever
Plot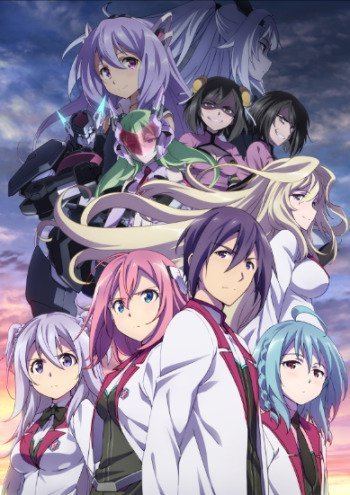 In the 20th century, an impact event called Invertia (落星雨 , Inverutia) leads to the destruction of the Earth's numerous cities. In response to the declining economy, the Integrated Enterprise Foundation (統合企業財体, Tōgō Kigyō Zaitai, also "Integrated Empire Foundation") is organized to assume the world's leadership. The parallel city of Rikka (六花), also known as Asterisk, has six academies which hold tournaments called "Festas" (星武祭 , Fesuta) between humans with superpowers called Genestella (星脈世代, Jenesutera). Seidoukan Academy (星導館学園, Seidōkan Gakuen) becomes the fifth highest-ranking academy in Asterisk. Ayato Amagiri, a Genestella, is determined to investigate the disappearance of his sister, Haruka. On his first day as a student, he encounters the Lieseltanian princess Julis-Alexia von Riessfeld. Ayato is forced to duel with her. The student council president, Claudia Enfield, voids the duel and transfers Ayato to the Seidoukan Academy.
Seidoukan Academy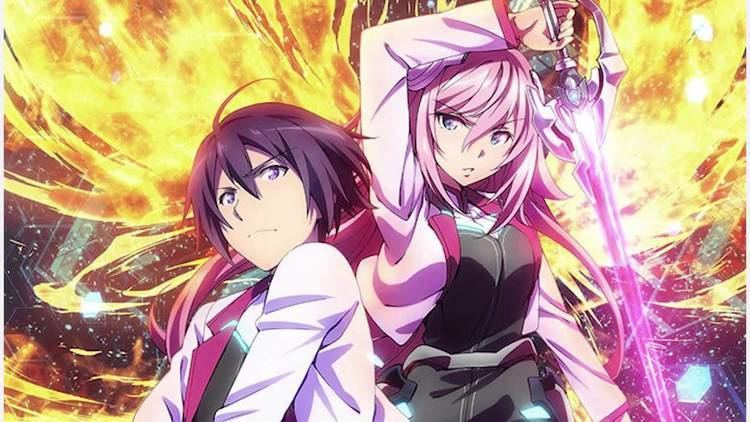 Ayato Amagiri (

天霧 綾斗

,

Amagiri Ayato)
Voiced by: Atsushi Tamaru (Japanese); Erik Scott Kimerer (English)
Ayato is the main protagonist of the series who uses the Amagiri Shinmei Style. He is the top student at Seidoukan Academy, nicknamed <Murakumo>. He wields the <Ser-Veresta>, with which he shows too high an affinity. He transfers to Seidoukan Academy to investigate his sister's disappearance and to figure out what he is supposed to do (he later says that it is to protect Julis). On his first day, he is challenged to a duel by Julis because of the embarrassing events that happen between them. During the duel, an unknown attacker shoots an arrow at Julis, but she is saved by Ayato. Before they can continue, the duel is stopped by Claudia, the student council president. Ayato also meets his childhood friend, Saya, whom he has not seen for five years. While Julis is showing Ayato and Saya around the city the next day as thanks for him saving her during the duel, Saya says that Ayato is a powerful opponent whose opponents never live to tell the tale, which Julis does not believe. Eventually, she realizes that Ayato is immensely powerful. Ayato often finds himself in the center of occasional embarrassing moments as Julis, Saya, Kirin and even Claudia all try to vie for Ayato's attention. He is not good at minor tweaks to his prana, but manages to do it in the Phoenix Festa finale with the help of Julis. He also has a limiter placed on him by his sister, which he can shed a little of, for a short time, but with heavy consequences. During the match with the Jie Long twins, Shenhua and Shenhyu, he manages to break another layer of the barrier, which increases the time for which he can be at full power. <Divine Revelations> says that he has a great amount of raw power.
Julis-Alexia von Riessfeld (

ユリス=アレクシア・フォン・リースフェルト

,

Yurisu-Arekushia Fon Rīsuferuto)
Voiced by: Ai Kakuma (Japanese); Kira Buckland (English)
Julis is the pink-haired fifth top-ranking student of Seidōkan Academy, also known as
, and is the First Princess of Lieseltania, a small country located in western Czech Republic. Her full name is Julis-Alexia Marie Florentia Renate von Riessfeld. She wields a rapier-type lux called which she uses during the Phoenix tournament and bears the image of a flower for her power - control over flames. However, due to the last battle during the Phoenix Festa, Julis begins using a new rapier, . She warms to Ayato, unlike the other students with whom she is distant. She starts to like Ayato and often find herself arguing with Saya and Kirin and even Claudia for his attention. After their duel, Julis and Ayato decide to join together for the Phoenix tournament with Julis acting as the strategist for their team while Ayato the main attacker. Before meeting Ayato, Julis often escapes the castle and flees into the town. One time, she gets into trouble and is rescued by the orphans at church. That is also the reason why she is fighting in Asterisk, to earn money and donate to the church. Julis holds a handkerchief which she holds dearly (given by Ophelia).
Claudia Enfield (

クローディア・エンフィールド

,

Kurōdia Enfīrudo)
Voiced by:
Nao Tōyama
(Japanese);
Erika Harlacher
(English)Claudia is the blond-haired second top-ranking student of Seidoukan Academy and its Student Council President. She recommends Ayato's transfer to the academy. She has held the position of Student Council President since junior high and wants to win the Gryps to make her wish came true. She uses <Pan-Dora>, an Ogre Lux which allows her to see into the future during duels, hence she is known as <Master of Thousand Eyes>. Claudia is also one of the female characters that try to gain Ayato's affections, though she is more open in showing her feelings for him. She also likes to seduce him at times. She also captains and lends her name to Team Enfield, the Grpys Festa team that includes Ayato, Julis, Saya and Kirin.
Saya Sasamiya (

沙々宮 紗夜

,

Sasamiya Saya)
Voiced by: Shiori Izawa (Japanese); Sarah Anne Williams (English)
The blue-haired daughter of Soichi and Kaya Sasamiya, Saya is Ayato's childhood friend. She moved abroad six years ago due to her father's career. She seems to be an air-headed stoic who has trouble waking up in the morning and is directionally-challenged. She uses a 38th generation Lux grenade launcher Helnekrom but later switches to a type 41 Gleaming Form - twin particle guns Waidenholt and Type 34 wave Motion heavy artillery Ark Van Ders for the Phoenix. Like Kirin, she enters the Phoenix for her father's sake.
Kirin Toudou (

刀藤 綺凛

,

Tōdō Kirin)
Voiced by: Ari Ozawa (Japanese); Brianna Knickerbocker (English)
Kirin is a purple-haired student and a student at Seidoukan Academy. She is a shy and quiet girl who becomes the academy's top student as a 13-year-old and has not lost to anyone until Ayato challenges her a second time. Their first duel happens because Ayato stops her uncle Kouichiro from hitting her and challenges him to a duel. Kirin is his opponent and she uses her lightning speed to defeat him. She seems to be under Kouichiro's influence but her friendship with Ayato allows her to break free and Kirin eventually tells Kouichiro that she wants to decide things for herself from now on. Kirin enters the Phoenix to clear her father's name and release him. She does not have a personal lux but rather carries her katana called Senbakiri which often makes her greatly marveled by others as she tops the former top student position just by using a Senbakiri. She and Saya team up for the Phoenix tournament but they lose to Arlequint's Ardi and Rimsi in the semifinal. After Ayato's final match, she also attempts to vie for Ayato's attention by squeezing her chest on his head and declares she would make onigiri (rice balls) for him every day.
Eishirou Yabuki (

夜吹 英士郎

,

Yabuki Eishirō)
Voiced by: Yūma Uchida (Japanese); Max Mittelman (English)
Eishirou is Ayato's roommate. Well known as a member of the academy's newspaper club, he's also a member of the Shadow Star, a secret police force that works for the Integrated Enterprise Foundation (which is essentially the world government).
Lester MacPhail (

レスター・マクフェイル

,

Resutā Makufeiru)
Voiced by: Takanori Hoshino (Japanese); Patrick Seitz (English)
Lester is the ninth highest-ranking student at Seidoukan Academy. He is ranked 5th until Julis defeats him. His Lux is an axe named Bardiche Leo. Despite his usual attitude, he is actually a decent fellow and has helped both Julis and Ayato on a few occasions.
Silas Norman (

サイラス・ノーマン

,

Sairasu Nōman)
Voiced by: Yuuichi Iguchi (Japanese); Kyle McCarley (English)
Randy Hooke (

ランディ・フック

,

Randi Fukku)
Voiced by: Nobuyuki Kobushi (Japanese); Vic Mignogna (English)
Kyōko Yatsuzaki (

八津崎 匡子

,

Yatsuzaki Kyōko)
Voiced by: Yūko Kaida (Japanese); Johanna Luis (English)
Kyōko is the homeroom teacher of year 1 class 3. She is a former student of Le Wolfe and a Strega who led Le Wolfe's group to Seidoukan Academy's only Gryps victory.
St. Galahadsworth School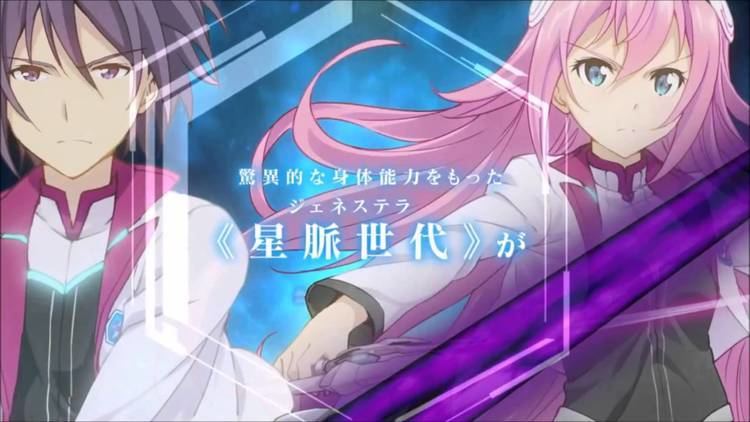 Ernest Fairclough (

アーネスト・フェアクロフ

,

Ānesuto Feakurofu)
Voiced by: Takahiro Sakurai (Japanese); Vic Mignogna (English)
The President of St. Galahadsworth Academy, holder of title <The Holy Knight>. He is the leader of the Team Lancelot in the Gryps Festa. His device is <Lei-Glems>
Laetitia Blanchard (

レティシア・ブランシャール

,

Retishia Buranshāru)
Voiced by: Saori Onishi
The Vice-President of St. Galahadsworth Academy, known as <holy Woman> or <Witch of Light Wings>. She is also a member of Team Lancelot.
Elliot Forster
A young prodigy, Elliot Forster, also known as <Shining Sword (Claíomh Solais)>, St. Garrardsworth's rank #6. He fought against Ayato in the Phoenix Festa, but was easily defeated, with Ayato mentioning it because of Elliot's experience. By the time of Gryps, he is considered to be an owner of sword skills next to Ernest Fairclough. He belongs to Team Tristan in the Gryps Festa.
Jie Long Seventh Institute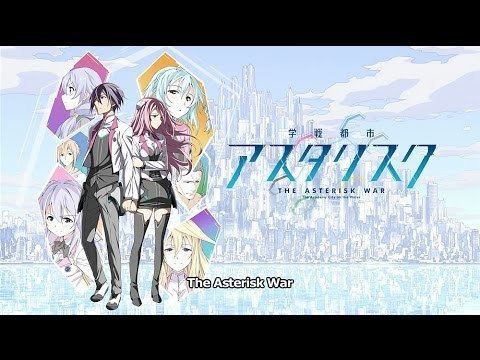 Fan Xinglu (

范 星露

,

Fan Shinrū)
Voiced by: Omi Minami (Japanese); Cherami Leigh (English)
Inheriting the title <Divine Revelations>, she is the young president of the Jie Long Seventh Institute. Because of her age she is unable to participate in the current Festa. She is said to be incredibly powerful, though its not clear whether she is more powerful than Orphelia.
Li Shenyun (

黎沈雲

,

Rī Shen'yun)
Voiced by: Satsumi Matsuda (Japanese); Erica Mendez (English)
Li Shenhua (

黎沈華

,

Rī Shenfa)
Voiced by: Risae Matsuda (Japanese); Lauren Landa (English)
Zhao Hufeng (

趙虎峰

,

Jao Fūfon)
Voiced by: Juri Kimura
Song Ran (

宋然

,

Son Ran)
Voiced by: Eiichiro Tokumoto
Luo Kunzhan (

羅坤展

,

Ruo Kunzan)
Voiced by: Tsuguo Mogami
Arlequint Academy
Ernesta Kühne (

エルネスタ・キューネ

,

Erunesuta Kyūne)
Voiced by: Chinatsu Akasaki (Japanese); Cassandra Lee Morris (English)
A student from Arlequint Academy and leader of Pygmalion (Sculptor Faction). A genius at making puppets, she wants AIs to be treated as equal to humans and sees Ardi and Rimsi as her children.
Camilla Pareto (

カミラ・パレート

,

Kamira Parēto)
Voiced by: Mutsumi Tamura (Japanese); Cristina Vee (English)
A student from Arlequint Academy and member of Ferrovious (Lions Faction).
Shuma Sakon (

左近洲馬

,

Sakon Shūma)
Voiced by: Nobuo Tobita (Japanese); Lucien Dodge (English)
AR-D (

アルディ

,

Arudi)
Voiced by: Wataru Hatano (Japanese); Keith Silverstein (English)
RM-C (

リムシィ

,

Rimushi)
Voiced by: Haruka Yoshimura (Japanese); Laura Post (English)
Le Wolf Black Institute
Dirk Eberwein (

ディルク・エーベルヴァイン

,

Diruku Ēberuvain)
Voiced by: Tomokazu Sugita (Japanese); Kaiji Tang (English)
The student council president of Rewolf Black Institute. A base-line human whose unprecedented rise to top of a battle school for superhumans is due to his ability to manipulate others behind the scenes. He is infamously called <The Tyrant>.
Korona Kashimaru (

樫丸ころな

,

Kashimaru Korona)
Voiced by: Moe Toyota
<The Tyrant>'s secretary, she has the ability to predict the future using cards.
Irene Urzaiz (

イレーネ・ウルサイス

,

Irēne Urusaisu)
Voiced by: Yumi Uchiyama (Japanese); Erica Lindbeck (English)
Rewolf's third-ranking student. Former owner of <Gravi-Sheath>. Over-using the power of <Gravi-Sheath> turned her into a half-vampire to absorb energy through blood. When she lost control during her match with Ayato and Julis during Phoenix Festa and attacked her little sister, Ayato destroyed the ogre lux <Gravi-Sheath> along with the mana dite. Having lost her parents at an early age, she signed a contract with Dirk Eberwin, to protect her sister and provide her money in exchange for using <Gravi-Sheath> and doing any work that <The Tyrant> orders her to do. After losing to Ayato, however, she decides to live an honest life.
Priscilla Urzaiz (

プリシラ・ウルサイス

,

Purishira Urusaisu)
Voiced by: Juri Nagatsuma (Japanese); Christine Marie Cabanos (English)
Irene's younger sister. She has the ability to heal herself and provides blood for the <Gravi-Sheath>. She is also good at cooking as is shown when she invites Ayato and Julis over to dinner to thank them for saving her sister. She also keeps her older sister in control often by chiding her for her poor manners.
Ophelia Landlufen (

オーフェリア・ランドルーフェン

,

Ōferia Randorūfen)
Voiced by: Maaya Sakamoto
An artificial Genestella and a childhood friend of Julis. She used to be a kind girl who could not bring herself to killing bugs and was into gardening. However, she was experimented on by Hilda Jane Rowlands and her powers of miasma corrodes anything she touches, causing her to become socially detached.
Moritz Nessler (

モーリッツ・ネスラー

,

Mōrittsu Nesurā)
Voiced by: Masayuki Kato
Gerd Schiele (

ゲルト・シーレ

,

Geruto Shīre)
Voiced by: Kenichiro Matsuda
Queenvail Girls' Academy
Sylvia Ryuneheim (

シルヴィア・リューネハイム

,

Shiruvia Ryūnehaimu)
Voiced by: Haruka Chisuga (Japanese); Mela Lee (English)
Also known as "Melodious Witch"
(戦律の魔女

,

Shiguru Dorīva)
and The Supreme Songstress, as the world's top idol, she is the Student Council President and the top student of Queenvail Girls' Academy who is very persistent. Sylvia was the previous runner up of the last Lindvolus, after losing to Orphelia, which makes her the second strongest person in Asterisk. She is introduced in volume 5 of the light novel when Ayato enters Rotlicht to search for Flora, and Mafias starts chasing after him. Sylvia volunteers to look after the matter and reveals her true identity to Ayato, uses her powers to locate Flora's whereabouts and asks him to keep this matter a secret between them. Ayato is unable to thank her properly and asks for her contact information. Sylvia later uses their secret to ask Ayato out on a date to a school festival (volume 7). Sylvia is looking for her master, Ursula Svento, who taught her about music and the world who might also have participated in the Eclipse just like Ayato's sister. During a match of the Grand Coliseum, Sylvia recognizes her master and runs after her. However, Ursula does not recognize Sylvia and attacks her. Ayato rescues her and offers her his help and Sylvia falls in love with Ayato due to his kind nature. Sylvia is part of the genestella generation and uses a headphone hair ornament to cover her true identity and roam freely in Asterisk. Her ability is omnipotent, which allows her to change her image to any form using music as a medium by singing a song which contained that image.
Light novel
The series is written by Yuu Miyazaki and illustrated by Okiura. It is published by Media Factory. The first volume was released in 2012. Yen Press licensed the novels for publication in North America.
Manga
A manga adaptation by Ningen has been compiled into three volumes as of December 2015. It is licensed in English by Yen Press. A spinoff manga is titled Gakusen Toshi Asterisk Gaiden: Queenveil no Tsubasa by Shou Akane. It has one volume in print as of August 2015.
Anime
Directed by Manabu Ono and Kenji Seto, an anime adaptation of the series was broadcast from October 3, 2015, to December 15, 2015, with a second season following from April 2, 2016, through June 18, 2016.
Four pieces of theme music are used for the two seasons: two opening themes and two ending themes. The opening themes, "Brand-new world" and "The Asterisk War", are both performed by Shiena Nishizawa. The first ending theme, titled "Waiting for the rain", is performed by Maaya Sakamoto, while the second ending theme is "Ai no Uta (Words of Love)" (愛の詩) performed by Haruka Chisuga.
Aniplex of America licensed the series for an English-language release in North and South America and simulcasted the series on Crunchyroll's streaming services. The first DVD and Blu-Ray compilation, containing 6 episodes, was released on September 20, 2016. Episodes 7-12 was released on DVD and Blu-Ray on November 22, 2016. Episodes 13-18 will be released on DVD and Blu-Ray on February 21, 2017. Episodes 19-24 will be released on DVD and Blu-Ray on April 25, 2017.
Episode list
Season 1
Season 2
Video Game
A PlayStation Vita simulation game by Bandai Namco Games titled The Asterisk War: Houka Kenran was released in Japan on January 28, 2016.
References
The Asterisk War Wikipedia
(Text) CC BY-SA