Tezaab (translation: Acid), released on 11 November 1988, is an Indian action romantic Hindi movie starring Anil Kapoor and Madhuri Dixit in lead roles. The film gave actress Madhuri Dixit her first big break, making her an overnight star. It reaffirmed Anil Kapoor's star status, after a successful Mr India (1987).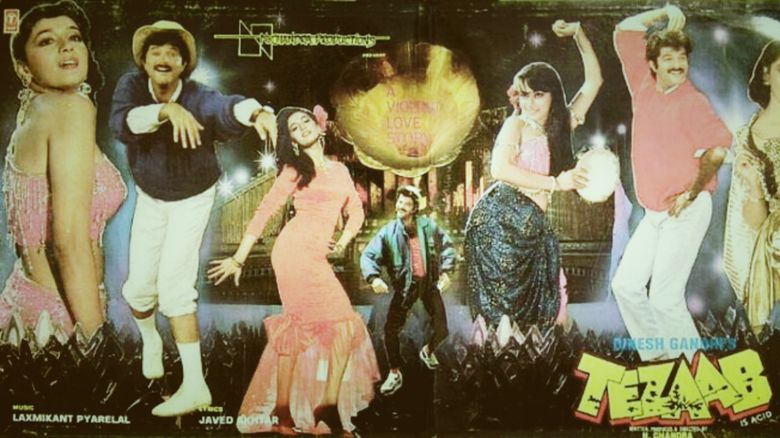 The film was produced and directed by N. Chandra. The music is by Laxmikant-Pyarelal. Tezaab is known for the song "Ek Do Teen,","kehdo ke tum ho meri". which was a chart success. It ran in theatres for more than 50 weeks becoming a golden jubilee, and it was the highest blockbuster at the box office for the year 1988 in Bollywood. With Tezaab, N Chandra scored a box office hat-trick with his previous hits Ankush (1986) and Pratighaat (1987).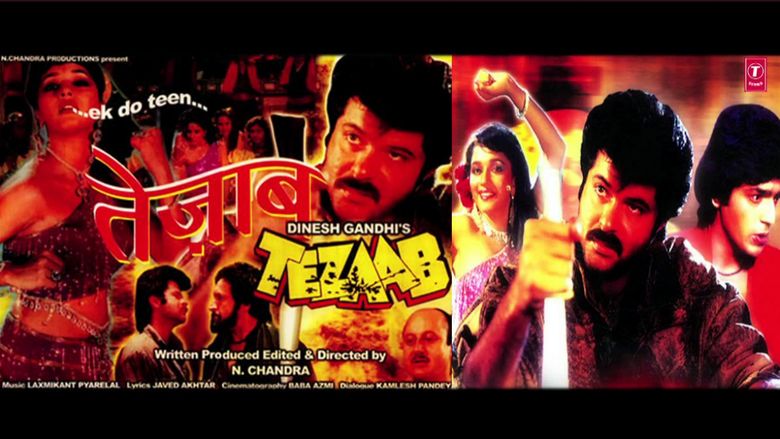 Tezaab was critically acclaimed and garnered four Filmfare Awards from twelve nominations. Anil Kapoor won his first Best Actor award and Madhuri Dixit garnered her first ever nomination for Best Actress.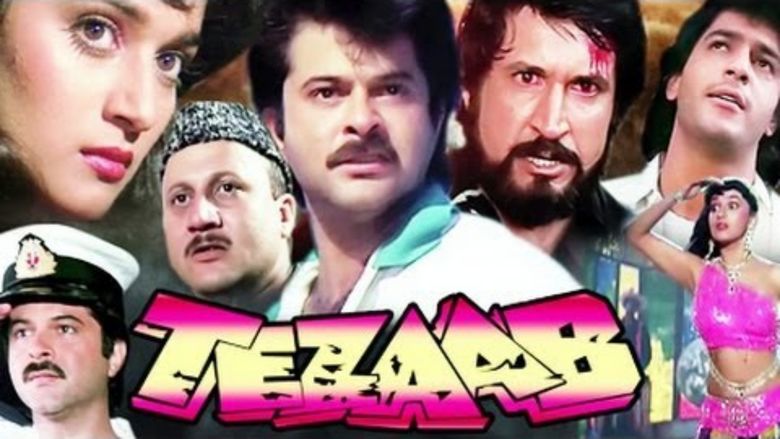 The film was remade in Telugu as Two Town Rowdy with Daggubati Venkatesh. The plot is loosely based on the commercially failed Hollywood movie Streets of Fire (1984) directed by Walter Hill.
Inspector Gagan Singh (Suresh Oberoi) gets a tip about an infamous exiled criminal Munna played by legendary (Anil Kapoor), entering his jurisdiction, so he checks Munna's file. Singh is shocked to find that Munna is none other than NCC cadet Mahesh Deshmukh, an aspiring officer, whom he had met years ago at a bank in Nasik. In front of the eyes of Singh and Mahesh, a robbery took place and Mahesh's parents who were bank employees were killed. Singh never got to know what happened to Mahesh.
Nevertheless, Singh tracks Munna and asks him to surrender. Munna tells him that he has to save his love Mohini (Madhuri Dixit) from the clutches of dreaded gangster Lotiya Pathan (Kiran Kumar). He reveals that he shifted to Bombay (now Mumbai) with his sister Jyoti (Suparna Anand) after the incident. He met a girl named Mohini and fell in love with her. Mohini's father Shyamlal (Anupam Kher) didn't like this relationship. Shyamlal was a drunkard who mooched off the money earned by his dancer wife (Suhas Joshi). When she finally stood up to him, Shyamlal burned her face with sulphuric acid. She died soon afterwards, following which Shyamlal forced Mohini to follow her mother's steps.
Shyamlal has taken a loan from Lotiya and the only way to repay it is to make Mohini dance. But Mohini does not give up and continues meeting Mahesh. Shyamlal meets Chote Khan, younger brother of Lotiya who joined him after completing his term for robbery case. Chote Khan was arrested due to Mahesh.
Lotiya doesn't know Mahesh's identity. Shyamlal tells Lotiya that Mohini loves Mahesh whose parents were killed in a bank in Nasik. Then, Lotiya comes to know that Mahesh got Chote arrested. Chote goes to Mahesh's house and tries to rape Jyoti as revenge. Mahesh averts this and kills Chote. Mahesh is arrested and sentenced to one year in jail, after which he becomes Munna and gets exiled. Shyamlal traps Mahesh along with Guldasta (Annu Kapoor), a local tea vendor and sends the duo behind bars for six months for trespassing with intention of robbery. After serving his sentence, Mahesh goes away and becomes a rowdy. On learning the whole story from Munna, Singh allows him to complete his task.
As a revenge, Lotiya kidnaps Mohini. Shyamlal now deals with Munna to get Mohini rescued. Mahesh rescues her, but she is shocked to see that Mahesh is sending her back to her father.
After saving Mohini, Munna surrenders unconditionally to Singh, whereupon he gets arrested and sent to prison. After a retrial, Munna is acquitted of his charges and plans to start a new life at Goa. However, Jyoti convinces him to accept Mohini again. Guldasta reaches Mohini's home and explains Munna's actions to her. Shyamlal is enraged and tries to stop Mohini from leaving. Guldasta and Shyamlal have a fight in which both die. Mohini meets Munna again.
However, Lotiya, learning of Munna's acquittal conspires to kill him at a dockyard. Baban (Chunky Pandey) gets tip of Lotiya's conspiracy and challenges Lotiya. Lotiya gets enraged and a fight between him and Baban ends in Lotiya getting defeated. Baban wants to kill Lotiya in the fit of rage, but Munna intercepts him and stops him from committing murder. Meanwhile, Lotiya regains his strength and goes to attack Munna with a club. Baban dies deflecting the attack. Munna fight back Lotiya and was about to kill him. But Inspector Singh stops him from killing Lotiya. In another attempt of Lotiya trying to kill Munna, Inspector Singh kills Lotiya with his service revolver.
Anil Kapoor as Mahesh "Munna" Deshmukh
Madhuri Dixit as Mohini
Anupam Kher as Shyamlal, Mohini's father
Chunky Pandey as Baban, Munna's friend
Suparna Anand as Jyoti Deshmukh, Munna's younger sister
Mandakini as Nikita Sharma (Cameo appearance)
Suhas Joshi as Mohini's mother (Cameo appearance)
Kiran Kumar as Lotiya Pathan
Annu Kapoor as Abbas Ali / Guldasta
Suresh Oberoi as Inspector Gagan Singh
Tej Sapru as Saxena
Johnny Lever as Kainchee, Munna's friend
Mahavir Shah as Inspector Gupta
Jack Gaud as Mukut Bihari
Dinesh Hingoo as Marwadi Seth
Achyut Potdar as Munna's father
Vijay Patkar as Munna's friend
Jaywant Wadkar as Munna's friend
34th Filmfare Awards
Best Actor Award to Anil Kapoor
Best Female Playback Singer - Alka Yagnik - "Ek Do Teen"
Best Choreography - Saroj Khan - "Ek Do Teen"
Best Dialogue - Kamlesh Pandey
Best Film - Dinesh Gandhi
Best Director - N. Chandra
Filmfare Best Actress Award - Madhuri Dixit - Mohini
Best Supporting Award - Chunkey Pandey - Baban
Best Music Director - Laxmikant–Pyarelal
Best Lyricist - Javed Akhtar- "Ek Do Teen"
Best Male Playback Singer - Amit Kumar - "Ek Do Teen"
Best Female Playback Singer - Anuradha Paudwal - "Keh Do Ke Tum"