McAuliffe was previously an unsuccessful candidate for the Democratic nomination in the 2009 gubernatorial election. In the 2013 gubernatorial election, he ran unopposed in the Democratic primary. He defeated Republican Ken Cuccinelli and Libertarian Robert Sarvis in the general election, collecting 47.8% of the vote; Cuccinelli garnered 45.2% and Sarvis received 6.5%. McAuliffe assumed office on January 11, 2014.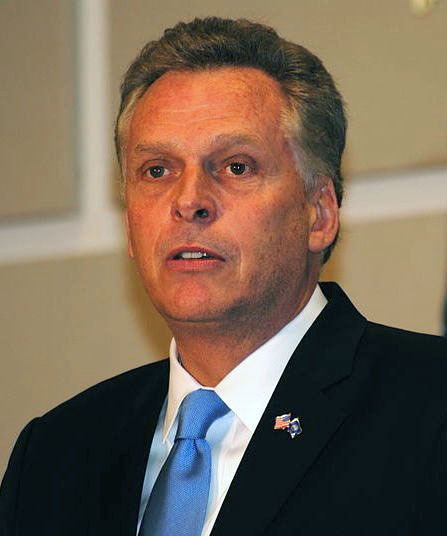 McAuliffe was born and raised in Syracuse, New York, the son of Mildred Katherine Lonergan and Jack McAuliffe. His father was a real estate agent and local Democratic politician. The family is of Irish descent.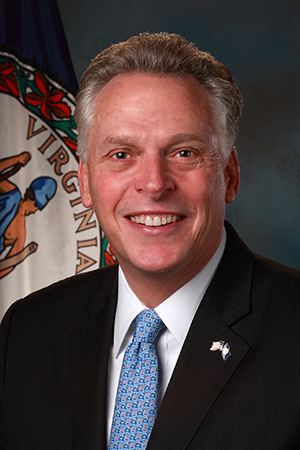 He graduated from Bishop Ludden Junior/Senior High School in 1975. In 1979, he earned a bachelor's degree from The Catholic University of America where he served as a resident adviser. After graduating, McAuliffe worked at President Jimmy Carter's re-election campaign; he became the national finance director at twenty-two. Following the campaign, McAuliffe attended the Georgetown University Law Center, where he obtained his Juris Doctor degree in 1984.
At age of 14, McAuliffe started his first business, McAuliffe Driveway Maintenance, sealing driveways and parking lots. According to The Washington Post, McAuliffe has "earned millions as a banker, real estate developer, home builder, hotel owner, and internet venture capitalist."
In 1985, McAuliffe helped found the Federal City National Bank, a Washington, D.C.-based local bank. In January 1988, when McAuliffe was thirty years old, the bank's board elected McAuliffe as chairman, making him the youngest chairman in the United States Federal Reserve Bank's charter association. In 1991, McAuliffe negotiated a merger with Credit International Bank, which he called his "greatest business experience." McAuliffe became the vice-chairman of the newly merged bank. Shareholders questioned if he was given special treatment; Chairman Richard V. Allen denied the allegation.
In 1979, McAuliffe had met Richard Swann, a lawyer who was in charge of fundraising for Jimmy Carter's presidential campaign in Florida. In 1988, McAuliffe married Swann's daughter, Dorothy. McAuliffe invested $800,000 in Swann's American Pioneer Savings Bank, which was taken over In 1990 by federal regulators, causing Swann to file for bankruptcy. The Resolution Trust Corporation, a federal agency, took over American Pioneer's assets and liabilities. Under Swann's guidance, McAuliffe purchased some of American Pioneer's real estate from the Resolution Trust Corporation. McAuliffe's equal partner in the deal was a pension fund controlled by the International Brotherhood of Electrical Workers (IBEW) and the National Electrical Contractors Association (NECA). They purchased real estate, valued at $50 million, for $38.7 million; McAuliffe received a 50% equity stake. The deal was arranged by Jack Moore, a NECA trustee, and acquaintance of McAuliffe. Next, McAuliffe acquired a distressed house-building company, American Heritage Homes, which had been buying real estate formerly owned by American Pioneer. McAuliffe served as chairman of American Heritage along with CEO Carl H. Linder. The Florida-based company came out of distress under a plan in which it built 800 homes a year.
In 1997, McAuliffe invested $100,000 in Global Crossing, a Bermuda-registered telecommunications company. Global Crossing went public in 1998. In 1999, McAuliffe sold the majority of his holding for $8.1 million.
In 2009, McAuliffe founded GreenTech Automotive, a holding company, which purchased Chinese electric car company EU Auto MyCar for $20 million in May 2010. Later that year, McAuliffe relocated GreenTech's headquarters to McLean, Virginia. GreenTech subsequently announced plans to manufacture vehicles in Mississippi. In December 2012, McAuliffe was questioned about the factory's location in Mississippi instead of Virginia. McAuliffe said he wanted to bring the factory to Virginia, but the Virginia Economic Development Partnership (VEDP), the commonwealth's recruitment agency, chose not to bid on it. Documents showed the VEDP was awaiting more information at the time it was announced the factory was being built in Mississippi. In April 2013, McAuliffe announced his resignation from GreenTech to focus on his run for governor of Virginia. He no longer holds an ownership stake in the company.
McAuliffe had a prolific fundraising career within the Democratic Party, and a personal and political relationship with Bill and Hillary Clinton. McAuliffe and his staff raised $275 million, then an unprecedented sum, for Clinton's causes while president. After Bill Clinton's tenure ended, McAuliffe guaranteed the Clintons' $1.35 million mortgage for their home in Chappaqua, New York. The deal raised ethical questions. In 2000, McAuliffe chaired a fundraiser with the Clintons; setting a fundraising record of $26.3 million.
McAuliffe told The New York Times in 1999, "I've met all of my business contacts through politics. It's all interrelated." When he meets a new business contact, he continued, "then I raise money from them." He acknowledged that success of his business dealings stemmed partly from his relationship with Bill Clinton, saying, "No question, that's a piece of it." He also credited his ties to former congressmen Dick Gephardt and Tony Coelho, his Rolodex of 5,000-plus names, and his ability to personally relate to people. In 2004, he was one of the five-member board of directors of the Clinton Foundation. He told New York Times reporter Mark Leibovich in 2012 that his Rolodex held 18,632 names.
In June 2000, as organizers of the 2000 Democratic National Convention were scrambling to raise $7 million, McAuliffe was named chairman of the convention.
In February 2001, McAuliffe was elected chairman of the Democratic National Committee (DNC), and served until February 2005. McAuliffe tried and failed to persuade his top rival, Maynard Jackson, to drop out of the race for chairman, but was still the heavy favorite. During his tenure, the DNC raised $578 million, and emerged from debt for the first time in its history.
In the period between the 2002 elections and the 2004 Democratic convention, the DNC rebuilt operations and intra-party alliances. McAuliffe worked to restructure the Democratic primary schedule, allowing Arizona, New Mexico, North Carolina and South Carolina to vote earlier; the move provided African-American and Hispanic communities greater power in presidential primaries. According to The Washington Post, the move bolstered United States Senator John Kerry's fund raising efforts. The DNC rebuilt its headquarters, and created a computer database of more than 170 million potential voters known as "Demzilla". Five-time presidential candidate Ralph Nader alleged that, during the 2004 presidential election, McAuliffe offered him cash to withdraw from certain pivotal states. McAuliffe's staff admitted to conversations with Nader about his campaign, but denied offering him money.
In January 2005, a few weeks before his term ended, McAuliffe earmarked $5 million of the party's cash to assist Tim Kaine and other Virginia Democrats in their upcoming elections. This donation was the largest non-presidential disbursement in DNC history, and was part of McAuliffe's attempt to prove Democratic viability in Southern states in the wake of the 2004 presidential election. Kaine was successful in his bid, and served as the Governor of Virginia from 2006 to 2010.
McAuliffe was co-chairman of Hillary Clinton's 2008 presidential campaign, and was one of her superdelegates at the 2008 Democratic National Convention.
In 2012, he was a visiting fellow at Harvard University's John F. Kennedy School of Government. In addition to several faculty and student lectures, McAuliffe hosted a segment entitled, "The Making of a Candidate: From Running Campaigns to Running on my Own."
McAuliffe was an adviser at ZeniMax Media.
On November 10, 2008, McAuliffe formed an exploratory committee aimed at the Virginia gubernatorial election in 2009. According to The Washington Post, McAuliffe believed he would prevail "because he [could] campaign as a business leader who can bring jobs to Virginia." He also cited his ability to raise money for down-ticket Democratic candidates.
McAuliffe's political team included campaign manager Mike Henry, senior strategist Mo Elleithee, and communications director Delacey Skinner. McAuliffe raised over $7.5 million during the campaign, and donated an additional $500,000 to himself.
In the primary election, McAuliffe faced two high-profile Democrats, State Senator Creigh Deeds, the 2005 Democratic nominee for Attorney General of Virginia, and Brian Moran, a former Virginia House of Delegates Minority Leader. On June 9, 2009, McAuliffe placed second with 26% of the vote; Deeds received 50% and Moran garnered 24%.
On November 8, 2012, McAuliffe emailed supporters announcing his intention to run for Governor of Virginia in 2013. In his email he stated, "It is absolutely clear to me that Virginians want their next Governor to focus on job creation and common sense fiscal responsibility instead of divisive partisan issues."
On April 2, 2013, McAuliffe became the Democratic nominee, as he ran unopposed. In the general, McAuliffe campaigned against Republican nominee (and sitting Attorney General) Ken Cuccinelli, and Libertarian Robert Sarvis. McAuliffe pulled-off an upset win, as Republicans had dominated recent state elections, and Cuccinelli was seen as the outgoing, Republican governor's hand-picked successor. McAuliffe won 47.8% of the vote; Cuccinelli collected 45.2%, and Sarvis garnered 6.5%.
McAuliffe took the oath of office on January 11, 2014. Following the ceremony, McAuliffe signed four executive orders, including one instituting a one-year ban on gifts over $100 to members of the administration, and an order prohibiting discrimination against state employees for sexual orientation and gender identity. The other executive orders dealt with government continuity.
After his plans to expand Medicaid were blocked by the Republican-controlled House of Delegates, McAuliffe unveiled his own plan titled, "A Healthy Virginia." He authorized four emergency regulations and issued one executive order allowing for use of federal funds (made available by the Affordable Care Act to any state seeking to expand its Medicaid program to increase the number of poor citizens who had access to health insurance). McAuliffe's last hope for full Medicaid expansion ended when a Democratic state senator, Phillip Puckett (D-Russell), resigned. As a result, Virginia Democrats' razor-thin majority in the state senate flipped in favor of the Republicans, giving them control of both halves of the state's legislature. The move triggered investigations into the circumstances surrounding Puckett's resignation, but no charges were filed.
In addition to healthcare reform, a major initiative of the McAuliffe administration over the first year was economic development, with McAuliffe using his business and political contacts to close deals for the commonwealth. He helped close a deal to bring Stone Brewing to Richmond and landed a $2 billion paper plant in the Richmond suburbs. McAuliffe also helped broker a deal with the Corporate Executive Board to locate its global headquarters in Arlington which created 800 new jobs. McAuliffe also worked deals to restore service in Norfolk from Carnival Cruise Lines and Air China service to Dulles International Airport. In February 2016, McAuliffe announced that Virginia was the first state to functionally end veteran homelessness.
McAuliffe was elected as vice chair of the National Governors Association in July 2015 and became chair of the organization in July 2016. He has also served as a member of the White House Council of Governors and chairman of the Chesapeake Bay Program's Executive Council.
On April 22, 2016, McAuliffe signed an executive order restoring voting rights to more than 200,000 ex-felons in Virginia. The order was overturned by the Virginia Supreme Court as a violation of the Virginia Constitution, as the Virginia governor does not have the authority to grant blanket pardons and restorations of rights. On August 22, 2016, McAuliffe announced that he had restored the voting rights to almost 13,000 felons on a case-by-case basis using an autopen.
On May 23, 2016 it was reported that McAuliffe was being probed by the FBI "over whether donations to his gubernatorial campaign violated the law." One example cited was a donation of $120,000 from Chinese businessman Wang Wenliang. According to CNN, Wang's status as a legal permanent resident of the United States could make the donation legal under U.S. election law.
On January 31, 2017, McAuliffe appeared with Attorney General Mark Herring to announce that Virginia was joining the lawsuit Aziz vs. Trump, challenging President Donald Trump's immigration executive order.
McAuliffe was among those who supported the bipartisan transportation bill that passed the General Assembly in 2013. He is in favor of the Silver Line, which would expand Metrorail services into Northern Virginia.
In 2013, McAuliffe said he supports "keeping existing Virginia laws on when abortions are legal." He opposes new state health and safety regulations on abortion clinics. In February 2017, he vetoed a bill that would defund Planned Parenthood.
McAuliffe has spoken extensively on workforce development, with education proposals being funded through savings from the proposed Medicaid expansion.
McAuliffe supports the Affordable Care Act, also known as Obamacare. He supports expanding Medicaid, arguing Virginian taxes would return.
On February 21, 2017, Governor McAuliffe vetoed a bill that would have defunded Planned Parenthood in Virginia.
McAuliffe has declined to go into detail on his stance on many of his own views on energy and environmental policy, sticking to broad outlines. McAuliffe believes human activity has contributed to global warming, and characterizes clean energy as a national security issue. He supports reducing dependence on foreign oil through investment in technologies such as carbon capture and storage, solar farms, and offshore wind turbines. McAuliffe was endorsed by billionaire environmentalist Tom Steyer and the League of Conservation Voters.
In his 2009 campaign, McAuliffe said, "I want to move past coal. As governor, I never want another coal plant built." In his 2013 campaign, McAuliffe claimed to support tougher safety requirements on coal plants. He also announced his support for the Environmental Protection Agency's proposed reduction in coal plant licensing. However, McAuliffe has expressed his support for exporting coal to countries like China and South Korea.
In his 2009 bid for governor, McAuliffe said he opposed offshore drilling, but in 2013, he changed his position and now supports offshore drilling in Virginia, saying he has "learned more about offshore drilling from experts in Virginia."
McAuliffe supports same-sex marriage, and supported the United States Supreme Court rulings in June 2015, which deemed the Defense of Marriage Act as unconstitutional.
McAuliffe is a hunter and owns a rifle and shotgun. McAuliffe supports universal background checks for gun sales, as well as "a renewal of the state's one-a-month limit on handgun purchases,... a ban on anyone subject to a protection-from-abuse order from having a gun and the revoking of concealed-handgun permits for parents who are behind on child-support payments." McAuliffe has also called for an assault weapons ban in Virginia.
In January 2016, McAuliffe reached a compromise with Republicans, allowing interstate holders of concealed carry permits in Virginia, nullifying Attorney General Mark Herring's previous ruling, effective February 1, 2016. The deal will also take guns from domestic abusers and will require state police to attend gun shows to provide background checks upon request from private sellers.
McAuliffe supports eliminating several business taxes, such as the business professional license tax, and using revenue from local government taxes to make up the difference.
McAuliffe married Dorothy Swann, the daughter of one of his business partners, in 1988. They have five children together, four of whom attend the Potomac School in McLean, Virginia. McAuliffe resides in McLean, Virginia, near the Capital Beltway and Great Falls Park.
Terry McAuliffe's memoir, What a Party! My Life Among Democrats: Presidents, Candidates, Donors, Activists, Alligators, and Other Wild Animals, was published in 2007 with Steve Kettmann, and made the New York Times Best Seller List, debuting at #5 in February 2007. The Washington Post called it a "A rollicking ride through the world of celebrity, fundraising and politics that certainly entertains" while The Miami Herald said, "Terry McAuliffe delights in this laugh-out-loud look at American politics."
Among anecdotes told in the memoir was McAuliffe wrestling an eight-foot, 260-pound alligator for three minutes to secure a $15,000 contribution for President Jimmy Carter in 1980. McAuliffe and the alligator would appear on the cover of Life magazine. Others included hunting with King Juan Carlos of Spain, golf outings with the President and reviving the Democratic National Convention.
However, the book attracted negative publicity during McAuliffe's 2013 gubernatorial race. In the book, McAuliffe wrote about the September 11 attacks and his experiences in the Democratic National Committee office immediately after. He recalled, "I was one of our party's most visible spokesmen, and I had to keep a low profile after the attacks. I was like a caged rat. I couldn't travel. I couldn't make political calls. I couldn't make money calls." Despite the negative publicity, McAuliffe has not backed away from it, using What a Party to introduce himself to voters.