4.8

/

10

Alchetron

Rate This




Director

Alan Birkinshaw


Adapted from

And Then There Were None


Language

English






Genre

Crime, Mystery, Thriller




Duration




Country

United Kingdom







Writer

Agatha Christie,

Jackson Hunsicker

,

Gerry OHara




Release date

1989 (USA)




Music director

Noel Coward, George S. Clinton




Cast

Donald Pleasence (Mr. Justice Lawrence Wargrave), Frank Stallone (Capt. Philip Lombard),

Sarah Maur Thorp

(Vera Claythorne), Herbert Lom (Gen. Brancko Romensky), Brenda Vaccaro (Marion Marshall), Warren Berlinger (Det. William Henry Blore)


Similar movies

Mad Max: Fury Road

,

Jurassic World

,

John Wick

,

Furious 7

,

Sin City: A Dame to Kill For

,

Taken 3



Ten little indians hanging 1
Ten Little Indians is a 1989 mystery film, and the fifth screen adaptation (including the 1987 Russian version Desyat Negrityat) of Agatha Christie's famous novel. It was the third version to be produced by Harry Alan Towers, following his 1965 and 1974 adaptations.
Contents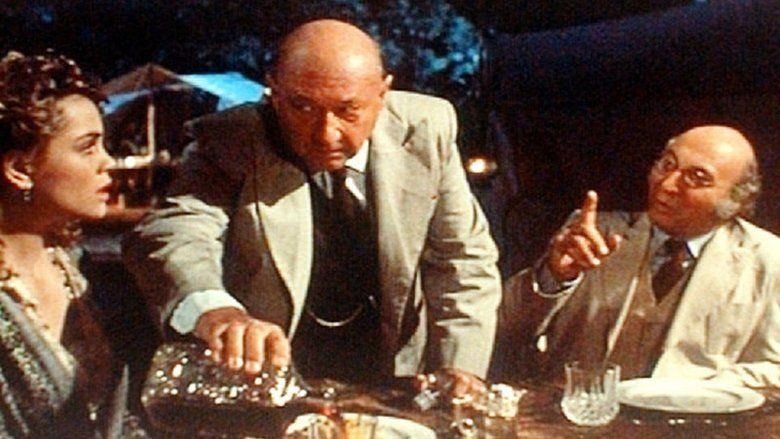 In the opening credits, it is stated that this film is based on Christie's stage adaptation and makes no mention of the earlier novel, perhaps because the film's climax is taken almost verbatim from the stage script. (Other western adaptations, while all still using an upbeat finale, have significantly toned down the action-packed climax Christie used in the play.)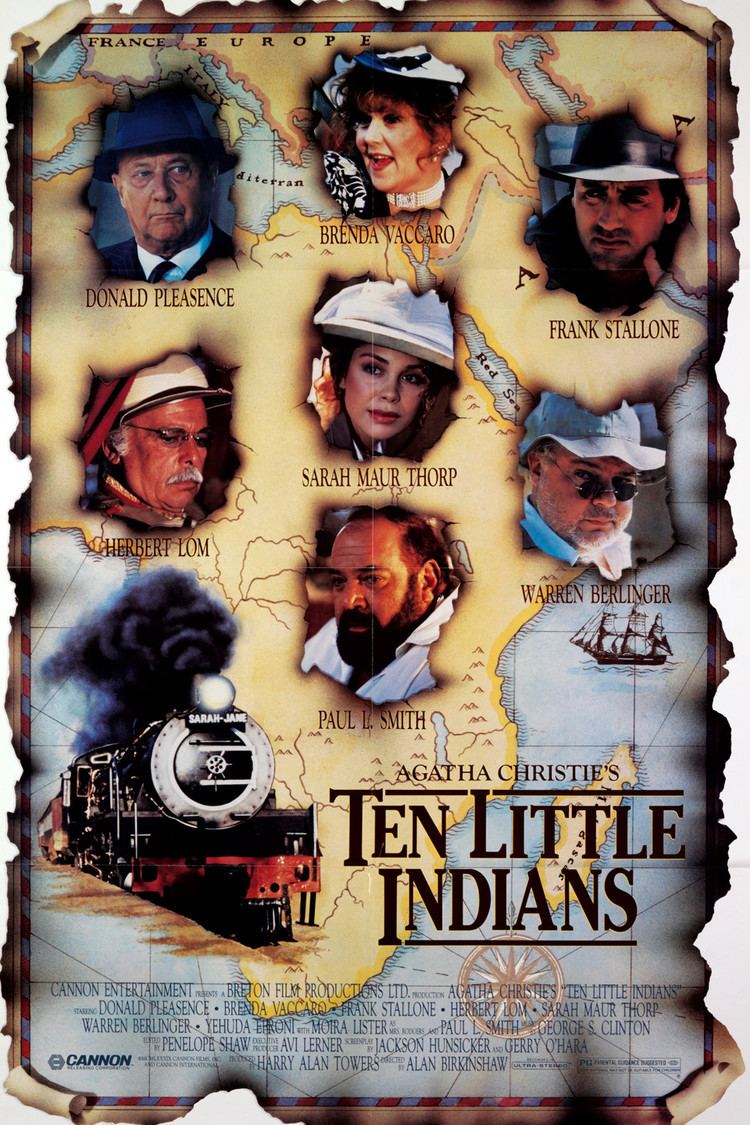 Harry Alan Towers commissioned the original script that used the novel's ending (in which Lombard gets shot and Vera hangs herself) and setting the action on an island. However, both of these were changed at the last minute. This version also introduced a lesbian affair. Herbert Lom, who plays the General here, previously starred in the 1974 version as Dr. Armstrong.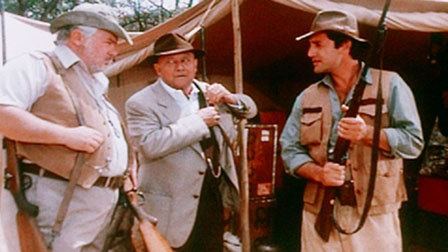 As of December 2013, this production has been released on VHS and laserdisc. A German DVD release (including the English version) became available in 2015.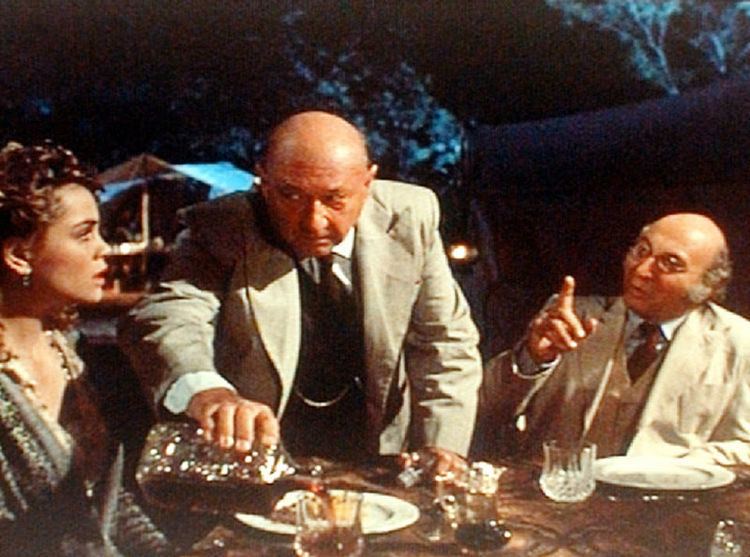 Ten little indians and then there were none agatha christie full movie
Plot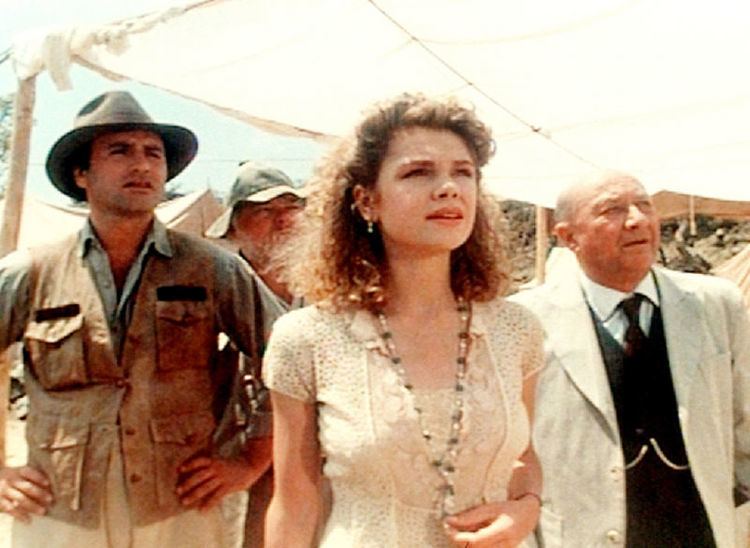 A group of ten disparate people, strangers to each other, have all been summoned by a mysterious host named Mr. Owen to travel to Africa and join him on a safari he is hosting. After arriving by train, they meet Philip Lombard who guides the entourage with the aid of local Natives through the jungle. They are joined by Marston who makes a spectacular entrance as a flying ace.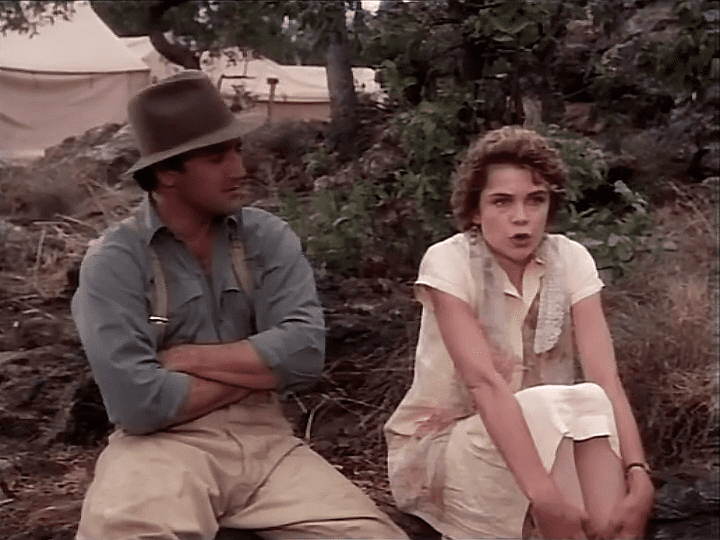 Things turn ominous from the beginning, however. First their native guides abandon them, then more natives cut a bridge line across a deep ravine (their only way in and out of camp). As a result, the eight guests, plus a married couple, the Rodgers, who arrived earlier, find themselves isolated in their hunting camp. In addition, their host, Mr. Owen, is strangely absent. Following their dinner, by means of a gramophone recording, an inhuman voice accuses each person of a murder that they each had caused and escaped justice.
Events go from being unsettling to deadly when Marston chokes to death after drinking a poisoned martini. His death mimics the first verse of the English Nursery Rhyme 'Ten Little Indians'. Later, one the ten small Indian dolls that adorn the centre of the dining table is found with its head snapped off. In the morning, Rodgers makes everyone breakfast single-handedly, as his wife, Ethel Mae is found dead in her bed. Suspicion arises that they are being picked off by a dangerous lunatic.
As four of the men set off with rifles to hunt down Mr. Owen, General Romansky confides to Vera Claythorne his guilt over the death of his subordinate and that no one will leave the safari. The General not long after is pushed off a cliff and the guests to realize that they are being executed by Mr. Owen who, in fact, may be one of them.
After suspicion falls on Mr. Rodgers whose activity was unknown during the hunt, Rodgers angrily insists to spend the night keeping watch on the hill. In the morning, he is found killed, with an axe in his head, fulfilling the fourth verse of the poem. Marion Marshall turns to God to for protection and confesses to Vera in private that the co-actress who died was Marshall's secret lover. When Marion takes a nap, the killer enters her tent and kills her with a syringe, putting suspicion on Dr. Werner.
At night, the terrified remaining guests admit to their guilt, and Vera returns to her tent, and screams, alarming the others. The Judge is missing, but soon falls from the top of her tent, shot in the head. Not long after, Dr. Werner goes missing, later to reappear with his throat slit. Blore barricades himself in his tent, only to be found dead by Lombard and Vera, stabbed in the chest, with Lombard's teddy bear between Blore and the knife.
By now, only Lombard and Vera are left, and Vera turns on Lombard with his gun, preparing to shoot. She does, and returns to the common tent where the Judge is waiting, wearing his official robes and wig, with a noose prepared for Vera. He explains how the Doctor helped him fake his death, and that he killed everyone as part of his experiment to seek perfect justice, as his own "private little safari hunt." He grabs Vera and forces her at gunpoint into the noose, pulling out the chair. Vera struggles to avoid being killed by holding onto the long part of the rope, as the Judge watches and waits, drinking poison to finish himself off too. Lombard shows up alive as the Judge dies, right before Vera lets go the rope, but Lombard rescues her in time. They both leave the safari together alive as the rescue plane arrives.
Cast and characters
Donald Pleasence — Mr. Justice Wargrave. Accused of having sentenced an innocent man, Edward Seton, to his death by hanging.
Frank Stallone — Captain Philip Lombard. Accused of being responsible for the deaths of twenty-one men, who were members of an East Indian tribe.
Sarah Maur Thorp — Vera Claythorne. Accused of being responsible for the drowning of her young charge, Cyril Ogilvie Hamilton.
Brenda Vaccaro — Marion Marshall. Accused of being responsible for the death of a fellow actress and lover, Miss Beatrice Taylor.
Herbert Lom — General Romensky. Accused of having intentionally sent his wife's lover, Heindrick Domarotsky, one of his junior officers, on a suicide mission during World War I.
Warren Berlinger — William Blore. Accused of having given false testimony that sent an innocent man named Stephen Joseph Landor to prison, where he eventually died.
Yehuda Efroni— Dr. Hans Yokem Werner. Accused of operating on a woman named Ursula Margaret Lisman while under the influence of alcohol, inadvertently leading to her death.
Paul L. Smith — Elmo Rodgers. Accused of the murder his wealthy, invalid employer, Miss Jennifer Brady.
Moira Lister — Ethel Mae Rodgers. Accused of assisting her husband murdering their wealthy, invalid employer, Miss Jennifer Brady.
Neil McCarthy — Anthony Marston. Accused of having run over a couple named John and Lucy Combes while driving under the influence of alcohol.
References
Ten Little Indians (1989 film) Wikipedia
(Text) CC BY-SA
Ten Little Indians (1989 film) IMDb
Ten Little Indians (1989 film) themoviedb.org