United Kingdom




112.09 sq mi




West Midlands




166,800




Telford College of Arts and Technology, Harper Adams University




Telford, Wellington, Newport, Madeley, Oakengates




The Wrekin, The Iron Bridge, Blists Hill Victorian Town, Ironbridge Gorge Museum Trust, Telford Town Park



Telford and Wrekin is a unitary district with borough status in the West Midlands region of England. The district was created in 1974 as The Wrekin, then a non-metropolitan district of Shropshire. In 1998 the district became a unitary authority and was renamed Telford and Wrekin. It remains part of the Shropshire ceremonial county and shares institutions such as the Fire and Rescue Service and Community Health with the rest of Shropshire.
The boroughs major settlement is Telford, a new town designated in the 1960s incorporating the existing towns of Dawley, Madeley, Oakengates and Wellington. The next largest population centre is Newport, a market town to the north of Telford.
The borough borders Staffordshire, but is mostly surrounded by the non-metropolitan county of Shropshire, whose unitary authority is Shropshire Council. For Eurostat purposes it is a NUTS 3 region (code UKG21) and is one of four unitary authority areas that comprise the "Shropshire and Staffordshire" NUTS 2 region.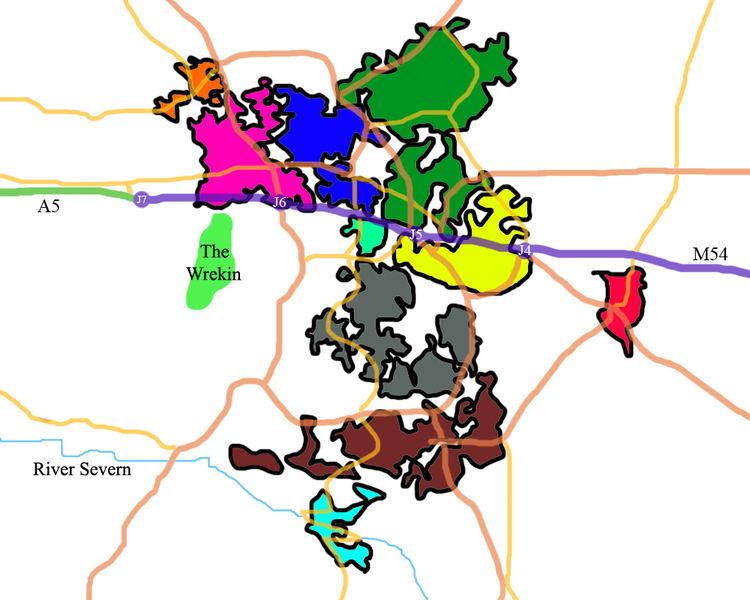 Before the creation of The Wrekin district, Telford was a new town run by the Telford Development Corporation (TDC) from the 1960s to the changes in 1974. The district was formed on 1 April 1974, under the Local Government Act 1972, and covered Dawley, Newport, Oakengates and Wellington urban districts, Wellington Rural District and part of Shifnal parish in the Shifnal Rural District.

On 1 April 1998, as a result of the Local Government Commission for Englands review, the district became a unitary authority, independent from Shropshire County Council.
All of the council houses previously owned by Wrekin District Council and the subsequent Telford and Wrekin Council were transferred to a newly created Housing Association, the Wrekin Housing Trust, in 1999 which now owns the majority of social housing in Telford.
Telford and Wrekin applied unsuccessfully for City status in 2000, but the district was granted borough status in 2002.
This is a chart of trend of regional gross value added of Telford and Wrekin at current basic prices published (pp. 240–253) by Office for National Statistics with figures in millions of British pounds sterling.
Telford and Wrekin Wikipedia
(,)http://upload.wikimedia.org/wikipedia/en/archive/1/15/20070621175501!TelfordMap.jpg(,)http://upload.wikimedia.org/wikipedia/commons/thumb/b/b6/Wrekin_Panorama.jpg/1000px-Wrekin_Panorama.jpg(,)http://li.zoocdn.com/2cd97c5ce82d040cac7e8567a3f30ad8ae9dbd8f_645_430.jpg(,)https://pbs.twimg.com/profile_images/248169390/TWHCClubLogo.jpg
(,)http://www.telfordsupport.org.uk/wp-content/uploads/2014/04/Telford-and-Wrekin-Council.jpg(,)http://www.telfordsupport.org.uk/wp-content/uploads/2014/04/Wrekin-Housing-Trust.jpg(,)http://img1.wikia.nocookie.net/__cb20130730232501/logopedia/images/0/02/Telford_and_Wrekin_Borough_Council.svg(,)http://media.thebestof.co.uk/570/570/54c27303c6a711f2108b57bd/fil-thai-restaurant-telford-wellington-thai-cuisine-food-take-away-1.png(,)http://www.wrekinhousingtrust.org.uk/news/images/telford-crisis-network-480-300.jpg