Nationality

British American







Born

October 1, 1744

Brookhaven, New York

Known for

Connecticut superior court judge 1798-1814, law educator

Died

December 13, 1823, Litchfield, Connecticut, United States

Books

The law of baron and femme

Education

The College of New Jersey, Princeton University




Organizations founded

Litchfield Law School
Kate Stith, Tapping Reeve Legal Educator Award
Tapping Reeve (sometimes presented as Tappan Reeve; October 1, 1744 – December 13, 1823) was an American lawyer and law educator. In 1784, he opened the Litchfield Law School in Litchfield, Connecticut, the first school to offer a comprehensive legal curriculum in the United States.
Contents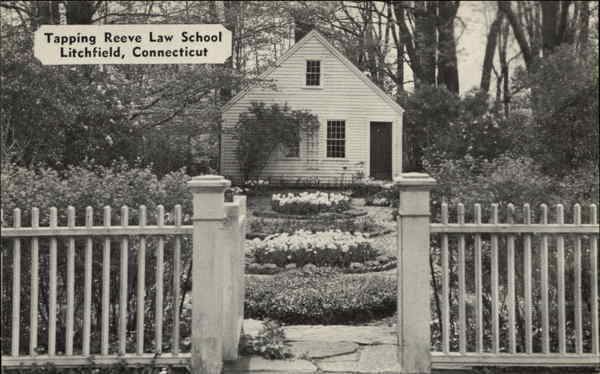 Early life
Tapping Reeve was born in Brookhaven, New York, on Long Island, to Reverend Abner Reeve (1708–1798) and Deborah Topping Reeve (1717–1759). He graduated from the College of New Jersey, now Princeton University, in 1763. While earning his Masters there (completed 1766), he also served as a headmaster of the grammar school associated with the college in nearby Elizabeth, New Jersey.
Career
He was hired to privately tutor the orphaned children of the Rev. Aaron Burr, Sr., the former President of the college, and his wife Esther Edwards Burr. Tapping Reeve taught young Aaron Burr (1756–1836) and his sister Sally Burr (1754–1797) for several years. In 1771, Reeve moved to Hartford, Connecticut where he studied law with Judge Jesse Root. After developing a relationship with Sally and eventually marrying her in 1771, Reeve passed the Connecticut state bar the next year and the couple moved to Litchfield, Connecticut, where Reeve established a legal practice.
Reeve built a home on South Street across the street from Connecticut Governor Oliver Wolcott. In 1774, Aaron Burr, who had been studying the ministry under Reverend Joseph Bellamy of Bethlehem, Connecticut, moved to Litchfield to study law under Reeve. Burr's stay in town was brief. He left only a year later to join the Continental Army on the outbreak of the Revolutionary War.
Reeve, while a fervent supporter of the patriot cause, did not enter active service early in the Revolutionary War. His wife's poor health kept him at home. However, in December 1776, the Connecticut Assembly called upon him to travel the state to drum up volunteers for the Continental Army. He then accepted a commission as an officer and accompanied his recruits as far as New York City before returning to his ailing wife.
Brom & Bett v. Ashley
In 1781, Reeve worked with Theodore Sedgwick to represent Elizabeth Freeman (known as Bett), a slave in Sheffield, Massachusetts, in a legal bid for her freedom. Bett had listened to discussions related to the Sheffield Resolves and a reading of the 1780 Massachusetts Constitution, the latter containing the phrase "all men are born free and equal" and had asked Sedgwick to take her case in a local court. Reeve and Sedgwick successfully secured her freedom on constitutional grounds. This case, (Brom & Bett v. Ashley) set a precedent that led to the abolition of slavery in Massachusetts.
Litchfield Law School
Throughout the early years of his legal practice, Reeve continued to take students. Initially, Reeve continued the clerking or apprenticeship system of having the young men work for him while they studied his law books. He would also occasionally present talks on the principles of law. By 1784, as the number of young men in his office increased, due in part to the notoriety Reeve gained as a result of the highly publicized Mum Bett case, he built a small building on the south side of his property and created a formal 14-month-long curriculum of legal studies. Lectures covered all areas of legal practice, noting developments in the new nation's adaptation of British Common Law. Students took rough notes during the lectures, copying them carefully after checking citations, which were put in the margins. Many students had their notes carefully bound into leather volumes, which became important reference works for them in their future practice.
In 1798, Reeve became a Judge of Connecticut's Superior Court. He then hired James Gould, a former student, to assist in running the school. Reeve served for 16 years on the state supreme court and in 1814 was named Chief Justice. He retired in 1815 and a year later published The Law of Baron and Femme a legal analysis of domestic relations that went into four editions and was the pre-eminent American treatise on family law for much of the 19th century.
In response to the continued popularity of the school and increased enrollment, Gould built his own lecture room next to his home on North Street. The law school students would walk back and forth between the two buildings to hear lectures from each teacher. Reeve formerly retired in 1820 and Gould continued to operate the law school until 1833, with the assistance of fellow Law School graduate Jabez Huntington, when increased competition from Harvard, Yale, Columbia and the University of Virginia resulted in decreased admission to the Litchfield Law School.
The legacy of the Law School
Between 1774 and 1833, 945 young men who attended the school have been identified. An additional 200 or more men are believed to have attended the school in the early years when no lists of students were kept. The number of students was notable, given that in 1800 there were only 100 practicing lawyers in the state of Connecticut. Peak enrollment at the school was reached in 1813, when 55 men attended.
The influence of Litchfield Law School students on American politics is largely unknown. Two students went on to become Vice-President, Aaron Burr and John C. Calhoun; three students sat on the Supreme Court of the United States; six served as U.S. Cabinet members; ninety-seven students, more than 10%, later served in the United States House of Representatives and twenty-eight were United States Senators. These alumni played major roles in every important national political issue of the pre-Civil War period. At the state level, 15 alumni were elected governors of states and territories. Large numbers served as state senators and representatives and many were city and county office holders. Others became prominent in fields such as education, religion and the arts.
Personal life
After educating Sally Burr, Reeve developed a relationship with her. He asked her guardian for her hand in marriage but was refused due to their age difference and Reeve's lack of steady employment. In 1771, at the same time he moved to Hartford, Connecticut, he again asked to marry Sally and was given permission. Eventually, the couple wed on June 4, 1771. Together, they had:
Aaron Burr Reeve (1780–1809), who married Annabella Sheldon in 1808. They settled in Troy, had a son, Tapping Burr Reeve (1809-1829), who died in Litchfield while a student at Yale. Annabella Reeve later remarried, and her husband David T. Burr and she relocated to Richmond, Virginia.
He married again in 1798 or 1799, to Elizabeth "Betsy" Thompson (1774-1842). While Aaron Burr Reeve was Tapping's only child, Amelia Ogden (1779-1866), has been described as "another inmate of the family...an orphan who held the place of a daughter in the household" by Lyman Beecher's daughter.
Tapping Reeve died in Litchfield on December 13, 1823.
Tapping Reeve House
His home, now known as Tapping Reeve House and Law School, was designated a National Historic Landmark in 1965. It is owned and operated by the Litchfield Historical Society and open to the public from mid-April through the end of November each year.
Works
The Law of Baron and Femme; of Parent and Child; of Guardian and Ward; of Master and Servant, etc. (New Haven, 1816; 2d ed., by Lucius E. Chittenden, Burlington, Vt., 1846; with appendix by J. W. Allen, 1857; 3d ed., by Amasa J. Parker and C. E. Baldwin, Albany, 1862)
Treatise on the Law of Descents in the Several United States of America (New York, 1825)
References
Tapping Reeve Wikipedia
(Text) CC BY-SA