Nationality

American




Name

Sydney Poitier




Occupation

Actress




Role

Television actress




Years active

1998–present




Height

1.80 m




Children

1 daughter








Born

November 15, 1973 (age 49) (

1973-11-15

) Los Angeles, California, U.S.


Other names

Sydney Tamiia PoitierSydney Poitier




Alma mater

Tisch School of the Arts (BA)Stella Adler Studio of Acting


Spouse

Dorian Heartsong (m. 2012)




Parents

Sidney Poitier, Joanna Shimkus




Siblings

Anika Poitier, Sherri Poitier, Beverly Poitier-Henderson, Pamela Poitier, Gina Poitier




Movies and TV shows

Death Proof, Grindhouse, Knight Rider, Veronica Mars, True Crime


Similar People

Sidney Poitier, Anika Poitier, Joanna Shimkus, Vanessa Ferlito, Jordan Ladd
Father s day sidney poitier with daughters sydney tamiia poitier and anika poitier
Sydney Tamiia Poitier (born November 15, 1973) is an American television and film actress.
Contents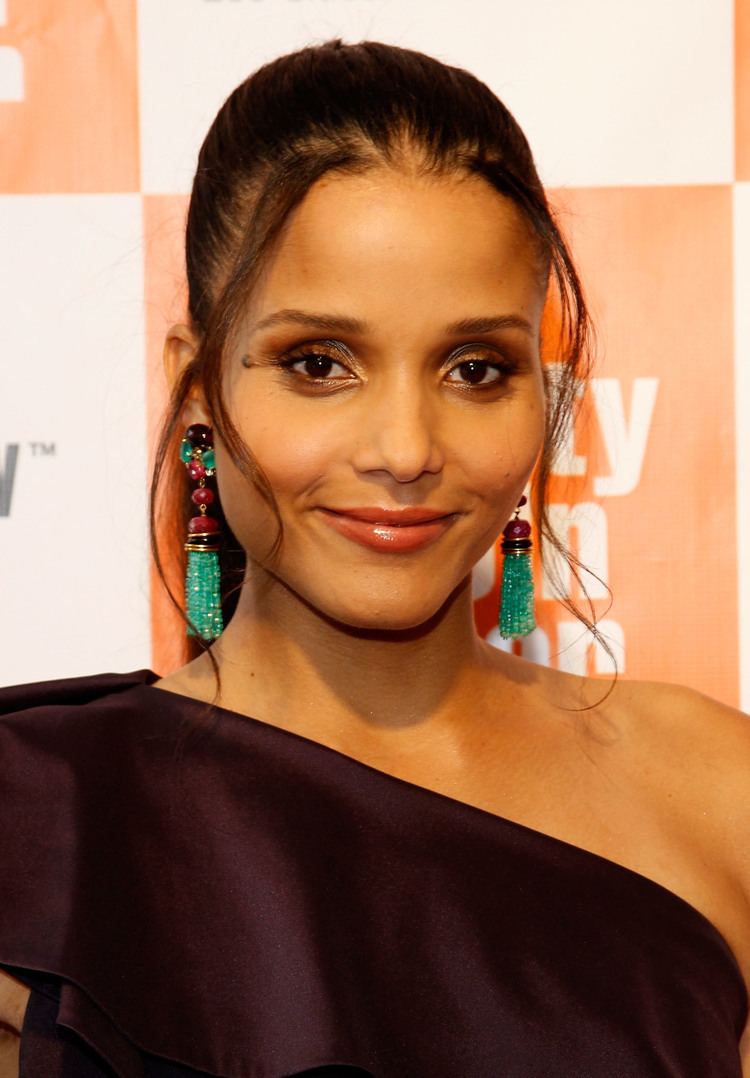 Sydney tamiia poitier remembering free of eden 1998
Early life and family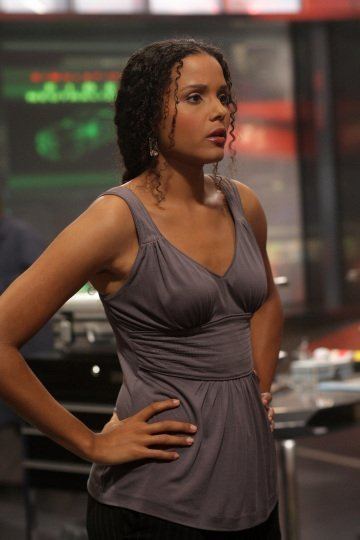 Born in Los Angeles, Poitier is the daughter of Bahamian-American actor Sidney Poitier and Canadian former actress Joanna Shimkus. Her mother is of Lithuanian Jewish and Irish descent. She has an older sister, Anika. She also has four older half-sisters, Beverly, Pamela, Sherri, and Gina, from her father's first marriage. Poitier's great-uncle has claimed that the Poitier ancestors on her grandfather's side had migrated from Haiti and were probably part of the runaway slaves who had established maroon communities throughout the Bahamas, including Cat Island. He mentions that the surname Poitier is a French name, and there were no white Poitiers from the Bahamas.
Poitier attended Tisch School of the Arts where she earned a bachelor's degree in acting. She also studied at Stella Adler Studio of Acting.
Career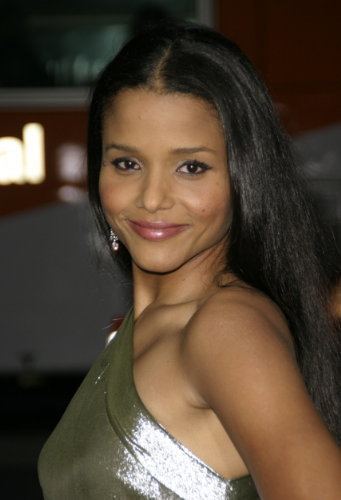 Poitier began her career of acting in the late 1990s. In 2001, she landed her first role on television in the NBC drama series First Years. The series was canceled after three episodes. In 2003, she starred in the UPN sitcom Abby. That series was also canceled during its first season. Later that same year, she had a recurring role in Joan of Arcadia, where she played Rebecca Askew, the love interest of Joan's older brother, Kevin (Jason Ritter). She was also a regular on the first season of Veronica Mars. However, she left the show after only appearing in four episodes because of budget cuts.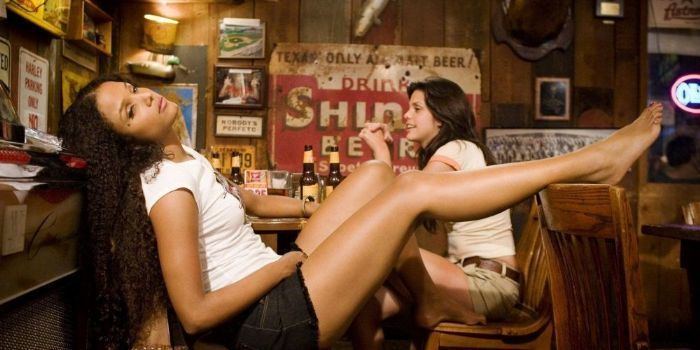 In 2007, Poitier starred in Death Proof, director Quentin Tarantino's segment of the movie Grindhouse, as radio DJ Jungle Julia. The next year, she had a co-starring role in the new Knight Rider series, as FBI Agent Carrie Rivai. In 2011, she guest starred on two episodes of Private Practice.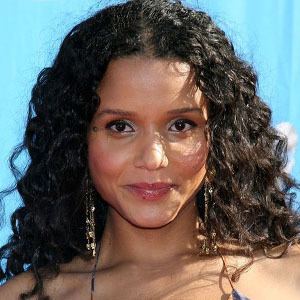 Filmography
Actress
2018
Carter (TV Series)
as
Det. Sam Shaw
- Harley Takes a Bow (2019) - Det. Sam Shaw (as Sydney Poitier Heartsong)
- Harley Doesn't Get His Man (2019) - Det. Sam Shaw (as Sydney Poitier Heartsong)
- Harley Gets To Be Best Man (2019) - Det. Sam Shaw (as Sydney Poitier Heartsong)
- Harley Wanted To Say Bonspiel (2019) - Det. Sam Shaw (as Sydney Poitier Heartsong)
- Harley Insisted On Wearing Pants (2019) - Det. Sam Shaw (as Sydney Poitier Heartsong)
- Harley Gets A Hole in One (2019) - Det. Sam Shaw (as Sydney Poitier Heartsong)
- Harley Gets An Office Job (2019) - Det. Sam Shaw (as Sydney Poitier Heartsong)
- Harley Gets Replaced (2019) - Det. Sam Shaw (as Sydney Poitier Heartsong)
- Harley Wears a Wig (2019) - Det. Sam Shaw (as Sydney Poitier Heartsong)
- Harley Loses a Finger (2019) - Det. Sam Shaw (as Sydney Poitier Heartsong)
- The Ring (2018) - Det. Sam Shaw (as Sydney Poitier Heartsong)
- Happy Campers (2018) - Det. Sam Shaw (as Sydney Poitier Heartsong)
- Voiceover (2018) - Det. Sam Shaw (as Sydney Poitier Heartsong)
- Kiki-Loki (2018) - Det. Sam Shaw (as Sydney Poitier Heartsong)
- The Flood (2018) - Det. Sam Shaw (as Sydney Poitier Heartsong)
- Pig, Man, Lion (2018) - Det. Sam Shaw (as Sydney Poitier Heartsong)
- Harley's Got a Gun (2018) - Det. Sam Shaw (as Sydney Poitier Heartsong)
- The Farmhand Who Bought the Farm (2018) - Det. Sam Shaw (as Sydney Poitier Heartsong)
- The Astronaut & The Lion King (2018) - Det. Sam Shaw (as Sydney Poitier Heartsong)
- Koji the Killer (2018) - Det. Sam Shaw (as Sydney Poitier Heartsong)
2018
Homecoming (TV Series)
as
Lydia Belfast
- Work (2018) - Lydia Belfast (as Sydney Poitier-Heartsong)
- Test (2018) - Lydia Belfast (as Sydney Poitier-Heartsong)
- Helping (2018) - Lydia Belfast (as Sydney Poitier-Heartsong)
- Optics (2018) - Lydia Belfast (as Sydney Poitier-Heartsong)
2015
Night of the Living Dead: Darkest Dawn
as
Tami (voice)
2014
Flawed (Short)
as
Jana Conley
2014
Chicago P.D. (TV Series)
as
Detective Sumners / Detective Mia Sumners
- The Docks (2014) - Detective Sumners
- My Way (2014) - Detective Sumners
- 8:30 PM (2014) - Detective Sumners
- Turn the Light Off (2014) - Detective Mia Sumners
- At Least It's Justice (2014) - Detective Sumners
- A Material Witness (2014) - Detective Sumners
- Different Mistakes (2014) - Detective Sumners
2013
The Mouseketeer (Video short)
as
Dina Gerger
2012
Kendra (TV Series short)
as
Leslie
- Memory (2012) - Leslie
- Old Fashioned (2012) - Leslie
- Driver's License (2012) - Leslie
- Diceman Cometh (2012) - Leslie
- Three Way (2012) - Leslie
2012
Hawaii Five-0 (TV Series)
as
Grace Tilwell
- I Ka Wa Mamua (2012) - Grace Tilwell
2012
The Shooting Star Salesman (Short)
as
Zoey
2011
Private Practice (TV Series)
as
Michelle
- Step One (2011) - Michelle
- Love and Lies (2011) - Michelle
2011
Supah Ninjas (TV Series)
as
Katherine / Katara
- Katara (2011) - Katherine / Katara
2011
Big Tweet (Short)
as
Big Tweet's Girl
2010
Page 36 (Short)
as
Miss Gray
2010
Yard Sale (Short)
as
Kate Butler
2008
Knight Rider (TV Series)
as
Carrie Rivai
- Day Turns Into Knight (2009) - Carrie Rivai
- Don't Stop the Knight (2009) - Carrie Rivai
- Knight Fever (2008) - Carrie Rivai
- Knight of the Zodiac (2008) - Carrie Rivai
- I Wanna Rock and Roll All Knight (2008) - Carrie Rivai
- Knight of the Living Dead (2008) - Carrie Rivai
- Knight of the Hunter (2008) - Carrie Rivai (credit only)
- A Hard Day's Knight (2008) - Carrie Rivai
- Knight of the Iguana (2008) - Carrie Rivai (credit only)
- Journey to the End of the Knight (2008) - Carrie Rivai (credit only)
- A Knight in Shining Armor (2008) - Carrie Rivai
- Knight Rider (2008) - Carrie Rivai
2007
Death Proof
as
Jungle Julia (as Sydney Poitier)
2007
Grindhouse
as
Jungle Julia (segment "Death Proof")
2006
Grey's Anatomy (TV Series)
as
Deborah Fleiss
- 17 Seconds (2006) - Deborah Fleiss
2004
Veronica Mars (TV Series)
as
Mallory Dent
- Like a Virgin (2004) - Mallory Dent (credit only)
- The Girl Next Door (2004) - Mallory Dent
- Return of the Kane (2004) - Mallory Dent
- You Think You Know Somebody (2004) - Mallory Dent
- The Wrath of Con (2004) - Mallory Dent (credit only)
- Meet John Smith (2004) - Mallory Dent (credit only)
- Credit Where Credit's Due (2004) - Mallory Dent
2003
Joan of Arcadia (TV Series)
as
Rebecca Askew
- Double Dutch (2004) - Rebecca Askew
- Night without Stars (2004) - Rebecca Askew
- State of Grace (2004) - Rebecca Askew
- Recreation (2004) - Rebecca Askew
- Jump (2004) - Rebecca Askew
- Drive, He Said (2003) - Rebecca Askew
- Death Be Not Whatever (2003) - Rebecca Askew
- Just Say No (2003) - Rebecca Askew
2004
The Devil Cats
as
Hellena Handbasket
2003
Abby (TV Series)
as
Abby Newman / Abigail 'Abby' Walker
- Abby Wallows, Max Follows (2003) - Abby Newman
- Kiss My Ex (2003) - Abby Newman
- Bare Naked Lady (2003) - Abby Newman
- The Mama and the Papa (2003) - Abby Newman
- Leggo My Ego (2003) - Abby Newman
- Abby Gets Her Groove Back (2003) - Abigail 'Abby' Walker
- Ted & Carol & Will & Abby (2003) - Abigail 'Abby' Walker
- Abby's First Date (2003) - Abigail 'Abby' Walker
- Moving On (2003) - Abby Newman
- The Breakup (2003) - Abigail 'Abby' Walker
2003
The Twilight Zone (TV Series)
as
Dr. Leslie Coburn
- The Placebo Effect (2003) - Dr. Leslie Coburn
2001
Happy Birthday (Short)
as
Hannah
2001
On the Edge (TV Movie)
as
Hannah (segment "Happy Birthday")
2001
First Years (TV Series)
as
Riley Kessler
- Porn in the U.S.A. (2001) - Riley Kessler
- There's No Place Like Homo (2001) - Riley Kessler
- -And Then You Die (2001) - Riley Kessler
- The First Thing You Do- (2001) - Riley Kessler
- Pilot - Riley Kessler
- Episode #1.7 - Riley Kessler
- Touched by a Reindeer - Riley Kessler
- Lawyerboy - Riley Kessler
- Habeas Corpse - Riley Kessler
1999
Noah's Ark (TV Mini Series)
as
Ruth
- Episode #1.2 (1999) - Ruth (as Sydney Poitier)
- Episode #1.1 (1999) - Ruth (as Sydney Poitier)
1999
True Crime
as
Jane March (as Sydney Poitier)
1998
Free of Eden (TV Movie)
as
Nicole Turner
1998
Park Day
as
Sophia Johnson
Producer
2004
The Devil Cats (producer)
Self
2022
Sidney (Documentary)
as
Self (as Sydney Poitier Heartsong)
2020
Firecracker Department (TV Series)
as
Self
- Sydney Poitier Heartsong (2020) - Self
2018
Ok! TV (TV Series)
as
Self
- Episode #4.13 (2018) - Self
2009
Knight Rider: The Icon Reborn (Video documentary short)
as
Self
2007
Scream Awards 2007 (TV Special)
as
Self
2007
Up Close with Carrie Keagan (TV Series)
as
Self
- Episode dated 4 October 2007 (2007) - Self
- Episode dated 4 April 2007 (2007) - Self
2007
The Late Late Show with Craig Ferguson (TV Series)
as
Self
- Episode #4.45 (2007) - Self
2007
The Oprah Winfrey Show (TV Series)
as
Self
- Episode dated 28 March 2007 (2007) - Self
2007
21st Annual Soul Train Music Awards (TV Special)
as
Self
2006
2006 BAFTA/LA Cunard Britannia Awards (TV Special)
as
Self
Archive Footage
2023
Sidney Poitier - Der Mann, der Hollywood veränderte (TV Movie documentary)
as
Self - Daughter
2012
Supah Ninjas (TV Series)
as
Katherine / Katara
- Ninja Intervention (2012) - Katherine / Katara (uncredited)
References
Sydney Tamiia Poitier Wikipedia
(Text) CC BY-SA