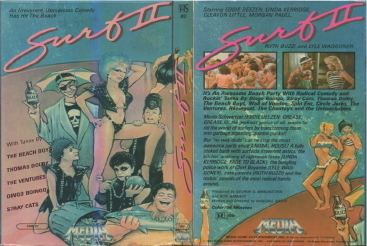 Long ago in "The Good Old Days", surfers ruled. It was bitchin'! That was before the threat of chemical pollution, nuclear waste and the horror of Buzzz Cola.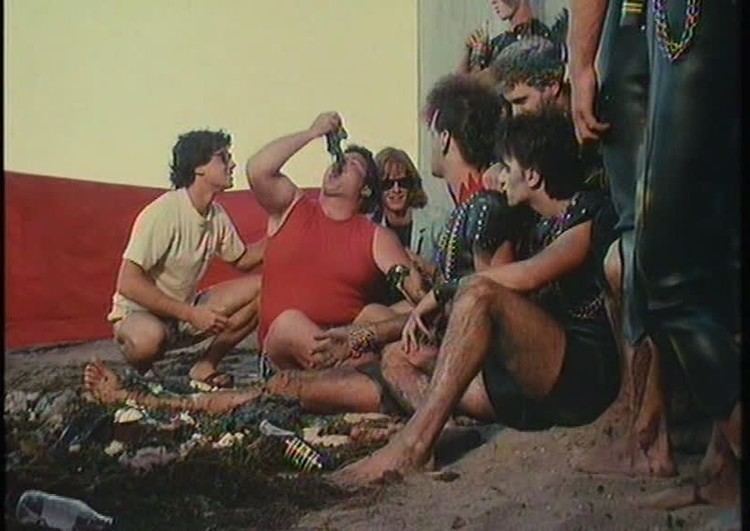 Menlo Schwartzer was a high school genius who hated surfers. He invented a weird soft drink, involved local businessmen and set out to rule the coast. He nearly succeeded. This is the story of Buzzz Cola and Menlo's revenge.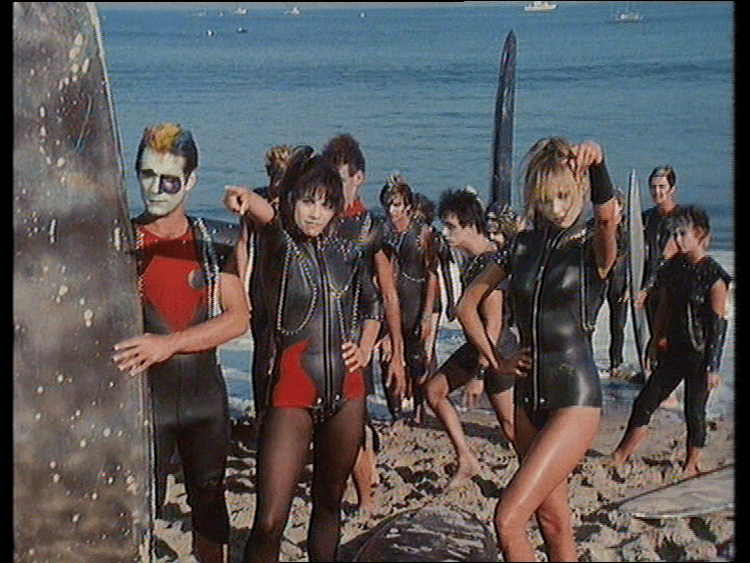 Deep in his secret underwater laboratory, teenage mad scientist Menlo Schwartzer plots to rid the beaches of his greatest enemies: surfers. Having been driven to revenge following a cruel practical joke gone awry, Menlo concocts an addictive chemical agent which turns its drinkers into mutated, garbage-ingesting zombie punks. With the reluctant help of his girlfriend Sparkle and a pair of greedy, cigar-chomping soda businessmen, Menlo distributes the chemical under the guise of "Buzzz Cola", and one by one begins to build an army of brainless zombie slaves to do his bidding.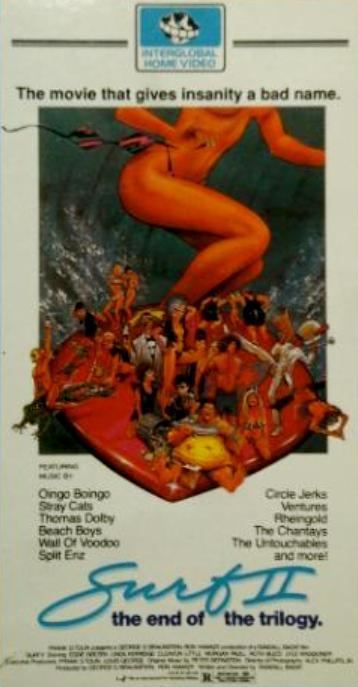 After several of their friends fall victim to Buzzz Cola, airheaded surfer dudes Chuck and Bob begin to piece together the parts of Menlo's evil scheme. Finding no help from their spaced-out parents or the bumbling efforts of the local police force, the two enlist the services of their eccentric science teacher and vow to stop Menlo for good, or else they will not be able to compete in the big surf contest this weekend.
Randall Badat conceived the idea for Surf II while he was living in Venice, California during the punk era, inspired by the colorful punk characters in his local surf scene (including a man who went by the name of Johnny Bighead), and by incidents of contaminated water and chemical spills in the area. Around this time, Badat suffered a surfing injury which warranted the use of heavy painkillers; it was during this period of being "completely out of [his] mind" that he discussed the idea for a "Frankie and Annette Go to Hell" type of beach party movie parody with his writer friends, who encouraged him to commit it to screenplay. Badat wrote Surf II - originally titled Surf Trash - over the course of two days while he recuperated from his injury.
After completing the screenplay, Badat's agent dismissed it as "the worst piece of shit [he'd] ever seen". Undeterred, Badat showed the script to numerous friends and eventually caught the attention of independent film producers George Braunstein and Ron Hamady, who put together financing and eventually sold the project to production company Arista Films at the Cannes Film Festival. Arista had planned to film Surf II in 3-D; though several pre-production posters were made carrying the title Surf II 3-D, the idea was eventually scrapped.
Badat wrote the role of Menlo Schwartzer specifically for Eddie Deezen, having been a fan of his performance in Robert Zemeckis' 1978 film I Wanna Hold Your Hand. According to Deezen, Menlo Schwartzer was named "Stinky Schwartzer" in the script until Deezen pressured Badat to change it. Many of the comic actors were allowed to improvise their lines, and several of the odd props throughout the film were contributed by Deezen himself, including a baseball cap with an absurdly elongated brim and an oversized pair of novelty scissors. Among Surf II's crew were cinematographer Alex Phillips, Jr. (Bring Me the Head of Alfredo Garcia), composer Peter Bernstein and Academy Award-winning make up artist Greg Cannom.
Surf II was filmed in 29 days during the summer of 1983. The beach scenes were shot at various locations throughout Malibu, Redondo Beach and Hermosa Beach, while interior shots were filmed at a studio in Culver City. According to Badat, several shots in the film - specifically ones depicting nudity - were later inserted into the film by the executive producers after they decided they wanted an "R" rating: "these shots don't even match the rest of the film if you look at the cinematography".
Surf II was released theatrically in North America in January 1984. It was marketed with the title Surf II: The End of the Trilogy, but later promotions re-titled the film Surf II: The Nerds Strike Back, following the success of Revenge of the Nerds, which was released that summer. The film screened in Europe in the fall of 1984, retitled in Spain as Locura de playa (roughly translated as "Beach Madness").
Contemporary reviews
Although Badat claims that initial test screenings were successful, critical reviews of Surf II were overwhelmingly negative. In his Movie Guide, Leonard Maltin gave the film a 1.5 out of 5 star rating, writing that the "best joke is its title - there never was a Surf I". Kim Newman quipped in the Monthly Film Bulletin, "traditionally, sequels are never up to the standards of the original: Surf II, which is a sequel to nothing in particular, is therefore worse than anyone could possibly have imagined", calling it "incoherent" and "most dreadful". The Chicago Tribune called it "total trash" and the Los Angeles Times simply remarked "there was no Surf I - and with luck, there'll be no Surf III". In a more contemporary professional review, AllMovie, though having rated Surf II one star out of five, noted that the film is "never dull" and "deranged enough to be memorable", giving praise to the performances of the ensemble cast and summarizing, "Surf II's unbalanced mix of amateurishness and gonzo humor will confound most viewers, but fans of B-movie weirdness will find more than enough memorable moments to keep themselves entertained".
Randall Badat himself has spoken about the negative reaction to Surf II and how it extended beyond film critics: "The target audience loved it. Their parents hated it. My family hated it. People that I was doing other business with hated it. I remember going to meetings and people would find out that I'd done this movie and that was it". He has also expressed an overall disappointment with the film, remarking "If there's anything I would have done differently... I'd have done everything differently", though ultimately admitting "I guess it's pretty funny.... I'm amazed at how well the film still plays, and I guess it works overall".
Cult legacy
In spite of (or perhaps because of) its critical ravaging, Surf II has developed a following among cult film fans. Cult film website McBeardo's Midnight Movies ranked Surf II on its list of "15 Movies That Deserve Massive Cult Followings", calling the film "serious competition" for the position of the "#1 most off-the-wall and ingenious teen sex comedy of the '80s". The Scarecrow Video Movie Guide, describes the film as "[packing] more slapstick and early-80s drive-in mania into one movie than any sane mind could imagine", stating bluntly "missing this movie would be like beating yourself in the face with a brick!" Radioactive Reviews, a website specializing in reviewing "The Movies That DVD Forgot", noted that Surf II "doesn't make much sense and doesn't have much of a story", though the film creates "an amusing, cartoonish world that's fun to watch", and would ultimately be of interest to "lovers of [the 80s'] sillier, less-coherent cinematic creations".
In 2010, Alamo Drafthouse programmers Zack Carlson and Bryan Connolly prominently featured Surf II in their book Destroy All Movies!!! The Complete Guide to Punks on Film, including interviews with Badat and Deezen. The book offered a rave review of Surf II as the "greatest mohawked-zombie-comedy ever made", calling it "pure fun in the form of a movie, born at a short-lived moment in history where culture was low and damaged enough to sustain a comedy of this magnitude. No joke is too easy or bizarre but the film manages to excel with countless deeply creative moments", while also praising the "career best" performance of Deezen and the "powerful comic work" of its ensemble cast.
On April 17, 2009, the New Beverly Cinema in Los Angeles presented a 25th anniversary screening of Surf II hosted by the Alamo Drafthouse, with Badat, Braunstein, Deezen and first assistant director D. Scott Easton in attendance.
Surf II was released on VHS in January 1985 through Media Home Entertainment, who retained its distribution rights until ceasing operations in 1992. Throughout the 1980s and early 1990s, Surf II was occasionally shown on late night B-movie program USA Up All Night, and would sometimes be used as late night filler on HBO.
"Up All Nite Films" released what is presumed to be an official DVD release, available in the US on Amazon.com in August 2012. The DVD is a "manufactured on demand" product similar to the Warner Archives versions of hard-to-find films. Due to the nature of the ad hoc manufacturing, the DVD version availability is not limited to the stock of the initial print runs and was available as of June 2013.
Surf II's soundtrack consists mainly of contemporary punk/New Wave hits and classic surf tunes. The producers had struck a deal with Capitol Records for the release of a soundtrack album, but as a result of the film's critical and financial disappointment, the project was abandoned.
The following is a list of songs which appear in Surf II:
Danny Elfman of Oingo Boingo was briefly involved with the film's soundtrack production, contributing the exclusive track "Hold Me Back", which has never been released outside of Surf II.