Occupation

Actor and director

Years active

1993–present

Spouse

Anna Paquin (m. 2010)







Full Name

Stephen John Emery

Born

11 October 1969 (age 46) (

1969-10-11

)

Brentwood, Essex, England, UK

Children

Poppy Moyer, Charlie Moyer, Lilac Moyer, Billy Moyer

Movies and TV shows

True Blood, The Sound of Music Live!, The Barrens, Prince Valiant, Restraint




Similar People

Anna Paquin, Alexander Skarsgard, Poppy Moyer, Ryan Kwanten, Sam Trammell




Profiles



True blood actor stephen moyer shares real life miracle life being married to sookie
Stephen Moyer (born Stephen John Emery; 11 October 1969) is an English film and television actor and director who is best known as vampire Bill Compton in the HBO series True Blood. Moyer's first television role was in 1993 as Philip Masefield in the TV adaptation of the play Conjugal Rites, written by actor/playwright Roger Hall. This was followed by the television film Lord of Misrule, filmed in Fowey, Cornwall, which also featured Richard Wilson, Emily Mortimer and Prunella Scales. In 1997, Moyer made his big-screen debut landing the lead role in the film adaptation of the long-running comic strip Prince Valiant by Hal Foster, working alongside Ron Perlman and Katherine Heigl.
Contents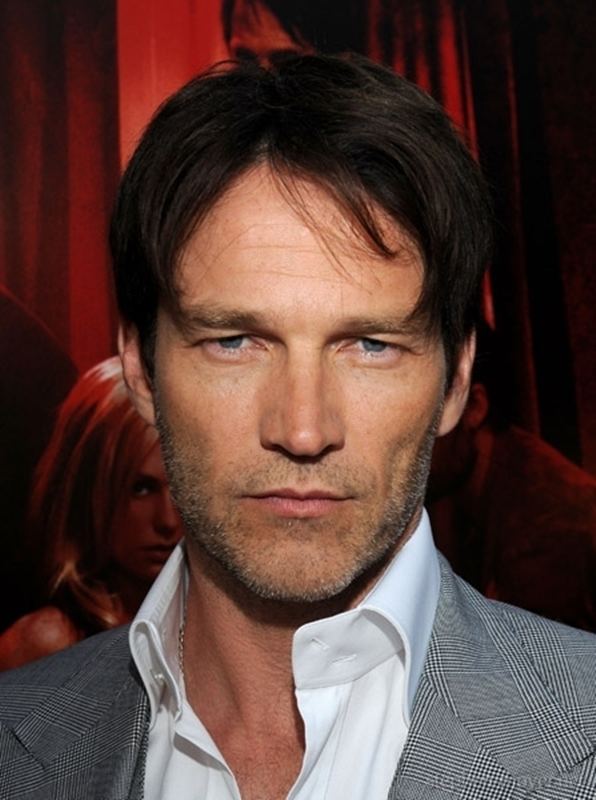 The sound of music live stephen moyer capt georg von trapp on set tv interview
Early life and career
Moyer was born in Brentwood, Essex. He attended St Martin's School, a comprehensive school in Hutton, Essex, and graduated from the London Academy of Music and Dramatic Art (LAMDA). He became Brentwood Theatre's first patron in October 2007, especially supporting their "Reaching Out, Building On" campaign to help fund the 2008 completion of backstage facilities.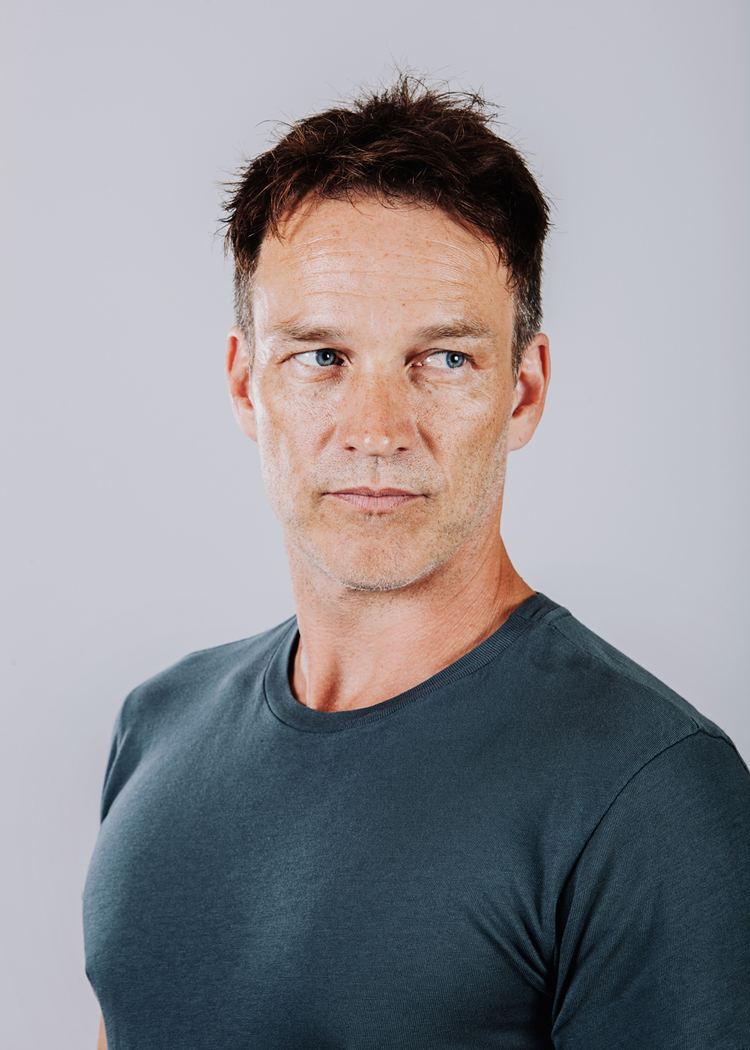 After graduating from LAMDA, Moyer worked in theatre for five years. He worked with the National Theatre Wales, the Royal Shakespeare Company and the Oxford Stage Company, work which included going on tour and playing Romeo in productions of Romeo and Juliet. He then made the transition to television and film.
Personal life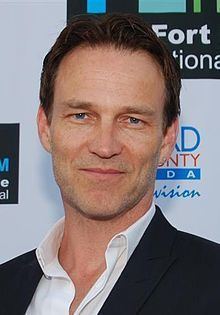 In August 2009, Moyer became engaged to actress Anna Paquin, who played Bill Compton's love interest Sookie Stackhouse in the HBO series True Blood. They had been dating since filming the series pilot in 2007. The couple married on 21 August 2010 at a private residence in Malibu, California. Moyer and Paquin have a son, Charlie, and a daughter, Poppy, who are fraternal twins born in September 2012. The family resides in Venice, Los Angeles.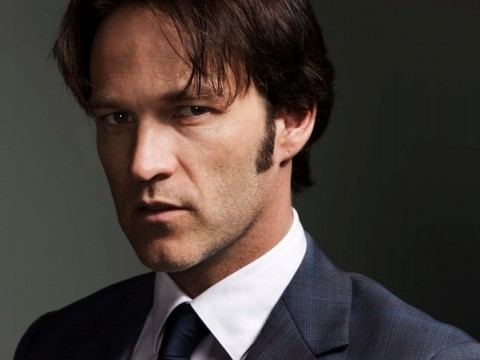 Moyer also has a son, William (Billy) from his previous marriage born in 2000 and daughter, Lilac, born in 2002.
Moyer has dealt with alcoholism in the past. He has been sober for 14 years and has said that the addiction stemmed from his roots in British theater, emulating the public images of personal heroes like Peter O'Toole. At a CLARE Foundation dinner he stated, "There's this rush that happens from doing our job, this whirring buzz, and you want to continue that buzz." He now works with CLARE Foundation (a southern California non-profit facility) to help others with rehabilitation and sobriety.
Filmography
Actor
2023
Sexy Beast (TV Series) (post-production)
as
Teddy Bass
- Episode #1.1 - Teddy Bass
2023
After Everything (completed)
as
Christian Vance
2022
A Friend of the Family (TV Mini Series)
as
Mark Eamons
- Son of Perdition (2022) - Mark Eamons
2022
After Ever Happy
as
Christian Vance
2022
Confession
as
Victor Strong
2021
For Every Good Invention (Short)
as
Timothy
2021
Code of Silence
as
Detective Nipper Read
2021
After We Fell
as
Christian Vance
2020
Fortunate Son (TV Series)
as
Vern Lang
- Suspicious Minds (2020) - Vern Lang
- Ruby Tuesday (2020) - Vern Lang
- White Rabbit (2020) - Vern Lang
- For What Its Worth (2020) - Vern Lang
- Eve of Destruction (2020) - Vern Lang
- All Along the Watch Tower (2020) - Vern Lang
- Chimes of Freedom (2020) - Vern Lang
- Fortunate Son (2020) - Vern Lang
2019
Godzilla: King of the Monsters
as
Fighter Pilot (uncredited)
2017
The Gifted (TV Series)
as
Reed Strucker
- oMens (2019) - Reed Strucker
- Monsters (2019) - Reed Strucker
- calaMity (2019) - Reed Strucker
- teMpted (2019) - Reed Strucker
- hoMe (2019) - Reed Strucker
- meMento (2019) - Reed Strucker
- eneMy of My eneMy (2019) - Reed Strucker
- gaMe changer (2018) - Reed Strucker
- the dreaM (2018) - Reed Strucker
- no Mercy (2018) - Reed Strucker
- iMprint (2018) - Reed Strucker
- afterMath (2018) - Reed Strucker
- outMatched (2018) - Reed Strucker
- coMplications (2018) - Reed Strucker
- unMoored (2018) - Reed Strucker
- eMergence (2018) - Reed Strucker
- X-roads (2018) - Reed Strucker
- eXtraction (2018) - Reed Strucker
- 3 X 1 (2018) - Reed Strucker
- eXploited (2017) - Reed Strucker
- outfoX (2017) - Reed Strucker
- threat of eXtinction (2017) - Reed Strucker
- eXtreme measures (2017) - Reed Strucker
- got your siX (2017) - Reed Strucker
- boXed in (2017) - Reed Strucker
- eXit strategy (2017) - Reed Strucker
- eXodus (2017) - Reed Strucker
- rX (2017) - Reed Strucker
- eXposed (2017) - Reed Strucker
2017
Vault of the Macabre the House upon the hill (Short)
as
Narrator
2017
Safe House (TV Series)
as
Tom Brook
- Episode #2.4 (2017) - Tom Brook
- Episode #2.3 (2017) - Tom Brook
- Episode #2.2 (2017) - Tom Brook
- Episode #2.1 (2017) - Tom Brook
2017
Shots Fired (TV Series)
as
Lieutenant Breeland
- Hour Ten: Last Dance (2017) - Lieutenant Breeland
- Hour Nine: Come to Jesus (2017) - Lieutenant Breeland
- Hour Eight: Rock Bottom (2017) - Lieutenant Breeland
- Hour Seven: Content of Their Character (2017) - Lieutenant Breeland
- Hour Six: The Fire This Time (2017) - Lieutenant Breeland
- Hour Five: Before the Storm (2017) - Lieutenant Breeland
- Hour Four: Truth (2017) - Lieutenant Breeland
- Hour Three: Somebody's Son (2017) - Lieutenant Breeland
- Hour Two: Betrayal of Trust (2017) - Lieutenant Breeland
- Hour One: Pilot (2017) - Lieutenant Breeland
2017
The Hatton Garden Job
as
Marcus Ford
2016
Vault of the Macabre Presents; the Fright Before Christmas (Short)
as
Narrator
2015
The Bastard Executioner (TV Mini Series)
as
Milus Corbett
- Blood and Quiescence/Crau a Chwsg (2015) - Milus Corbett
- The Bernadette Maneuver/Cynllwyn Bernadette (2015) - Milus Corbett
- Broken Things/Pethau Toredig (2015) - Milus Corbett
- Behold the Lamb/Gweled yr Oen (2015) - Milus Corbett
- Thorns/Drain (2015) - Milus Corbett
- Piss Profit/Proffidwyr Troeth (2015) - Milus Corbett
- A Hunger/Newyn (2015) - Milus Corbett
- Effigy/Ddelw (2015) - Milus Corbett
- Pilot: Part 2 (2015) - Milus Corbett
- Pilot: Part 1 (2015) - Milus Corbett
2015
Concussion
as
Dr. Ron Hamilton
2015
Killing Jesus (TV Movie)
as
Pontius Pilate
2014
True Blood: Jessica's Blog (TV Series)
as
Bill Compton
- A Father's Love (2014) - Bill Compton
- A Good Man Is Hard to Find (2014) - Bill Compton
2008
True Blood (TV Series)
as
Bill Compton
- Thank You (2014) - Bill Compton
- Love Is to Die (2014) - Bill Compton
- Almost Home (2014) - Bill Compton
- May Be the Last Time (2014) - Bill Compton
- Karma (2014) - Bill Compton
- Lost Cause (2014) - Bill Compton
- Death Is Not the End (2014) - Bill Compton
- Fire in the Hole (2014) - Bill Compton
- I Found You (2014) - Bill Compton
- Jesus Gonna Be Here (2014) - Bill Compton
- Radioactive (2013) - Bill Compton
- Life Matters (2013) - Bill Compton
- Dead Meat (2013) - Bill Compton
- In the Evening (2013) - Bill Compton
- Don't You Feel Me (2013) - Bill Compton
- **** the Pain Away (2013) - Bill Compton
- At Last (2013) - Bill Compton
- You're No Good (2013) - Bill Compton
- The Sun (2013) - Bill Compton
- Who Are You, Really? (2013) - Bill Compton
- Save Yourself (2012) - Bill Compton
- Sunset (2012) - Bill Compton
- Gone, Gone, Gone (2012) - Bill Compton
- Everybody Wants to Rule the World (2012) - Bill Compton
- Somebody That I Used to Know (2012) - Bill Compton
- In the Beginning (2012) - Bill Compton
- Hopeless (2012) - Bill Compton
- Let's Boot and Rally (2012) - Bill Compton
- We'll Meet Again (2012) - Bill Compton
- Whatever I Am, You Made Me (2012) - Bill Compton
- Authority Always Wins (2012) - Bill Compton
- Turn! Turn! Turn! (2012) - Bill Compton
- And When I Die (2011) - Bill Compton
- Soul of Fire (2011) - Bill Compton
- Burning Down the House (2011) - Bill Compton
- Let's Get Out of Here (2011) - Bill Compton
- Spellbound (2011) - Bill Compton
- Cold Grey Light of Dawn (2011) - Bill Compton
- I Wish I Was the Moon (2011) - Bill Compton
- Me and the Devil (2011) - Bill Compton
- I'm Alive and on Fire (2011) - Bill Compton
- If You Love Me, Why Am I Dyin'? (2011) - Bill Compton
- You Smell Like Dinner (2011) - Bill Compton
- She's Not There (2011) - Bill Compton
- Evil Is Going On (2010) - Bill Compton
- Fresh Blood (2010) - Bill Compton
- I Smell a Rat (2010) - Bill Compton
- Everything Is Broken (2010) - Bill Compton
- Night on the Sun (2010) - Bill Compton
- Hitting the Ground (2010) - Bill Compton
- I Got a Right to Sing the Blues (2010) - Bill Compton
- Trouble (2010) - Bill Compton
- 9 Crimes (2010) - Bill Compton
- It Hurts Me Too (2010) - Bill Compton
- Beautifully Broken (2010) - Bill Compton
- Bad Blood (2010) - Bill Compton
- Beyond Here Lies Nothin' (2009) - Bill Compton
- Frenzy (2009) - Bill Compton
- New World in My View (2009) - Bill Compton
- I Will Rise Up (2009) - Bill Compton
- Timebomb (2009) - Bill Compton
- Release Me (2009) - Bill Compton
- Hard-Hearted Hannah (2009) - Bill Compton
- Never Let Me Go (2009) - Bill Compton
- Shake and Fingerpop (2009) - Bill Compton
- Scratches (2009) - Bill Compton
- Keep This Party Going (2009) - Bill Compton
- Nothing But the Blood (2009) - Bill Compton
- You'll Be the Death of Me (2008) - Bill Compton
- To Love Is to Bury (2008) - Bill Compton
- I Don't Wanna Know (2008) - Bill Compton
- Plaisir d'amour (2008) - Bill Compton
- The Fourth Man in the Fire (2008) - Bill Compton
- Burning House of Love (2008) - Bill Compton
- Cold Ground (2008) - Bill Compton
- Sparks Fly Out (2008) - Bill Compton
- Escape from Dragon House (2008) - Bill Compton
- Mine (2008) - Bill Compton
- The First Taste (2008) - Bill Compton
- Original Pilot (2008) - Bill Compton
- Strange Love (2008) - Bill Compton
2013
The Sound of Music Live! (TV Special)
as
Captain Von Trapp
2013
Devil's Knot
as
John Fogleman
2013
Evidence
as
Detective Daniel Reese
2012
The Barrens
as
Richard Vineyard
2012
Jan (TV Series short)
as
Gery
- Fight??? (2012) - Gery
- Cass (2012) - Gery
- M9P (2012) - Gery
- Mace (2012) - Gery
- Uncanned (2012) - Gery
- First Job (2012) - Gery
- Fired? (2012) - Gery
- Almost Fired (2012) - Gery
2012
Life Weaver (Video Game)
as
Helfin Leader (voice)
2011
Phineas and Ferb (TV Series short)
as
Jared
- That's the Spirit/The Curse of Candace (2011) - Jared (voice)
2011
Ice (TV Mini Series)
as
Peterson
- Episode #1.2 (2011) - Peterson
- Episode #1.1 (2011) - Peterson
2010
True Blood: Webisodes (TV Series short)
as
Bill Compton
- Bill (2010) - Bill Compton
2007
Alternate Endings (Short)
as
Editor
2007
Empathy (TV Movie)
as
Jimmy Collins
2007
The Starter Wife (TV Mini Series)
as
Sam
- Hour 6 (2007) - Sam
- Hour 5 (2007) - Sam
- Hour 4 (2007) - Sam
- Hour 3 (2007) - Sam
- Hour 2 (2007) - Sam
- Hour 1 (2007) - Sam
2007
Lilies (TV Mini Series)
as
Mr. Brazendale
- The Reckoning (2007) - Mr. Brazendale
- The Serpent (2007) - Mr. Brazendale
- The Release (2007) - Mr. Brazendale
- The Sea (2007) - Mr. Brazendale
- The Tallyman (2007) - Mr. Brazendale
- The White Charger (2007) - Mr. Brazendale
- The Thunderbolt (2007) - Mr. Brazendale
- The Chit Behind King Billy (2007) - Mr. Brazendale
2007
88 Minutes
as
Guy LaForge
2006
Casualty (TV Series)
as
Dr. Mark Ellis
- Waste of Space (2006) - Dr. Mark Ellis
2005
Waking the Dead (TV Series)
as
Steven Hunt
- Undertow: Part 2 (2005) - Steven Hunt
- Undertow: Part 1 (2005) - Steven Hunt
2005
Undiscovered
as
Mick Benson
2004
The Final Quest (TV Movie)
as
Young Danny Duke
2004
NY-LON (TV Mini Series)
as
Michael Antonioni
- Something About Love (2004) - Michael Antonioni
- Something About Friends (2004) - Michael Antonioni
- Something About Family (2004) - Michael Antonioni
- Something About Honesty (2004) - Michael Antonioni
- Something About Commitment (2004) - Michael Antonioni
- Something About Baggage (2004) - Michael Antonioni
- Something About Chemicals (2004) - Michael Antonioni
2003
Entrusted (TV Movie)
as
David Quatermain
2002
Menace (TV Mini Series)
as
Mark
- Episode #1.2 (2002) - Mark
- Episode #1.1 (2002) - Mark
2001
Uprising (TV Movie)
as
Kazik Rotem
2001
Men Only (TV Movie)
as
Jason
2001
The Wonderful World of Disney (TV Series)
as
Prince Philip
- Princess of Thieves (2001) - Prince Philip
2000
The Secret (TV Mini Series)
as
Marcel Birkstead
- Episode #1.2 (2000) - Marcel Birkstead
- Episode #1.1 (2000) - Marcel Birkstead
2000
Peak Practice (TV Series)
as
Chris Rhodes
- Hit and Run (2000) - Chris Rhodes
2000
Sunburn (TV Series)
as
Trevor Watts
- Episode #2.1 (2000) - Trevor Watts
1999
Cold Feet (TV Series)
as
Nick
- Episode #2.5 (1999) - Nick
1999
Life Support (TV Series)
as
Dr. Tom Scott
- The Undiscovered Country (1999) - Dr. Tom Scott
- Soul and Conscience (1999) - Dr. Tom Scott
- Playing God (1999) - Dr. Tom Scott
- The Price of Love (1999) - Dr. Tom Scott
- Trust (1999) - Dr. Tom Scott
1999
Highlander: The Raven (TV Series)
as
Jeremy Dexter
- Thick as Thieves (1999) - Jeremy Dexter
1998
Ultraviolet (TV Mini Series)
as
Jack / Jack Beresford
- Persona Non Grata (1998) - Jack
- Habeas Corpus (1998) - Jack Beresford
1998
Midsomer Murders (TV Series)
as
Christopher Wainwright
- Death in Disguise (1998) - Christopher Wainwright
1997
Prince Valiant
as
Prince Valiant
1997
The Grand (TV Series)
as
Stephen Bannerman
- Episode #1.8 (1997) - Stephen Bannerman
- Episode #1.7 (1997) - Stephen Bannerman
- Episode #1.6 (1997) - Stephen Bannerman
- Episode #1.5 (1997) - Stephen Bannerman
- Episode #1.4 (1997) - Stephen Bannerman
- Episode #1.3 (1997) - Stephen Bannerman
- Episode #1.2 (1997) - Stephen Bannerman
- Episode #1.1 (1997) - Stephen Bannerman
1997
A Touch of Frost (TV Series)
as
D.C. Burton
- Penny for the Guy (1997) - D.C. Burton
1996
Mystery!: Cadfael (TV Series)
as
Godwin
- A Morbid Taste for Bones (1996) - Godwin
1996
Lord of Misrule (TV Movie)
as
Olly
1995
Castles (TV Series)
as
Martin Franks
1993
Conjugal Rites (TV Series)
as
Philip Masefield
- Decisions, Decisions (1994) - Philip Masefield
- The Way of All Flesh (1994) - Philip Masefield
- Anyone for Scrabble? (1994) - Philip Masefield
- When I'm 64 (1994) - Philip Masefield
- Double or Nothing? (1994) - Philip Masefield
- There's a Lot of It About (1994) - Philip Masefield
- Happy Returns? (1994) - Philip Masefield
- Breaking Up Is Hard to Do (1993) - Philip Masefield
- The Birthday Boy (1993) - Philip Masefield
- Partners (1993) - Philip Masefield
- Ill Feelings (1993) - Philip Masefield
- Bedtime Story (1993) - Philip Masefield
- Twenty One Today (1993) - Philip Masefield
Producer
-
Madame X (TV Mini Series) (executive producer - 1 episode) (announced)
- Episode #1.1 - (executive producer)
2022
A Bit of Light (producer)
2021
Last Survivors (executive producer)
2019
Flack (TV Series) (executive producer - 12 episodes)
- Danny & Deepak (2020) - (executive producer)
- Alexa (2020) - (executive producer)
- Duncan (2020) - (executive producer)
- Clara (2020) - (executive producer)
- Brand Barron (2020) - (executive producer)
- Sofi (2020) - (executive producer)
- Patrick (2019) - (executive producer)
- Calvin (2019) - (executive producer)
- Brooke (2019) - (executive producer)
- Dan (2019) - (executive producer)
- Summer (2019) - (executive producer)
- Anthony (2019) - (executive producer)
2018
The Parting Glass (producer)
2015
Civilianaire Boys' Club (Short) (executive producer)
2013
Free Ride (executive producer)
2012
The Barrens (co-producer)
Director
2020
Flack (TV Series) (2 episodes)
- Danny & Deepak (2020)
- Alexa (2020)
2012
True Blood (TV Series) (3 episodes)
- Jesus Gonna Be Here (2014)
- Who Are You, Really? (2013)
- Somebody That I Used to Know (2012)
Soundtrack
2017
The Tonight Show Starring Jimmy Fallon (TV Series) (performer - 1 episode)
- Margot Robbie/Stephen Moyer/Rachel Feinstein (2017) - (performer: "Town Called Malice")
2013
The Sound of Music Live! (TV Special) (performer: "Reprise: The Sound of Music", "No Way To Stop It", "Something Good", "Reprise: Do-Re-Mi (The Concert)", "Edelweiss (The Concert)", "Reprise: So Long, Farewell (The Concert)")
2009
True Blood (TV Series) (performer - 1 episode)
- Hard-Hearted Hannah (2009) - (performer: "Hard Hearted Hannah (The Vamp of Savannah)")
Thanks
2012
Raincheck Romance (Short) (special thanks)
Self
2022
Sci-Fi Talk (Podcast Series)
as
Self
- Stephen Moyer (2022) - Self
2022
Ok! TV (TV Series)
as
Self
- Episode #9.47 (2022) - Self
2022
Hollywood First Look (TV Series)
as
Self
- Episode #4.11 (2022) - Self
2011
Made in Hollywood (TV Series)
as
Self
- Last Looks/The Requin/Clean (2022) - Self
- Episode #7.7 (2011) - Self
2008
Entertainment Tonight (TV Series)
as
Self
- ET "CMT Awards" Blowout! (2021) - Self
- Episode dated 6 September 2010 (2010) - Self
- Episode dated 10 June 2009 (2009) - Self
- Episode dated 3 September 2008 (2008) - Self
2020
Popternative (TV Series)
as
Self
- Stephen Moyer (2020) - Self
2020
2020 Golden Globe Awards (TV Special)
as
Self (uncredited)
2019
Pop Culture Weekly with Kyle Mcmahon (TV Series)
as
Self
- Anna Paquin & Stephen Moyer (Flack); Mod Sun; Home Before Dark cast - Self
2019
The 24th Annual Critics' Choice Awards (TV Special)
as
Self
2018
WhatCulture Originals (TV Series documentary)
as
Self
- The Gifted: WhatCulture Meets Stephen Moyer and Natalie Alyn Lind (2018) - Self
2014
The Tonight Show Starring Jimmy Fallon (TV Series)
as
Self
- Margot Robbie/Stephen Moyer/Rachel Feinstein (2017) - Self
- Drew Barrymore/Stephen Moyer/5 Seconds of Summer (2015) - Self
- Whoopi Goldberg/Stephen Moyer/Puss N Boots (2014) - Self
2017
CTV's Big Fall Preview 2017 (TV Special)
as
Self - in studio
2017
Fox Fall Preview (TV Special)
as
Self
2017
Emmy Quickie (TV Series)
as
Self
- Emmy Quickie: 'Shots Fired' - Stephen Moyer (2017) - Self
2017
Inside the Hatton Garden Job (Video short)
as
Self
2017
Hollywood Today Live (TV Series)
as
Self
- Sherri Saum/Natalie Zea/Jill Simonian (2017) - Self
2015
The Talk (TV Series)
as
Self
- Stephen Moyer/Debbie Matenopoulos (2015) - Self
2009
Live with Kelly and Mark (TV Series)
as
Self / Self - Guest
- Seth Meyers/Stephen Moyer/Andrea Bocelli (2015) - Self - Guest
- Kurt Russell/Stephen Moyer/Chef Alton Brown (2014) - Self
- Stephen Moyer/Sheryl Crow (2013) - Self - Guest
- Episode dated 6 September 2011 (2011) - Self
- Episode #22.1 (2009) - Self
2015
Watch What Happens Live with Andy Cohen (TV Series)
as
Self
- Dan Rather & Stephen Moyer (2015) - Self
2014
Extra (TV Series)
as
Self
- Episode dated 7 August 2014 (2014) - Self
2014
The Queen Latifah Show (TV Series)
as
Self
- "True Blood's" Stephen Moyer and "Orange Is the New Black's" Uzo Aduba (2014) - Self
2014
Conan (TV Series)
as
Self - Guest
- Stephen Moyer/Roger Corman/Boy & Bear (2014) - Self - Guest
2014
Soccer Aid (TV Series)
as
Self - Player
- Soccer Aid 2014 (2014) - Self - Player
2014
Fatherhood (TV Series documentary short)
as
Self
- The Birds & the Bees (2014) - Self
2009
Late Night with Jimmy Fallon (TV Series)
as
Self - Guest / Self
- Episode dated 25 November 2013 (2013) - Self - Guest
- Episode dated 11 August 2011 (2011) - Self - Guest
- Episode dated 10 June 2009 (2009) - Self
2013
Good Day L.A. (TV Series)
as
Self
- Episode dated 18 November 2013 (2013) - Self
- Episode dated 23 July 2013 (2013) - Self
2010
Chelsea Lately (TV Series)
as
Self - Guest
- Episode #7.102 (2013) - Self - Guest
- Episode #4.90 (2010) - Self - Guest
2012
HBO Boxing (TV Series documentary)
as
Self - Audience Member
- Episode dated 9 June 2012 (2012) - Self - Audience Member
2012
Top Gear USA (TV Series documentary)
as
Self
- Limos (2012) - Self
2012
The Double: Interviews with the Producers (Video short)
as
Self
2011
TeenNick Halo Awards (TV Special)
as
Self
2011
Jimmy Kimmel Live! (TV Series)
as
Self
- Episode #9.161 (2011) - Self
2011
The 3 Minute Talk Show (TV Series)
as
Self
- Stephen Moyer (2011) - Self
2011
The 37th Annual People's Choice Awards (TV Special)
as
Self - Presenter
2010
Scream Awards 2010 (TV Special)
as
Self
2010
The 62nd Primetime Emmy Awards (TV Special)
as
Self - Presenter
2010
The Tonight Show with Jay Leno (TV Series)
as
Self
- Episode #18.87 (2010) - Self
2010
Friday Night with Jonathan Ross (TV Series)
as
Self
- Episode #18.8 (2010) - Self
2010
16th Annual Screen Actors Guild Awards (TV Special)
as
Self - Nominee
2010
The 67th Annual Golden Globe Awards (TV Special)
as
Self - Audience Member
2009
Scream Awards 2009 (TV Special)
as
Self
2009
The 61st Primetime Emmy Awards (TV Special)
as
Self - Presenter
2009
Hollywood Lives (TV Series documentary)
as
Self - Actor
- The Beckhams & The Brits (2009) - Self - Actor
2009
The Tonight Show with Conan O'Brien (TV Series)
as
Self - Guest
- Brüno/Stephen Moyer/Cirque du Soleil Zumanity (2009) - Self - Guest
2008
Behind the Scenes of 'Restraint' (Video short)
as
Self - Actor
2008
Restraint: Interviews with the Cast and Crew (Video short)
as
Self - Actor
2007
Loose Women (TV Series)
as
Self
- Episode #11.144 (2007) - Self
2006
The World's Greatest Actor (TV Movie documentary)
as
Self
2001
Quills: The Marquis on the Marquee (Video documentary short)
as
Self
1997
The Making of 'Prinz Eisenherz' (TV Short documentary)
as
Self
Archive Footage
2021
Entertainment Tonight (TV Series)
as
Self
- Episode #41.82 (2021) - Self
2013
Chelsea Lately (TV Series)
as
Captain Von Trapp in 'The Sound of Music'
- Episode #7.186 (2013) - Captain Von Trapp in 'The Sound of Music'
2011
Don't Pick Up the Phone: The Making of the Caller (Video documentary short)
as
John Guidi (uncredited)
References
Stephen Moyer Wikipedia
(Text) CC BY-SA