Steak tartare is a meat dish made from finely chopped or minced raw beef or horsemeat. It is often served with onions, capers and seasonings (the latter typically incorporating fresh ground pepper and Worcestershire sauce), sometimes with a raw egg yolk, and often on rye bread.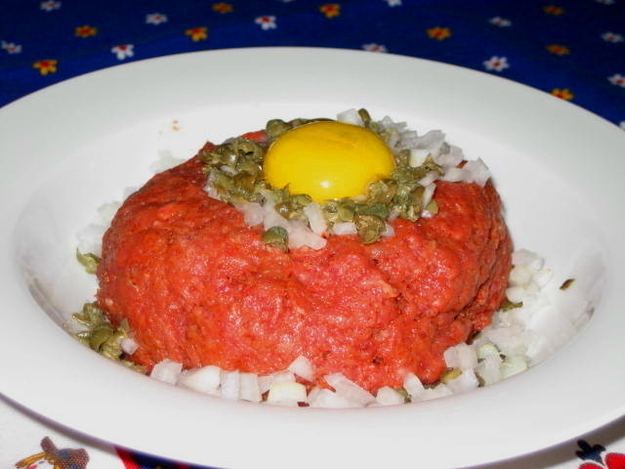 The name tartare is sometimes generalized to other raw meat or fish dishes.
Although less common than the completely raw variety, there is a version served in France of steak tartare called tartare aller-retour. It is a mound of mostly raw steak tartare that is lightly seared on one side of the patty.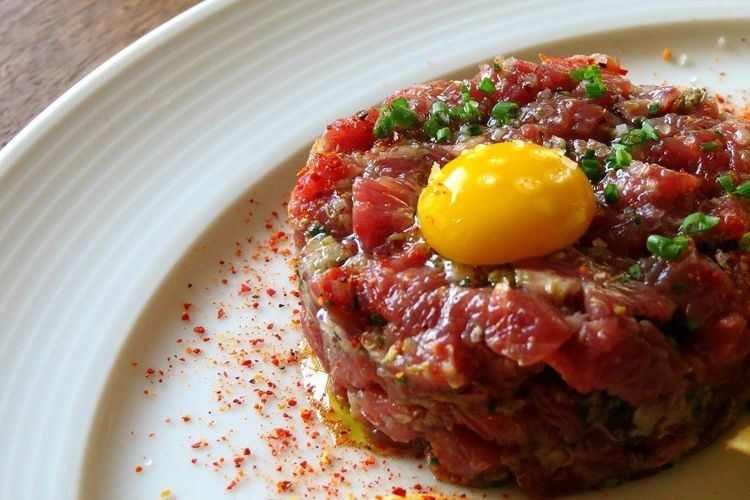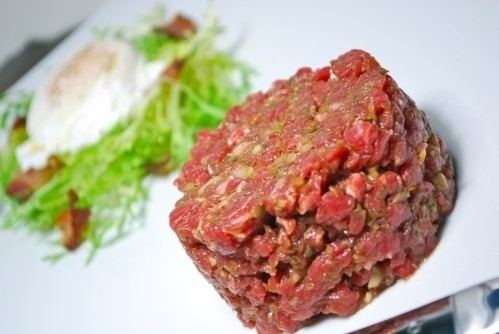 The name is a shortening of the original "à la tartare" or "served with tartar sauce," a dish popular in the 19th and early 20th centuries.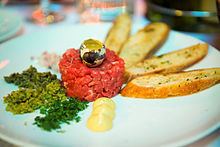 The modern version of steak tartare with raw egg was first served in French restaurants early in the 20th century. What is now generally known as "steak tartare" was then called steack à l'Americaine. Steak tartare was a variation on that dish; the 1921 edition of Escoffier's Le Guide Culinaire defines it as steack à l'Americaine made without egg yolk, served with tartar sauce on the side.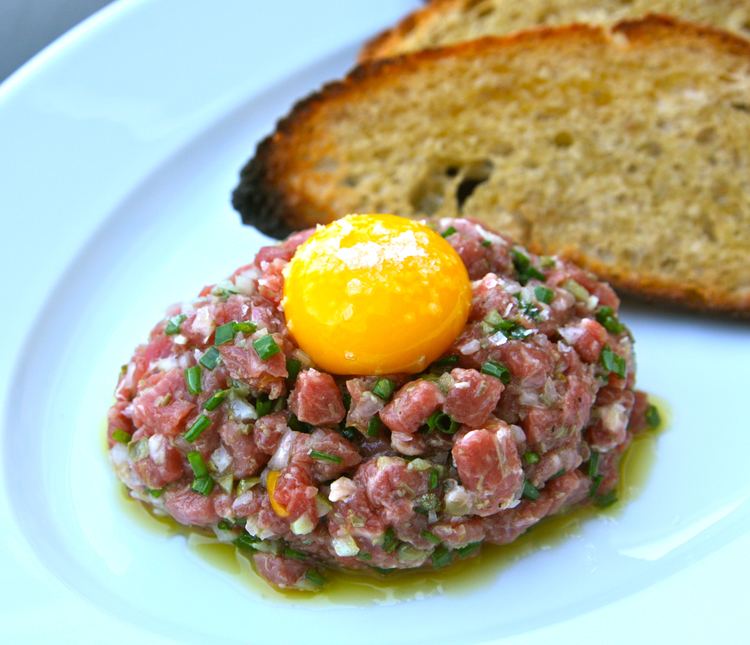 Over time, the distinction between steack à l'Americaine and its variant disappeared. The 1938 edition of Larousse Gastronomique describes steak tartare as raw ground beef served with a raw egg yolk, without any mention of tartar sauce.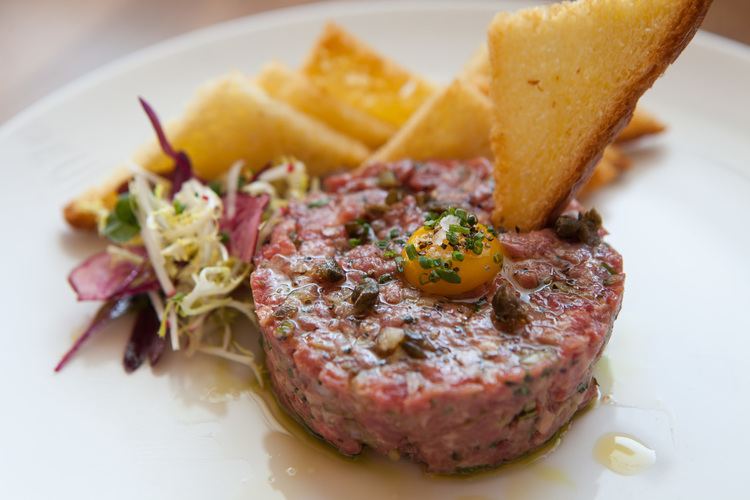 Although the word 'tartare' presumably refers to the Tatar people of Central Asia, and there are many stories connecting steak tartare with them, steak tartare is not related to Tatar cuisine.
"À la tartare" or simply "tartare" still means "served with tartar sauce" for some dishes, mostly fried fish.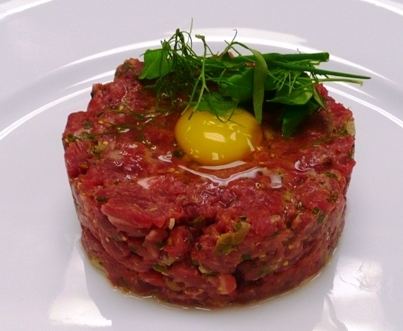 The name 'tartare' is now sometimes applied to other meats or fish, such as tuna tartare, introduced in 1975 by the restaurant Le Duc in Paris.
Health concerns have reduced the popularity of this meat dish in some parts of the world because of the danger of contamination by bacteria and parasites such as Toxoplasma gondii and Taenia saginata.
When basic hygienic rules are followed and fresh meat is used, the risk of bacterial infection is low. Even when these provisions are met, it is nonetheless not recommended for people who have a weakened immune system or suffer from a chronic illness, as these individuals are at a greater risk of infection from E. coli and/or Salmonella.
Toxoplasma gondii is a parasite that may be found in raw or undercooked meat. Cultural differences in raw meat consumption are thought to be a cause of regional variation in the prevalence of toxoplasma infection (ranging from around 55% in France down to 10% in the United Kingdom). Due to the risk of congenital toxoplasmosis in the fetus, pregnant women are advised not to eat raw meat. Latent toxoplasmosis in adults, though not as harmful as congenital toxoplasmosis, has been associated with psychological effects and lower IQ in some studies.
Steak tartare, also called filet américain or tatarský biftek, is found in many European cuisines.
In the Czech republic, steak tartare (tatarský biftek) is commonly found in most restaurants. The main lean raw beef component is made from sirloin and has a raw egg yolk in a dimple in the center of the ground meat. The meat can be premixed with herbs and spices, but usually the customer is given various spices and condiments on the dish to mix it to the preference of the customer. Steak tartare is typically served with toasted rye bread and raw garlic cloves to rub onto the toast.
A variant of steak tartare called tartarmad is also present in Danish smørrebrød, where it is served on rugbrød (rye bread) with assorted toppings. In Sweden, steak tartare is called Råbiff, and is usually served with raw egg yolk, raw onions, diced pickled beetroot and capers. In Finland, "Tartarpihvi" is served with raw egg yolk, raw onions, pickled and salted cucumbers and capers. Variations of the dish include dressing with buttermilk sauce and salmon roe, for example, as the dish is getting quite popular nowadays in the Nordics, where meat hygiene is very high. The (European) Russian version can include also pickled and salted mushrooms and toasted white bread.
In Wisconsin it is quite popular among the descendants of German immigrants, using raw ground sirloin, rye bread as in Germany, pepper, onions, and an egg. It is popularly known as the "cannibal sandwich" among many Wisconsin residents.
A Canadian version uses bison meat.
Chilean cuisine features a dish of prepared raw beef called crudos.
In southern Brazil, influenced by German immigrants, it is known as Hackepeter or Carne de Onça in Curitiba where this dish is very common and served covered with chives.