Covid-19
8

/

10

3

Votes

Alchetron

Rate This




K. Raghavendra Rao





Hamsalekha




India






Drama, Family, History




June 22, 2001 (India)




Telugu Kannada






J.K. Bharavi (dialogue)




2001




Kovelamudi Raghavendra Rao




Yavon Kanda Ninna




Related Kovelamudi Raghavendra Rao movies



Sri Manjunatha is an Indian bilingual devotional film, made simultaneously in Kannada and Telugu. The film starred, Chiranjeevi, Arjun Sarja, Meena and Soundarya in lead roles. The film directed by K. Raghavendra Rao and produced by Nara Jaya Sridevi, emerged as a musical blockbuster.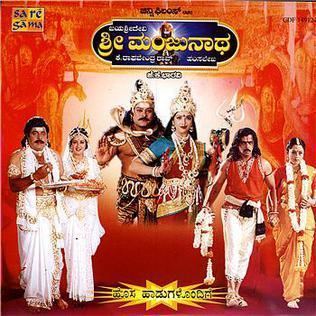 Manjunatha is an incarnation of "Lord Shiva". Manju means snow and Natha means lord. Since Shiva lives in kailasa (now called himalayas), and he is the lord of that loka, he is called Manjunatha. Manjunatha is one of the most common name in Karnataka state for males and Manjula for females. Both are commonly called by a shorter name "Manju". This is mostly because of Sri Dharmasthala Manjunatha Swamy located in Sri Kshethra Dharmasthala.
Manjunatha (Arjun Sarja) is an atheist, but a good person helping others in need and fighting evil and so even though Manjunatha hates his namesake Lord Manjunatha (Chiranjeevi), the latter loves his would be devotee. Manjunatha meets Kathyayini (Soundarya) a to-become devadasi and marries her. Soon they beget a son who like his mother is a staunch devotee of Lord Manjunatha.
After marriage Manjunatha slowly transforms into a great devotee of Lord Manjunatha and with his devotion wins the hearts of everybody including the local King, Ambikeswara Maharaju (Ambareesh) who invites him to his court where he felicitates Manjunatha much to Manjunatha's dislike where the king realises that Manjunatha is going to die.
In the meantime Manjunatha starts a koti linga pooja. Manjunatha is also troubled by his enemies and is aided by Lord Manjunatha who comes in various disguises to save his devotee and help him and his wife attain salvation.
Director: K. Raghavendra Rao
Writer: J. K. Bharavi (story & screenplay)
Dialogue: Kannada V. Nagendra Prasad, Telugu J. K. Bharavi
Producer: Nara Jaya Sridevi
Music: Hamsalekha
Cinematography: Sundaranatha Suvarna
Editor: Janardhan
Art Director: Arun Sagar
Visual Effects: Kalai Selvan
Lyrics (Kannada version): Hamsalekha, Bhaktha Rushi(Aadhi Shankara), Sri Vedavyasa, JK Bharavi
Lyrics (Telugu version): J.K. Bharavi, Jonnavithula, Maharshi Veda Vyas
Playback singers: S.P. Balasubramaniam, Chitra, Ramesh Chandra, Hemanth Kumar, Shankar Mahadevan, Nanditha & Anuradha Sriram
Production company: Chinni Films
Distributors: Geeta Film Distributors
DVD Release by: KAD Entertainment
"Aananda Paramaananda" (Kannada & Telugu) (Kannada singers: S.P. Balasubrahmanyam, K.S. Chithra; Telugu singers: S.P. Balasubramanyam, Nanditha)
"Brahma Murari" (Kannada & Telugu) (Singers: Ramesh Chandra, Nanditha)
"Ee Paadha" (Kannada), "Ee Paadham" (Telugu) (Singer: S.P.Balasubramaniam)
"Hey Bindige" (Kannada), "Hey Bitthiri" (Telugu) (Singers: Nanditha, Hemanth Kumar)
"Mangala Slokam" (Kannada & Telugu)
"Yaavon Kanda Ninna" (Kannada- S.P. Balasubramaniam, K.S.Chitra), "Oho Garalakantha" (Telugu Singers: Anuradha Sriram, S.P. Balasubramaniam)
"Obbane Obbane Manjunathanobbane" (Kannada), "Okkade Okkade Manjunathudokkade" (Telugu) Singer : S.P. Balasubramaniam.
"Obbane Obbane" (Bit) (Kannada), "Okke Okkade" (Bit) (Telugu) Singer: Nanditha.
"Jogappa Jangamma" (Kannada), "Olammo Gowrammo" (Telugu) Singers: S.P. Balasubramaniam, K.S.Chitra.
"Om Aksharaya Namah" (Kannada & Telugu) (Singers: Chitra, Hemanth Kumar.)
"Om Mahaprana Deepam" (Kannada & Telugu) (Singer: Shankar Mahadevan)
"Sri Manjunatha" (Kannada & Telugu)
Om Aksharaya NamahK S Chithra - Hemanth Kumar
Hey BindigeHemanth Kumar - Nanditha
Ee PaadhaBalu

Sri Manjunatha (film) Wikipedia
(Text) CC BY-SA