Designer(s)

Tim Martin




Genre

Platform game




Developers

Irem, MicroGraphic Image




Initial release date

1983




Mode

Single-player video game






Platforms

Nintendo Entertainment System, Nintendo 3DS, Arcade game, Wii, Wii U, MSX, Commodore 64, Atari 8-bit family




Publishers

Irem, MicroGraphic Image, Brøderbund Software, Tozai




Similar

Irem games, Platform games
Spelunker is a 1983 video game developed by Tim Martin and MicroGraphicImage. It is a platform game similar to Pitfall!.
Contents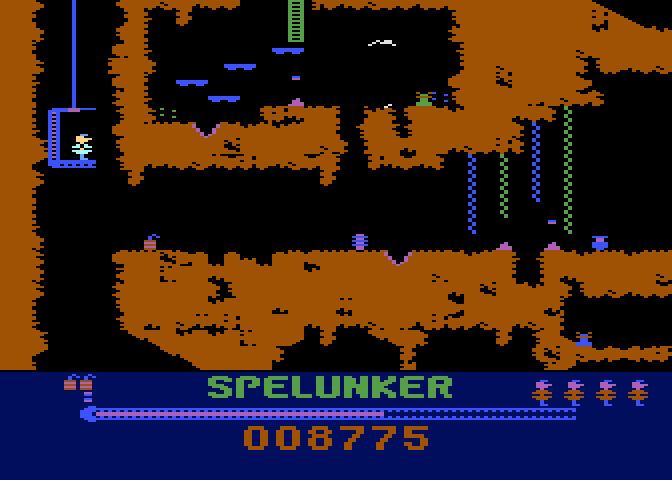 Originally released by MicroGraphicImage for the Atari 8-bit computers in 1983, the game was later ported to the Commodore 64 and re-released by Brøderbund in 1984, with European publishing rights licensed to Ariolasoft. An arcade version followed in 1985, and the game was released for the NES on December 6, 1985 in Japan and September 1987 in North America, and for the MSX in 1986. A sequel was also released in arcades and for the NES on September 18, 1987 called Spelunker II: Yūsha e no Chōsen by Irem, in Japan only. The game was re-released for Virtual Console in North America on March 17, 2008 and in Europe on September 5, 2008 for the Wii, in both regions on June 6, 2013 for the Wii U and in North America on June 27, 2013 for the Nintendo 3DS.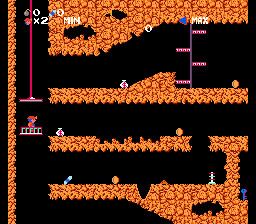 Gameplay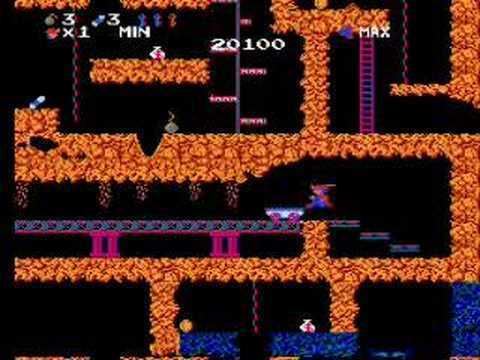 Spelunker is set in a colossal cave, with the player starting at the cave's entrance at the top, and the objective is to get to the fabulous treasure at the bottom. To achieve this, the player must walk and jump through increasingly challenging parts of the cave, all the while working with a finite supply of fresh air, which could be replenished at various points.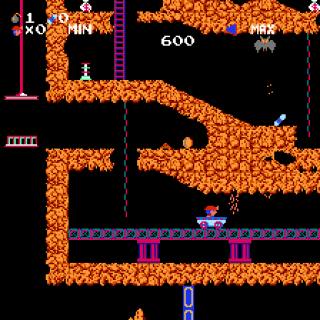 The cave's hazards include bats, which drop deadly guano on the player; and a ghost haunting the cave and appearing randomly, attempting to take the player to the shadow world. The player character can send a blast of air to push the ghost away. However, this renders the player's character immobile for a few seconds, thus vulnerable to other dangers and further depleting their air supply. Objects to collect include sticks of dynamite, flares, and keys. Precise positioning and jumping play key factors in successfully completing the game.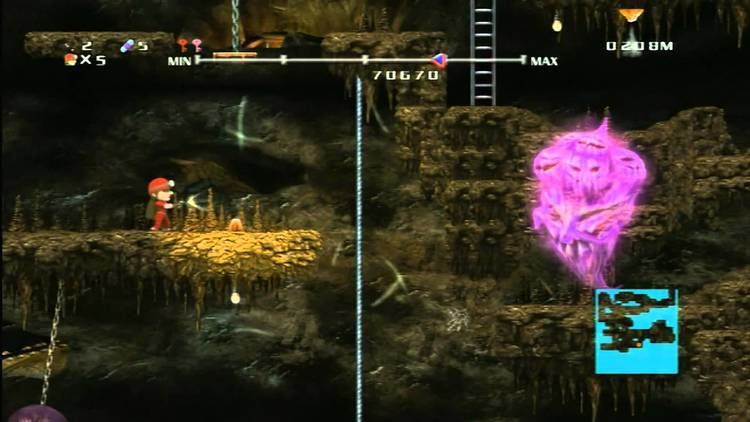 The cave in Spelunker is divided into six levels. Although the levels connect seamlessly to each other, forming one large map, the game clearly signals a level change at certain points by showing the name of the next level and giving the player a bonus, consisting of an extra life and a varying amount of points. Also, depending on memory, the next level or two were loaded from disk at that point.
The splash screen of the game on the original Atari features an excerpt of Modest Mussorgsky's Pictures at an Exhibition as background music. All other versions of the game, including the Atari re-release feature a different title theme. The NES and MSX versions have additional music during gameplay.
Reception
Computer Gaming World of 1985 called Spelunker "a thoroughly enjoyable game ... a class act".
Remakes
Sony Computer Entertainment of Japan has released Spelunker HD, known in Japan as Minna de Spelunker (みんなでスペランカー, lit. "Everyone Spelunker"), for the PlayStation 3 as a downloadable game through their PlayStation Network Store. It received the PlayStation Store best sales award in 2009 from Sony Computer Entertainment of Japan. The game is a remake of the NES port, with high definition graphics and 100 levels (10 large caves, with 10 levels in each).
In 2015, Square Enix released a free-to-play sequel titled Spelunker World for PlayStation 4 and PlayStation Vita. In 2017, a new title based on Spelunker World was announced for the Nintendo Switch, and will be released in spring 2017 in Japan under the title Minna de Wai Wai! Spelunker (みんなでワイワイ! スペランカー, lit. "Everyone's Hype! Spelunker" or "Everyone Party! Spelunker").
References
Spelunker (video game) Wikipedia
(Text) CC BY-SA