5.2

/

10

Alchetron

Rate This




Director

Sooraj Barjatya




Release date

November 5, 1999 (India)




Duration




Language

Hindi






Genre

Musical, Drama, Family




Music director

Raamlaxman




Country

India







Release date

5 November 1999




Writer

Sooraj R. Barjatya (dialogue), Sooraj R. Barjatya (screenplay), Sooraj R. Barjatya (story)




Songs

Mhare Hiwda Mein Nache Mor




Cast

Salman Khan

(Prem),

Sonali Bendre

(Preeti),

Karisma Kapoor

(Sapna),

Saif Ali Khan

(Vinod),

Mohnish Behl

(Vivek),

Tabu

(Saadhna)


Tagline

We Stand United
Hum saath saath hain 2 16 bollywood movie salman khan saif ali khan karishma kapoor
Hum Saath Saath Hain (HSSH; English: We are together ) is a 1999 Indian Hindi language drama film written and directed by Sooraj R. Barjatya. The film was produced and distributed by the home production of Sooraj Barjatya, Rajshri Productions. The film stars actor Mohnish Behl, Salman Khan, Saif Ali Khan, Tabu, Sonali Bendre and Karishma Kapoor, while Alok Nath, Reema Lagoo,Neelam Kothari, and Mahesh Takur play pivotal supporting roles.
Contents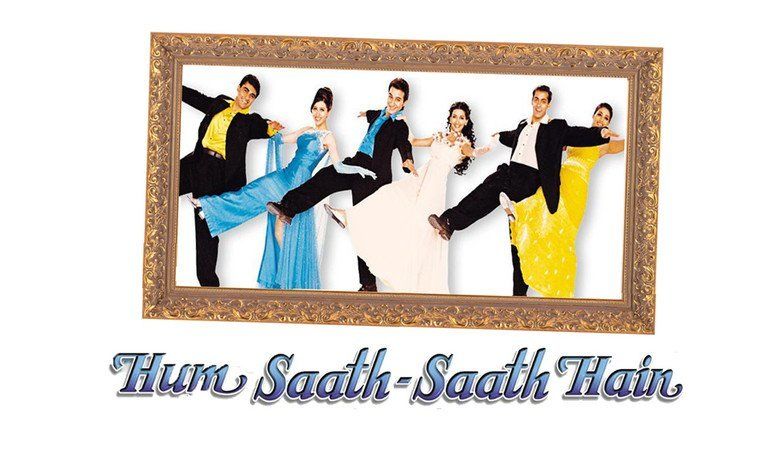 The story centers on a family headed by Ramkishan, and containing his wife Mamta as well as three sons, played by the leading actors. The film was shot in Mumbai's Film City and in the villages of Rajasthan state.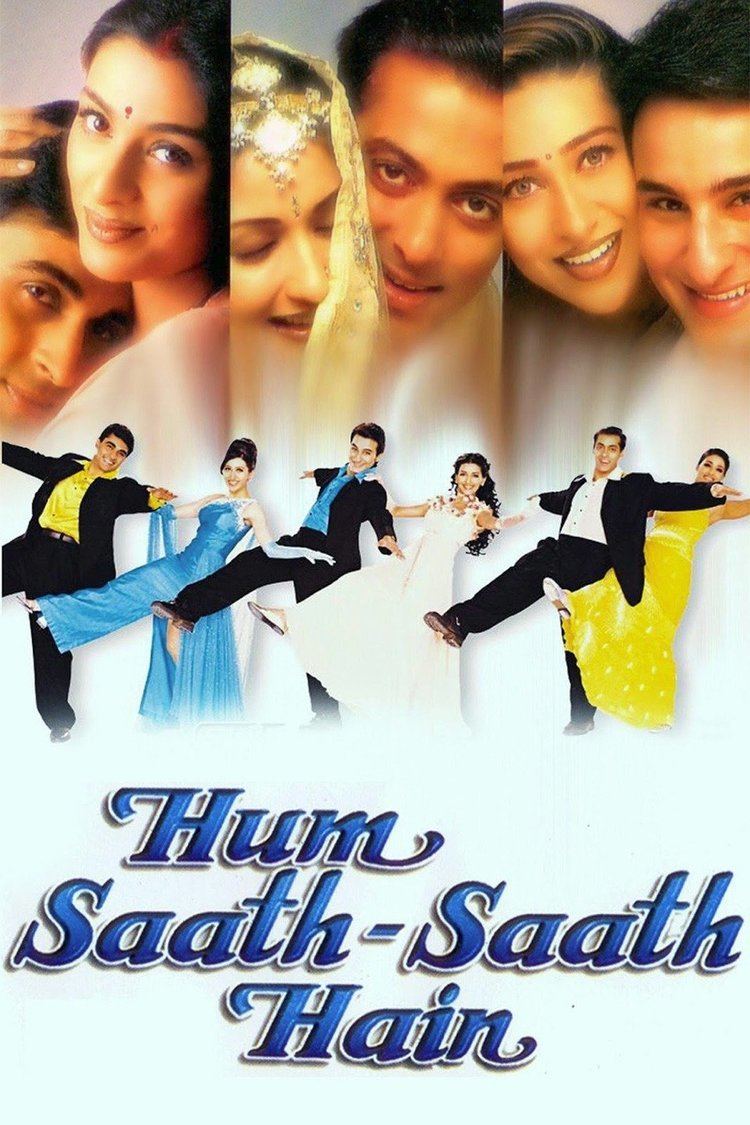 Earning over ₹280 million (US$4.4 million), the film went on to become the highest-grossing film of the year. The film was declared a blockbuster by Box Office India. It received overwhelming response from the audiences and predominantly positive reviews from critics.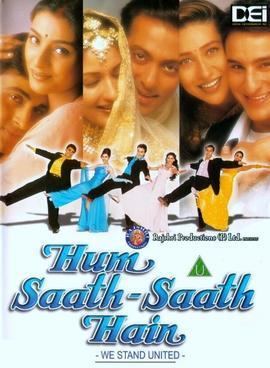 Salman Khan's performance earned him Best Actor nomination at Zee Cine Awards held in 2000. Meanwhile, Mohnish Behl received a Best Supporting Actor nomination at 45th Filmfare Awards for his performance. The film was also dubbed into the Telugu language and released with the title Premaanuraagam.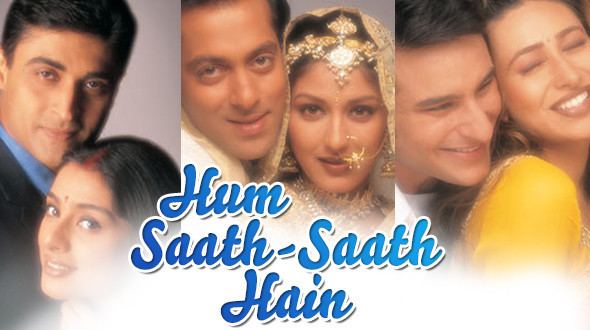 Plot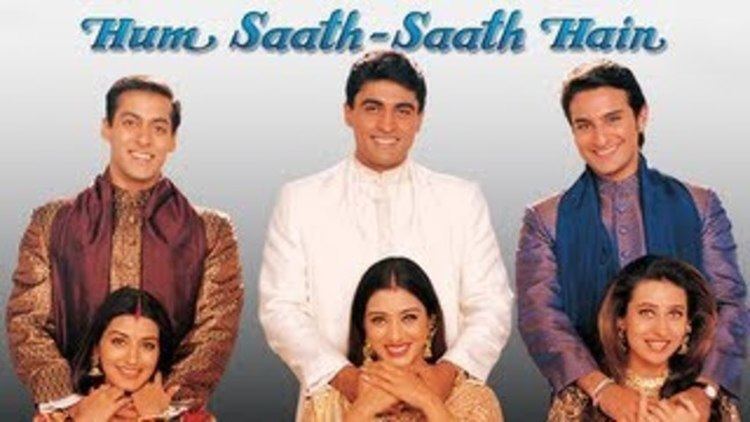 Hum Saath Saath Hain is a story of Ramkishan (Alok Nath), a popular businessman in Uttar Pradesh. He runs his company in the name of his wife Mamta (Reema Lagoo). Ramkishan has 4 children, 3 sons and a daughter. The elder son, Vivek (Mohnish Behl) is the stepson of Mamta but she considers him as her own child as well. Vivek too has great respect for his step-mother. Vivek takes care of his father's business. Mamta's 1st biological son is Prem (Salman Khan). Prem is pursuing his master's degree in US. He has so much respect for his brother Vivek and considers him as a role model and leader. After Prem is Sangita (Neelam Kothari). Sangita is married to a Computer Engineer, Anand (Mahesh Takur) and they have a daughter Radhika (Zoya Afroz).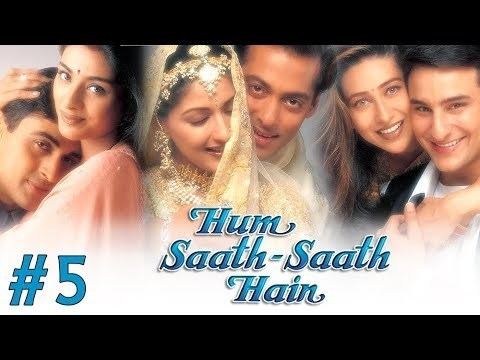 She also considers Anand's elder brother Anuraag (Dhilip Dhawan) and his wife Jyoti's (Shilpa Sharma) children, Bablu (Hardik Tanna) and Raju (Zaki Mukkadam) as her own as well. Then, we have Vinod (Saif Ali Khan). He is the youngest and energetic son the family and an easy-go-lucky guy. He is lazy at times, but he helps out Vivek at the office. Preeti (Sonali Bendre) is a beautiful girl, doctor by profession and the daughter of Pritam (Satish Shah), a close relative to Ramkishan's, and she has feelings for Prem. Prem too has feelings for her and it is obvious to the family that they love each other since childhood, yet their feelings remain unspoken. Vivek is disabled in his right arm due to an accident many years ago in which he saved Prem and Vinod. This keeps away suitable brides for Vivek. On the 25th wedding anniversary party for Ramkishan and Mamta, a big business tycoon, Adharsh (Rajeev Verma) comes with his only daughter, Sadhna (Tabu).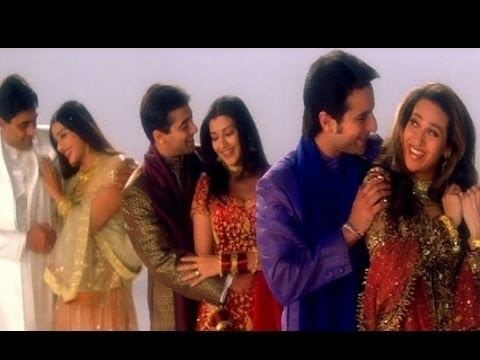 It is then revealed that Adharsh had thoughts of getting Sadhana married to Vivek. Ramkishan and Mamta happily accept the proposal. Wedding bells ring in the mansion while Vinod is happy that Sapna (Karishma Kapoor) is here with them. Sapna is also a close relative to the family, and just like Prem and Preeti, Vinod and Sapna also have crushes on each other. Prem returns from the US after a long time, but just to get caught in a hustle of his younger brother and sister by teasing him with Preeti. Eventually, this leads to their engagement soon after Vivek and Sadhna's wedding reception. Between these moments, Mamta's three ladies club friends (Kunika, Jayshree T. and Kalpana Iyer) who constantly irritates Mamta's sister-in-law (Shammi), always try to turn her against Vivek. Sapna's father, Dharamraj (Sadashiv Amrapurkar) also joins with them in order to get his daughter's life better by getting her married to Vinod, which is not known by Sapna at all. They try to convince her to ask her husband to separate the shares between the 3 sons equally. Later, when speaking of honeymoon for Vivek and Sadhna, Vivek suggests that everyone should come and its a holiday and not a honeymoon.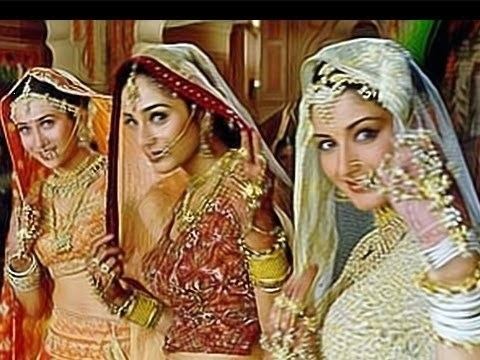 Everyone reluctantly agrees and gets ready to go to Rampur as per Sadhna's wish. Vinod, who is deeply in love with Sapna, is excited to meet her and confess his love. They reach the mansion in Rampur. Ramkishan feels that he can give the business administration to his sons and retire. He decides to give the Managing Directing post to Vivek, who is the most experienced in his 3 sons. After sometime, Vinod and Sapna get engaged, much to Dharamraj's relief. Yet he tries to change Pritam's mind because he is giving Preeti's hand to Prem. But Pritam turns against him and everything goes smoothly until Sangita calls up her brother. It is revealed that Anand gets cheated by Anuraag and they are chased out to find a new job and home. They go to Banglore and do a small living. Buying the chance, Mamta's friends and Dharamraj poisons her mind saying that the brothers will face issues like Anuraag and Anand and also that the 3 daughters-in-law would not get along well in future. Mamta is already confused and this leads to Vivek and Sadhna leaving the house. Prem is not around and Vinod is upset with his mother for her decision. Vinod goes with Vivek and Sadhna to Rampur and takes care of their factory that is being built, which brings electricity to the village. Prem comes to India and goes straight to Rampur. Much to his surprise, it's revealed that Vivek and Sadhna are expecting their first child. Prem agrees to sit as the Managing Director, much to Vivek's insistence, but not before telling him that he is always the leader, firmly. Prem goes home and see that his things are vacated from his room and shifted to Vivek's room upstairs.
When Mamta says that Prem and Preeti must stay here after marriage, Prem gets infuriated. They get into a heated argument in which Prem tries to make his mother realize her mistake by pointing out that if not for Vivek, he and Vinod won't be alive. Prem also accuses his mother that she is showing her true face of being a step-mother. This leads to Mamta slapping him, which indicates that she still loves Vivek. Prem ends his conversation by swearing on her most beloved daughter-in-law, Sadhna, whom she brought home with love, that he won't marry Preeti unless the both of them come home. Mamta gets dumbfounded. Prem goes to Preeti's house and tells her father. Pritam tells Prem that he is aware that he would end up in this decision and already told Preeti and assures him that she respects his decision. Prem meets Preeti and she tells him that he respects Vivek and Sadhna just like she does and that they won't get married until they return. She also tells him that she will take care of Sadhna's delivery.
Meanwhile, Anuraag faces difficulties in his company without Anand and at home, Bablu and Raju fall ill due to the absence of Anand's family. This ends up in Jyoti calling them and Anuraag realizes his mistake. He comes to Ramkishan's home and apologies to everyone. Sangita tells her mother to bring Vivek and Sadhna back. Mamta makes up her mind and all of them go to Rampur just in time for Sadhna to deliver a baby boy. Mamta unites with Vivek and Sadhna. Sadhna asks Prem and Preeti to get ready for their wedding. In the end, everything gets solved and Prem-Preeti and Vinod-Sapna get married on the same day. The three daughters-in-law open the new factory. Dharamraj comes and apologizes to Mamta that his love for his daughter and the fear for her future made him like that. All of them forgive him and says that such things happen. After everything, Vivek becomes the MD of Ramkishan's business with Mamta's blessings. Her three ladies club friends come there and much to their shock, Mamta throws them out, which indicates that nothing can break her bond with her sons and daughters-in-law. Everyone gathers, Vivek's hand slowly recovers and they are united forever!
Music
The Music was composed Raamlaxman, who teamed up with Sooraj Barjatya for the third time. The soundtrack features seven songs. It features playback singers Kumar Sanu (as Prem), Kavita Krishnamurthy(as Sapna), Alka Yagnik (as Preeti), Udit Narayan (as Vinod), Anuradha Paudwal (as Sadhna), Hariharan (as Vivek) and Sonu Nigam (as Anwar).
Awards and nominations
45th Filmfare Awards
Nominated
Best Supporting Actor - Mohnish Behl
Zee Cine Awards, 2000
Nominated
Best Actor - Salman Khan
References
Hum Saath-Saath Hain Wikipedia
(Text) CC BY-SA
Hum Saath-Saath Hain IMDb
Hum Saath-Saath Hain themoviedb.org