Name

Simone Moro




Role

Alpinist




Spouse

Barbara Moro







Books

The Call of the Ice: Climbing 8000-Meter Peaks in Winter




Similar People

Denis Urubko, Ueli Steck, Daniele Nardi, Cory Richards, Anatoli Boukreev




Profiles




Facebook
Simone moro italian alpinist everest without oxygen 2013
Simone Moro (born 27 October 1967) is an Italian alpinist.
Contents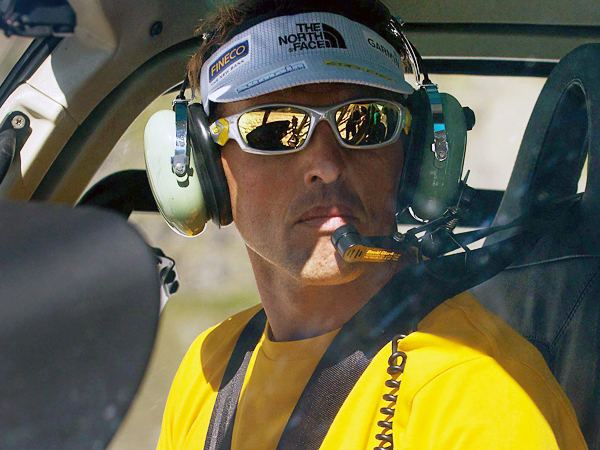 He is the only mountaineer to have made the first winter ascent of four of the eight-thousanders: Shishapangma in 2005, Makalu in 2009, Gasherbrum II in 2011, and Nanga Parbat in 2016.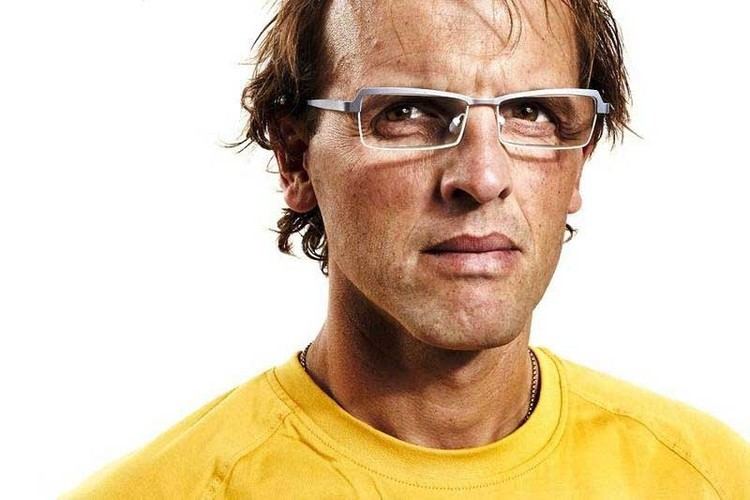 Moro is also an experienced helicopter pilot. In 2013, Moro and two other rescue experts carried out the world's highest long-line rescue operation on a helicopter, on Lhotse, at 7800m. On 12 November 2015, he set a new flight altitude world record, (Category E-1a Max Takeoff weight less than 500 kg), in an ES 101 Raven, turboshaft powered helicopter, (6705m).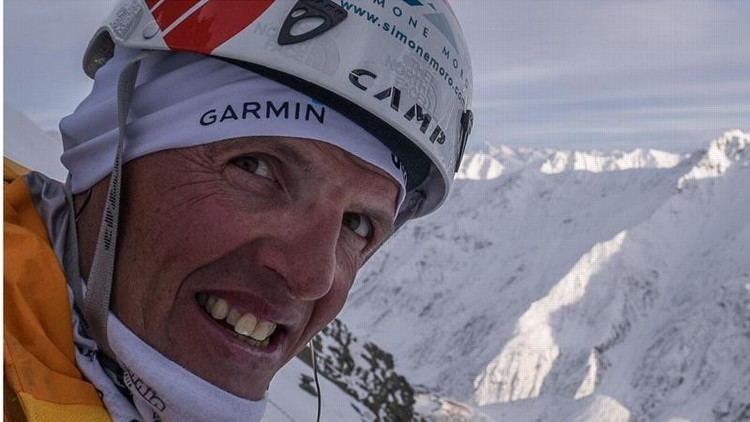 Simone moro training for everest 2013
Early life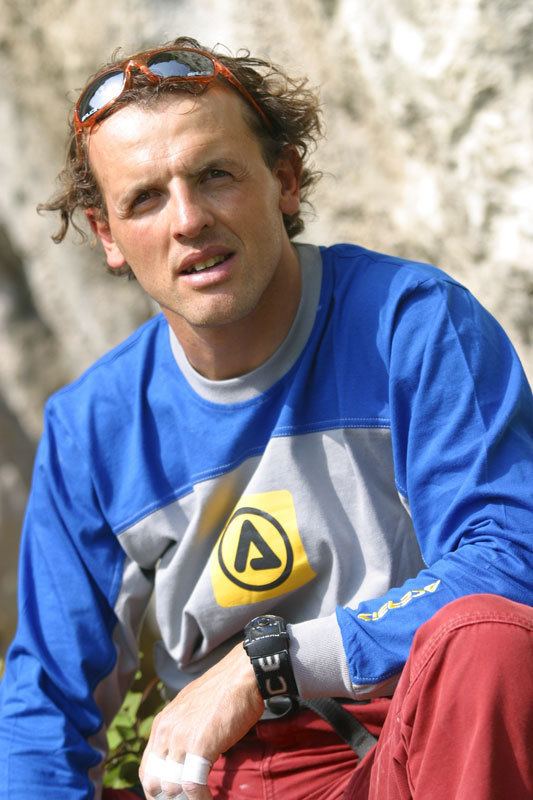 Born in Bergamo (Italy) to middle-class parents, he grew up in the borough of Valtesse and was strongly supported by his father in his passion for the mountains. His father was a climber and biker at a high level and also created a lively and international environment around him. He started climbing the Presolana and other massifs of the Alpi Bergamasche at 13, however he continued his studies until graduating cum laude at the university.
Mountain climbing career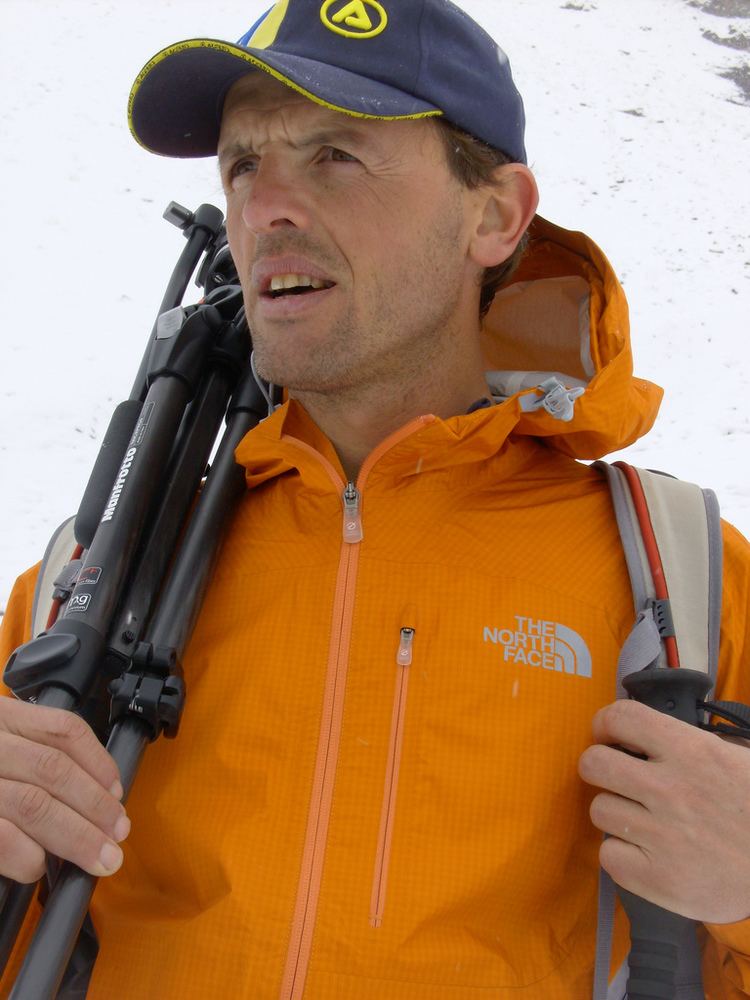 Moro began his climbing activity in the Grigne near his home city, and in the Dolomites. His father was his first mentor, followed by Alberto Cosonni and Bruno Tassi. In this period he was primarily involved in rock climbing, an activity he has never given up. In 1992 he participated in his first Himalayan expedition to Mount Everest. One year later Moro climbed Aconcagua, achieving the first winter ascent of that peak. During his career he has attempted a number of mountains including Cerro Mirador and Makalu in 1993; Shisha Pangma and Lhotse in 1994, Kangchenjunga in 1995. In 1996 Moro climbed the west wall of Fitz Roy (3341 m in Patagonia) in 25 hours from the base to the summit and back to the base. In the same year he climbed Shisha Pangma South (8008 m) without oxygen in 27 hours using skis in the descent from 7100 meters. In 1997 he summited Lhotse. In Winter 1997 he attempted the South face of Annapurna. During this attempt his climbing companions Anatoli Boukreev and Dimitri Sobolev died in an avalanche. He tried Everest again in 1998; summited four peaks Pik Lenin (7134 m), Peak Korzhenevskaya (7105 m), Ismoil Somoni Peak (7495 m, formerly known as Pik Kommunizma), Pik Khan Tengri (7010 m) with young Kazakhstan guide Denis Urubko; then summited Everest with him in 2000 and Marble Wall in winter 2001.
In 2002 he summited three peaks: Mount Vinson, Cho Oyu and Everest; summited three peaks: Broad Peak, Elbrus and Kilimanjaro in 2003, summited Baruntse along a new route and tried Shisha Pangma and Annapurna in 2004; Batura and Batokshi peaks in 2005, Broad Peak in winter 2006 and 2007. In 2005 he achieved the first winter summit of Shisha Pangma, with Piotr Morawski. In 2006 he completed a solo south–north traverse of Everest descending from the top in 5 hours. In 2008 he made (with Herve Barmasse) the first ascent of Beka Brakai Chhok (6950 m Karakorum). The climbing was in pure alpine style and in 43 hours.
In January 2009 Moro made the first winter ascent of Makalu with Denis Urubko, and in February 2011 the first winter ascent of Gasherbrum II with Denis Urubko and Cory Richards.
In April 2013, Moro, along with Ueli Steck and Jonathan Griffith, was involved in a brawl with a group of Sherpas, with the incident being reported worldwide.
In February 2016 Moro completed the first winter ascent of Nanga Parbat with Alex Txikon and Muhammad Ali 'Sadpara'.
Rescue missions in Nepalese Himalayas
In May 2001 he tried to traverse Everest–Lhotse: during an attempt on the wall of Lhotse at 8000 he abandoned the climb to search, rescue and save English alpinist Tom Moores. Moro was recipient of the Fair Play Pierre de Coubertin trophy from UNESCO, the Civilian Gold Medal from Italian president Carlo Azeglio Ciampi and the David A. Sowles Memorial Award from the American Alpine Club. Tom Moores recalls his meeting with Moro this way:
On the way down we met Simone who had unfortunately failed to get to the summit because of the energy he had used rescuing me. I felt and still feel very guilty, but Simone who is a very humble man shrugged his shoulders and said, "It is no problem. In the future I can still climb and you can still climb and that's more important than any summit." His sentiment is a lesson to us all, I believe it's a perfect example of the true climbing spirit. I will never be able to thank him enough for what he did for me, he is an amazing man and a real hero.
In 2009, he bought a helicopter with his own money to carry out SAR (search and rescue) operations in the Nepalese Himalayas for Nepalese people.
He has been piloting the helicopter several times to rescue alpinists, sherpas, trekkers and people in remote areas.
Charitable work
In 2003, Moro projected and financed a school for 396 Sherpa children in the Nepalese village of Syadul. The objective of the project, carried with an Italian foundation, was to prevent early school leaving in the area. The school was open in 2005. It is located in a 1000mt high village which lies a three-hour journey from the first road.
Near the Nanga Parbat base camp, he financed, built and donated to the Pakistani district of Gilgit Baltistan a small masonry building for the shepherds and a small hospital in the village of Ser.
He performs free rescue missions in the Nepalese area.
Eight-thousanders climbed
1996, 2005 – Shisha Pangma, first winter ascent (2005)
1997 – Lhotse
2002 – Cho Oyu
2003 – Broad Peak
2009 – Makalu, first winter ascent
2000, 2002, 2006, 2010 – Mount Everest
2011 – Gasherbrum II, first winter ascent
2016 – Nanga Parbat, first winter ascent
References
Simone Moro Wikipedia
(Text) CC BY-SA