Covid-19
Shreddies are a breakfast cereal made from lattices of wholegrain wheat.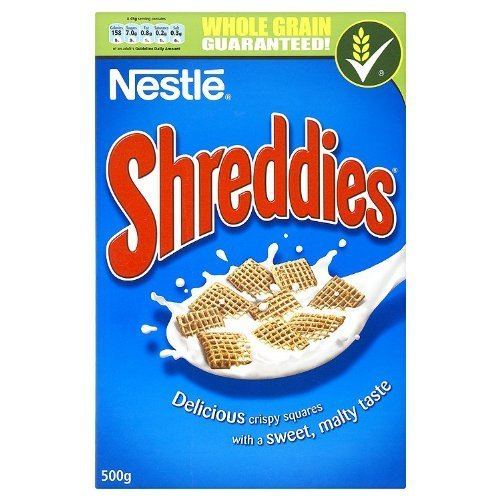 In Canada, production began in 1939 at Lewis Avenue, Niagara Falls, Ontario. Shreddies were produced under the Nabisco name until the brand in Canada was purchased in 1993 by Post Cereals, whose parent company in 1995 became Kraft General Foods, which sold Post to Ralcorp in 2008 and is now Post Foods Canada Corp., a unit of Post Holdings, which was spun off from Ralcorp in 2012.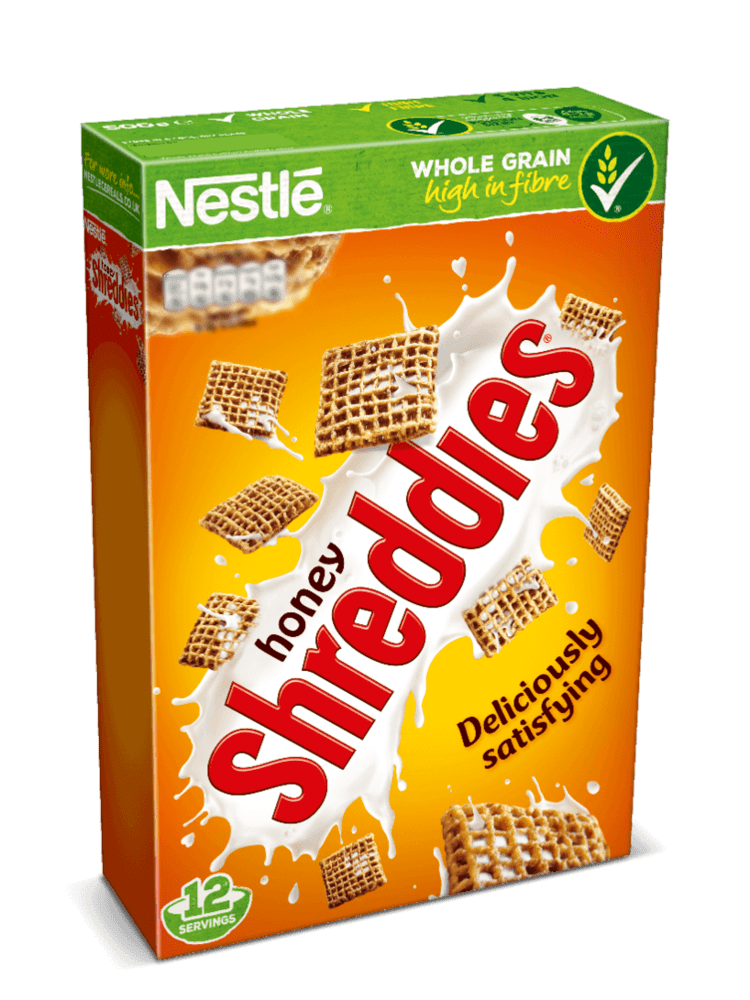 In the United Kingdom, the cereal was first produced by Nabisco's former UK division, but is now made by Cereal Partners under the Nestlé brand at Welwyn Garden City. The factory opened in 1926 and began making Shreddies in 1953. The site was briefly owned by Rank Hovis McDougall in 1988, which sold it to Cereal Partners in 1990. Nestlé's site at Staverton started making Shreddies in 1998, and is where all production was moved in 2007.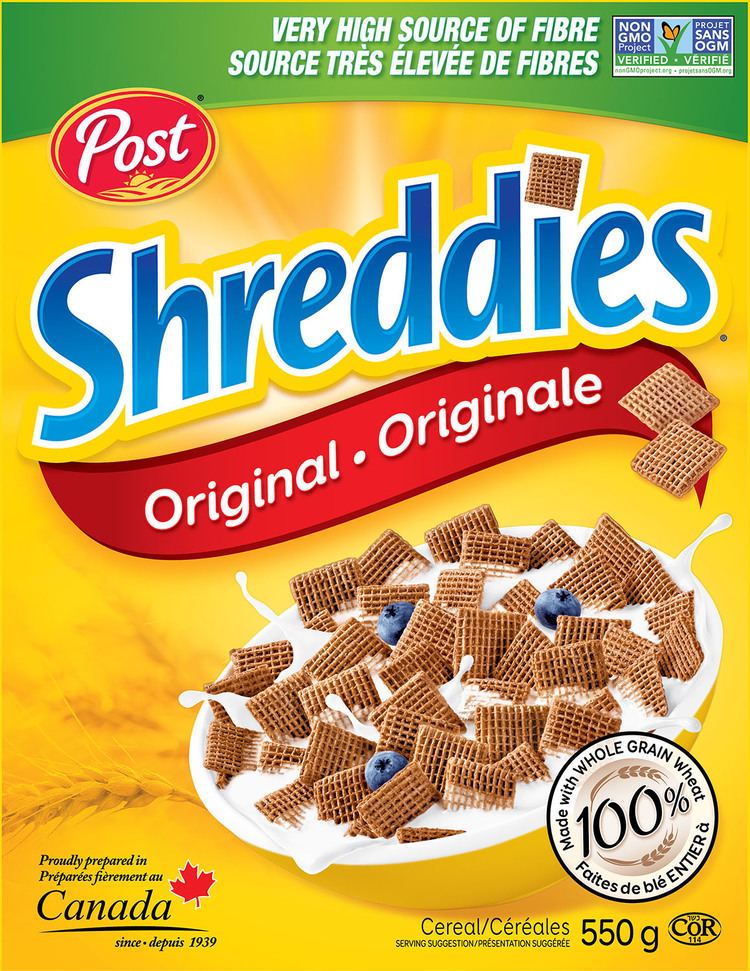 The cereal is marketed with the whole grain symbol, as part of a marketing campaign emphasising the healthiness of the cereal. Wheat for Shreddies is sourced from over 500 different farms within the UK.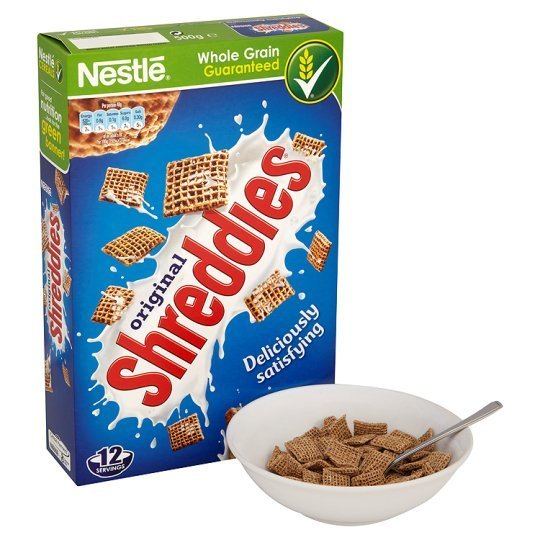 Sugared, chocolate and honey-flavoured versions of the cereal are available in the UK as Frosted Shreddies, Coco Shreddies, and Honey Shreddies, and an orange-flavoured version of the Coco Shreddies has also become available recently. The former advertising slogan in the UK was: "Keeps hunger locked up until lunch". The advertising slogan for the Frosted and Coco Shreddies was: "Too tasty for geeks".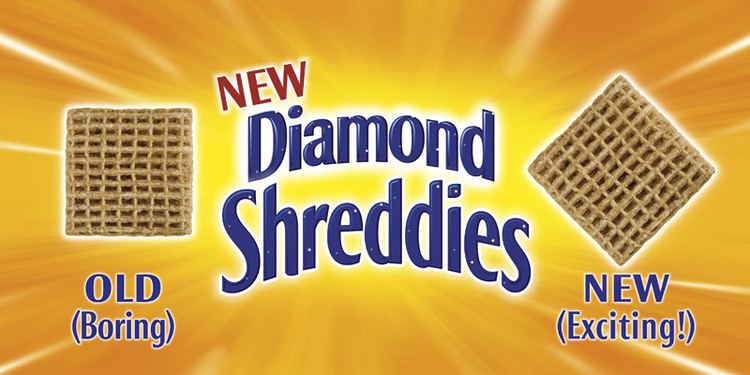 Shreddies Original
Shreddies Honey (Honey Shreddies in UK, 2007–present)
Shreddies Granola Almond Crunch (Canada Only)
Frosted Shreddies (UK Only, 1993–present)
Coco Shreddies (UK Only, 2002–present)
Coco Caramel Shreddies (Caramel Shreddies outside the US) (2008–present)
Shreddies Max Original
Shreddies Max Granola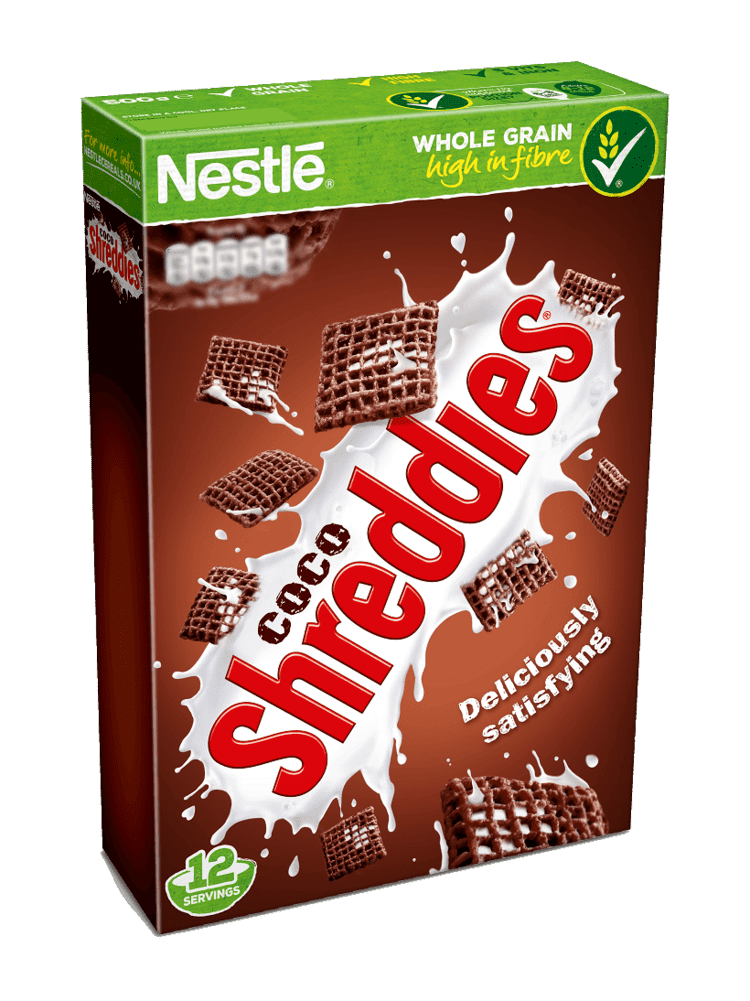 In the 1950s and 1960s, advertising used popular icons such as World War I and World War II planes, battleships, and topical references such as e Herman's Hermits and lunar adventures
In the later 1960s and 1970s, Disney items were a key element in advertising, including icons such as Herbie the Love Bug
In the mid-1980s, a television campaign known as "Our Gang" was used to support Shreddies.
In the late 1980s, the cereal has been known for many years by its musical jingle, "Good Good Whole-Wheat Shreddies" and the mascots of the cereal, Freddie and Eddie, two anthropomorphic (yet legless) pieces of the cereal.
Around 1993, Freddie and Eddie's appearance changed to that of a more youthful age complete with baseball caps, and they also grew hair and legs. By the late 1990s, the characters were discontinued in all advertising and packaging. The cereal is now marketed as an "adult" cereal.
In January 2008, the company launched a new ad campaign for so-called "Diamond Shreddies". The tongue-in-cheek ads claimed the cereal's shape had been changed to diamond, and presented the original square Shreddies, rotated 45°. Consumer reaction to the campaign has translated into a statistically significant sales increase, according to at least one media report on the campaign's success. The campaign won the 2008 Grand Clio Award for Integrated (i.e. multiple media) Campaign.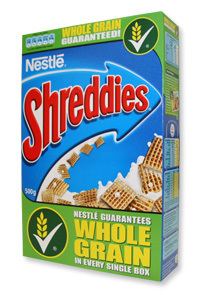 For many years in the UK, the Shreddies boxes featured Tom and Jerry (from the MGM cartoons). They regularly featured gifts in the boxes featuring Tom and Jerry, such as glow-in-the-dark stickers sets and puzzle books.
For a few years, Shreddies' advertising campaigns featured a cartoon personification of "Hunger" as an antagonist. He appeared as a blue monster with big teeth whose goal was to taunt hungry individuals by drumming on their stomachs with a pair of silver spoons. Hunger then was dispatched when the victim consumed a bowl of Shreddies, sealing Hunger inside a shreddie cage. Despite his troublesome persona, Hunger was frequently used as a mascot for the cereal during this period. The message during this time was "Shreddies keep hunger locked up 'til [sic] lunch" and most ads ended with a box of Shreddies rolling up in front of Hunger, who then gets crushed between it and a box of Frosted Shreddies zooming in from behind him.
For a while in the early 2000s, Frosted and Coco Shreddies were advertised as "too tasty for geeks". The advertisements featured "geeks" trying to eat a bowl of either Frosted or Coco Shreddies, but being overwhelmed by its taste, followed by a much cooler kid named Sure-Eddie being able to easily eat the Shreddies. In 2003, Coco Shreddies were coated with more chocolate.
In 2005, Shreddies were advertised as school fuel. The advertisements showed school children being focused on their work at school after eating a bowl of Shreddies for breakfast at home. This TV advertisement was ordered to be removed by the ASA as it was held to provide an unfair comparison between school children eating Shreddies or eating nothing, rather than a similar cereal.
In 2007, Shreddies' advertising centred on the claim that they are "knitted by nanas" with shots of a factory full of grandmothers knitting Shreddies. The ad was voted the seventh-favourite advertisement of 2007. And from 2007 - 2011 the packaging was changed to include a photo on the inner flaps of the nana who apparently knitted the specific box.
In 2010, supporting the launch of a new "Scrumptious new recipe", Shreddies launched a promotion to find new nanas, using TV, digital and Facebook; this subsequently built a huge fan base on Facebook. The fan page is now the second-largest cereal fansite in the world, providing entertainment, competitions, and launching new advertisements to its loyal followers.
In 2012, the Shreddies Knitting Nanas continued to be used to represent the brand. The campaign was launched on Facebook to the fans in a 1-month build up to the premiere, with the advertisement going live on TV weeks later in April. The campaign message in 2012 was "Helping you through 'til lunch" (a reference to the early 90s strapline)
A new advert in 2014 replaced the message with "Shreddies ...AND YOU'RE READY!" The advertisement features the song "This Is How We Do It" by Montell Jordan.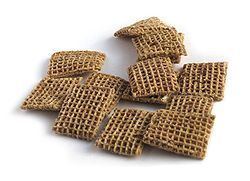 In January 2012, boxes of Shreddies dating from the early 1970s were reported to be selling on eBay, after being discovered in a village shop. They were reported to have been selling for about £160 per box on eBay.
"Good Good Whole-Wheat Shreddies" (Canada)
"Eat up everyone, we'll knit more!" (UK)
"New recipe Shreddies, now tastier than ever." (UK)
"Helping you through 'till lunch!" (UK)
"Too tasty for geeks!" (UK)
"Shreddies and you're ready!" (UK)
"Good news for everyone!" (UK)
Shreddies featured as a plot device in the Canadian mockumentary television series created and directed by Mike Clattenburg, the Trailer Park Boys. Shreddies were part of the survival supplies Julian, Ricky, and Bubbles sent with Jacob Collins and his Boys on their outing to lay a model train track across the Canada- US border in the episode "We Can't Call People Without Wings Angels, So We Call Them Friends". Other supplies sent with them included liquorice and cannabis. The train track Jacob and his minions constructed was intended for use in smuggling cannabis across the Canada - US border.
Shreddies Wikipedia