Shiyan (Chinese: 十堰; pinyin: Shíyàn) is a prefecture-level city in northwestern Hubei province, China, bordering Henan to the northeast, Chongqing to the southwest, and Shaanxi to the north and west. At the 2010 census, its population was 3,340,841 of whom 767,920 lived in the built-up (or metro) area ade of Maojian and Zhangwan urban districts on 1,193 square kilometres (461 square miles). In 2007, the city was named China's top ten livable cities by Chinese Cities Brand Value Report, which was released at 2007 Beijing Summit of China Cities Forum.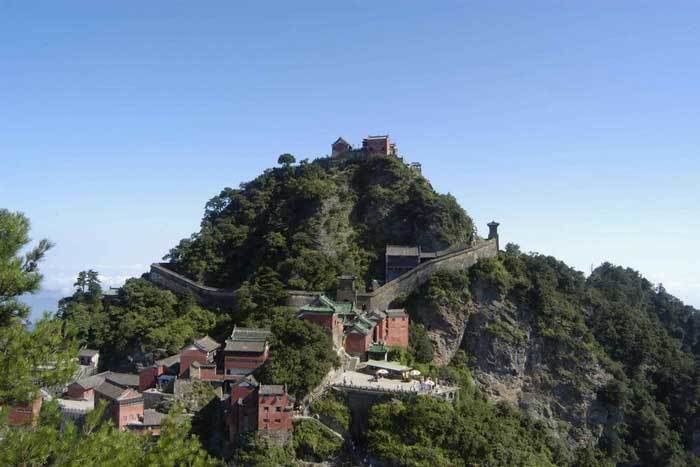 The Wudang Mountains run approximately east–west through the territory of the "Prefecture-level city" of Shiyan, crossing several of its county-level divisions. The peak commonly referred to as "Wudang Mountain", or in Mandarin Wudangshan, is one of the most important cultural centres of the Taoist faith. The surrounding areas are dotted with up to 200 Taoist monastic temples and religious sites. The main attraction in this area, and also one of the most sacred Taoist sites, which forms an important stop for mainly Chinese tourists bound there, with up to twenty bus loads of visitors per day at peak times is Wudangshan Jiedao of the Danjiangkou county-level city.
The prefecture-level city of Shiyan administers 8 county-level divisions, including 3 districts, 1 county-level city and 4 counties.
Maojian District (

茅箭区

)
Zhangwan District (

张湾区

)
Yunyang District (

郧阳区

)
Danjiangkou City (

丹江口市

)
Yunxi County (

郧西县

)
Zhushan County (

竹山县

)
Zhuxi County (

竹溪县

)
Fang County (

房县

)
The main urban area of the prefecture-level city of Shiyan is in Maojian District; it is typically labeled on maps simply as "Shiyan".
This area is subject to major change as part of the South to North water diversion project of the Han River. Certain areas will see an increase of up to 5 meters in water level to create a new reservoir to serve Beijing an Tianjing as part of this major water diversion project.
Shiyan is one of the most important centers of automobile industry in China, with Dongfeng, the premier Chinese truck, bus, and heavy goods vehicle as a major employer. It is also labeled as the 'Detroit' of China, given this focus on automobile manufacture.
Before 1949, it was a small village, which grew after the founding of the China. In 1967, teams of workers and engineers were first sent to Shiyan in order to survey sites for automotive plants and factories. At this time, the population of Shiyan was only a few hundred. Chairman Mao chose Shiyan as the site for China's automobile industry because the surrounding mountains and relative inaccessibility could act as a barrier against foreign attacks.
Shiyan is located on the Xiangyu Railway between Xiangyang and Chongqing. Construction on a railway between Shiyan and Yichang is scheduled to begin construction in 2009.
G70 Fuzhou-Yinchuan Expressway
China National Highway 209
Several four-lane highways passing through Shiyan will also be completed in 2009.
Shiyan Wudangshan Airport (IATA: WDS, ICAO: ZHSY) is an airport serving the city of Shiyan in northwestern Hubei Province, China. It is located 15 kilometres (9.3 mi) from the city center and 20 kilometres (12 mi) from Wudangshan, the World Heritage Site after which it is named.
Shiyan has been a sister city of Craiova, Romania, since December 1999.