Shinichi Watanabe at Ohayocon 2019
Shinichi Watanabe (渡邊 慎一, Watanabe Shin'ichi, born September 6, 1964) is a Japanese anime director and voice actor. He is best known for his over-the-top adaptation of Rikdo Koshi's Excel Saga, in which he appears as the character Nabeshin.
Contents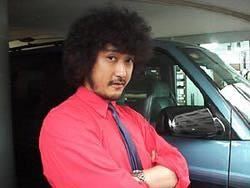 Watanabe stated that the nickname Nabeshin (which is a combination of "nabe" in Watanabe and "shin" in Shinichi) came to him from Kami-sama.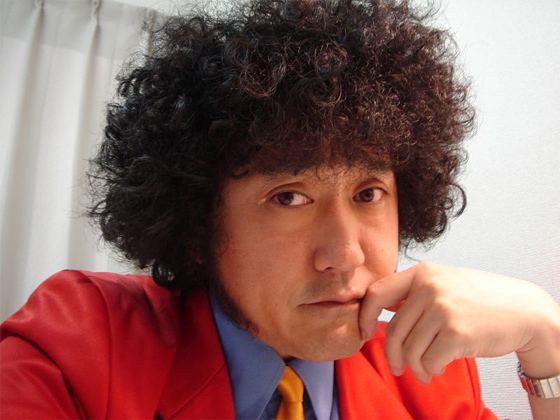 About his unique appearance (dressing similar to the character Arsène Lupin III) Watanabe said he grew out his afro and started wearing bright clothing in order to stand out and get attention.
Shinichi Watanabe at Ohayocon 2018
Chief Director Work
Fair, then Partly Piggy (1997-1998) - Debut work as Chief Director
Gravitation: Lyrics of Love (1999)
Lupin III: Da Capo of Love: Fujiko's Unlucky Days (1999)
Excel Saga (1999-2000)
Dotto! Koni-chan (2000-2001) (up to the 13th episode)
Puni Puni Poemy (2001)
Tenchi Muyo! GXP (2002)
éX-D: Danger Zone (2002)
Nerima Daikon Brothers (2006)
Yamato Nadeshiko Shichi Henge (2006-2007) (known as The Wallflower in the US)
Monster High (Japan-exclusive anime) (2014)
Episode Directing and Storyboards
Mister Ajikko (1987-1989) - Debut work as an episode director on the episode #56
Warau Salesman (1989-1992)
Obocchama-kun (1989-1992)
Shōnen Ashibe (1991)
Shōnen Ashibe2 (1992-1993)
Salad Jūyūshi Tomatoman (1992-1993)
Dragon League (1993-1994)
Jungle no Ōja Tā-chan (1993-1994)
Omakase Scrappers (1994-1995)
Akazukin Chacha (1994-1995)
Goal FH (1994)
Mahōjin Guru Guru (1994-1995)
Yusha Keisatsu J-Decker (1994-1995)
Virtua Fighter (1995-1996)
The Brave of Gold Goldran (1995-1996)
Bonobono (multiple episodes, TV series) (1995 - 1996)
Soar High! Isami (1995-1996)
Juuni Senshi Bakuretsu Eto Ranger (1995-1996)
Meiken Lassie (1996)
Kiteretsu Daihyakka (1996)
Kochira Katsushika-ku Kamearikouen-mae Hashutsujo (1996-2004)
YAT Anshin! Uchu Ryokou (1996-1998)
Magical Girl Pretty Sammy (1996-1997)
Harimogu Harry (1996-1997)
Ganbarist! Shun (1996-1997)
Kodomo no Omocha (1996-1998)
Grander Musashi (1997)
Tokyo Pig (1997-1998)
GaoGaiGar: King of Braves (1997-1998)
Urayasu Tekkin Kazoku (1998)
Shin Megami Tensei Devil Children (2000-2001)
Shin Megami Tensei Devil Children Light & Dark (2002-2003)
Mahoromatic - Automatic Maiden (2002-2003)
Crush Gear Nitro (2003-2004)
Popotan (2003)
Godannar (2003)
Burn-Up Scramble (2004) - Ending Storyboards
Gakuen Alice (2004-2005)
Uta Kata (2004)
To Heart -Remember my Memories- (2004)
Eyeshield 21 (2005-2008)
Tokimeki Memorial Only Love (2006-2007)
Hayate no Gotoku! (2007-2008)
Mushiuta (2007) - Storyboards only
Zettai Karen Children (2008-2009)
Kirarin Revolution(2008) - Storyboards
Tayutama: Kiss on my Deity (2009)
Beyblade (2009-2010) - Storyboards
Nyan Koi! (2009)
Hanasakeru Seishōnen (2009)
Baka to Test to Shōkanjū (2010) #3, 5, 10, 12
Sket Dance (2011-2012) #5, 8, 11-13, 20, 30, 32, 38-39, 43, 54
Baka to Test to Shōkanjū Ni! (2011) #3, 5, 10, 12
C3 -C cube- (2011) #4, 9
Pretty Rhythm: Dear My Future (2012) - Storyboards
Tasogare Otome × Amnesia (2012) - Storyboards
Danball Senki Little Battlers eXperience (2012) - Storyboards
OniAi (2012) - Storyboards
Da Capo III (2013) - Storyboards
No-Rin (2014) - Storyboards
Other
To Be Hero, Supervisor
References
Shinichi Watanabe Wikipedia
(Text) CC BY-SA