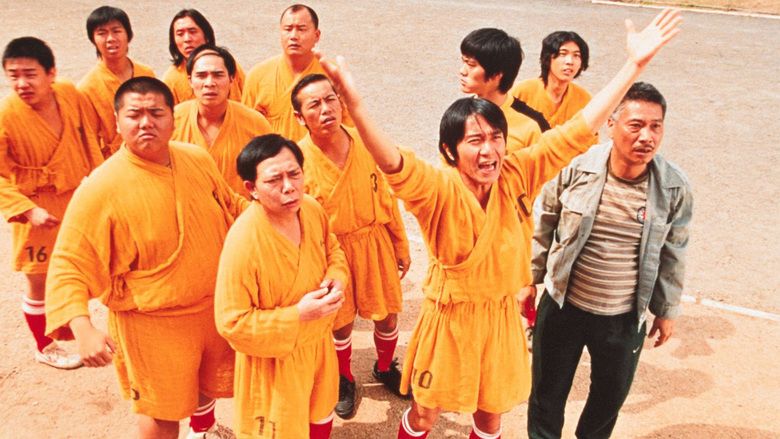 Sing (Stephen Chow) is a master of Shaolin Kung Fu, whose goal in life is to promote the spiritual and practical benefits of the art to modern society. He experiments with various methods, but none bear positive results. He then meets "Golden Foot" Fung (Ng Man-tat), a legendary Hong Kong soccer star in his day, who is now walking with a limp, following the treachery of a former teammate Hung (Patrick Tse), now a rich businessman.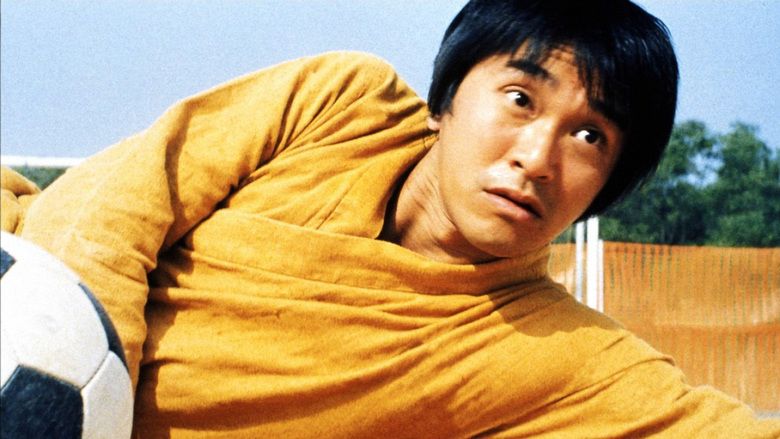 Sing explains his desires to Fung who offers his services to coach Sing in soccer. Sing is compelled by the idea of promoting kung fu through soccer and agrees to enlist his former Shaolin brothers to form a team under Fung's management. Sing and Fung attempt to put together an unbeatable soccer team. Fung invites a vicious team (some of which Sing previously encountered) to play against them and the thugs proceed to give the Shaolin team a brutal beating. When all seems lost, the Shaolin disciples reawaken and utilise their special powers, dismantling the other team's rough play easily. The thugs then give up and ask to join Sing's team.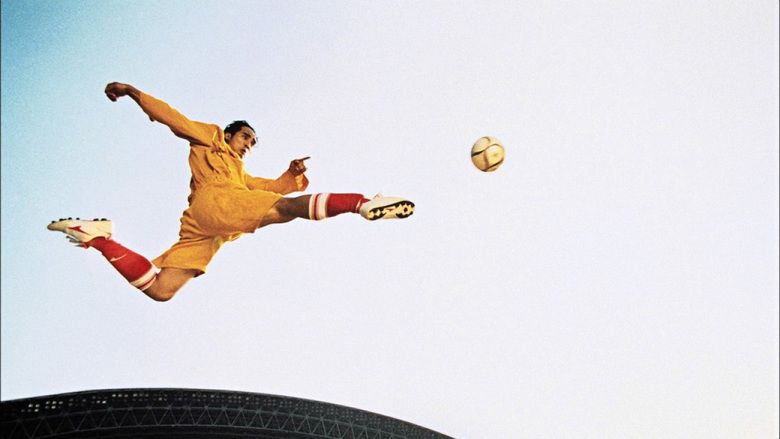 Sing meets Mui (Zhao Wei), a baker with severe acne who uses Tai chi to bake mantou, and even takes her to look at very expensive dresses at a high-end department store after hours. She soon forms an attachment to Sing and even gets a makeover in an attempt to impress Sing. However, this backfires and when Mui reveals her feelings to him, he tells her he only wants to be her friend. This revelation, coupled with the constant bullying from her overbearing boss, leads Mui to disappear.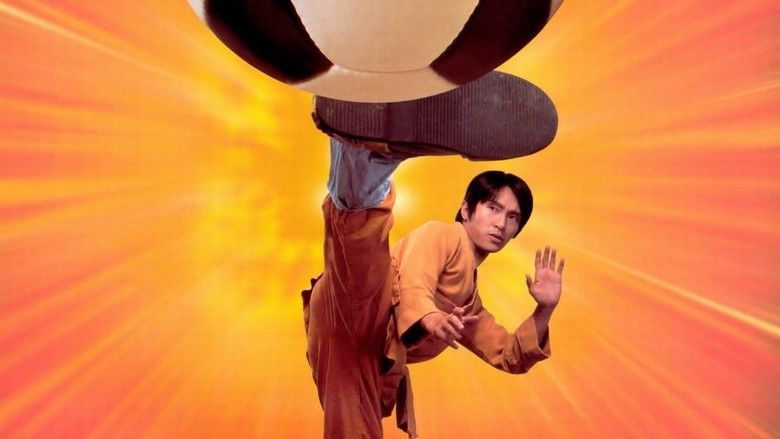 Team Shaolin enters the open cup competition in Hong Kong, where they chalk up successive and often ridiculous one-sided victories. They end up meeting Team Evil in the final, helmed by none other than Hung (who assembled a squad of players who have been injected with an American drug, granting them superhuman strength and speed, making them practically invincible), and they bring Team Shaolin back to reality when Team Evil's amazing capabilities prove more than a match for them. After Team Evil takes out Team Shaolin's goalkeepers, Mui, who has shaved her hair and gotten rid of her acne, reappears to keep goal for Team Shaolin.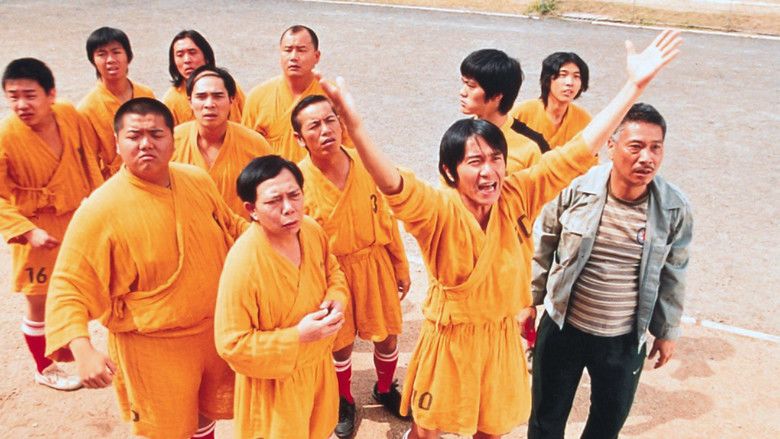 In their final attack, Team Evil's striker leaps into the sky and kick the ball with enormous force towards Mui; she uses her martial art to divert and stop it, thus preventing a goal. Mui and Sing combine their martial skills and rocket the ball downfield. The ball plows through Team Evil's goal post, thereby scoring the winning goal. Sing is then thrown into the air in celebration as the trophy is presented to him and his team.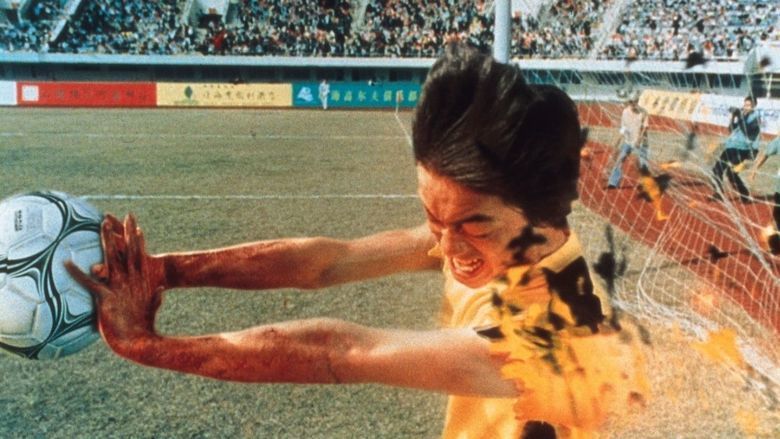 A newspaper article then shows Hung being stripped of his title of soccer chairman and sent to jail for five years, while Team Evil players are permanently banned from playing soccer professionally. With people practicing kung fu in their daily lives, Sing's dream is finally fulfilled. Sing and Mui marry, becoming a famous kung fu couple around the world.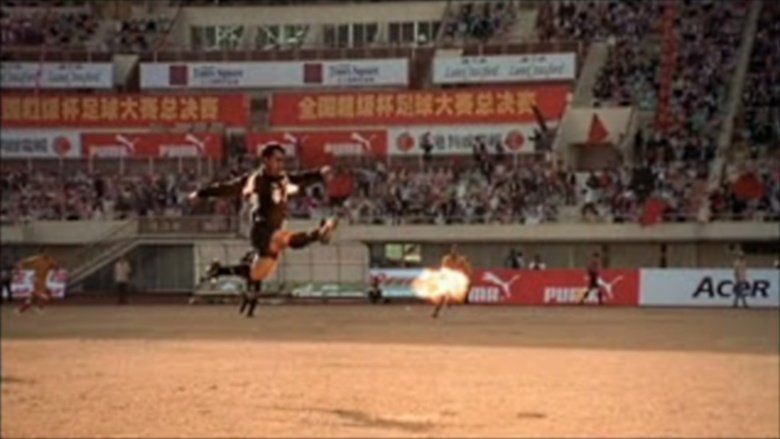 "Mighty Steel Leg" Sing (Stephen Chow): a Shaolin Kung Fu monk. He is the team's striker and uses his extremely powerful kicks to make unstoppable soccer shots.
"Golden Leg" Fung (Ng Man-tat): a player from the 1980s, he became crippled after being beaten after a match, which he deliberately lost after being bribed.
Iron Head (Wong Yat-fei): the eldest Shaolin brother, he specializes in headers during match; before joining Sing he worked in a club.
Hooking Leg (Mok Mei-lam): the second brother, "Hooking Leg" has Shaolin skills resembling ground tumbling boxing.
Iron Shirt (Tin Kai-man): the third brother, "Iron Shirt" can absorb all kinds of blunt force attacks with little to no injuries, as well as siphoning and shooting the ball with his abdomen.
Empty Hand, "Lightning Hand" (Danny Chan Kwok-kwan): the fourth brother "Empty Hand", Lightning Hand, bears much resemblance to Bruce Lee, even wearing the classic yellow and black jumpsuit. His insanely fast hands allows him to catch objects thrown at him with pinpoint accuracy.
Light Weight Vest (Lam Chi-chung): the sixth brother "Light Weight" is obese and gluttonous after being diagnosed to have a pituitary disease, but despite his illness, he is capable of jumping over his opponents.
Mui (Zhao Wei): A baker and Sing's love interest.
Hung (Patrick Tse): The coach of Team Evil, Fung's former teammate. He is Fung's nemesis from past till now.
Team Evil's Striker No. 9 (Shik Zi-yun): He can back flip and soar into the sky to kick a fiery ball to its target.
Team Evil's Goalkeeper No. 21 (Cao Hua): He is able to guard with one hand in his pocket. His incredibly strong hands are capable of crushing a thick metal crossbar.
Team Dragon Players No. 7 & No. 11 (Cecilia Cheung and Karen Mok): They work as a team and can run so fast that it appears as if they are flying inches above the ground.
Team Rebellion Captain (Fung Min-hun): He is a vicious mobster who wields a crescent wrench and steel mallet as weapons.
Team Tofu Captain (Vincent Kok): Captain of the team that Team Shaolin faces in preliminaries.
According to an interview with Premiere Magazine, Chow stated,
Apart from several veteran actors, Chow stated in an interview with Premiere magazine that he cast several people in his entourage who had no prior acting experience before Shaolin Soccer. For example, Lam Chi Chung (Light Weight) had worked as Chow's screenwriter and Danny Chan Kwok-kwan (Empty Hand) was the dance choreographer hired to design the "Michael Jackson dance number" that followed Sing and Mui's first meeting early in the film. Chow comments he made Chan wear Bruce Lee's yellow-and-black tracksuit because only the goalkeeper "can wear a special uniform." Tin Kai-man (Iron Shirt) had been Chow's production manager on several movies, but had acted in numerous minor roles in previous films. For instance, he played a young wanna-be Triad member in Chow's preceding movie, King of Comedy. Cecilia Cheung and Karen Mok, who briefly appear as Team Dragon Players 7 & 11 in Shaolin Soccer, had major roles in King of Comedy. Chow defends his decision to hire non-actors, saying, "In terms of finding talent, I try to bring out the funniest thing I notice about them during casting, if it made us laugh at the casting, it will also do on the big screen."
Zhao Wei, who played the Mandarin-speaking Mui, said it was a different step for her to star in a Hong Kong production. However, Zhao admitted that she was not impressed with her look with less makeup because she is easily recognisable for her beautiful appearance.
Three of the principal cast members appeared in Chow's Kung Fu Hustle: Danny Chan Kwok-kwan (Empty Hand) portrayed Brother Sum, boss of the "Axe Gang"; Tin Kai-man (Iron Shirt) portrayed the loud-mouthed advisor of Brother Sum; and Lam Chi-chung (Light Weight) portrayed Bone, Chow's sidekick and partner in petty crime. Fung Min-hun (Team Rebellion Captain) briefly appeared as Cecilia Cheung's abusive boyfriend in King of Comedy and the Four Eyes Clerk who beats up both Sing and Bone when they make fun of him on the bus in Kung Fu Hustle.
In Hong Kong, the film was released on DVD and Video CD on 14 September 2001. The DVD release was shortened by 10 minutes, with the option for viewers to access the deleted scenes in the middle of the film. The scenes deleted from the DVD version are the dance sequence in front of Mui's bakery, much of the conversation over Mui's makeover and the blooper reel before the end credits. Viewers can also access the making of key special effects scenes as well.
The film was also released in UMD format for the Sony PSP on 23 December 2005.
The 2004 US DVD release by Miramax Films deleted 23 minutes of footage from the original cut; the omitted footage includes "Golden Leg" Fung's flashback opening sequence and Sing's interactions with Mui. This version features an English dub with Chow dubbing his own voice and Bai Ling as the voice of Mui. In addition, the DVD gives viewers the option to play the original Hong Kong version.
In the UK, the film was released on Blu-ray disc by Optimum Releasing on 26 January 2010.
The Japanese version of the film was released by Pioneer LDC on 22 November 2002. It was reissued by The Clockworks Group on 21 December 2003.
The Italian dub of the film features the voices of professional footballers Damiano Tommasi (as Mighty Steel Leg Sing), Vincent Candela (as Empty Hand), Marco Delvecchio (as Iron Head), Sinisa Mihajlovic (as Hooking Leg), Giuseppe Pancaro (as Iron Shirt) and Angelo Peruzzi (as Light Weight Vest).
At Hong Kong box office, Shaolin Soccer grossed HK$60,739,847, making it the highest-grossing film in the region's history at the time. It held the record until 2004 when it was topped by Stephen Chow's next feature Kung Fu Hustle. Shaolin Soccer earned a worldwide gross of US$42,776,760.
On Rotten Tomatoes, the film has a 91% approval rating based on 90 reviews; the average rating is 7.1/10. The site's critical consensus reads: "The plot is utterly ridiculous, and the soccer in the movie is unlike any ever played anywhere on Earth, but watching Shaolin Soccer, you will probably find it impossible to care." On Metacritic, the film has a score of 68 out of 100 based on 24 critics, indicating "generally favorable reviews."
China's State Administration of Radio, Film and TV rejected Shaolin Soccer from theatrical and DVD/VCD release, because Stephen Chow did not apply for Chinese permission for public screenings in Hong Kong.
The first of a four volume Shaolin Soccer manhua was published in Hong Kong roughly nine months after the film originally premiered in 2001. The characters were drawn with large manga-like eyes and cartoonish bodies, but the artists were careful to retain the likenesses of each actor who portrayed them.
ComicsOne approached noted comic book artist Andy Seto with the idea of creating a two volume manhua-style graphic novel adaptation of the feature film. Seto attached himself to the project because the film was very popular and, therefore, had "a certain level of marketing value". The project was officially announced on 30 June 2003 and the release of vol. 1 was scheduled to coincide with the film's US premiere in August, but the film was pushed back. The Miramax film corporation bought the American film rights to Shaolin Soccer before its release in China, so they helped publish the comic book along with two Chinese film companies who originally produced the film. Volumes 1 (ISBN 1-58899-318-3) and 2 (ISBN 1-58899-319-1) were released in August and November 2003 and sold for US$13.95 each. Their suggested reading level was age 13 and above.
Seto worked to make the novel as faithful to the film as possible but he admits that Stephen Chow's brand of Mo lei tau comedy does not translate well into illustrations. He stated in an interview that "the Shaolin Soccer comic is 80% movie adaptation with 20% new content." This new content includes a backstory about Steel Leg's training in Shaolin before the death of his master, as well as completely rewriting entire sections of the movie. For example, in the film a group of bar thugs beat up Sing and Iron Head after listening to their lounge-style tribute to Shaolin kung fu. The following day, Sing seeks out the group and uses his Shaolin skills to beat the thugs using a soccer ball. Fung sees the brawl and comes up with the idea of fusing kung fu and soccer. However, in the comic book, Sing is meditating in the park when he gets hit in the head with a soccer ball. The cocky players mock him and destroy a stone statue of his deceased master. Sing proceeds to use the soccer ball as a weapon.
Another example is the fact the characters are visually different from the film. All of their comic book personas look to be in their twenties to thirties, with highly toned athletic physiques (with the exception of Light Weight); even Iron Head, who was the eldest of the six brothers, appears younger than he should.
Several online reviews have criticised the American adaptation for its apparent lack of story line coherence, mixture of realistic and cartoonish drawing styles, and bad Chinese-to-English translation, among other issues. In regards to the translation, one reviewer stated, "It's almost as if the book was translated with a first-year English student referencing a Chinese-to-English dictionary, with strangely assembled sentences and strange bursts of dialogue peppering the pages." Another common complaint was that the comics seemed to be geared towards those people who had previously seen the movie. Without this familiarity, a newcomer would lose track of the storyline because of the overcrowded pages and rapidly shifting plot.
Michael Dante DiMartino and Bryan Konietzko, co-creators of the Avatar: The Last Airbender animated television series, stated in an interview that "Shaolin Soccer is one of our favorite movies. It has tons of fantastic action and lots of funny moments. Some of the effects provided inspiration for how bending (the art of controlling the elements) might look on the show."
One episode of Keroro Gunso had a soccer theme which parodied this movie.
Scenes from the film are featured in the music video of "Dance" by American R&B singer-songwriter and rapper Lumidee.