Shankar Dada Zindabad (translation: Long Live Shankar Dada) is an 2007 Telugu film which is a remake of the 2006 Hindi blockbuster Lage Raho Munnabhai. Rajkumar Hirani, the director and co-screenwriter of the Munna Bhai series, is one of the screenwriters for this film (along with the Paruchuri Brothers). In addition, Dilip Prabhavalkar reprised his role as Mahatma Gandhi. It is the sequel to the 2004 film, Shankar Dada MBBS.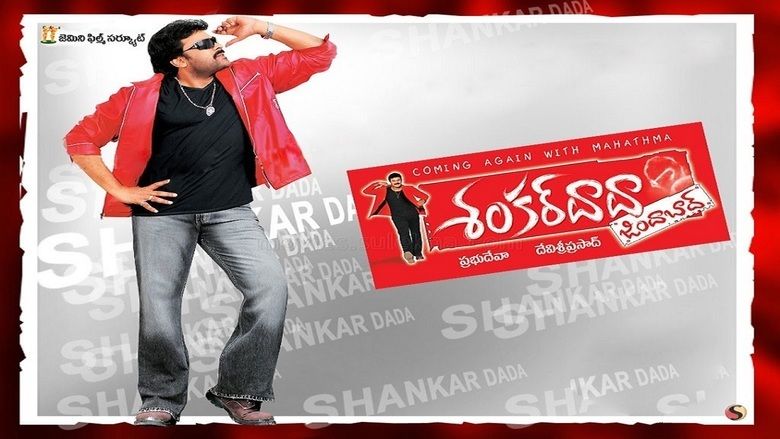 The film directed by Prabhu Deva, stars Chiranjeevi as Shankar Dada, Srikanth as A.T.M. (Any Time Murder), Sayaji Shinde, Karishma Kotak, Sadha and Raja. The music is scored by Devi Sri Prasad. The movie, released on 27 July 2007 opened to overall mixed reviews.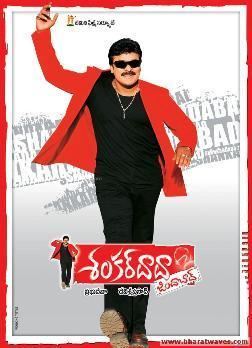 Shankar Dada (Chiranjeevi) is a local goon and ATM (Any Time Murder) (Srikanth) is like his brother. Shankar is in love with Jahnavi (Karishma Kotak) who works at a radio station. She also owns the second innings house. The only problem is that she does not know that Shankar is a goon and believes that he is a professor. When Rajalingam (Sayaji Shinde) takes the second innings house, Jahnavi, Shankar and the residents of the second innings decide to camp in front of his house. What happens when Jahnavi finds out who Shankar really is?
Even though the movie opened to packed houses, it later on turned out to be only an above-average grosser. The movie did not go down well with all of the audiences, and the word of mouth was hampered by the mixed reviews.
Chiranjeevi as Shankar Prasad
Srikanth as ATM
Karishma Kotak as Jahnavi
Dilip Prabhavalkar as Mahatma Gandhi
Kanta Rao
Sayaji Shinde as Rajalingam
Sarath Babu as Suresh's father
Brahmanandam
Venu Madhav
Sachu
Bhanu Prakash
Pawan Kalyan as Suresh (cameo)
Sadha as Sandhya (cameo)
Allu Arjun (cameo)
Ravi Teja (cameo)
Nagababu (cameo)
Prabhu Deva (cameo)
Rohit as Azad (cameo)
Yana Gupta in item number
Director: Prabhu Deva
Story: Rajkumar Hirani
Dialogue: Paruchuri Brothers
Producer: Akkineni Ravishankar & Gemini Kiran
Music: Devi Sri Prasad
Cinematography: Chota K. Naidu
Choreography: Prabhu Deva
Editing: Marthand K. Venkatesh
All music composed by Devi Sri Prasad.