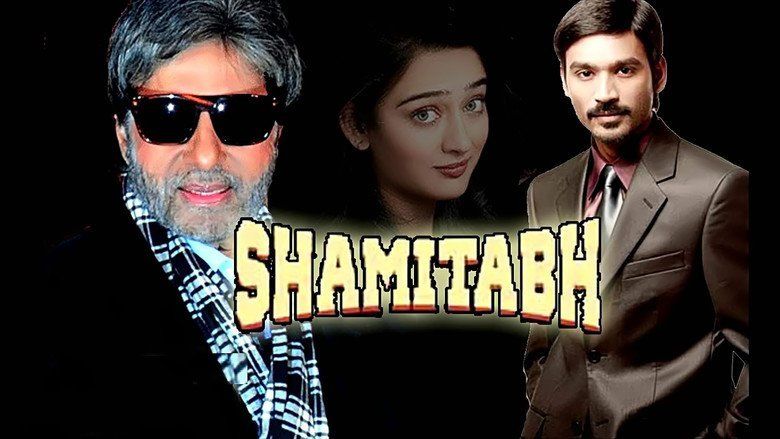 Danish (Dhanush), born mute in rural Igatpuri, loves films. He acts out scenes before his class, amazing his peers and teacher, and spends all his time in the local Paradise theatre. He even tries to board a Mumbai bus to go become a film star but is pulled off by his mother's friends. When he grew up, Danish brings pakodas to the local video-store owner and watches films every day. His mother feigns illness and keeps him from going to Mumbai but when she dies, Danish leaves for Mumbai.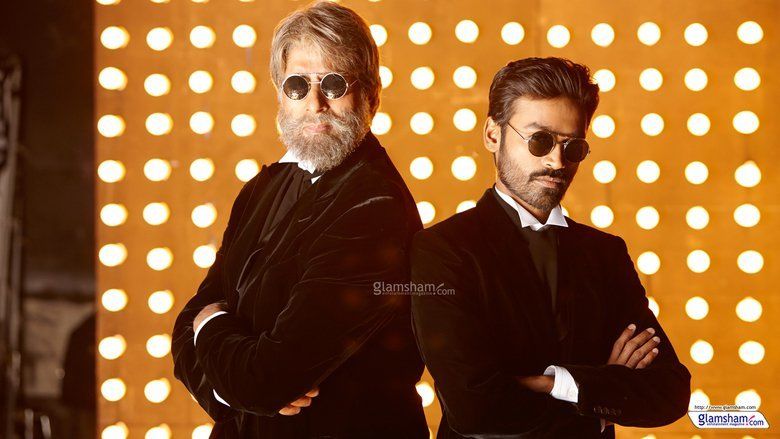 Danish gets into Film City past its guards and finds shelter in an actor's vanity van, hiding under the sofa. Travelling around in the empty van, Danish desperately tries to meet directors but cannot. He meets assistant director Akshara Pandey (Akshara Haasan) who is impressed by his talent. She shows his video, shot on her phone, to a director but he rejects casting a mute hero. Akshara's father, a doctor, treats Danish after he gets into a fight with security guards. On his recommendation, Danish and Akshara arrive at Finland to meet his friend who shows Danish their new "Live Voice Transfer Technology", that uses embedded micro-recorders and ear-pieces and enables mute people to communicate via a "borrowed" voice.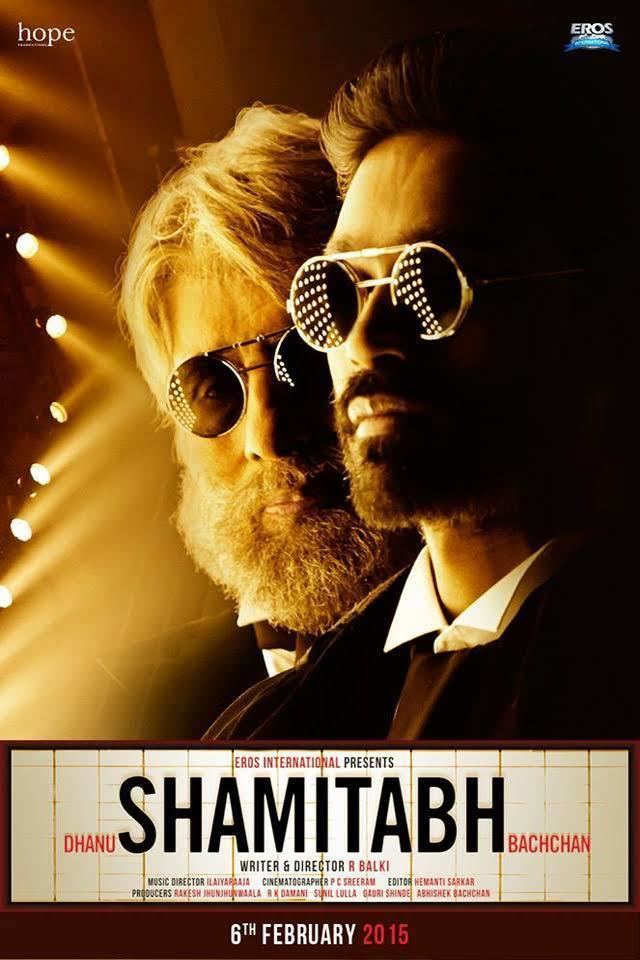 Akshara and Danish return to Mumbai with the equipment and find Amitabh Sinha (Amitabh Bachchan), a failed actor and drunkard. Although he was rejected because of his deep baritone, the duo are actually impressed with the same baritone and ask him to lend his voice to Danish; he accepts, and signs an agreement not to disclose himself as Danish's voice. Their first project becomes a major success and numerous film offers come for Danish, now named "Shamitabh" (a portmanteau of Danish and Amitabh).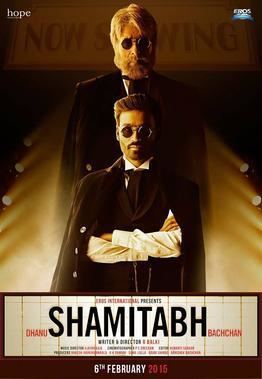 Amitabh, who is officially Danish's valet, also wants a role in accepting or rejecting scripts. He tells Danish his voice is as big — if not bigger — a star than Danish's talent. The friction between them grows. Amitabh gets fever and Danish makes him take an injection. In retaliation, Amitabh makes Danish accepts singing a song in his new film. Amitabh sings the song "Piddly", but is horrified by its picturisation of toilets across snowy peaks, suggested by Danish to tease him.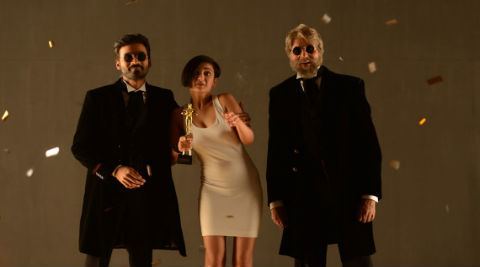 Danish arrives at London to deliver a speech which Amitabh voices for him, but Danish treats him like a servant. Amitabh later becomes inebriated and attacks a police officer, leading to his arrest, but Danish bails him out.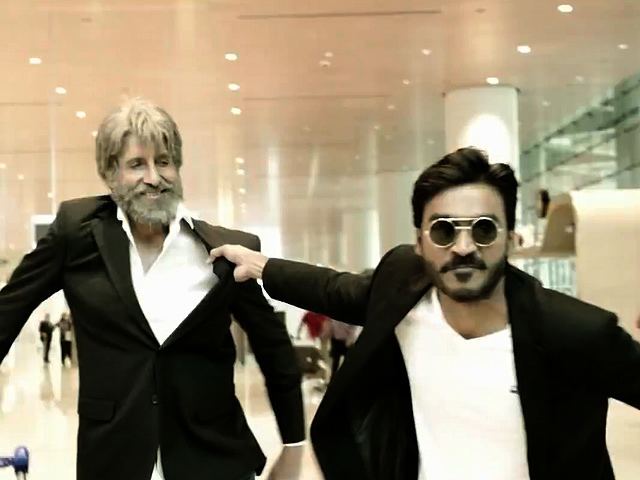 When the duo return to Mumbai, journalists ask Danish if he is apologetic about the incident. Amitabh mischievously makes him reply in negative, much to Danish's fury. The duo parts ways; Danish plays a mute person in his next film, while Amitabh dubs for another actor in a different film. Both films fail.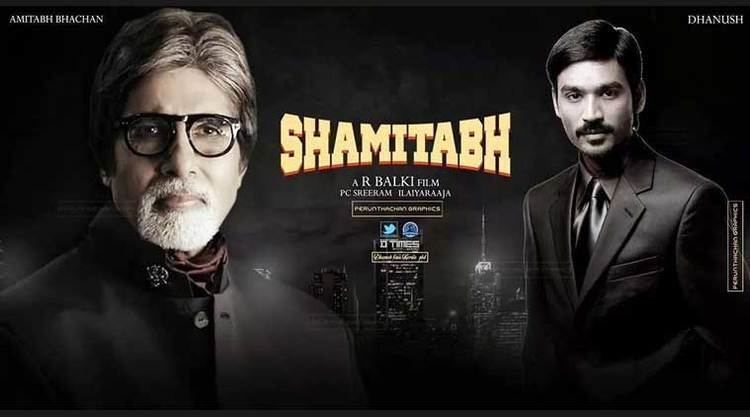 Meanwhile, Akshara, who had gone to Sikkim to write a script for Danish, returns but berates Danish when he refuses to apologise to Amitabh. She forces Amitabh and Danish to reconcile.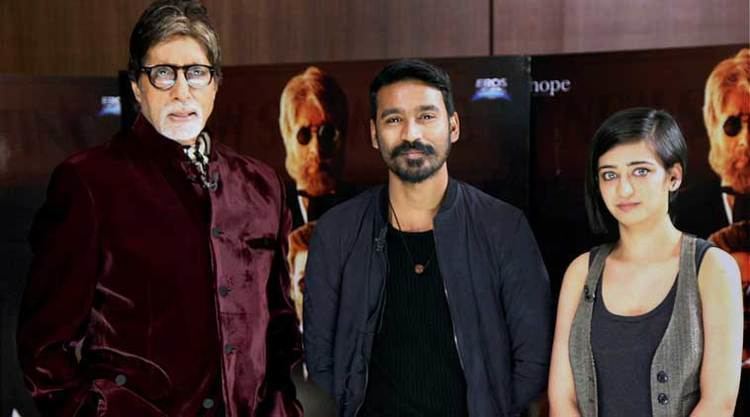 A media reporter, having discovered the secret that Danish was born mute, threatens to expose the duo but they decide to tell the truth and surprise the world. Danish and Amitabh accept to work in Akshara's debut film, and Danish tells Akshara that he loves her. While Danish and Amitabh are on the way to Akshara's film ceremony, a car accident occurs; Danish is killed while Amitabh's larynx is damaged, making him mute.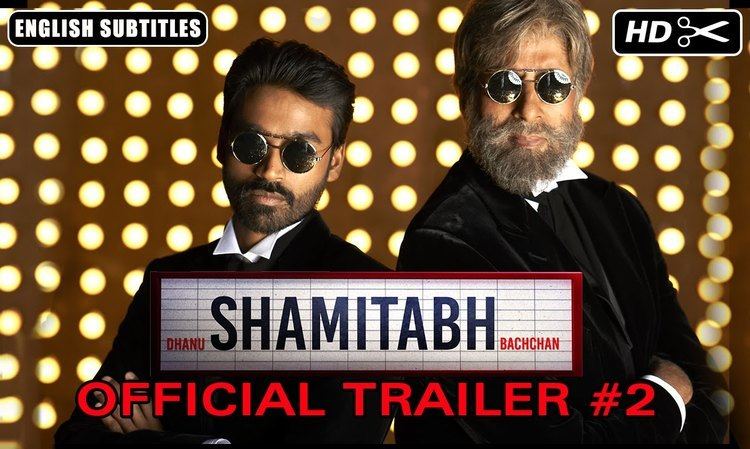 Some time later, Amitabh paces around Danish's grave with Akshara's script, imagining that Danish is still alive and practicing his lines for the film.
Amitabh Bachchan as Amitabh Sinha
Dhanush as Danish
Akshara Haasan as Akshara Pandey
Rukmini Vijayakumar as herself
Rekha as herself
Abhinaya as herself
Abhimanyyu as reporter
Rajeev Ravindranathan as a media reporter
Cameo appearances
In August 2013, reports announced that Dhanush would play the lead role in R. Balki's next film. But Balki denied them as rumors, citing that they may have arisen when he had shot for an advertisement featuring. In November 2013, Amitabh Bachchan and Dhanush were announced as feature in the lead roles. The film also marked the acting debut of Kamal Haasan's second daughter, Akshara Haasan. In addition to portraying one of the film's central characters, Amitabh Bachchan had also bankrolled the venture. In May 2014, Balki revealed that the film would be titled Shamitabh, which also sounded similar to the Bollywood star's name, whilst also revealing that half the film's shooting had been completed. Amitabh Bachchan lent his voice to Dhanush, who plays a dumb aspiring actor in the film. The film's title derived from the duo's names in which 'Sh' from Dhanush was added as a prefix to Amitabh, therefore becoming Shamitabh.
Besides the lead cast, it was confirmed in February 2014 that actor Rajeev Ravindranathan would appear in a small role in the film. Rajeev confirmed the same again in July 2014. In August 2014, it was reported that director Mahesh Bhatt had acted in a cameo role in the film. Later it was reported that not only Mahesh Bhatt, but Karan Johar, Anurag Basu, Rakesh Omprakash Mehra, Rajkumar Hirani, Gauri Shinde, along with lyricist Javed Akhtar and producers Boney Kapoor and Ekta Kapoor would do cameos in the film. Actress Abhinaya of Nadodigal (2009) fame was selected to play a crucial role in the film. Actress Rekha was selected to play a supporting role. Vandita Shrivastava, an MBA-turned-actress, stated that she had a role in the film.
Principal photography commenced on February 2014 in Igatpuri. Amitabh Bachchan began shooting for his portions in the film in April 2014. Shamitabh became the first Bollywood film to be shot in the Lapland region of Finland and in Helsinki. The crew shot some scenes at the Seven Hills Hospital, the same place where Amitabh Bachchan underwent two abdominal surgeries and saw the birth of Aaradhya, his granddaughter. Some scenes were also shot in London. The team took a break in mid-July 2014 to celebrate Dhanush's birthday and the success of his 25th film, Velaiyilla Pattathari (2014). In mid-August 2014, Amitabh Bachchan stated that he had completed his portions for the film, whilst also confirming that 90% percent of the film's shooting had been completed. Dhanush reportedly did a few dastardly stunts in the film. The film's cinematographer P. C. Sreeram was fascinated by Akshara's acting capability and lack of nervousness while shooting with Dhanush and Amitabh Bachchan and lauded her as a "woman of substance". Akshara did her own choreography for her dance.
During the shooting of the film in Finland, a snow storm hit the area where shooting was going on for a dance sequence in the film and had to immediately walk back towards a safer environment. Hence, they walked for about 10 kilometers with their heavy equipment. Choreographers Bosco-Caesar decided to continue with it and shot the song the next day since a delay would have caused permission trouble.
The soundtrack album and background score were composed by Ilaiyaraaja. Illaiyaraaja began work for the film's songs on 6 January 2014 in Mumbai. Amitabh Bachchan had lent his voice to a song in the film.
The film released worldwide on 6 February 2015.
The first look of the lead actors Amitabh Bachchan and Dhanush were released on 23 July 2014, and 25 July 2014, respectively. A video trailer of Amitabh sitting in a toilet and singing "piddly si baatein", a catchy, peppy song while holding the script, was released on 31 December 2014. An extended version of the trailer was released on 7 January 2015. Amitabh Bachchan had been reportedly seen sporting a rugged look and wearing shabby clothes, Bachchan found the look quite difficult to preserve throughout the shooting of the film. Bachchan described every film he made with Balki as "novel, out of the ordinary and most challenging" and Shamitabh is "no different". A still featuring the lead actors was released by Amitabh Bachchan on Twitter on 20 August 2014. Eros International distributed the film worldwide.
Srijana Mitra Das of Times of India gave it 3.5 stars out of 5 and stated, "Shamitabh has a doubly dramatic act - but less emotion". Indian Express gave the movie 2 stars. Rajeev Masand of IBNLIVe gave the movie 2.5 stars stating "The promising film comes undone by the curse of the second half". The Guardian gave average reviews describing the movie "Amitabh Bachchan in affectionate but incoherent satire".