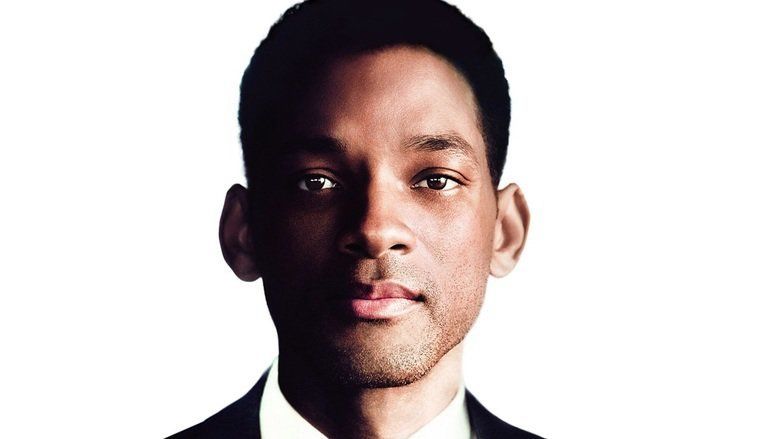 Tim Thomas (Smith), while carelessly sending a text message while driving, veers across the center line into oncoming traffic and causes a multi-car crash in which seven people die: six strangers and his fiancée, Sarah Jenson (Robinne Lee).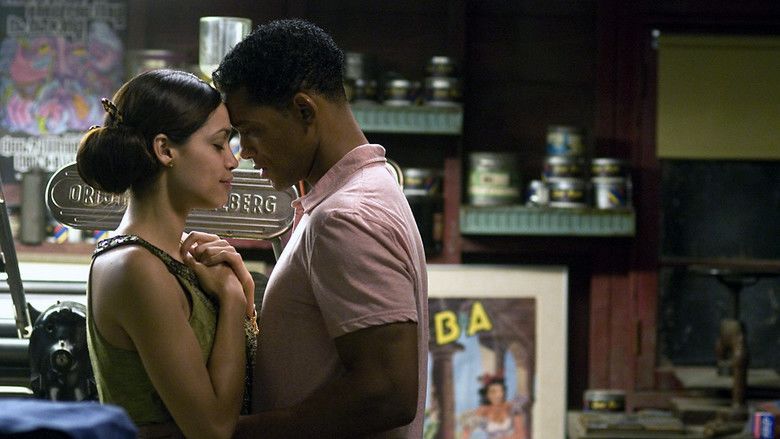 Two years later, in a bid for atonement, Tim sets out to save the lives of seven good people by donating his own vital organs, a process that will be completed after his planned suicide. A year after the crash, having quit his job as an aeronautical engineer, Tim donates a lung lobe to his brother Ben (Michael Ealy), an IRS field agent. Tim then steals his brother's federal IRS identification badge and credentials, puts his picture over Ben's, identifies himself by his brother's name, and uses Ben's privileges to check out the financial backgrounds of further potential candidates for his donations. In each case, he "interviews" them first to determine if they are good people.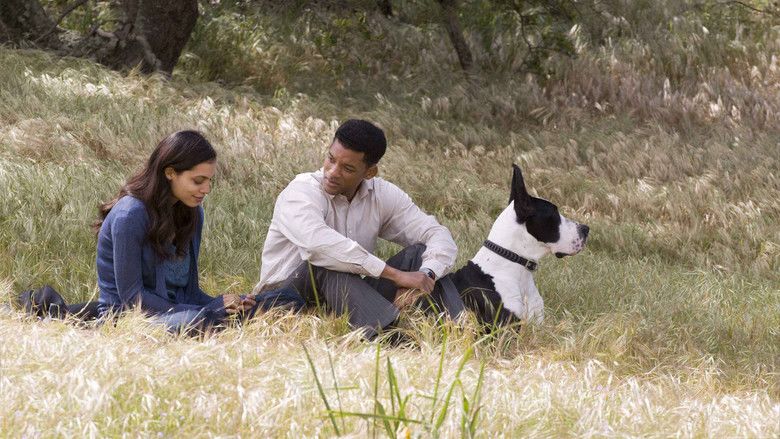 In one case, the director of a hospice nursing home facility, who had an unsuccessful bone marrow transplant, seeks a six-month extension on his back taxes. Tim, now going by his brother's name, is unsure of the man's ethics, because he claims to be insolvent, yet drives a new BMW. To resolve the issue, "Ben" passionately asks a resident patient, an elderly bedridden woman, to tell him whether he is a "good man", only to discover that the man is punishing the woman for refusing to take a new medication by not allowing the nurses to bathe her.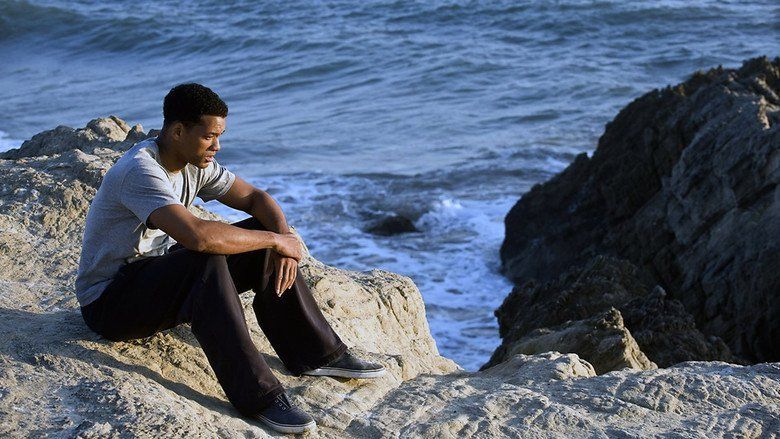 Six months later, "Ben" donates part of his liver to a child protective services social worker named Holly (Judyann Elder). He then finds George (Bill Smitrovich), a junior hockey coach and donates a kidney to him. He then donates bone marrow to a young boy named Nicholas (Quintin Kelley), opting to have no anesthesia during the procedure, an evident consequence of his desire for atonement. In each case, he does not tell the people what his intentions are for his donations, despite being repeatedly asked.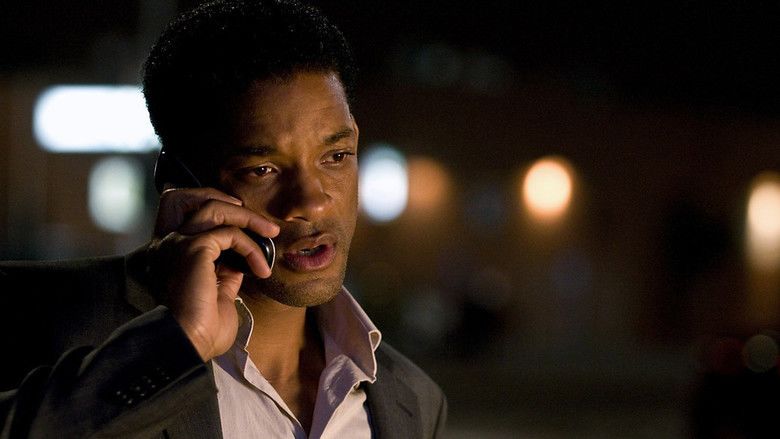 Two weeks before he dies, he contacts Holly and asks if she knows anyone "in the system" who needs and deserves help, but is too proud to ask for it. Holly suggests Connie Tepos (Elpidia Carrillo), who lives with her two kids and an abusive boyfriend, but cannot afford to leave. When "Ben" arrives to "interview" her under the guise of dealing with the IRS, Connie is embarrassed and humiliated that he knows what has been going on. She defends her boyfriend, is offended by "Ben"'s suggestion that she should leave with her kids, and kicks him out of her house. In the meantime, "Ben" moves out of his house and into a local motel, taking with him his pet box jellyfish, decidedly the most venomous creature on earth, with its sting causing death in three to five minutes. That night, after being beaten by her boyfriend again, Connie contacts "Ben". He meets her, tells her not to be weak, and gives her the keys and directions to his beach house. She takes her two children and they move into the house. Then, she reads a letter from "Ben" which includes the deed to the house, again giving no explanation, and asking for her to respect his wishes, not try to contact him, not tell anyone how she got the house, and "live life abundantly".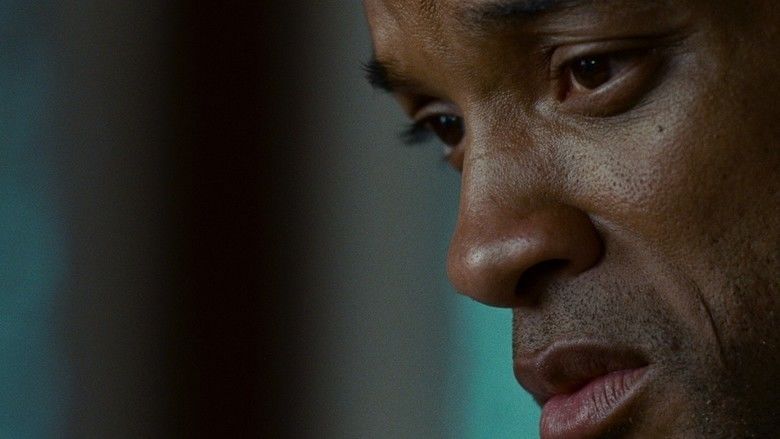 "Ben"'s sixth candidate is Ezra Turner (Harrelson), a blind telemarketer for a meat company, who plays the piano. "Ben" calls Ezra and harassed him at work weeks earlier, to see if he was quick to anger; when Ezra remains calm and humble through the abuse, "Ben" decides he is worthy.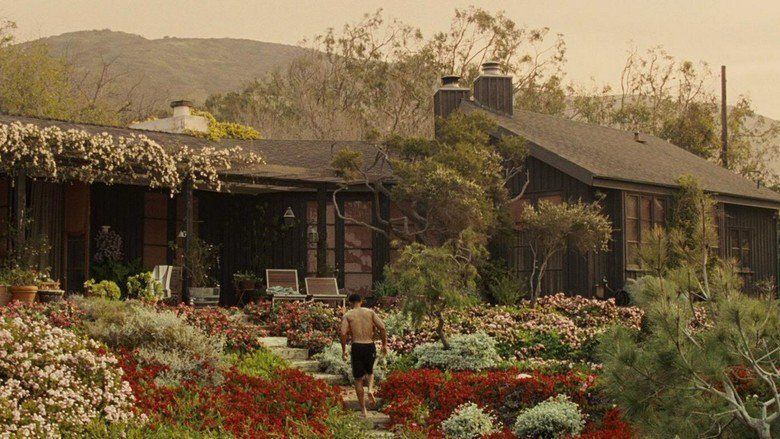 "Ben" then contacts Emily Posa (Rosario Dawson), a wedding announcement/greeting card printer who has a congenital heart condition and rare blood type that has left her with only weeks to live. Ben interviews her at her home, again under the guise of an IRS investigation, and more or less stalks her at the hospital, but then he starts to spend time with her, walking her Great Dane called Duke, weeding her garden, and fixing her rare Heidelberg Windmill press. He visibly fights his affections for her, again seeking atonement for the death of his fiancée, but he slowly falls in love with her.
At one point, while comforting Emily (who is in the hospital after an emergency), he tells her the tale of a young boy named Tim, who wanted to fly and became a space engineer. Emily recognizes this is an actual story of his childhood and suggested the boy was named Ben, but he corrects her by sheer reflex, telling her that the boy is called Tim... obviously himself.
Tim's brother, the real Ben, finally tracks Tim down at Emily's house, saying that he must return his IRS credentials. After a passionate sexual interlude with Emily, and with Ben waiting outside her house, Tim disappears out the back door, leaving her sleeping. He returns on foot to the motel, first stopping by the hospital to ask the doctor if any chance exists that Emily will improve. Discovering that she will likely die before a donated organ becomes available, he decides "it's time".
Tim then fills the motel bathtub with ice water to preserve his vital organs, calls 9-1-1 emergency and reports his own suicide, climbs into the tub, and releases his box jellyfish into the water with him. The jellyfish wraps its tentacles around his arm, causing a quick but excruciatingly painful death.
At the hospital, his best childhood friend Dan (Pepper) acts as executor of Tim's living will to ensure that his organs are donated to Emily and Ezra. Ezra receives Tim's corneas, which cure his blindness, and Emily receives his heart.
Afterward, Ben finds letters from Tim that he is to give to each person explaining why he did what he did. This leaves Emily heartbroken. Emily finds Ezra (now a school teacher) at his kid's choir concert at a park and stops him as he passes by. Having never met before, Emily is fixated on Ezra's eyes, knowing they belonged to Tim. Emily begins to break down, which clues Ezra in to who she is. When he says, "You must be Emily," she breaks into tears and they share a heartfelt embrace out of mutual love and respect for Tim.
Will Smith as Ben Thomas (actually Tim Thomas, using his brother's name)
Smith described the reason he took on the role:
Usually with the films that I make there are ideas that I connect to, but lately I've been dealing with the bittersweet in life because it feels more natural. You don't ever get it really the way you want in life. That really fascinates me. As an actor, there are certain parts of a character that you create, and you train yourself to have those reactions and then it becomes hard to stop them when the role is over. You have to retrain yourself. My character in this film is like hot grits. You know you can't shake them off and when you do, it hurts.
Smith felt that the character needed to be a quiet and rather introverted person who does not burn himself out at every possible instance. The character was a contrast to Smith's previous characters, and Smith felt that director Gabriele Muccino's trust in him helped him relax and avoid overextending himself. Smith acknowledged Seven Pounds as a drama film, but he saw it as more of a love story.
Michael Ealy as Ben Thomas, Tim's brother and an IRS agent, whose credentials and name are "taken" by his brother.
Will Smith handpicked Ealy for the role of the main character's brother. Connor Cruise, the adopted son of actor Tom Cruise and actress Nicole Kidman, was cast in his first role as a younger version of Ben Thomas.
Barry Pepper as Dan Morris, Tim-Ben's friend and executor of his will
Rosario Dawson as Emily Posa, a self-employed greeting card printer and Tim-Ben's love interest
Octavia Spencer as Kate, Emily's caring nurse
Woody Harrelson as Ezra Turner, a blind meat salesman who plays the piano
Elpidia Carrillo as Connie Tepos, a woman in a battered relationship with her boyfriend
Judyann Elder as Holly, a child services employee
Bill Smitrovich as George, a junior hockey coach
Quintin Kelly as Nicholas, a child
Robinne Lee as Sarah Jenson, Tim-Ben's fiancee
Madison Pettis as Connie's daughter
Ivan Angulo as Connie's son
Skylan Brooks as Choir kid
Bryce J Harris as a toddler in the social service office
Bradly J Harris as a toddler in the social service office
Weston Harris as a child in the social service office
Seven Pounds is based on a script written by Grant Nieporte under Columbia Pictures. In June 2007, Will Smith joined the studio to star in the planned film and to serve as one of its producers. In September 2007, director Gabriele Muccino, who worked with Smith on The Pursuit of Happyness (2006), was attached to direct Seven Pounds, bringing along his creative team from the 2006 film. Smith was joined by Rosario Dawson and Woody Harrelson the following December to star in Seven Pounds. Filming began in February 2008.
Most of the film was shot in Los Angeles, Pasadena, and Malibu, California. Points of interest used in the film include the Travel Inn in Tujunga, California, the Colorado Bar, the Huntington Library, the Sheraton, and the Pasadena Ice Skating Rink all in Pasadena, as well as Malibu Beach in Malibu.
Before the film's release, the title Seven Pounds was considered a "mystery" which the studio refused to explain. Early trailers for Seven Pounds kept the film's details a mystery. Director Gabriele Muccino explained the intent: "The [audience] will not know exactly what this man is up to." Will Smith is reported to have confirmed that the title refers to Shakespeare's The Merchant of Venice, in which a debtor must pay a pound of flesh. In this case, it amounts to seven gifts to seven individuals deemed worthy by Smith's character, to atone for seven deaths he caused.
Seven Pounds was promoted on a five-city tour across the United States in November 2008, screening in Cleveland, Miami, Dallas, St. Louis, and Denver to raise funds for food banks in each region. The film was promoted at a charity screening in Minneapolis in support of Second Harvest Heartland. Since screenings of new films usually took place in Los Angeles or New York City, the choice of cities was unconventional. Smith said, "This is more like the old-school music tours. Different clubs, different cities, meeting people. You get in touch with what people are feeling and thinking, and it's much more personal when you're actually out shaking hands." The actor sought to "get reacquainted" with an America that he felt had an "openness to change" with the country's election of Barack Obama as the first African-American president.
The film was released on December 19, 2008, in 2,758 theaters in the United States and Canada. It grossed an estimated US$16 million, placing second at the weekend box office after Yes Man. The opening gross was the lowest for a film starring Smith since Ali in 2001. The gross was US$5 million less than anticipated, partially ascribed to winter storms in the Northeast over the weekend.
The film was released on DVD on March 31, 2009, by Sony Pictures Home Entertainment. The film is also available to rent or buy on the PlayStation Network in standard or high-definition format. As of July 16, 2012, in North American DVD sales, the film has grossed US$28,812,423.
The film received generally negative reviews from critics. Rotten Tomatoes gave the film a rating of 27% based upon a sample of 186 reviews with an average score of 4.6/10. On Metacritic, which assigns a normalized rating out of 100 to reviews from mainstream critics, the film has received a below-average score of 36 based on 33 reviews.
Variety's film reviewer Todd McCarthy predicted that the movie's climax "will be emotionally devastating for many viewers, perhaps particularly those with serious religious beliefs," and characterized the film as an "endlessly sentimental fable about sacrifice and redemption that aims only at the heart at the expense of the head." A. O. Scott, writing for The New York Times, said that the movie "may be among the most transcendently, eye-poppingly, call-your-friend-ranting-in-the-middle-of-the-night-just-to-go-over-it-one-more-time crazily awful motion pictures ever made."
Positive reviews singled out Dawson's performance. Richard Corliss wrote in Time that Dawson gives "a lovely performance," while Mick LaSalle of the San Francisco Chronicle noted that Dawson's performance "shows once again that she has it in her to be the powerhouse." Roger Ebert of the Chicago Sun Times commented on the fact that the audience is kept completely out of the loop as to what Ben is doing, comparing the film to Jean-Pierre Melville's Le Samouraï, pointing out how he "finds this more interesting than a movie about a man whose nature and objectives are made clear in the first five minutes, in a plot that simply points him straight ahead."