Newtown St Boswells




109,270 (2004)




Borders College




1,831.15 sq mi




Melrose Abbey, Dawyck Botanic Garden, Traquair House, Mellerstain House, Dryburgh Abbey




Galashiels, Kelso, Hawick, Peebles, Melrose



The Scottish Borders (Scots: ) is one of 32 council areas of Scotland. It shares borders with council areas, the City of Edinburgh, Dumfries and Galloway, East Lothian, Midlothian, South Lanarkshire and West Lothian. It is bordered to the south and east by the non-metropolitan counties of Cumbria and Northumberland in England. The administrative centre of the area is Newtown St. Boswells.
Historically, the name Scottish Borders designated the entire border region of southern Scotland and, together with neighbouring areas of England, was part of the historical Borders region.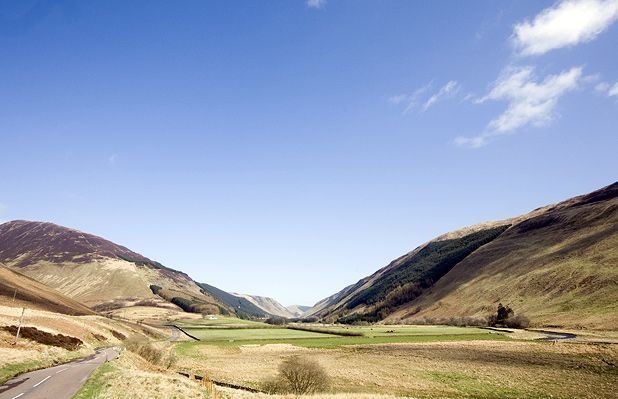 The Scottish Borders are located in the eastern part of the Southern Uplands.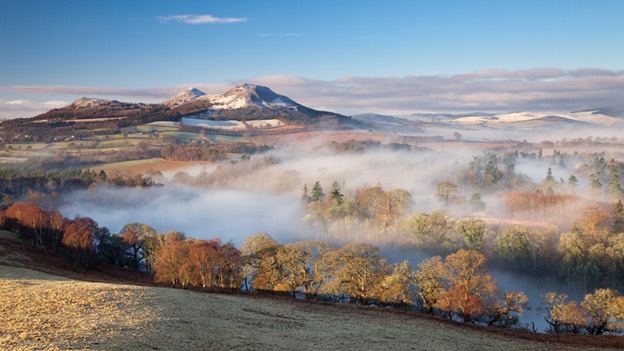 The region is hilly and largely rural, with the River Tweed flowing west to east through the region. In the east of the region the area that borders the River Tweed is flat and is known as The Merse. The Tweed and its tributaries drain the entire region with the river flowing into the North Sea at Berwick-upon-Tweed, and forming the border with England for the last twenty miles or so of its length.
The term Central Borders refers to the area in which the majority of the main towns of Galashiels, Selkirk, Hawick, Jedburgh, Earlston, Kelso, Newtown St. Boswells, St Boswells, Peebles, Melrose and Tweedbank are located.
Historically, the term Borders has a wider meaning, referring to all of the burghs adjoining the English border, also including Dumfriesshire and Kirkcudbrightshire — as well as Northumberland, Cumberland and Westmorland in England.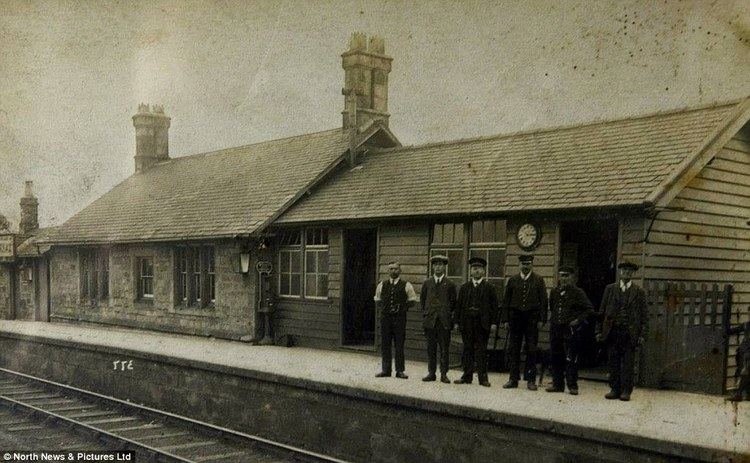 Roxburghshire and Berwickshire historically bore the brunt of the conflicts with England, both during declared wars such as the Wars of Scottish Independence, and armed raids which took place in the times of the Border Reivers. Thus, across the region are to be seen the ruins of many castles, abbeys and even towns.
The council area was created in 1975, by merging the former counties of Berwickshire, Peeblesshire, Roxburghshire, and Selkirkshire and part of Midlothian, as a two-tier region with the districts of Berwickshire, Ettrick and Lauderdale, Roxburgh, and Tweeddale within it. In 1996 the region became a unitary authority area and the districts were wound up. The region was created with the name Borders. Following the election of a shadow area council in 1995 the name was changed to Scottish Borders with effect from 1996.
Although there is evidence of some Scottish Gaelic in the origins of place names such as Innerleithen ("confluence of the Leithen"), Kilbucho and Longformacus, which contain identifiably Goidelic rather than Brythonic Celtic elements, the language has tended to be weak to non-existent in most parts of the region. Since the 5th century, there has been evidence of two main languages in the area: Brythonic (in the west) and Old English (in the east), the latter of which developed into its modern forms of English and Scots.
Scottish Borders Wikipedia
(,)http://melrosetitleco.com/wp-content/uploads/1-birds-eye-view-Knoxville-1886-tn11.jpg(,)http://i.dailymail.co.uk/i/pix/2013/10/31/article-0-1919750D00000578-313_964x595.jpg(,)http://upload.wikimedia.org/wikipedia/commons/9/90/Anglo-Scottish.border.history.jpg(,)http://upload.wikimedia.org/wikipedia/commons/7/78/Scottish_clan_map.png(,)http://upload.wikimedia.org/wikipedia/commons/1/18/Scottish_soldiers_in_service_of_Gustavus_Adolphus,_1631-cropped-.jpg(,)http://onerhodeislandfamily.files.wordpress.com/2015/02/carlisle-in-1745.jpg(,)http://bloodandporridge.co.uk/wp/wp-content/uploads/2013/01/Hermitage-8.jpg(,)http://www.visitscotland.com/cms-images/2x1/regions/scottish-borders/hawick-river-teviot(,)http://www.kelso.bordernet.co.uk/history/images/large/old-bridge.jpg(,)http://www.privatehousestays.com/assets/gallery/2401/1251.jpg
(,)https://files.list.co.uk/images/2011/11/21/img-8195-LST086371.jpg(,)http://www.bbc.co.uk/staticarchive/6be3a011110b8616f40408414e021d65f3911601.jpg(,)http://www.simonbutterworthphotography.com/wp-content/uploads/2013/08/Q8G8998-Edit-1-.jpg(,)http://www.countrysportscotland.com/wp-content/uploads/2013/05/The-Scottish-Borders.jpg(,)http://www.whitehousecountryhouse.com/content/images/locale-004.jpg(,)http://www.scotland.org/assets/1072/scottishborders1__gallery.jpg(,)http://www.scotland-pictures.com/images/borders-carters-bar.jpg(,)http://www.coldinghamloch.co.uk/wp-content/gallery/scottish-borders/1066168.jpg(,)http://i.telegraph.co.uk/multimedia/archive/01775/curtis-welsh-viadu_1775500i.jpg(,)http://www.northerngolfer.co.uk/wp-content/uploads/2013/05/borders_sml.jpg(,)http://paularthur.net/wp-content/uploads/Scotts-View-Scottish-Borders.jpg(,)http://cdn.countryfile.com/sites/default/files/imagecache/480px_wide/main/Borders%2520MAIN.jpg(,)http://farm7.static.flickr.com/6005/5904938420_e5b2a2d3a9.jpg(,)http://www.bbc.co.uk/staticarchive/8481a759ba36996cc3840074b552328fdd4442d6.jpg
(,)http://www.visitscotland.com/cms-images/2x1/regions/scottish-borders/scottish-borders-lamb-cobbles-inn(,)http://www.visitscotland.com/cms-images/2x1/regions/scottish-borders/sticky-ginger-and-date-pudding(,)https://files.list.co.uk/images/2011/11/21/beef-on-the-bone-LST085593.jpg(,)http://www.cringletie.com/sites/default/files/images/header/food3.jpg(,)http://img.sndimg.com/food/image/upload/w_555,h_416,c_fit,fl_progressive,q_95/v1/img/recipes/29/45/41/pic3S1Do5.jpg(,)http://www.bordersfoodnetwork.co.uk/s/img/emotionheader5419696.jpg(,)http://www.tfcfoodservices.com/images/buyersguide.jpg(,)http://www.carfraemill.co.uk/images/Food/_shortMediumBlock/tigerchick_dsc1607.jpg(,)http://kingsarms-melrose.co.uk/uploads/images/large/restaurant2.jpg(,)http://resource.co/sites/default/files/foodwaste_8.jpg(,)http://www.cringletie.com/sites/default/files/images/header/food2.jpg(,)http://www.visitscotland.com/cms-images/2x1/regions/scottish-borders/handful-of-hops(,)http://img.sndimg.com/food/image/upload/w_555,h_416,c_fit,fl_progressive,q_95/v1/img/recipes/29/45/41/picvAFLKu.jpg(,)https://londoneats.files.wordpress.com/2011/02/ecclefechantart1.jpg