Lieutenant

Edward Clark


Succeeded by

John Hemphill




Vice President

Edward Burleson



Succeeded by

Edward Clark


Name

Sam Houston




Preceded by

None




Role

Former Governor of Texas







Died

July 26, 1863, Huntsville, Texas, United States


Battles and wars

War of 1812, Battle of Horseshoe Bend, Texas Revolution, Battle of San Jacinto


Children

Andrew Jackson Houston, Temple Lea Houston




Spouse

Margaret Lea Houston (m. 1840–1863), Eliza Allen (m. 1829–1837), Tiana Rogers Gentry


Parents

Major Samuel Houston, Elizabeth Paxton




Similar People

Antonio Lopez de Santa An, Stephen F Austin, Davy Crockett, Mirabeau B Lamar, William B Travis




Preceded by

Hardin Richard Runnels

Biography hs sam houston part 1 of 2 texas hero governor of tennessee president of texas
Sam Houston (March 2, 1793 – July 26, 1863) was an American soldier and politician. His victory at the Battle of San Jacinto secured the independence of Texas from Mexico in one of the shortest decisive battles in modern history. He was also the only governor within a future Confederate state to oppose secession (which led to the outbreak of the American Civil War) and to refuse an oath of allegiance to the Confederacy, a decision that led to his removal from office by the Texas secession convention.
Contents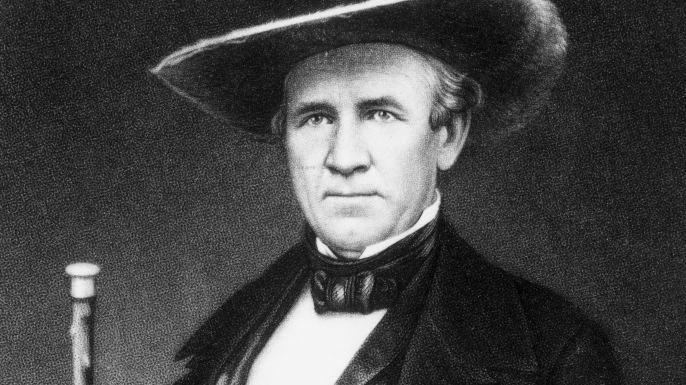 Houston was born at Timber Ridge Plantation in Rockbridge County, Virginia. He was of Scots-Irish descent. After moving to Tennessee, he spent time with the Cherokee Nation, into which he later was adopted as a citizen and into which he married. He performed military service during the War of 1812 and successfully participated in Tennessee politics. In 1827, Houston was elected Governor of Tennessee as a Jacksonian. In 1829, he resigned as governor and relocated to the Arkansas Territory.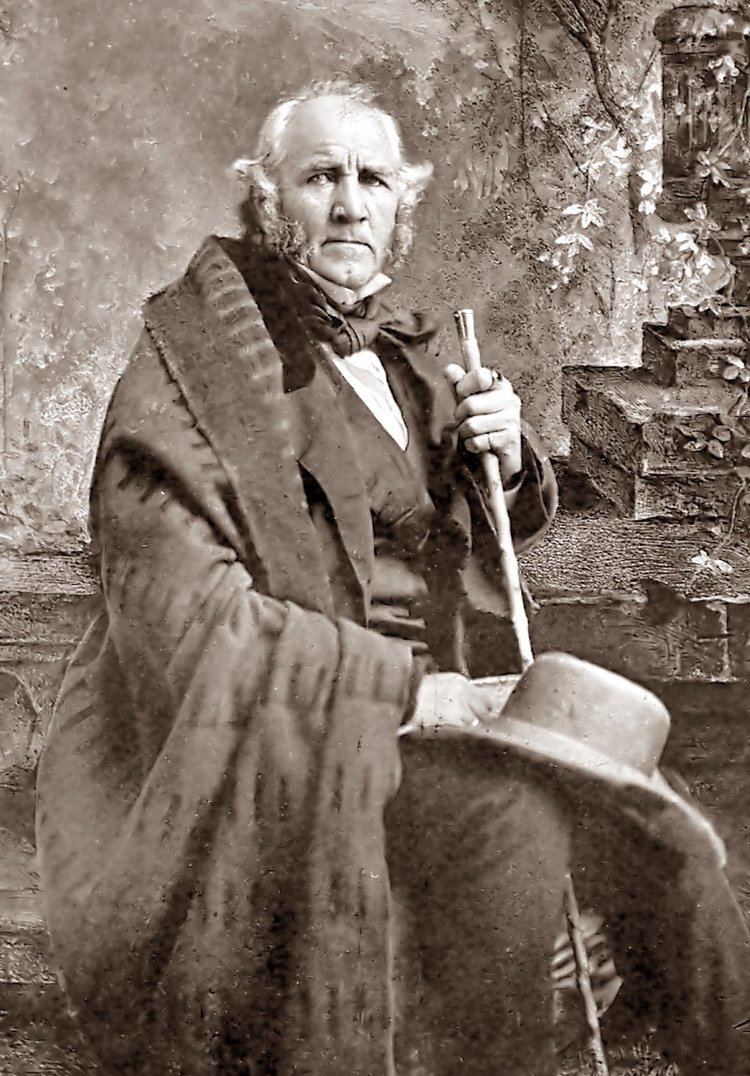 In 1832, Houston was involved in an altercation with a U.S. Congressman, followed by a high-profile trial. Shortly afterwards, he moved west to Coahuila y Tejas, then a Mexican state, and became a leader of the Texas Revolution.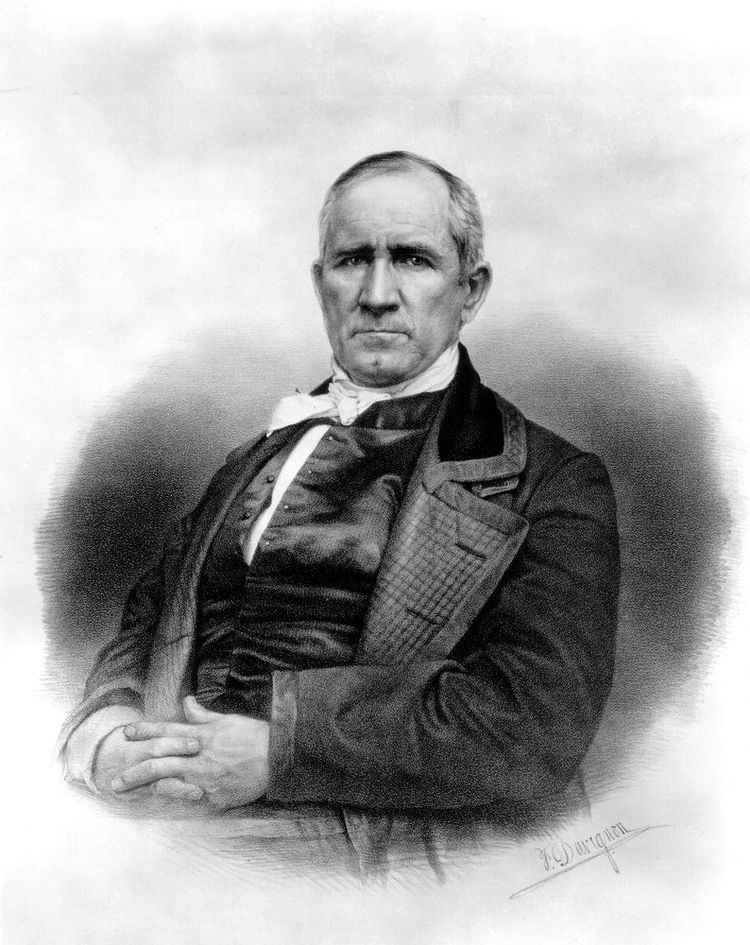 After the war, Houston became a key figure in Texas and was elected as the first and third President of the Republic of Texas. He supported annexation by the United States and he became a U.S. Senator upon achieving it in 1845, and finally a governor of the State of Texas in 1859, whereby Houston became the only person to have become the governor of two different U.S. states through popular election, as well as the only state governor to have been a foreign head of state.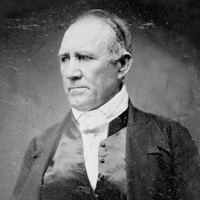 As governor, he refused to swear loyalty to the Confederacy when Texas seceded from the Union in 1861 with the outbreak of the American Civil War, and he was removed from office. To avoid bloodshed, he refused an offer of a Union army to put down the Confederate rebellion. Instead, he retired to Huntsville, Texas, where he died before the end of the war.
Houston's name has been honored in numerous ways. He is the namesake of the city of Houston, Texas's most populous city and the fourth most populous city in the U.S.. Other things named for Sam Houston include a memorial museum, the USS Sam Houston (SSBN-609) naval vessel, Fort Sam Houston, a national forest, a historical park, a university, an elementary school in Lebanon, TN (Sam Houston Elementary), a prominent roadside statue outside of Huntsville, and major streets in many Texas cities.
The lion of texas a conversation with sam houston
Early life
Sam Houston was the fifth son of Major Samuel Houston and Elizabeth Paxton. Houston's paternal ancestry is often traced to his great-great grandfather Sir John Houston, who built a family estate in Scotland in the late seventeenth century. His second son John Houston emigrated to Ulster, Ireland during the Ulster plantation period. Under the system of primogeniture, he did not inherit the estate. A historic plaque near Larne in County Antrim, Northern Ireland tells the story of the Houston family. It is located in Ballyboley Forest Park near the site of the original John Houston estate.
After several years in Ireland, John Houston immigrated in 1735 with his family to the North American colonies, where they first settled in Pennsylvania. Houston decided to migrate south with other Scots-Irish, who settled in the back country of lands in the Shenandoah Valley of Virginia. Scots-Irish newcomers included the Lyle family of the Raloo area who helped found Timber Ridge Presbyterian Church, and the Houston family settled nearby. Gradually, John Houston developed his land and purchased slaves. His son Robert inherited his land, and the youngest of Robert's five sons was Samuel Houston.
Samuel Houston became a member of Morgan's Rifle Brigade and was commissioned a major during the American Revolutionary War. At the time, militia officers were expected to pay their own expenses. He had married Elizabeth Paxton and inherited his father's land, but he was not a good manager and got into debt, in part because of his militia service. Their children were born on his family's plantation near Timber Ridge Church, including Sam Houston on March 2, 1793, the fifth of nine children and the fifth son. The senior Samuel and Elizabeth's children were Paxton (b. 1783), Robert (b. 1787), James (b. 1788), John Paxton (b. 1790; first clerk of Izard County, Arkansas, 1819–1838), Samuel (b. 1793), William (b. 1794), Isabella (b. 1796), Mary Blair (b. 1797), and Elizabeth Ann (b. 1800). Today, Timber Ridge Plantation maintains a log building which tradition claims was constructed from logs salvaged from the Sam Houston birthplace cabin.
Planning to move on and leave debts behind, the elder Samuel Houston patented land near relatives in Maryville, the county seat of Blount County, Tennessee. He died in 1807 before he could complete the move, which Elizabeth subsequently undertook, along with their five sons and three daughters. She took them to the eastern part of the new state, which had been admitted to the Union in 1796.
Young Sam was 14 when his family moved to Maryville, and he had received only a basic education on the Virginia frontier. He ran away from home in 1809 at age 16 because he was dissatisfied working as a shop clerk in his older brothers' store. He went southwest and lived for a few years with the Cherokee tribe led by Ahuludegi (also spelled Oolooteka) on Hiwassee Island in the Hiwassee River, above its confluence with the Tennessee River. Ahuludegi had become hereditary chief after his brother moved west; American settlers in the area called him John Jolly. He became an adoptive father to Houston, giving him the Cherokee name of Colonneh, meaning "the Raven". Houston became fluent in the Cherokee language while living with the tribe.
He visited his family in Maryville every few months. He returned to Maryville in 1812, and he was hired at age 19 for a term as schoolmaster of a one-room schoolhouse in Blount County between his town and Knoxville. The school was preceded by others in the region, but it was the first built in Tennessee since entering the Union.
War of 1812
In 1813, Houston reported for training at Camp Blount near present-day Fayetteville, Tennessee and enlisted to fight the British in the War of 1812. By December of that year, he had been transferred to the 39th Infantry Regiment and had risen from private to third lieutenant. He was wounded in the groin at the Battle of Horseshoe Bend in March 1814 by a Creek arrow, but his wound was bandaged and he rejoined the fight. Andrew Jackson called for volunteers to dislodge a group of Red Sticks from their breastwork; Houston volunteered and was struck by bullets in the shoulder and arm during the assault. He returned to Maryville as a disabled veteran, but later took the army's offer of free surgery and convalesced in a New Orleans hospital.
Houston became close to Jackson, who was impressed with him and acted as a mentor. In 1817, Jackson appointed him sub-agent in managing the removal of the Cherokees from East Tennessee to a reservation in what is now Arkansas. Houston had differences with Secretary of War John C. Calhoun, who chided him for appearing at a meeting dressed as a Cherokee. More significantly, an inquiry was begun into charges related to Houston's administration of supplies for the Indians; he was offended and resigned in 1818.
Tennessee politics
Houston passed the bar examination in Nashville following six months of apprenticeship with Judge James Trimble, and he then opened a legal practice in Lebanon, Tennessee. In 1818, he was appointed as the local prosecutor in Nashville and was also given a command in the state militia.
In 1822, Houston was elected to the U.S. House of Representatives for Tennessee where he was a staunch supporter of fellow Tennessean and Democrat Andrew Jackson. He was widely considered Jackson's political protégé, although their ideas differed greatly about appropriate treatment of American Indians. Houston was a Congressman from 1823 to 1827, re-elected in 1824. In 1827, he declined to run for re-election to Congress.
He won the race for Governor of Tennessee in 1827, defeating Congressman Newton Cannon and former governor Willie Blount. He planned to run for re-election in 1829, but was suddenly beset by rumors of alcoholism and infidelity. He resigned from office when his wife Eliza Allen left him shortly after their wedding and made public statements embarrassing to him.
Controversy and trial
In 1830 and 1833, Houston visited Washington, D.C. to expose the frauds which government agents committed against the Cherokee. While he was in Washington in April 1832, anti-Jacksonian Congressman William Stanbery of Ohio made accusations about Houston in a speech on the floor of Congress, thus attacking Andrew Jackson through his protégé. He accused Houston of being in league with John Van Fossen and Congressman Robert S. Rose. The three men had bid on supplying rations to the various tribes of Indians who were being forcibly relocated west of the Mississippi as a result of Jackson's Indian Removal Act of 1830. Stanbery refused to answer Houston's letters about the accusation, so Houston confronted him on Pennsylvania Avenue and beat him with a hickory cane, causing serious bodily injury. Stanbery drew one of his pistols in self-defense and squeezed the trigger, but the gun misfired.
Congress ordered Houston's arrest on April 17 and brought him to trial at the District of Columbia City Hall. He pleaded self-defense and hired Francis Scott Key as his lawyer. Congressman Philip Doddridge provided an eloquent argument that intimidating members of Congress with physical force amounted to anarchy in refutation of federalism. Houston was found guilty, but he was only lightly reprimanded thanks to highly placed friends such as James K. Polk. Stanbery filed charges against Houston in civil court, and Judge William Cranch found him liable and assessed him $500 in damages. Houston left the United States for Mexico without paying the judgement.
The Texas Revolution
Houston's political reputation suffered further due to the publicity related to the trial for his assault of Stanbery. He left for Texas in December 1832 and was immediately swept up in the politics of what was still a part of the Mexican state of Coahuila, attending the Convention of 1833 as representative for Nacogdoches. Houston emerged as a supporter of William Harris Wharton and his brother, who promoted independence from Mexico. This was the more radical position of the American settlers and Tejanos in Texas. He also attended the Consultation of 1835, and the Texas Army commissioned him as Major General in November 1835. He negotiated a peace settlement with the Cherokee of East Texas in February 1836 to allay their fears about independence.
Houston was selected as Commander-in-Chief at the convention to declare Texan independence in March 1836, and he signed the Texas Declaration of Independence on March 2, 1836, his 43rd birthday. Mexican soldiers killed all those at the Alamo Mission at the end of a 13-day siege on March 6. On March 11, Houston joined what constituted his army at Gonzales: 374 poorly equipped, poorly trained, and poorly supplied recruits. Word of the defeat at the Alamo reached him and, while he waited for confirmation, he organized the recruits as the 1st Regiment Volunteer Army of Texas.
On March 13, Houston retreated before the superior forces of Mexican General Antonio López de Santa Anna, as he was short on rations. Heavy rain fell nearly every day, causing severe morale problems among the exposed troops struggling through the mud. He received additional troops near present-day La Grange, after four days' march, and continued east two days later with 600 men. At Goliad, Santa Anna ordered the execution of more than 400 volunteer Texas militia led by James Fannin, who had surrendered his forces on March 20. Houston's forces were joined by 130 more men on March 26 near present-day Columbus, and the next day he learned of the Fannin disaster.
Houston continued his retreat eastward toward the Gulf coast, drawing criticism for his perceived lack of willingness to fight, and two companies refused to retreat further on March 29 while they were camped along the Brazos River. Houston decided to use the opportunity for rudimentary training and discipline of his force. On April 2, he organized the 2nd Regiment and received a battalion of regulars, and he ordered all troops along the Brazos to join the main army on April 11, approximately 1,500 men in all. He began crossing the Brazos on April 12.
Santa Anna finally caught up with Houston's army, but he had split his own army into three separate forces in an attempt to encircle the Texans. Houston surprised him and his Mexican forces during their afternoon siesta at the Battle of San Jacinto on April 21, 1836. The Texans won a decisive victory in less than 18 minutes, suffering few casualties, although Houston's ankle was shattered by a stray bullet. Santa Anna was badly beaten and forced to sign the Treaty of Velasco, granting Texas its independence. Houston stayed on briefly for negotiations, then returned to the United States for treatment of his ankle wound.
Elected offices of the Republic of Texas
Houston was twice elected President of the Republic of Texas. In the 1836 election, he defeated Stephen F. Austin and Henry Smith with a landslide of over 79% of the vote. Houston served from October 22, 1836, to December 10, 1838. The Constitution of the Republic of Texas stated that no president could succeed himself, but did not prohibit any non-consecutive multiple terms.
When his first term ended, he was elected to serve as a representative from San Augustine County in the Republic of Texas House of Representatives. After his term as representative ended, Houston again served as President of the Republic of Texas from December 12, 1841, to December 9, 1844.
While he initially sought annexation by the U.S., Houston dropped that goal during his first term. In his second term, he strove for fiscal prudence and worked to make peace with the various tribes of Native Americans in the Republic. He also struggled to avoid war with Mexico, whose forces invaded twice during 1842. In response to the Regulator–Moderator War of 1844, he sent in Republic militia to put down the feud.
Houston still believed that the U.S annexation of Texas was not a realistic goal and the U.S. Senate would never pass it because of the delicate situation between the recently independent Texas and Mexico. However, Houston was a politician and as such he sought to preserve his career by endorsing the support of annexation into the U.S. Without his endorsement, the Texas congress would have put the question to public election and upon its likely passing would have effectively destroyed Houston's career as a Texas politician. To help save his political reputation, Houston sent James Pinckney Henderson to Washington to help Isaac Van Zandt advocate the annexation of Texas.
Settlement of Houston
The European-American settlement of Houston was founded in August 1836 by brothers J.K. Allen and A.C. Allen. It was named in Houston's honor and served as capital. Gail Borden helped lay out Houston's streets.
In 1837, during Houston's first term as President of the Republic of Texas, he joined the masonic Holland Lodge No. 36. It was founded in Brazoria and was relocated in 1837 to what is now Houston. On December 20, 1837, Houston presided over the convention of Freemasons that formed the Grand Lodge of the Republic of Texas, now the Grand Lodge of Texas.
The city of Houston served as the capital of the republic until President Mirabeau Lamar signed a measure that moved the capital to Austin on January 14, 1839. Between his presidential terms (the constitution did not allow a president to serve consecutive terms), Houston was elected as a representative from San Augustine in the Texas House of Representatives. He was a major critic of President Mirabeau Lamar, who advocated continuing independence of Texas, annihilation of American Indians, and the extension of Texas's boundaries to the Pacific Ocean.
U.S. Senator from Texas
After the annexation of Texas by the United States in 1845, Houston was elected to the U.S. Senate by the Texas state legislature, along with Thomas Jefferson Rusk. Houston served from February 21, 1846, until March 4, 1859, with a nine-month gap in 1847 when the state legislature failed to reelect him. He was a Senator during the Mexican–American War, when the U.S. defeated Mexico and acquired vast expanses of new territory in the Southwest as part of the concluding treaty.
Throughout his term in the Senate, Houston spoke out against the growing sectionalism of the country. He blamed the extremists of both the North and South, saying:
"Whatever is calculated to weaken or impair the strength of [the] Union,—whether originating at the North or the South,—whether arising from the incendiary violence of abolitionists, or from the coalition of nullifiers, will never meet with my unqualified approval."
Houston supported the Oregon Bill of 1848, which was opposed by many Southerners. In his passionate speech in support of the Compromise of 1850, echoing Matthew 12:25, Houston said "A nation divided against itself cannot stand." Eight years later, Abraham Lincoln would express the same sentiment.
Houston opposed the Kansas–Nebraska Act in 1854, and correctly predicted that it would cause a sectional rift in the country that would eventually lead to war, saying: " ... what fields of blood, what scenes of horror, what mighty cities in smoke and ruins—it is brother murdering brother ... I see my beloved South go down in the unequal contest, in a sea of blood and smoking ruin." He was one of only two Southern senators (the other was John Bell of Tennessee) to vote against the act. At the time, he was considered a potential candidate for President of the United States. But, his strong Unionism and opposition to the extension of slavery alienated the Texas legislature and other southern states.
As a former President of Texas, he was the last foreign head of state to serve in the U.S. Congress.
Governor of Texas
Houston ran twice for governor of Texas as a Unionist, unsuccessfully in 1857, and successfully against Hardin R. Runnels in 1859. He was sworn in as Governor on December 21, 1859. Upon election, he became the only person elected to serve as governor of two U.S. states, Texas and Tennessee, by popular vote. (Whereas Thomas McKean and John Dickinson had each served as chief executives of Delaware and then of Pennsylvania in the late 18th century, and other state governors had also served as governors of American territories, each of them achieved at least one of his positions by indirect election or appointment.)
While Governor, Houston made a run for the presidency in 1860. He was a presidential candidate at the 1860 Constitutional Union Convention, but Houston finished second on the convention ballot to John Bell. Later that year he was nominated for President by the People's Party. The People's Party was a loose association of the supporters of Houston. On April 20, 1860, the party held, on the San Jacinto Battlefield, what it termed a national convention to nominate Houston for President. The party did not nominate a Vice Presidential candidate at that time since they expected later gatherings to carry out that function. Later mass meetings were held in northern cities, such as New York City on May 30, 1860, but they too failed to nominate a Vice Presidential candidate. Houston withdrew from the race on August 16, convinced that his candidacy would only make it easier for Abraham Lincoln to win. He instead urged the formation of a Unified "Union" ticket in opposition to it.
Although Houston was a slave owner and opposed abolition, he opposed the secession of Texas from the Union. An elected convention voted to secede from the United States on February 1, 1861, and Texas joined the Confederate States of America on March 2, 1861. Houston refused to recognize its legality, but the Texas legislature upheld the legitimacy of secession. The political forces that brought about Texas's secession were powerful enough to replace the state's Unionist governor. Houston chose not to resist, stating, "I love Texas too well to bring civil strife and bloodshed upon her. To avert this calamity, I shall make no endeavor to maintain my authority as Chief Executive of this State, except by the peaceful exercise of my functions ... " He was evicted from his office on March 16, 1861, for refusing to take an oath of loyalty to the Confederacy, writing in an undelivered speech,
Fellow-Citizens, in the name of your rights and liberties, which I believe have been trampled upon, I refuse to take this oath. In the name of the nationality of Texas, which has been betrayed by the Convention, I refuse to take this oath. In the name of the Constitution of Texas, I refuse to take this oath. In the name of my own conscience and manhood, which this Convention would degrade by dragging me before it, to pander to the malice of my enemies, I refuse to take this oath. I deny the power of this Convention to speak for Texas....I protest....against all the acts and doings of this convention and I declare them null and void.
The Texas secession convention replaced Houston with Lieutenant Governor Edward Clark. To avoid more bloodshed in Texas, Houston turned down U.S. Col. Frederick W. Lander's offer from President Lincoln of 50,000 troops to prevent Texas's secession. He said, "Allow me to most respectfully decline any such assistance of the United States Government."
After leaving the Governor's mansion, Houston traveled to Galveston. Along the way, many people demanded an explanation for his refusal to support the Confederacy. On April 19, 1861 from a hotel window he told a crowd:
Let me tell you what is coming. After the sacrifice of countless millions of treasure and hundreds of thousands of lives, you may win Southern independence if God be not against you, but I doubt it. I tell you that, while I believe with you in the doctrine of states rights, the North is determined to preserve this Union. They are not a fiery, impulsive people as you are, for they live in colder climates. But when they begin to move in a given direction, they move with the steady momentum and perseverance of a mighty avalanche; and what I fear is, they will overwhelm the South.
Personal life and death
On January 22, 1829, at the age of 35, Houston married 19-year-old Eliza Allen, the daughter of the well-connected planter Colonel John Allen (1776–1833) of Gallatin, Tennessee. He was a friend of politician Andrew Jackson, soon to take office as President of the United States. Houston was then governor of Tennessee.
Eliza left Houston shortly after their marriage. Subsequent to their separation and her statement, Houston resigned the governorship.
Neither Houston nor Eliza ever discussed the reasons for their separation; speculation and gossip credited their split to Eliza's being in love with another man. The aforementioned public statement and Houston's resignation suggest other reasons. Houston seems to have cared for his wife's reputation and wrote to her father.
Houston officially divorced Eliza Allen Houston in 1837. (She remarried in 1840 to Dr. Elmore Douglass, becoming a stepmother to his ten children. She had four children with him and died in 1861.)
In April 1829, in part due to the scandal of his well-known separation, Houston resigned as governor of Tennessee. He went west with the Cherokee in Indian removal to exile in Arkansas Territory. That year he was adopted by Chief John Jolly and thus made a member of the Cherokee.
Houston married Tiana Rogers (d. 1838), daughter of Chief John "Hellfire" Rogers (1740–1833), a Scots-Irish trader, and Jennie Due (1764–1806), a sister of Chief John Jolly, in a ceremony according to Cherokee customs. Tiana was in her mid-30s, of mixed-race, and the widow of David Gentry, Jr. She had two children from her previous marriage: Gabriel, born 1819, and Joanna, born 1822. She and Houston lived together for several years. Under civil law, he was still legally married to Eliza Allen Houston.
After declining to accompany Houston to Texas in 1832, Tiana later married John McGrady. In 1838 she died of pneumonia and is buried at Fort Gibson National Cemetery with a grave maker reading "Talahina R. wife of Gen. Sam Houston".
In 1833, Houston was baptized into the Catholic faith in order to qualify under the existing Mexican law for property ownership in Coahuila y Tejas. The sacrament was held in the living room of the Adolphus Sterne House in Nacogdoches.
On May 9, 1840, Houston, aged 47, married for a third time. His bride was 21-year-old Margaret Moffette Lea of Marion, Alabama, the daughter of planters. They had eight children born between Houston's 51st and 68th years. Margaret acted as a tempering influence on her much older husband and convinced him to stop drinking. Although the Houstons had numerous houses, they kept only one continuously: Cedar Point (1840–1863) on Trinity Bay.
By 1854, Margaret had spent 14 years trying to convert Houston to the Baptist church. With the assistance of George Washington Baines, she convinced Houston to convert; he agreed to adult baptism. Spectators from neighboring communities came to Independence, Texas to witness the event. On November 19, 1854, Houston was baptized by Rev. Rufus C. Burleson by immersion in Little Rocky Creek, two miles southeast of Independence. The baptismal site is near a roadside historical marker by the Texas Historical Commission located on Farm to Market Road 50 at Sam Houston Road. Sam Houston Rd. continues to Little Rocky Creek between Independence and the nearby settlement of Sandy Hill.
In 1862, Houston returned to Huntsville, Texas, and rented the Steamboat House; the hills in Huntsville reminded him of his boyhood home in Tennessee. Houston was active in the Masonic Lodge, transferring his membership to Forrest Lodge #19. His health deteriorated in 1863 due to a persistent cough. In mid-July, Houston developed pneumonia. He died on July 26, 1863 at Steamboat House, with his wife Margaret by his side.
The inscription on his tomb reads:
Sam Houston was buried in Huntsville, where he had lived in retirement. After her death, Margaret was buried in Independence at her family's cemetery.
References
Sam Houston Wikipedia
(Text) CC BY-SA