Allegiance

Portugal




Service/branch

Portuguese Army





Name

Salgueiro Maia




Party

Armed Forces Movement







Born

1 July 1944 Castelo de Vide, Portugal (

1944-07

)


Rank

Captain (from 1981 Major)




Battles/wars

Portuguese Colonial War Mozambican War of Independence Carnation Revolution




Awards

Grand Cross of the Order of Liberty Grand Officer of the Military Order of the Tower and of the Sword, of Valour, Loyalty and Merit Gold Medal of the city of Santarem




Died

April 4, 1992, Santarem, Portugal




Children

Filipe Salgueiro Maia, Catarina Salgueiro Maia




Education

Military Academy, Instituto Superior de Ciencias Sociais e Politicas




Similar People

Otelo Saraiva de Carvalho, Antonio de Spinola, Stefano Accorsi, Jonas Savimbi
As ultimas palavras de salgueiro maia 1 parte
Fernando José Salgueiro Maia, (1 July 1944 in Castelo de Vide, Portugal – 4 April 1992 in Santarém), commonly known just by Salgueiro Maia ([saɫˈɡɐjɾu ˈmajɐ]), was a captain of the Portuguese army. He made a significant contribution to the Carnation Revolution, which resulted in the fall of the then-ruling dictatorship.
Contents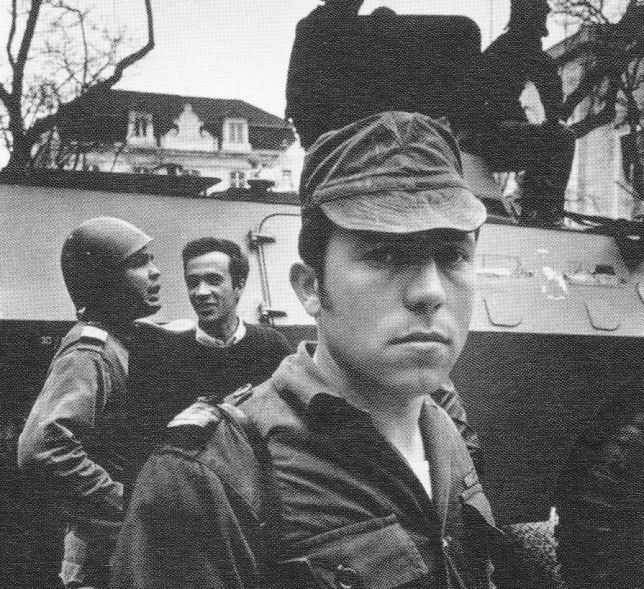 As ultimas palavras de salgueiro maia 2 parte
Biography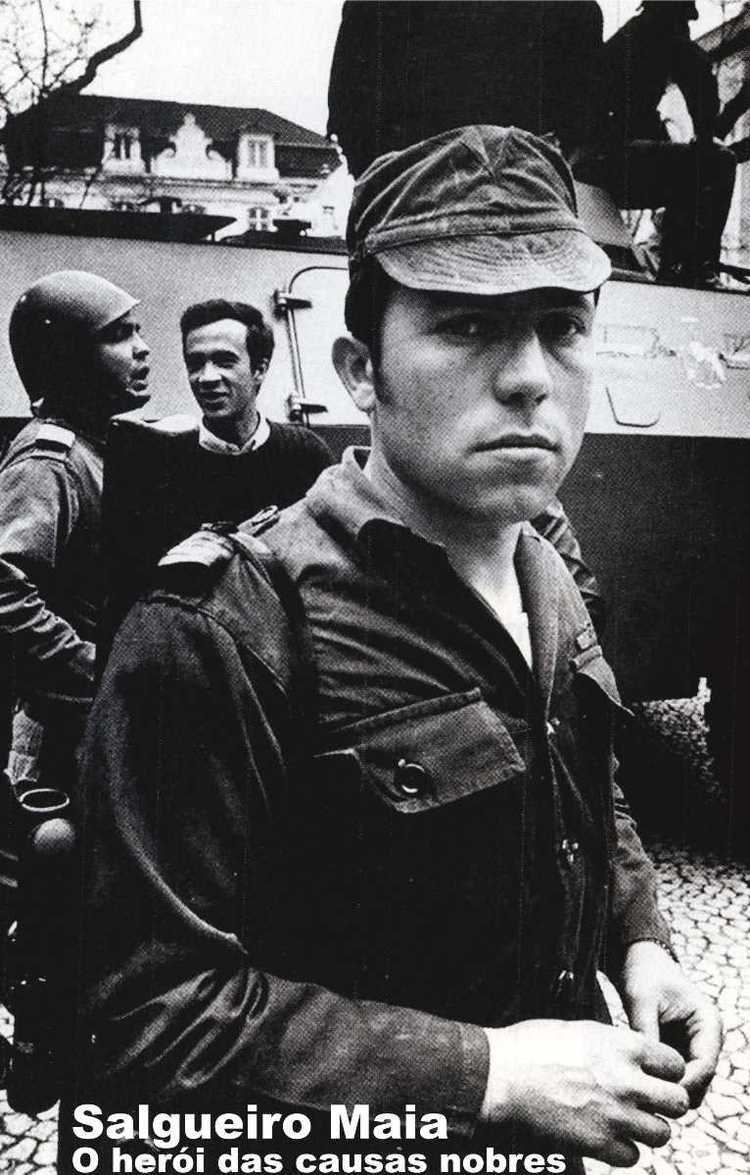 Salgueiro Maia was one of the captains of the Portuguese Army who led the revolutionary forces during the Carnation Revolution. He was a son of Francisco da Luz Maia, a railway worker, and Francisca Silvéria Salgueiro. He attended the Primary School in São Torcato, Coruche, and would later relocate to Tomar where he studied at Colégio Nun'Álvares, but would finish his Secondary School education in the National Liceu of Leiria. Maia later graduated in Social and Political Sciences and Ethnological and Anthropological Sciences.
In 1983 he received the Grand Cross of the Order of Liberty; in 1992, posthumously, the degree of Grand Officer of the Military Order of the Tower and of the Sword, of Valour, Loyalty and Merit; and in 2007, the Gold Medal of the city of Santarém.
Carnation Revolution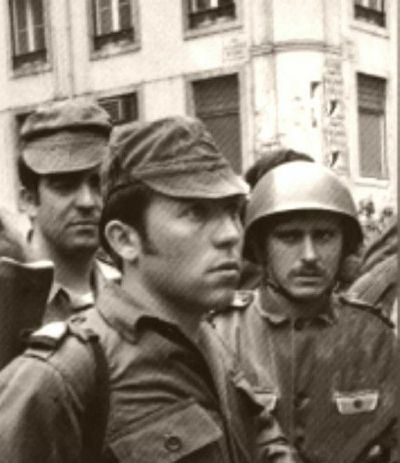 Salgueiro Maia, a young captain (stationed at Santarém) who drilled officers-in-training and sergeants-in-training, was informed about the plans of the Movimento das Forças Armadas (MFA) to bring down the dictatorship.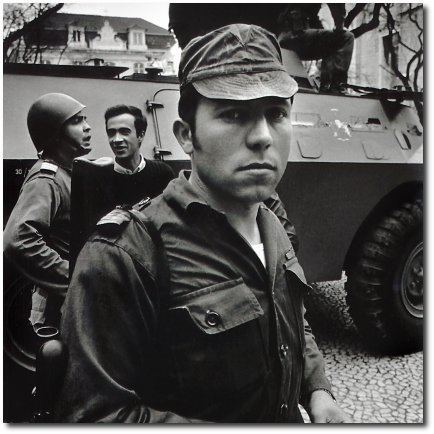 Maia's mission was to take and hold "Vienna" - the government quarter in the very heart of Lisbon. In the early hours of 25 April he assembled his troops - having taken control of the base and holding senior officers who supported the regime at gunpoint - and asked for their support in a short and famous speech: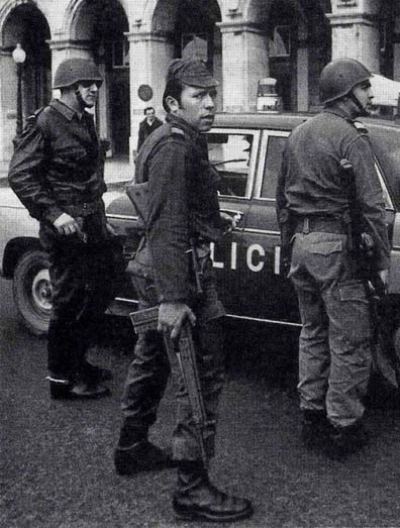 Meus senhores, como todos sabem, há diversas modalidades de Estado. Os estados sociais, os corporativos e o estado a que chegámos. Ora, nesta noite solene, vamos acabar com o estado a que chegámos! De maneira que, quem quiser vir comigo, vamos para Lisboa e acabamos com isto. Quem for voluntário, sai e forma. Quem não quiser sair, fica aqui!" ("Gentlemen, as you all know, there are various forms of state. The welfare states, the capitalist states and the state we are in. Now, in this solemn night, we are going to end this state! So that anyone who wants to come with me, we go to Lisbon and finish it. This is voluntary. Who does not want to leave, stay here!")
All his troops volunteered and they left in military convoy for Lisbon about 60 km away, arriving at the government quarter at about 6am. Very quickly the regime tried to mobilise pro-government forces to oppose them but Maia persuaded them to join the revolution. Similarly an attempt to place the revolutionary forces until naval bombardment was defeated after an on-board mutiny (and the threat to use artillery against the ship). Ministers fled the government quarters and retired to a barracks where Maia's forces surrounded them and opened fire to show they were serious about their mission. Maia eventually arranged for the Prime Minister to surrender to General Spinola and led the imprisoned former government away as the crowds chanted "Vitória!"
Salgueiro Maia and his troops peacefully forced the then ruling dictatorship to resign and it is in a large part due to his brave intelligence, humble and sensible character and strategic/social genius that bloodshed was avoided at all cost during the Revolution and there were "only" four dead people during the Carnation Revolution — these were not killed by the revolutionaries nor Maia's troops, but by the political police of the regime (PIDE) itself, when civilians were demonstrating in front of its headquarters in Lisbon.
Red carnations became the symbol of the peaceful revolution because, besides having happened in the beginning of Spring, some of the soldiers and civilians asked a flower seller who was passing by for some flowers to put in the muzzles of their guns and tanks, as a sign that there would be no bloodshed.
After the Revolution
Salgueiro Maia never wanted to assume any political power position after the Portuguese 1974 coup d'état. In 1981 he became a major.
He later adopted 2 children. In 1989 he was diagnosed with a cancer and, after surgeries and a long painful process, Maia would die on 4 April 1992, only 47 years old.
In the 2000 film Capitães de Abril about the Carnation Revolution, the character of Salgueiro Maia was played by the Italian actor Stefano Accorsi (in the starring role).
Quotes of Salgueiro Maia
"I came to see a mass of people, all raising their voices, placing flowers in the muzzles of the rifles. No one needed to kill or to be killed. No one needed to order an assault, or even the arrest of the king and his vassals."
"When I became involved in the planning of this mission, I swore on my honour that I would see it through to its end. For this I would give my soul—my life."
"There are three kinds of states: capitalist states, socialist states, and the state we arrived to." (on the eve of the Carnation Revolution, to the assembled soldiers who would march into Lisbon).
References
Salgueiro Maia Wikipedia
(Text) CC BY-SA