Ruby Rose Langenheim (born 20 March 1986), better known as Ruby Rose, is an Australian model, DJ, recording artist, actress, television presenter, and former MTV VJ. Rose emerged in the media spotlight as a presenter on MTV Australia, followed by several high profile modelling gigs, notably as the face of Maybelline New York in Australia. In addition to her modelling career, she has co-hosted various television shows, namely Australia's Next Top Model and The Project on Network Ten.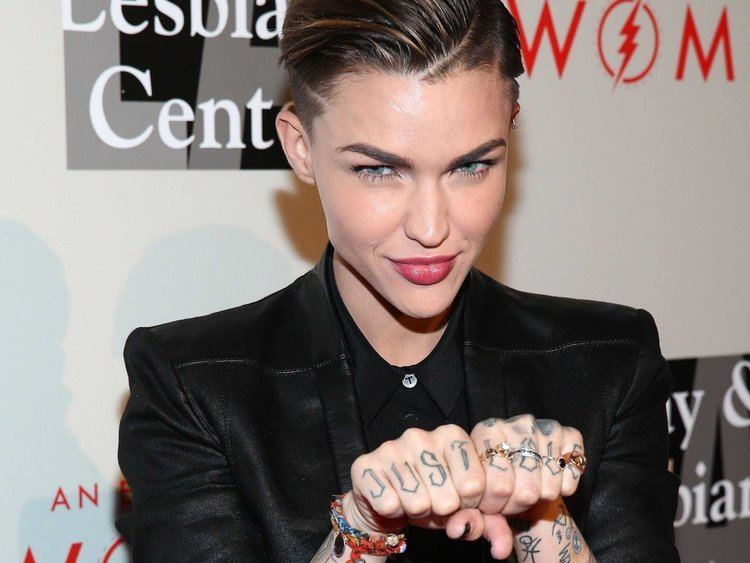 Rose pursued a career in acting from 2008 onwards, with her debut performance in the Australian film Suite for Fleur. In 2012, she had a small role in the drama Around the Block. Perhaps her most internationally recognisable work has been on the television series Orange Is the New Black as Stella Carlin. Although her personal life sometimes overshadows her acting and modelling career, she has achieved praise for her work in the series.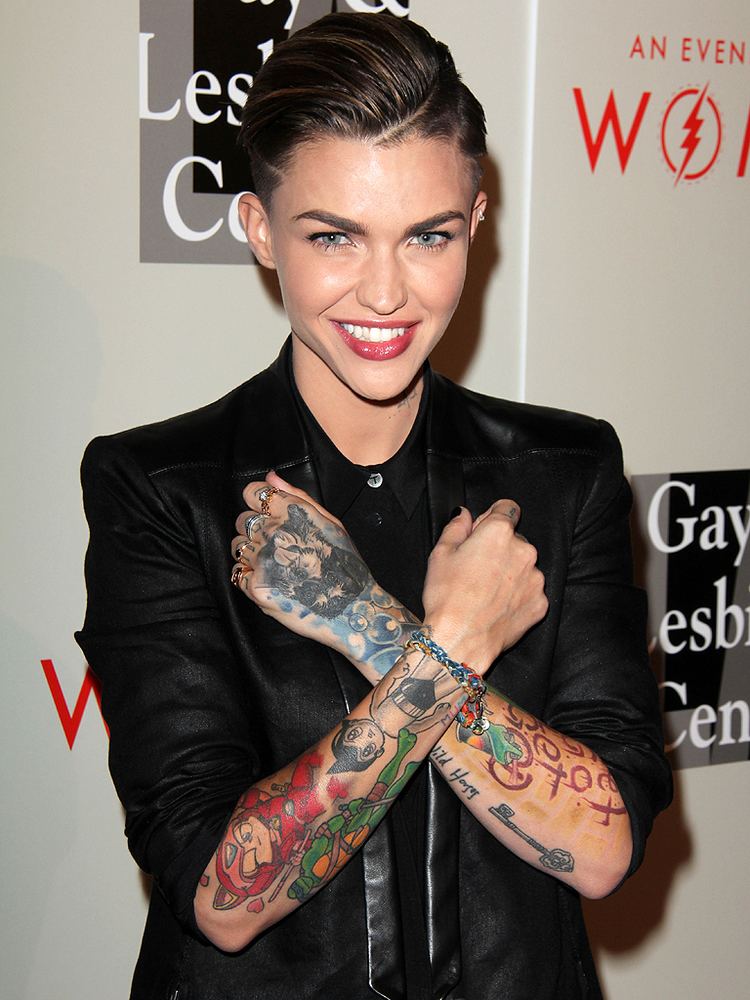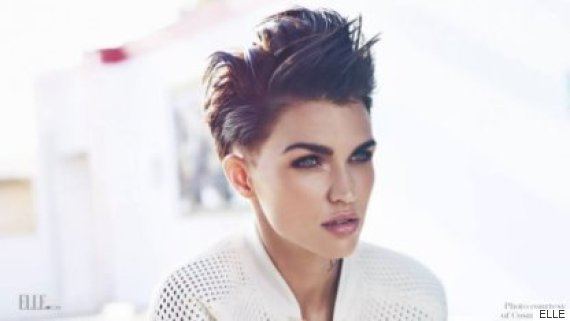 Rose was born in Melbourne to Katia Langenheim, a 20-year-old single mother and artist, whom she now describes as one of her role models. As a young child, she travelled frequently, living in rural Victoria, Tasmania, and Surfers Paradise before finally settling in Melbourne. As a teenager, she attended University High School and Footscray City College. Ruby is the god-daughter of Indigenous Australian boxer Lionel Rose and the great-granddaughter of Alec Campbell, the last surviving Australian Battle of Gallipoli soldier.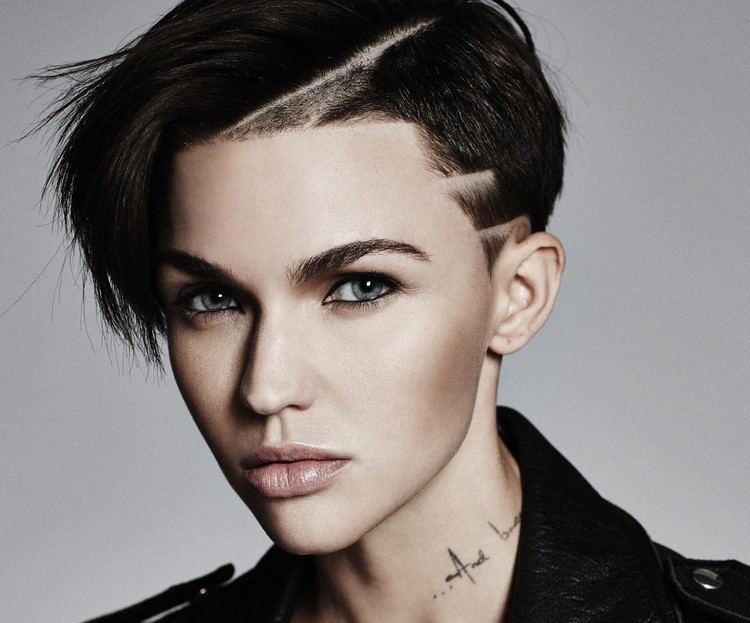 Rose first gained fame by joining the Girlfriend model search in 2002, which she came in second to Catherine McNeil. In 2010, she collaborated with the Australian fashion label Milk and Honey to design a capsule fashion line, which embodies her unique style and personality. The collection named Milk and Honey Designed by Ruby Rose includes washed jeans, leather jackets and T-shirts with unique designs. The newly created clothing line is available in selected retailers in Australia. In addition to designing for Milk & Honey, Rose also released a collaboration collection with street footwear brand Gallaz.
In 2014, Rose began collaborating with Phoebe Dahl, designing ethical street-wear for their clothing range Faircloth Lane. She has featured predominantly within mainstream fashion titles, including Vogue Australia, InStyle Magazine, Marie-Claire Magazine, Cleo, Cosmopolitan, Maxim, Nylon and New York's Inked Magazine. She's been the Australian ambassador for JVC, Australian jeans company JAG and luxury Danish label Georg Jensen. Rose is the face of Maybelline New York in Australia.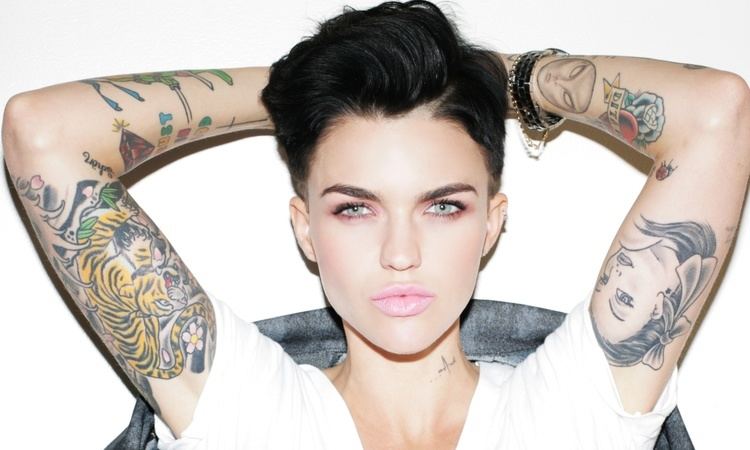 In order to land her gig as an MTV VJ in Australia, Rose competed against 2000 other hopefuls in a three-week national search, as former VJ Lyndsey Rodrigues moved to the United States to co-host TRL. As part of the competition, she downed 100 shots of beer in 100 minutes against Jackass' Bam Margera, and kissed strangers on a busy Sydney street. However, she enjoys her job as VJ compared to her previous job as a model. "Being a model there is always something they want to change. Whether they want someone a little bit skinnier, a little bit taller, a little bit prettier, but MTV want you to be yourself ... not censoring anything and not conforming to anything".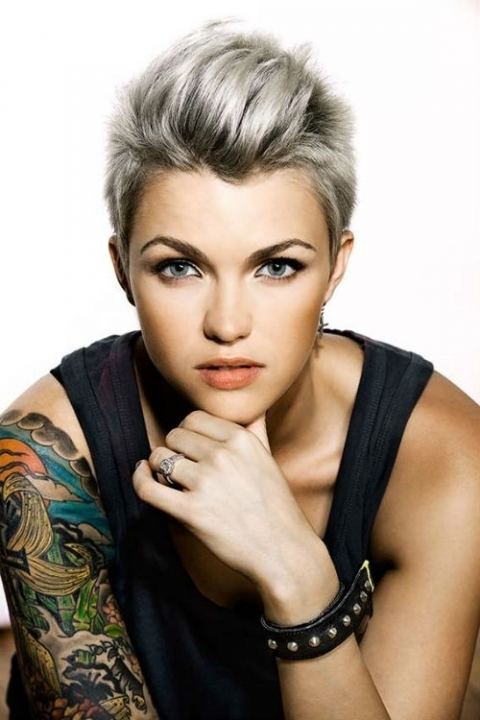 In 2009, Rose won the ASTRA Award for Favourite Female Personality. She also travelled to Kenya to "highlight ... [the] amazing work" done by Global Vision International. She appeared in the episode "Media Virgins", of Australia's Next Top Model, acting as a guest judge, and also worked as a correspondent for the finale of Australia's Next Top Model.
In July 2009, Rose along with Dave Hughes, Charlie Pickering, Carrie Bickmore and James Mathison hosted The 7pm Project, an Australian television news talk show produced by Roving Enterprises which airs weeknights on Network Ten. She left the program to pursue her own hosting projects. In October 2009, it was announced that FOX8 had picked up the rights to UK format Ultimate School Musical, which features ordinary teenagers from a school attempting to put on a music production to a professional standard in just six weeks. The Australian version was produced by FremantleMedia Australia with Rose as host, and aired in 2010. Rose also hosted the Foxtel Mardi Gras for 3 consecutive years before becoming an official correspondent for Foxtel for the Vancouver Winter Olympics in 2010. In October 2015, Rose hosted the 2015 MTV Europe Music Awards alongside Ed Sheeran in Milan.
Rose appeared on the first episode of Talkin' 'Bout Your Generation, representing Generation Y alongside comedian Josh Thomas. She was selected in 2008 to act in the Australian comedy film Suite for Fleur. She also starred alongside Christina Ricci and Jack Thompson in the 2013 film Around the Block.
In 2015, Rose joined the Orange Is the New Black cast in season 3. Rose plays new inmate Stella Carlin, "whose sarcastic sense of humor and captivating looks quickly draw the attention of some of Litchfield's inmates." It premiered in Australia on 9 October 2013, on Showcase. The series has received positive critical attention and has been a hit with audiences. Rose's performance was well-received. She was also cast in a guest role, as the service robot Wendy, in the science fiction series Dark Matter. In September 2015, it was announced that Rose had been cast for Resident Evil: The Final Chapter as Abigail. On 4 November, it was announced that Rose and Tom Felton would lend their voices in the upcoming animated title Sheep'n'Wolves, with Rose as his fiance Bianca. On 9 November, it was announced that Rose has been cast for the action sequel John Wick 2, alongside Keanu Reeves; the film is set for a 2016 release.
In November 2012, Rose released her first single "Guilty Pleasure" with Gary Go. She is a generous supporter of many charities, won a charity boxing match, and has travelled to Laos and Africa to volunteer each year. Issues of concern to her include animal welfare, campaigns for anti-bullying and youth mental health, where she works as an ambassador for Headspace. Known for being extensively tattooed, she showed off her tattoos in a photo spread for Maxim Australia and PETA, as part of the campaign "I'd Rather Go Naked Than Wear Fur".
Rose came out as a lesbian at the age of 12. Because of her sexuality, she suffered verbal taunts and physical abuse from her schoolmates, which led to a suicide attempt. She was also sexually abused as a child by a relative, and has bipolar disorder with a propensity towards clinical depression.
With regard to childhood gender nonconformity, Rose said she wanted to be a boy while growing up and that she was saving up money to physically transition from female to male. She said, "It was in my mind as something I wanted to do and then I just... didn't. I guess I grew out of it. I even used to sleep on my front because I didn't want to get boobs ever, which I think worked actually." She stated that modelling led her to discover androgyny, and allowed her to model with different gender expressions. She recalled, "I remember being at a yum cha restaurant with my dad and the owner coming up and saying, 'Excuse me, we're trying to work out if you're a handsome boy or a beautiful girl.' It was a compliment and I was shocked, and when I thought about it I actually wanted to be a handsome boy".
Rose is genderfluid, saying, "I am very gender fluid and feel more like I wake up every day sort of gender neutral." This announcement came approximately a week after she released a short film called Break Free, in which she visually transforms from a very feminine woman to a heavily tattooed man. Rose stated, however, that she prefers to continue using female pronouns. While if she had to choose a sex, she commented that she would choose to be male, she does not feel like she should have been born with different body parts. Seeing the desire her transgender friends had for transitioning, she asked herself if her need to transition matched theirs, and concluded that she is satisfied being gender neutral. "I think at this stage I will stay a woman but ... who knows. I'm so comfortable right now I feel wonderful about it, but I also fluctuate a lot," she added.
Rose's dating life has also been subject to media attention. In 2008, she was reported to be in a relationship with Jessica Origliasso from The Veronicas, as the two had been seen behaving intimately. She stated in a live blog that they are simply "really good mates". Rose was in a relationship with Australia's Next Top Model contestant Lola Van Vorst and was also briefly engaged to model Lyndsey Anne McMillan. They had planned to marry but ended their relationship in late 2009. Also in late 2009, after breaking up with McMillan, news sites reported on Rose kissing Australian supermodel Catherine McNeil during a pool party in Los Angeles. In 2010, she became engaged to McNeil, but the couple called off the engagement on 2 July 2010. In March 2014, she reported that she was engaged to Phoebe Dahl, granddaughter of author Roald Dahl and cousin of model Sophie Dahl. As of December 2015, Rose and Dahl are no longer in a romantic relationship.
Various media outlets have commented on public fascination with Rose's gender identity, gender expression, and looks, including her tattoos and visual or behavioral similarities to Angelina Jolie, Justin Bieber and a younger Leonardo DiCaprio. In 2008 and 2009, she was chosen as one of the "25 Most Influential Gay and Lesbian Australians" by Same Same, an Australian online gay and lesbian community. The public and media attention increased following Rose's debut on Orange Is the New Black, significantly with regard to heterosexual women commenting on her physical appearance. Emma Teitel of Maclean's stated, "Rose, 29, resembles an androgynous Angelina Jolie; she is a rare combination of angular and soft. She is a badass with a permanently arched brow and a Justin Bieber haircut. In other words, she is the lesbian James Dean. And straight women are falling madly in love with her." Alex Rees of Cosmopolitan commented, "Have you watched Orange Is the New Black's third season yet? If so, you're in love with Ruby Rose, right? [...] Everyone is in love with Ruby Rose now; literally everyone—but it's also OK if you're not quite ready to admit it either. (But this is a safe space, so feel free to open up.)"
The media attention resulted in a new, open discourse about sexual fluidity and whether or not sexual orientation can change, with some of the media expressing disapproval toward heterosexual women stating that they would "go gay for Ruby Rose." Teitel wrote that "social media lit up with tweets" expressing skepticism that all it takes is a pretty face to change sexual orientation, and cited accompanying commentary that saying "you [can] 'go gay' for Ruby Rose reinforces the idea that sexuality is a choice, and is homophobic." She felt that it was predictable and ironic that the people most eager to admonish others for expressing their attraction to Rose were those a part of the LGBT community, and addressed a Jezebel article which commented that homosexuality and bisexuality are not simply identities to show off liberalism, but are rather "built into a person's biology." To Teitel, "this response suggests that our newly progressive world—one of supposedly collapsed sexual boundaries—may not be so progressive after all. One must either reject the norm (heterosexuality) or embrace it full force." She believes this was a wasted opportunity for sexual exploration, which she cites as "a lot less daunting when labels are malleable," and that in contrast to Jezebel writer Madeleine Davies stating that homosexuality and bisexuality are not "identities you get to try on for a day," the world would be a better place if they were. Teitel added, "The key to a tolerant and sexually flexible society is not in jumping down people's throats when they play fast and loose with labels. It's in letting everyone define their sexuality on their own terms."
Rose acknowledged the public discourse concerning her physical appearance and subsequent debate on sexual fluidity, commenting that she thinks it is brilliant and was not expecting it, but that some of her friends have found the public affection toward her inappropriate: "They personally are offended by it, [and are] saying like, 'You can't just choose to be gay. You should say something about all these women that are saying [they're] turning gay.'" Rose stated that she is more neutral on the topic, and believes people are being complimentary when making such comments. "I don't think anyone's doing it to be derogatory or to take away from what it really means to come out and identify as a different sexuality than what people will think you are," she said. She compared today's society to how society was ten years ago, saying that people would probably watch someone onscreen that they were attracted to, but not be able to "make a funny meme and say, 'Oh my god, I'm gay!' because that would be so frowned upon." She said that people should not nitpick who can or cannot identify as genderqueer, gender-neutral, bisexual or trans, or tell them how to live their lives, adding that people should let others say what they want to about their sexuality, and that this is a message the LGBT community should be supporting.
During 2015, Rose was the fifth most searched person on Google.