Years active

1989–present




Children

Taylor Robson Green




Height

1.75 m




Role

Actor · robsongreen.com




Name

Robson Green








Born

18 December 1964 (age 58) (

1964-12-18

) Hexham, Northumberland, England


Occupation

Actor, singer, songwriter, television presenter




Spouse

Vanya Seager (m. 2001–2013), Alison Ogilvie (m. 1991–1999)




Movies

Christmas Lights, Joe Maddison's War




TV shows

Extreme Fishing with Robs, Wire in the Blood, Soldier Soldier, Robson's Extreme Fishing C, Reckless


Similar People

Vanya Seager, James Norton, Jerome Flynn, Val McDermid, Paul Abbott
Robson Green 40 a Birthday Tribute 1.mov
Robson Golightly Green (born 18 December 1964) is an English actor, singer, songwriter, and television presenter.
Contents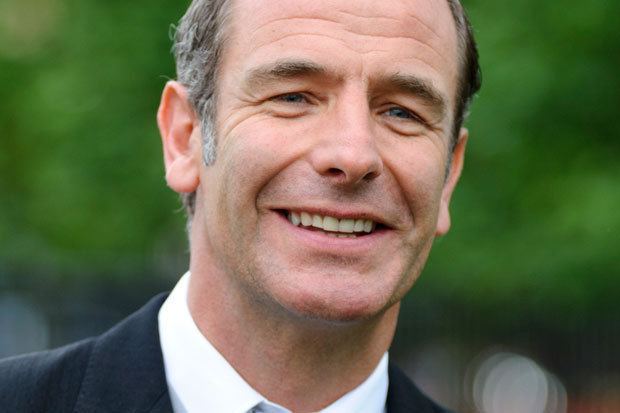 Green portrayed Fusilier Dave Tucker in Soldier Soldier (1991–95) and Dr. Tony Hill in Wire in the Blood (2002–08). He also presented Extreme Fishing, Extreme Fishing Challenge, and Tales from Northumberland, as well as playing hospital porter Jimmy Powell in BBC drama series Casualty. Currently, he plays Detective Inspector Geordie Keating on ITV's Grantchester. He was one half of the singing duo Robson & Jerome, who had several No. 1 singles in the 1990s.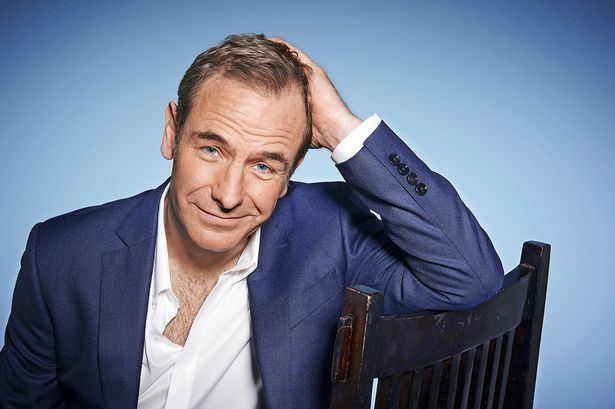 Robson green discusses extreme fishing
Early life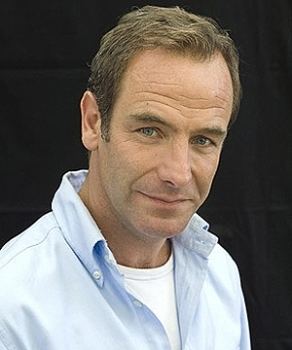 Green was born on 18 December 1964 in Dilston Hospital, Hexham and grew up in Blythe Close, Dudley, a small mining village near Cramlington, in the ancient county of Northumberland. His father, also named Robson Green, was a miner, and his mother Anne a cleaner and a shopkeeper. He was named in the Northeast tradition of naming the first son after family surnames: Robson was his paternal grandmother's maiden name, while his middle name Golightly; is the surname of his maternal grandmother, Cissie Golightly, daughter of William Golightly, a miner and famous trade union leader in the 1920s.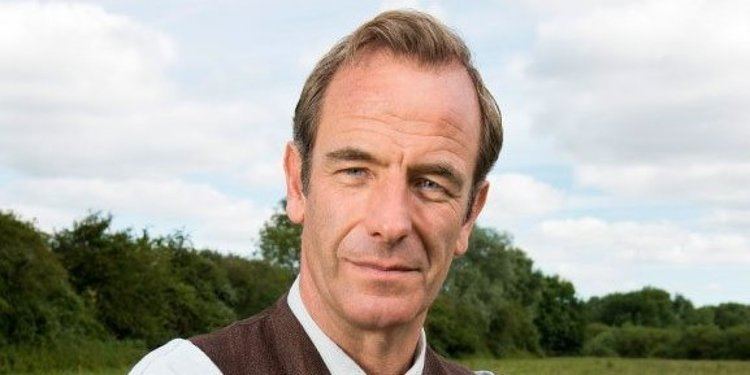 Green grew up in Dudley, a small mining village a few miles north of Newcastle upon Tyne. His father worked down the coal mining pits. He attended Dudley Middle Comprehensive School. After being inspired by jets flying overhead, he decided he wanted to join the Royal Air Force. and at the age of sixteen, he joined the Air Training Corps, Green however decided against a career in the RAF, after two weeks at an officer training camp. He also learned to play a guitar, later forming his first band, Solid State, in 1982. He also spent one night a week at the Backworth Drama Centre, and then appeared in a series of productions at both school and Backworth.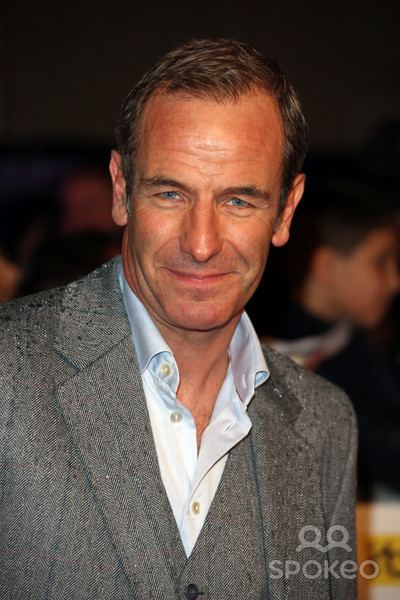 Green left school aged sixteen with five O-levels, and joined Swan Hunter's shipyard as a draughtsman. On one occasion, he also tried his hand at professional boxing. He attended three boxing training sessions for the play Francie Nichol, in which he played a boxer.
After two years at Swan's, Green decided on a career in acting. After auditioning, he began training under the tutelage of artistic director Max Roberts, his previous director at Backworth. During his training, he continued his musical career, as a member of a successful local band, the Workie Tickets. By 1988, he began his screen career, featured in the award-winning series Shields Stories, a series of short stories about social issues made by Amber Films.
Career
Growing up in Tyneside, Robson Green was chosen to be the lead in a film made by Amber films that narrated the contemporaneous social problems faced by working-class people in Thatcher's Britain. Each episode examined one aspect of living in a harsh and embittered environment. The soap opera gave Green his big break in film. It was quickly followed by offers of work. Green first made his name as an actor in the BBC series Casualty, but after three series, moved to national prominence as fusilier Dave Tucker in the drama series Soldier Soldier.
In 1995, one episode called for Green and co-star Jerome Flynn to sing Unchained Melody. Subsequently, ITV was inundated by people wanting to buy the song and the pair were persuaded by Simon Cowell to release it as a single – a double A-side with White Cliffs of Dover. It stayed at No. 1 for seven weeks in the UK Singles Chart, selling more than 1.8 million copies and making it the best-selling single of the year and winning the duo the Music Week Awards in 1996 for best single and best album. Subsequently, they had two further No. 1 singles and two No. 1 albums, all remakes of standards.
The song gave Green the opportunity to sign a long-term deal with ITV to star in several of the network's dramas, including Touching Evil, Grafters and Reckless. In 1996, he set up an independent production company, Coastal Productions, with business partner Sandra Jobling to give youngsters from the North East the opportunities he struggled for. The company has since produced or co-produced most of Green's television work, as well as local productions at the Theatre Royal in Newcastle upon Tyne. In 2002, Green starred as clinical psychologist Dr. Tony Hill in the crime drama Wire in the Blood.
Green's production company has brought at least four new dramas to the small screen in recent years, including the massive ratings hit Christmas Lights. The success of this one-off drama led to a series being commissioned under the name Northern Lights, which was followed by a sequel called City Lights. Coastal also produces drama series, including Hereafter starring showbiz couple Stephen Tompkinson and Dervla Kirwan.
In 1995, Green won the Smash Hits Poll Winner's Party award for Favourite TV Actor. In 1997, Green starred in the TV film, The Student Prince which is no relation to either the Romberg operetta or the 1954 MGM film.
In July 1998, Green received an honorary degree from the University of Northumbria and, in September 2006, he was voted by the UK general public at No. 35 in a poll of TV's greatest stars.
In 2000, Green starred with James Bolam, Susan Jameson and Jamie Bell in the ITV drama Close and True. In 2001, he starred in the six-part ITV drama Take Me.
In 2002, Green starred with Caroline Goodall in the TV movie Me and Mrs. Jones. In December 2002, he released his first solo album, Moment In Time, which was composed of cover versions (including the song "Me and Mrs. Jones"). However, unlike his releases with Jerome Flynn, the album was a commercial failure, peaking at No. 49 in the UK.
In 2003, Green starred in the ITV mini-series Unconditional Love and in the BBC television series Trust. In 2005, he starred in two series, Like Father Like Son, and Rocket Man in which he played a widower trying to build a rocket to send his dead wife's ashes into space.
Green presents his own series Extreme Fishing with Robson Green and the spin-off Robson's Extreme Fishing Challenge, where he travels over the world investigating and participating in the sport, coining fishing catchphrases such as "get in" and "we're in". During 2009, while promoting the second series on BBC Breakfast, Green claimed that 90% of all coarse fish caught by anglers die. This rapidly caused an angry response from coarse fishing anglers in the UK who believed this comment to be unsubstantiated and potentially damaging to the sport.
In December 2009, ITV presented the documentary Robson Green's Wild Swimming Adventure, a tour of swimming locales around the UK. In July 2010, Green began filming the seventh series of BBC drama Waterloo Road appearing from May 2011 to July 2011.
In 2011, Green starred in the third series of the BBC Three show Being Human in which he played a werewolf named McNair.
In 2013 and 2015, Green starred in the fourth and fifth series of the war-drama series Strike Back, as Lt Colonel Philippe Locke, a former SAS operative.
In October 2013, Green began presenting Tales from Northumberland with Robson Green on ITV, a factual series about his home county of Northumberland. A second series began airing in February 2015 and a third in February 2016.
Since 2014, he has portrayed Geordie Keating in the ITV drama series Grantchester, starring alongside James Norton. A second series began in March 2016 and a third in April 2017.
In March 2016, during an appearance on The One Show, Green confirmed he would present a new series for ITV called Tales from the Coast with Robson Green, which began airing in January 2017. In April 2016, he presented one-off documentary The Flying Scotsman with Robson Green. He presented one-off documentary Robson Crusoe: A Surprising Adventure and a six-part series called Robson Green's Coastal Lives, both for ITV.
Green will appear in the BBC's Age Before Beauty.
Personal life
Green was introduced to occupational therapist Alison Ogilvie by his then-close friend, television director Andrew Gunn. They married on 22 June 1991, but separated eight years later. Green met his second wife, former Page 3 model Vanya Seager, while recording Unchained Melody at BMG Records in 1995. They later had a son, Taylor Seager-Green (born 2000). In 2001, the couple married at Cliveden House in Buckinghamshire after a family celebration in Mauritius. On 30 October 2011, the couple issued a statement saying that their marriage had "irretrievably broken down" and that they were separating.
Stephanie Jones, a flight attendant, started a relationship with Green in 2013, but it did not last. In 2016, he hit the tabloids again after it was announced by an OBE-awarded Church of England vicar that Green was having an affair with the vicar's Filipina wife, and that she is living in Green's country flat. The woman in question left behind her two children aged 16 and 20 and husband. It was stated that Green and the vicar's wife met in the gym.
Green is the uncle of actor Daymon Britton, who appeared as youth club worker Dom in the long-running BBC children's drama Byker Grove. Green is a long-time Newcastle United supporter.
Filmography
Actor
2014
Grantchester (TV Series)
as
Geordie Keating
- Christmas Special 2016 (2016) - Geordie Keating
2021
Howdon Aldi Death Queue (Music Video)
as
Store Worker
2018
Age Before Beauty (TV Series)
as
Teddy
- Episode #1.6 (2018) - Teddy
- Episode #1.5 (2018) - Teddy
- Episode #1.4 (2018) - Teddy
- Episode #1.3 (2018) - Teddy
- Episode #1.2 (2018) - Teddy
- Episode #1.1 (2018) - Teddy
2013
Strike Back (TV Series)
as
Lt. Col. Philip Locke
- Legacy: Part 10 (2015) - Lt. Col. Philip Locke
- Legacy: Part 9 (2015) - Lt. Col. Philip Locke
- Legacy: Part 8 (2015) - Lt. Col. Philip Locke
- Legacy: Part 7 (2015) - Lt. Col. Philip Locke
- Legacy: Part 6 (2015) - Lt. Col. Philip Locke
- Legacy: Part 5 (2015) - Lt. Col. Philip Locke
- Legacy: Part 4 (2015) - Lt. Col. Philip Locke
- Legacy: Part 3 (2015) - Lt. Col. Philip Locke
- Legacy: Part 2 (2015) - Lt. Col. Philip Locke
- Legacy: Part 1 (2015) - Lt. Col. Philip Locke
- Shadow Warfare: Part 10 (2013) - Lt. Col. Philip Locke
- Shadow Warfare: Part 9 (2013) - Lt. Col. Philip Locke
- Shadow Warfare: Part 8 (2013) - Lt. Col. Philip Locke
- Shadow Warfare: Part 7 (2013) - Lt. Col. Philip Locke
- Shadow Warfare: Part 6 (2013) - Lt. Col. Philip Locke
- Shadow Warfare: Part 5 (2013) - Lt. Col. Philip Locke
- Shadow Warfare: Part 4 (2013) - Lt. Col. Philip Locke
- Shadow Warfare: Part 3 (2013) - Lt. Col. Philip Locke
- Shadow Warfare: Part 2 (2013) - Lt. Col. Philip Locke
- Shadow Warfare: Part 1 (2013) - Lt. Col. Philip Locke
2015
Masterpiece Mystery (TV Series)
- Grantchester, Episode 4 (2015)
2012
Mount Pleasant (TV Series)
as
Chris
- Episode #2.10 (2012) - Chris
- Episode #2.9 (2012) - Chris
- Episode #2.8 (2012) - Chris
- Episode #2.7 (2012) - Chris
- Episode #2.6 (2012) - Chris
- Episode #2.5 (2012) - Chris
- Episode #2.4 (2012) - Chris
2011
Waterloo Road (TV Series)
as
Rob Scotcher
- Episode #7.10 (2011) - Rob Scotcher
- Episode #7.9 (2011) - Rob Scotcher
- Episode #7.8 (2011) - Rob Scotcher
- Episode #7.7 (2011) - Rob Scotcher
- Episode #7.6 (2011) - Rob Scotcher
- Episode #7.5 (2011) - Rob Scotcher
- Episode #7.4 (2011) - Rob Scotcher
- Episode #7.3 (2011) - Rob Scotcher
- Episode #7.2 (2011) - Rob Scotcher
- Episode #7.1 (2011) - Rob Scotcher
2011
Being Human (TV Series)
as
McNair
- The Wolf-Shaped Bullet (2011) - McNair
- Though the Heavens Fall (2011) - McNair
- The Pack (2011) - McNair
- Lia (2011) - McNair
2010
Joe Maddison's War (TV Movie)
as
Harry Crawford
2008
Clash of the Santas (TV Movie)
as
Colin
2002
Wire in the Blood (TV Series)
as
Dr. Tony Hill
- The Dead Land: Part 2 (2008) - Dr. Tony Hill
- The Dead Land: Part 1 (2008) - Dr. Tony Hill
- From the Defeated: Part 2 (2008) - Dr. Tony Hill
- From the Defeated: Part 1 (2008) - Dr. Tony Hill
- Falls the Shadow: Part 2 (2008) - Dr. Tony Hill
- Falls the Shadow: Part 1 (2008) - Dr. Tony Hill
- Unnatural Vices: Part 2 (2008) - Dr. Tony Hill
- Unnatural Vices: Part 1 (2008) - Dr. Tony Hill
- Prayer of the Bone (2008) - Dr. Tony Hill
- Anything You Can Do (2007) - Dr. Tony Hill
- The Names of Angels (2007) - Dr. Tony Hill
- Nocebo (2007) - Dr. Tony Hill
- The Colour of Amber (2007) - Dr. Tony Hill
- Wounded Surgeon (2006) - Dr. Tony Hill
- Hole in the Heart (2006) - Dr. Tony Hill
- Torment (2006) - Dr. Tony Hill
- Time to Murder and Create (2006) - Dr. Tony Hill
- Synchronicity (2005) - Dr. Tony Hill
- Nothing But the Night (2005) - Dr. Tony Hill
- Bad Seed (2005) - Dr. Tony Hill
- Redemption (2005) - Dr. Tony Hill
- Still She Cries (2004) - Dr. Tony Hill
- Sharp Compassion (2004) - Dr. Tony Hill
- Right to Silence (2003) - Dr. Tony Hill
- The Darkness of Light (2003) - Dr. Tony Hill
- Justice Painted Blind: Part 2 (2002) - Dr. Tony Hill
- Justice Painted Blind: Part 1 (2002) - Dr. Tony Hill
- Shadows Rising: Part 2 (2002) - Dr. Tony Hill
- Shadows Rising: Part 1 (2002) - Dr. Tony Hill
- The Mermaids Singing: Part 2 (2002) - Dr. Tony Hill
- The Mermaids Singing: Part 1 (2002) - Dr. Tony Hill
2007
Little Devil (TV Mini Series)
as
Will Crowe
- Episode #1.3 (2007) - Will Crowe
2007
City Lights (TV Series)
as
Colin Armstrong
- Episode #1.6 (2007) - Colin Armstrong
- Episode #1.5 (2007) - Colin Armstrong
- Episode #1.4 (2007) - Colin Armstrong
- Episode #1.3 (2007) - Colin Armstrong
- Episode #1.2 (2007) - Colin Armstrong
- Episode #1.1 (2007) - Colin Armstrong
2006
Northern Lights (TV Series)
as
Colin
- Episode #1.6 (2006) - Colin
- Episode #1.5 (2006) - Colin
- Episode #1.4 (2006) - Colin
- Episode #1.3 (2006) - Colin
- Episode #1.2 (2006) - Colin
- Episode #1.1 (2006) - Colin
2005
Rocket Man (TV Mini Series)
as
George Stevenson
- Letting Go (2005) - George Stevenson
- Freefall (2005) - George Stevenson
- Lost and Found (2005) - George Stevenson
- Ingredient X (2005) - George Stevenson
- Bodywork (2005) - George Stevenson
- Fly Me to the Moon (2005) - George Stevenson
2005
Beaten (TV Movie)
as
Michael
2005
Like Father Like Son (TV Movie)
as
Dominic Milne
2004
Christmas Lights (TV Movie)
as
Colin
2004
The Afternoon Play (TV Series)
as
Oliver Barrett
- Venus and Mars (2004) - Oliver Barrett
2003
Trust (TV Mini Series)
as
Stephen Bradley
- Episode #1.4 (2003) - Stephen Bradley
- Episode #1.6 (2003) - Stephen Bradley
- Episode #1.5 (2003) - Stephen Bradley
- Episode #1.3 (2003) - Stephen Bradley
- Episode #1.2 (2003) - Stephen Bradley
- Episode #1.1 (2003) - Stephen Bradley
2003
Unconditional Love (TV Movie)
as
Pete Gray
2002
Me & Mrs Jones (TV Movie)
as
Liam Marple
2001
Take Me (TV Mini Series)
as
Jack Chambers
- Episode #1.6 (2001) - Jack Chambers
- Episode #1.5 (2001) - Jack Chambers
- Episode #1.4 (2001) - Jack Chambers
- Episode #1.3 (2001) - Jack Chambers
- Episode #1.2 (2001) - Jack Chambers
- Episode #1.1 (2001) - Jack Chambers
2000
Close & True (TV Mini Series)
as
John Close
- Gotcha (2000) - John Close
- Wide Awake (2000) - John Close
- Hurry Up and Wait (2000) - John Close
- A Lie for a Lie (2000) - John Close
- Town and Gown (2000) - John Close
- Miss Newcastle (2000) - John Close
2000
Blind Ambition (TV Movie)
as
Richard Thomas
2000
The Last Musketeer (TV Movie)
as
Steve McTear
1998
Grafters (TV Series)
as
Joe Purvis
1997
Touching Evil (TV Series)
as
DI Dave Creegan
- Fiery Death: Part 2 (1999) - DI Dave Creegan
- Fiery Death: Part 1 (1999) - DI Dave Creegan
- Innocent: Part 2 (1999) - DI Dave Creegan
- Innocent: Part 1 (1999) - DI Dave Creegan
- What Price a Child: Part 2 (1998) - DI Dave Creegan
- What Price a Child: Part 1 (1998) - DI Dave Creegan
- War Relief: Part 2 (1998) - DI Dave Creegan
- War Relief: Part 1 (1998) - DI Dave Creegan
- Scalping: Part 2 (1998) - DI Dave Creegan
- Scalping: Part 1 (1998) - DI Dave Creegan
- Deadly Web: Part 2 (1997) - DI Dave Creegan
- Deadly Web: Part 1 (1997) - DI Dave Creegan
- Killing with Kindness: Part 2 (1997) - DI Dave Creegan
- Killing with Kindness: Part 1 (1997) - DI Dave Creegan
- Through the Clouds: Part 2 (1997) - DI Dave Creegan
- Through the Clouds: Part 1 (1997) - DI Dave Creegan
1999
Rhinoceros (TV Movie)
as
Michael Flynn
1998
Reckless: The Sequel (TV Movie)
as
Owen Springer
1997
The Prince of Hearts (TV Movie)
as
Barry Grimes
1997
Ain't Misbehavin' (TV Mini Series)
as
Eric Trapp
- Episode #1.3 (1997) - Eric Trapp
- Episode #1.2 (1997) - Eric Trapp
- Episode #1.1 (1997) - Eric Trapp
1997
Reckless (TV Mini Series)
as
Owen Springer
- Episode #1.6 (1997) - Owen Springer
- Episode #1.5 (1997) - Owen Springer
- Episode #1.4 (1997) - Owen Springer
- Episode #1.3 (1997) - Owen Springer
- Episode #1.2 (1997) - Owen Springer
- Episode #1.1 (1997) - Owen Springer
1991
Soldier Soldier (TV Series)
as
Fusilier Dave Tucker / Fus Dave Tucker / LCpl Dave Tucker
- Twist of Fate (1995) - Fusilier Dave Tucker
- Baptism of Fire (1995) - Fusilier Dave Tucker
- Under the Sun (1995) - Fusilier Dave Tucker
- Leaving (1995) - Fusilier Dave Tucker
- Sweet Revenge (1995) - Fusilier Dave Tucker
- Ill Wind (1995) - Fusilier Dave Tucker
- Far Away (1995) - Fusilier Dave Tucker
- Bushed (1995) - Fusilier Dave Tucker
- Second Chances (1995) - Fusilier Dave Tucker
- For Better, for Worse (1995) - Fusilier Dave Tucker
- Changing the Guard (1994) - Fusilier Dave Tucker
- Bombshell (1994) - Fusilier Dave Tucker
- Going Back (1994) - Fusilier Dave Tucker
- Band of Gold (1994) - Fusilier Dave Tucker
- Further Education (1994) - Fusilier Dave Tucker
- Over the Top (1994) - Fusilier Dave Tucker
- Second Sight (1994) - Fusilier Dave Tucker
- Damage (1994) - Fusilier Dave Tucker
- Away Games (1994) - Fusilier Dave Tucker
- Stormy Weather (1994) - Fusilier Dave Tucker
- Leaving (1993) - Fus Dave Tucker
- Stand by Me (1993) - Fusilier Dave Tucker
- Dutch Courage (1993) - Fus Dave Tucker
- Staying Together (1993) - Fus Dave Tucker
- Camouflage (1993) - Fus Dave Tucker
- Hard Knocks (1993) - Fusilier Dave Tucker
- Hide and Seek (1993) - Fus Dave Tucker
- Disintegration (1993) - Fus Dave Tucker
- Fall Out (1993) - LCpl Dave Tucker
- Base Details (1993) - LCpl Dave Tucker
- Live Fire (1993) - LCpl Dave Tucker
- Shifting Sands (1993) - LCpl Dave Tucker
- The Last Post (1992) - LCpl Dave Tucker
- Lost and Found (1992) - Fus Dave Tucker
- Saving Face (1992) - Fus Dave Tucker
- Lifelines (1992) - Fus Dave Tucker
- A Touch of the Sun (1992) - Fus Dave Tucker
- Something Old, Something New (1992) - Fus Dave Tucker
- A Man's Life (1992) - Fus Dave Tucker
- Loyal to the Corps (1991) - Fusilier Dave Tucker
- Battlefields (1991) - Fusilier Dave Tucker
- Fighting Spirit (1991) - Fusilier Dave Tucker
- Dirty Work (1991) - Fusilier Dave Tucker
- Fun and Games (1991) - Fusilier Dave Tucker
- All the King's Men (1991) - Fusilier Dave Tucker
1995
The Gambling Man (TV Mini Series)
as
Rory Connor
- Episode #1.3 (1995) - Rory Connor
- Episode #1.2 (1995) - Rory Connor
- Episode #1.1 (1995) - Rory Connor
1989
Casualty (TV Series)
as
Jimmy Powell
- Cascade (1992) - Jimmy Powell
- Allegiance (1991) - Jimmy Powell
- Facing Up (1991) - Jimmy Powell
- Pressure! What Pressure? (1991) - Jimmy Powell
- The Last Word (1991) - Jimmy Powell
- Sins of Omission (1991) - Jimmy Powell
- Making the Break (1991) - Jimmy Powell
- Living in Hope (1991) - Jimmy Powell
- Beggars Can't Be Choosers (1991) - Jimmy Powell
- Something to Hide (1991) - Jimmy Powell
- Joy Ride (1991) - Jimmy Powell
- Hide and Seek (1991) - Jimmy Powell
- Dangerous Games (1991) - Jimmy Powell
- Judgement Day (1991) - Jimmy Powell
- Humpty Dumpty (1991) - Jimmy Powell
- A Reasonable Man (1990) - Jimmy Powell
- All's Fair (1990) - Jimmy Powell
- Remembrance (1990) - Jimmy Powell
- Big Boys Don't Cry (1990) - Jimmy Powell
- A Will to Die (1990) - Jimmy Powell
- Love's a Pain (1990) - Jimmy Powell
- Say It with Flowers (1990) - Jimmy Powell
- Salvation (1990) - Jimmy Powell
- Hiding Place (1990) - Jimmy Powell
- Street Life (1990) - Jimmy Powell
- Close to Home (1990) - Jimmy Powell
- Results (1990) - Jimmy Powell
- Penalty (1990) - Jimmy Powell
- Hanging On (1989) - Jimmy Powell
- Banking for Beginners (1989) - Jimmy Powell
- Taking Stock (1989) - Jimmy Powell
- Union (1989) - Jimmy Powell
- Deluge (1989) - Jimmy Powell
- Victim of Circumstances (1989) - Jimmy Powell
- Charity (1989) - Jimmy Powell
- Vital Spark (1989) - Jimmy Powell
- Day Off (1989) - Jimmy Powell
- A Grand in the Hand (1989) - Jimmy Powell
- Accidents Happen (1989) - Jimmy Powell
- Chain Reaction (1989) - Jimmy Powell
1989
Screenplay (TV Series)
as
Dudley
- A Night on the Tyne (1989) - Dudley
Producer
2023
Robson Green's Weekend Escapes (TV Series documentary) (executive producer - 1 episode)
- Episode #1.1 (2023) - (executive producer)
-
Grantchester (TV Series) (associate producer - 18 episodes, 2019 - 2021) (executive producer - 6 episodes, 2022)
2019
Annabel Lee (Short) (executive producer)
2008
Place of Execution (TV Mini Series) (executive producer - 3 episodes)
- Episode #1.3 (2008) - (executive producer)
- Episode #1.2 (2008) - (executive producer)
- Episode #1.1 (2008) - (executive producer)
1993
Come Snow, Come Blow (TV Movie) (producer)
Soundtrack
-
Grantchester (TV Series) (1 episode, 2014) (performer - 5 episodes, 2014 - 2022)
- Episode #7.5 (2022) - (performer: "Of Ballads, Songs and Snatches")
- Episode #4.2 (2019) - (performer: "The Pirate King" - uncredited)
- Episode #2.2 (2016) - (performer: "And Surprise it Makes You Fat" - uncredited)
- Episode #2.1 (2016) - (performer: "Onward Christian Soldiers" - uncredited)
- Episode #1.6 (2014) - (performer: "I AM A PIRATE KING")
- Episode #1.5 (2014) - ("Frankie & Johnny")
1995
Cracker (TV Series) (performer - 1 episode)
- True Romance: Part 1 (1995) - (performer: "Unchained Melody")
1995
Coronation Street (TV Series) (performer - 1 episode)
- Episode #1.3873 (1995) - (performer: "Unchained Melody")
1994
Soldier Soldier (TV Series) (performer - 1 episode)
- Band of Gold (1994) - (performer: "Unchained Melody")
Self
2023
Robson Green's Weekend Escapes (TV Series documentary)
as
Self - Presenter / Self - Host
2023
Saturday Kitchen (TV Series)
as
Self
- Episode #25.4 (2023) - Self
2022
Lorraine (TV Series)
as
Self - Guest
- Episode dated 11 March 2022 (2022) - Self - Guest
2021
Robson Green: Fishing Coast to Coast (TV Mini Series documentary)
as
Self - Presenter
- Welsh Pembrokeshire (2021) - Self - Presenter
- Scotland (2021) - Self - Presenter
- South West of England (2021) - Self - Presenter
2010
The One Show (TV Series)
as
Self / Self - Guest
- Episode dated 2 September 2021 (2021) - Self
- Episode #7.68 (2012) - Self - Guest
- Episode #6.78 (2011) - Self - Guest
- Episode dated 1 February 2010 (2010) - Self
2021
Robson & Jim's Icelandic Fly Fishing Adventure (TV Series documentary)
as
Self - Presenter
- Episode #1.3 (2021) - Self - Presenter
- Episode #1.2 (2021) - Self - Presenter
- Episode #1.1 (2021) - Self - Presenter
2021
Walking Hadrian's Wall (TV Series documentary)
as
Self - Presenter
- Episode #1.3 (2021) - Self - Presenter
- Episode #1.2 (2021) - Self - Presenter
- Episode #1.1 (2021) - Self - Presenter
2020
Good Morning Britain (TV Series)
as
Self
- Episode dated 6 February 2020 (2020) - Self
2019
The Sara Cox Show (TV Series)
as
Self - Guest
- At Christmas 4 (2019) - Self - Guest
2004
This Morning (TV Series)
as
Self
- Episode dated 5 September 2019 (2019) - Self
- Episode dated 21 May 2007 (2007) - Self
- Episode dated 18 January 2006 (2006) - Self
- Episode dated 26 February 2004 (2004) - Self
2017
Tales from the Coast with Robson Green (TV Series documentary)
as
Self - Host
- Suffolk and Essex (2017) - Self - Host
- Outer Hebrides (2017) - Self - Host
- Pembrokeshire (2017) - Self - Host
- North Devon (2017) - Self - Host
2017
Robson Crusoe: A Surprising Adventure (TV Movie documentary)
as
Self - Presenter
2017
Robson Green's Grand Slam (TV Series documentary)
as
Self - Presenter
2016
Flying Scotsman with Robson Green (TV Movie documentary)
as
Self - Presenter
2015
Robson Green's Australian Adventure (TV Mini Series documentary)
as
Self - Presenter
- Queensland (2015) - Self - Presenter
- Western Australia (2015) - Self - Presenter
- Northern Territory (2015) - Self - Presenter
- South Australia (2015) - Self - Presenter
2015
Tales from Northumberland (TV Series documentary)
as
Self - Presenter / Self - presenter
- More Tales from Northumberland with Robson Green: Borders (2015) - Self - presenter
- More Tales from Northumberland with Robson Green: South East (2015)
- More Tales from Northumberland with Robson Green: Natural Wonders (2015) - Self - Presenter
- More Tales from Northumberland with Robson Green: Industrial Heritage (2015) - Self - Presenter
- More Tales from Northumberland with Robson Green: Hidden Treasures (2015) - Self - Presenter
- More Tales from Northumberland with Robson Green: Coquet River (2015) - Self - Presenter
- More Tales from Northumberland with Robson Green: National Park (2015) - Self - Presenter
- More Tales from Northumberland with Robson Green: Secrets (2015) - Self - Presenter
2015
Robson Green's Ultimate Catch (TV Series documentary)
as
Self
- Azores (2015) - Self
- Brazil (2015) - Self
- Hawaii (2015) - Self
- Bolivia (2015) - Self
2014
Robson Green: Extreme Fisherman (TV Series documentary)
as
Self
- Ecuador (2014) - Self
- Guatemala (2014) - Self
- Borneo (2014) - Self
- Madagascar (2014) - Self
- Mongolia (2014) - Self
- Solomon Islands (2014) - Self
- Okinawa (2014) - Self
- Venezuela (2014) - Self
2011
Daybreak (TV Series)
as
Self / Self - Sports Presenter
- Episode dated 18 May 2012 (2012) - Self
- Episode dated 4 February 2011 (2011) - Self - Sports Presenter
2012
Robson's Extreme Fishing Challenge (TV Series)
as
Self - Host
2011
Breakfast (TV Series)
as
Self - Actor
- Episode dated 11 May 2011 (2011) - Self - Actor
2011
Perspectives (TV Series documentary)
as
Self - Presenter
- Robson Green: The Pitmen Painters (2011) - Self - Presenter
2008
Loose Women (TV Series)
as
Self
- Episode #15.160 (2011) - Self
- Episode #13.20 (2008) - Self
2010
Live from Studio Five (TV Series)
as
Self
- Episode #1.94 (2010) - Self
2009
The Gadget Show (TV Series documentary)
as
Self
- Episode #12.20 (2009) - Self
2009
Bookaboo (TV Series)
as
Self
- Class Two at the Zoo (2009) - Self
2008
Happy Hour (TV Series)
as
Self
- Episode #3.5 (2008) - Self
2008
The Alan Titchmarsh Show (TV Series)
as
Self
- Episode dated 3 October 2008 (2008) - Self
2008
Extreme Fishing with Robson Green (TV Series documentary)
as
Self - Host / Self
- Spain and Portugal (2008) - Self - Host
- South Africa (2008) - Self
2008
Drama Trails (TV Series documentary)
as
Self
- 'Coronation Street' to 'Kingdom' (2008) - Self
2007
Enough Rope with Andrew Denton (TV Series)
as
Self
- Sister Helen Prejean/Robson Green/Amy Gore (2007) - Self
2007
The Best of Masterpiece Theatre (TV Special documentary)
as
Self
2006
TV's 50 Greatest Stars (TV Movie documentary)
as
Self
2006
E! True Hollywood Story (TV Series documentary)
as
Self
- Simon Cowell (2006) - Self
2006
Best Ever Muppet Moments (TV Movie documentary)
as
Self
2005
ITV 50 Greatest Shows (TV Special)
as
Self
2004
Richard & Judy (TV Series)
as
Self
- Episode dated 28 February 2005 (2005) - Self
- Episode dated 2 February 2004 (2004) - Self
2004
Britain's Best Sitcom (TV Series)
as
Self
- The Live Final (2004) - Self
- The Vicar of Dibley (2004) - Self
2004
Making It at Holby (TV Movie documentary)
as
Self
2000
Parkinson (TV Series)
as
Self
- Episode dated 28 February 2004 (2004) - Self
- Episode dated 29 September 2000 (2000) - Self
2003
The Kumars at No. 42 (TV Series)
as
Self
- Episode #3.2 (2003) - Self
2002
Kelly (TV Series)
as
Self
- Episode dated 6 December 2002 (2002) - Self
2002
Friday Night with Jonathan Ross (TV Series)
as
Self
- Episode #3.4 (2002) - Self
2002
Mike Neville: A Life in Television (TV Movie documentary)
as
Self
2001
Preview with Katy Manning (TV Series)
as
Self
2001
Rich and Famous (TV Series documentary)
as
Self
- Episode #1.7 (2001) - Self
1999
The Storyteller (Video documentary)
as
Self
1995
Des O'Connor Tonight (TV Series)
as
Self
- Christmas Special (1999) - Self
- Episode #19.1 (1995) - Self
1998
Dreaming of a Wright Christmas (TV Special)
as
Self
1998
This Is Your Life (TV Series documentary)
as
Self
- Tim Healy (1998) - Self
1997
National Television Awards (TV Special)
as
Self
1996
The Royal Variety Performance (TV Special)
as
Self
1995
Live & Kicking (TV Series)
as
Self
- Episode #4.6 (1996) - Self (as Robson & Jerome)
- Episode #3.7 (1995) - Self (as Robson & Jerome)
1996
An Audience with Freddie Starr (TV Special)
as
Self - Audience Member
1995
Royal Variety Performance 1995 (TV Special)
as
Self
1995
Top of the Pops (TV Series)
as
Self
- Episode dated 25 December 1995 (1995) - Self (as Robson & Jerome)
- Episode dated 30 November 1995 (1995) - Self (as Robson & Jerome)
- Episode dated 23 November 1995 (1995) - Self (as Robson & Jerome)
- Episode dated 16 November 1995 (1995) - Self (as Robson & Jerome)
- Episode dated 9 November 1995 (1995) - Self (as Robson & Jerome)
- Episode dated 22 June 1995 (1995) - Self (as Robson & Jerome)
- Episode dated 15 June 1995 (1995) - Self (as Robson & Jerome)
- Episode dated 8 June 1995 (1995) - Self (as Robson & Jerome)
- Episode dated 25 May 1995 (1995) - Self (as Robson & Jerome)
- Episode dated 18 May 1995 (1995) - Self (as Robson & Jerome)
1995
Smash Hits Poll Winners Party 1995 (TV Special)
as
Self (as Robson & Jerome)
1995
Children in Need (TV Series)
as
Self
- Episode #16.1 (1995) - Self (as Robson & Jerome)
1995
The National Television Awards (TV Special)
as
Self
1995
Surprise! Surprise! (TV Series)
as
Self - Performer
- Episode #12.2 (1995) - Self - Performer (as Robson & Jerome)
Archive Footage
2014
Britain's Best Loved Double Acts (TV Movie documentary)
as
Self - Double Act
2012
The Talent Show Story (TV Series documentary)
as
Self
- Episode #1.2 (2012) - Self (uncredited)
2008
The Story of the Costume Drama (TV Series documentary)
as
Rory Connor
- The Stars (2008) - Rory Connor
2006
The Story Of... (TV Series documentary)
as
Self
- Pulp's Common People (2006) - Self
1995
Top of the Pops (TV Series)
as
Self
- Episode dated 29 June 1995 (1995) - Self (as Robson & Jerome)
- Episode dated 1 June 1995 (1995) - Self (as Robson & Jerome)
References
Robson Green Wikipedia
(Text) CC BY-SA