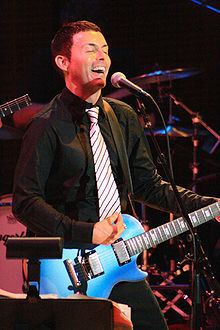 Barone was born in Tampa, Florida, and began his career at age seven as 'The Littlest DJ' on a local top-40 radio station. By age sixteen he was producing recordings for local bands as well as Tiny Tim. Moving to the New York area, he modeled, got small acting roles, and finally gained attention as the lead singer and songwriter for The Bongos, a critically acclaimed new wave band at the center of the early 1980s Hoboken, New Jersey, music scene. After their first string of independent singles, released on the UK based Fetish label and compiled for the U.S. as Drums Along the Hudson (PVC), the group signed to RCA Records where, with the advent of MTV, they made commercial impact with the Barone-penned "Numbers With Wings". He has been called a "gifted pop-rock tunesmith," and, stepping out as a solo artist, Barone's albums have ventured into chamber pop, orchestral, and more narrative singer-songwriter territory.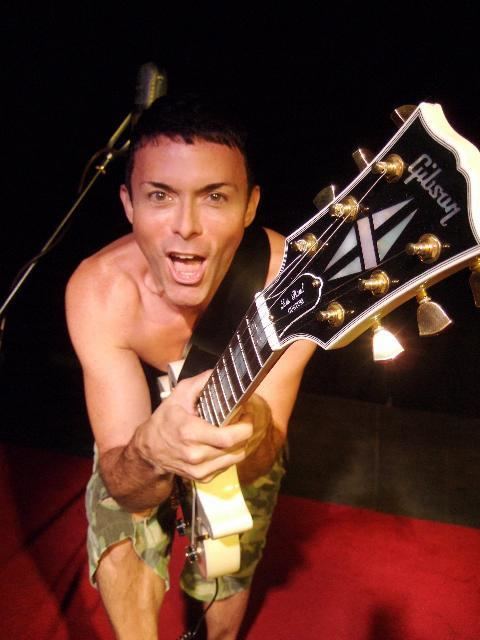 Barone released his first solo album, Cool Blue Halo (recorded live at The Bottom Line in New York) before The Bongos' amicable breakup in 1987. Anthony DeCurtis, writing in Rolling Stone, praised Barone's "spare, elegant arrangements" and credited him with fashioning "a kind of rock chamber music." While Trouser Press described the record as "intimate but confused," NPR's Tom Moon, in a more recent assessment, called the album "a plaintive masterpiece," and credited Barone with foreshadowing Nirvana's Unplugged performance of David Bowie's "The Man Who Sold the World," adding "Cool Blue Halo feels timeless, and maybe even exotic."
Two studio albums followed: the rock-dominated Primal Dream (MCA) in 1990, and the more acoustic-based Clouds Over Eden (WEA) in 1994, the latter dedicated to his late friend, rock journalist Nicholas Schaffner, and featuring a cover portrait by renowned photographer Duane Michals. The image appears in Michals' book Eros & Thanantos. Trouser Press championed the "fine set of yearning love songs" on Primal Dream, while calling their production and arrangements as a "step backwards" from his debut album. But David Browne, writing in Rolling Stone, gave the album four stars and commented that "Barone is fast moving beyond the limited vocabulary of twelve strings and wimp-pop vocals." Billy Altman, in The New York Times, called his next album, Clouds Over Eden "unquestionably the most fully realized effort of Barone's career," while Trouser Press described the album as "wrenching and thoroughly worthwhile" and "the great album fans always imagined [Barone] making."
In 1997, Barone released Between Heaven and Cello, an album recorded live at NYC's intimate Fez nightclub, on some songs accompanied only by cellist Jane Scarpantoni. A boxed set of his first three solo albums was released in Europe in 2000 as The Big Three. In 2004 he released, on his own RBM label, a limited edition solo anthology entitled Collection: An Embarrassment of Richard, composed of personal favorites from his back catalogue.
Barone then again turned his attention to producing, helming a number of recordings for a variety of artists including a duet between Liza Minnelli and pianist/vocalist Johnny Rodgers, a children's album for former model Jolie Jones (daughter of Quincy Jones), recordings for B-52's frontman Fred Schneider, and others. As a producer/director, he created large-scale concert events, including all-star tributes to Peggy Lee at Carnegie Hall, the Hollywood Bowl, and Chicago's Ravinia Festival in 2003 and 2004, and concerts for New York's Central Park SummerStage.
Other projects included executive producing The Nomi Song DVD (Palm Pictures, 2005), which includes his remix of operatic New Wave countertenor Klaus Nomi's "Total Eclipse"; musical direction and orchestration for Bright Lights, Big City at the New York Theatre Workshop (with Rent director Michael Greif); as well as directing and performing in The Downtown Messiah, a modern interpretation of Handel's baroque oratorio, broadcast annually on over 200 public radio stations nationwide for six consecutive years from 1999-2004. His songs and collaborations, including several written with singer-songwriter Jill Sobule, were heard on popular television programs including The West Wing, Dawson's Creek, Felicity, and South of Nowhere. In 2004, Barone joined his childhood inspiration Donovan for series of the latter's Beat Café concert events, including nine performances at New York's Joe's Pub, at which he sang and read excerpts from Allen Ginsberg's Howl in character as Ginsberg. Later, in 2008, he was guest performer and Musical Director for a Donovan concert, backed by an all-star band, which was recorded and released on DVD.
In 2006, he and the original Bongos reunited in the studio with Moby's producing, to create a new version of "The Bulrushes," an early Bongos single, and a music video for the special edition re-issue of the group's debut album. The 27-track collection, Drums Along the Hudson - Special Edition, was released by Cooking Vinyl Records in June 2007. Several Bongos reunion concerts were held, culminating with an outdoor concert in Hoboken, at which the band was honored with a Mayoral Proclamation and the keys to the city.
In September 2007, Barone's memoir, Frontman: Surviving the Rock Star Myth, with a nude cover photo of the author by Mick Rock, was published by Backbeat/Hal Leonard Books. That same month, his complete solo catalog was re-launched at the iTunes Store. In late 2007, he began staging a series of 'musical readings' of Frontman, both live and on radio, with excerpts of the book read by television actress Joyce DeWitt and radio personality Vin Scelsa, among others. Musical accompaniment was performed using the new Gibson Les Paul HD.6x-Pro Digital guitar (an instrument to which Barone contributed as artist consultant) in surround sound. On his birthday, October 1, 2008, he brought Frontman: A Musical Reading to the stage at Carnegie Hall in New York City, with "Special Guests and Legendary Friends," including Moby, Lou Reed, The Band's Garth Hudson, Marshall Crenshaw, Terre and Suzzy Roche, Randy Brecker, Carlos Alomar, DeWitt and others as a benefit for public radio station WFUV.
In July 2009, Barone entered the recording studio to complete production work on the album he began at age 16 for performer Tiny Tim. The album, "I've Never Seen a Straight Banana - Rare Moments: Volume 1," was released in October 2009 on Collector's Choice Records.
In May 2010, he produced, on behalf of Jonas Mekas, a concert to benefit Anthology Film Archives and honor avant-garde filmmaker/author Kenneth Anger. Performing on the bill were Lou Reed, Sonic Youth, The Virgins, Mekas' ensemble, Moby, M.C. Ben Foster, Philip Seymour Hoffman and a rare appearance by Anger's experimental music project, Technicolor Skull.
In July 2010, Barone joined forces with Pete Seeger, producing and performing in "Reclaim The Coast: Gulf Coast Oil Spill Benefit" at City Winery in New York. Then, in August 2010, he and co-producer Matthew Billy recorded Seeger performing aboard the Sloop Clearwater, symbol of the drive to clean up the Hudson River, which started in the 1960s. The song and video, "God's Counting on Me, God's Counting on You" were released on Election Day 2012.
Glow, Barone's fifth solo album, helmed by veteran producer Tony Visconti, was released in September 2010 on Bar/None Records. Also working on the project were producers Steve Rosenthal and Steve Addabbo, songwriter Paul Williams, engineer Leslie Ann Jones (at George Lucas' Skywalker Ranch in Marin County, California), photographer Mick Rock, and others. That same month, Barone appeared in Rock's career retrospective photography book Exposed: The Faces of Rock n' Roll wearing only a white Gibson Les Paul Custom guitar, an image that was echoed in the Glow CD booklet. A tour of the U.S. and the UK followed in early 2011.
In August 2011, Barone was named by Jonas Mekas to the Board of Advisors of Anthology Film Archives. In that same month, he was named music supervisor on a feature documentary chronicling the final days of Anna Nicole Smith. Besides his own music, the score contained music by Moby, Scissor Sisters. and others. In Fall 2011, Richard made a cameo appearance in "Mr. Bricks: A Heavy Metal Murder Musical."
For the tenth anniversary of the terrorist attacks in September 2011, Barone and frequent collaborator Matthew Billy created a special version of the 1894 song The Sidewalks of New York, which was released to excellent reviews and radio popularity. In December 2011, Barone was appointed as a professor at the Clive Davis Institute of Recorded Music at New York University where he teaches "Stage Presence: The Art of Performance." That same month, he released Collection 2: Before & Afterglow, mining his back catalogue to his pre-Bongos days and including recent work such as the Sidewalks single. In 2014 it was re-issued in an expanded, deluxe edition.
In March, 2012 it was announced that Barone had contributed a new song to the Occupy This Album project, along with Yoko Ono and Patti Smith (both invited to the project by Barone), Jackson Browne, and others. The four-disc set, to benefit the Occupy Wall Street Movement, was set for release on May 15, 2012. Co-written with Matthew Billy, Richard's "Hey, Can I Sleep On Your Futon?" was a gentle protest song inspired by "Brother, Can You Spare A Dime?" (a popular song from the Great Depression). Both the track and music video were included on the album download. Richard also performed at a series of concerts with other artists on the Occupy album including Michael Moore, David Amram, and Tom Chapin.
On May 4, 2012, for the 25th Anniversary of the Cool Blue Halo album, a special reunion concert was held at City Winery in New York. The concert was filmed and recorded as part of a deluxe, multi-disc box set including many special features. In September 2012, he released the first single "I Belong To Me," from the project. The deluxe, 3-disc CD/DVD set of the 25th Anniversary Concert, and the special remastered edition of the original album were released in November 2012 on the DigSin label. That same month, the Anna Nicole Smith documentary was released, along with Barone's single "(She's A Real) Live Wire" from the film.
I Belong To Me: The 'Cool Blue Halo' Story premiered at Anthology Film Archives on December 10, followed by a performance by Barone and musicians from the album. On the occasion of the album's release, Donovan wrote: "Well-deserved appreciation to Richard on this 25th anniversary release of his album 'Cool Blue Halo.' He displayed the stance early, like the minstrel/actor/playwright of Renaissance London. We met and have shared many a stage together... I have always loved Ricardo's 'Bar-oque and Roll' music. Shine On Ricardo, Shine!"
In June 2013, Richard met and joined forces with Beach Boy co-founder Al Jardine to record a version of Pete Seeger's iconic folk anthem "If I Had A Hammer (The Hammer Song)" for the ONE Campaign. Produced by Steve Addabbo at Shelter Island Sound studios in New York, they were accompanied by Larry Dvoskin and Sam Kogon on guitar and bass. The video was released as ONE Campaign's worldwide protest song project. [1]
The Bongos reunited on July 31, 2013 to perform the final concert at their home club, Maxwell's, in Hoboken where the original members had also performed the venue's first show. From the stage Richard announced that the group's long-lost album Phantom Train, recorded in Compass Point, Bahamas in 1986, would be released on October 1, 2013 on the JEM label. The label also re-issued the Special Edition of The Bongos' Drums Along The Hudson shortly thereafter. [2].
On March 14, 2014 Barone partnered with longtime friend and collaborator Alejandro Escovedo to produce the first major tribute to the late Lou Reed at the Paramount Theatre in Austin, Texas, as part of the SXSW Music Festival. The three-hour concert featured over twenty-four acts including Suzanne Vega, Lucinda Williams, Sean Lennon, and Spandau Ballet. The house band included members of Blondie, the Patti Smith Group, and the Voidoids. The event was praised in Rolling Stone and other publications as being a highlight of the SXSW 2014 festival. [3]. Barone also released a recording of Reed's All Tomorrow's Parties, produced by Chris Seefried with a video by Jonas Mekas assembled from footage of the early Velvet Underground at Andy Warhol's Factory. [4]. In October 2014 he launched a live, monthly musical talk show series at the SubCulture theatre in New York entitled "A Circle of Songs." That same week the Village Voice published an article proclaiming Barone as "the Low-Key King of New York Music." [5]
As 2015 began, Richard co-produced, with his friend and collaborator Tony Visconti, a retrospective concert of Visconti's most famous work at New York's City Winery entitled "The TV Show." He also had begun work on a new album "Sorrows & Promises: Greenwich Village in the 1960s", composed of songs that emerged from the earliest days of the Greenwich Village singer-songwriter scene. Beginning with one of Buddy Holly's final songs (recorded as a demo in his Village apartment shortly before his death in 1959), through seminal work by Paul Simon, Janis Ian, Phil Ochs and others, the album was curated by journalist/Columbia Records executive Mitchell Cohen, with sessions produced by Steve Addabbo and features guest appearances from Dion, John Sebastian and David Amram. The project was coordinated by PledgeMusic with fans invited to participate and pre-order. [6]. A series of musical panel discussions chronicling the music on Sorrows & Promises, hosted by the New York Public Library at the historic Jefferson Market Library branch in Greenwich Village preceded the album's October 14, 2016 release. [7] After the digital release, a CD edition was released on November 18, 2016 with a deluxe vinyl edition scheduled for May, 2017. In March 2017, Barone brought the "Sorrows & Promises" project to the SXSW Music Festival in Austin, Texas where he hosted a five-and-a-half hour concert official showcase based on the album, with over twenty international artists including Jesse Colin Young and Robin Hitchcock. [8] [9]
He produced an album for jazz singer Hilary Kole of songs made famous by Judy Garland and a various-artists holiday album for the Miranda Music label on which he appears, as well as a second album of recordings made by Tiny Tim, entitled Tiny Tim's America, released in summer 2016. In addition, he served as executive producer of the musical Tiny, based on the life of Tiny Tim, and produced a songbook album for composer Tracy Stark featuring performances by Lesley Gore, Karen Black, and Nona Hendryx, released in October 2016. A tribute to David Bowie followed in December, which he directed and performed in along with Wesley Stace, Elvis Perkins, Jeffrey Gaines, and others. Barone contributed liner notes to the vinyl re-issue of The Holy Mackerel, the debut of the 1960s band featuring his friend Paul Williams. Throughout the first half of 2017, he toured in promotion of "Sorrows & Promises" with a variety of special guest performers including Elvis Perkins, Ricky Byrd, Eric Bazilian, and others. In April 2017, he was elected to Board of Governors of the New York Chapter of The Recording Academy (The Grammys).
Barone lives in Greenwich Village, New York City. Between continuing his production work, writing, and working with performance students at New York University, he tours and performs regularly.
Sorrows & Promises: Greenwich Village in the 1960s (2016), produced by Steve Addabbo (RBM Special Editions/The Orchard; Ship To Shore PhonoCo)
Cool Blue Halo: 25th Anniversary Concert (2012), Deluxe live album/concert movie, CD/DVD, produced by Matthew Billy (DigSin/RBM)
Collection 2: Before & Afterglow (2011), compilation (RBM Special Editions/Billy Barone Productions); Expanded Deluxe Edition released in 2014
Glow (2010), produced by Tony Visconti, Steve Addabbo, Steve Rosenthal, and Richard Barone (Bar/None Records)
Glow E.P. (2008), produced by Tony Visconti, and Steve Addabbo (RBM Special Editions-digital only)
Collection: An Embarrassment of Richard (2004), compilation (RBM Special Editions)
The Big Three (2000), box set (Line Records, Germany)
Between Heaven and Cello (1997), recorded live (Line Records, Germany)
Clouds over Eden (1993), produced by Hugh Jones (MESA Bluemoon/Atlantic Records)
Primal Cuts (1991), remixes by Ben Grosse and live tracks (Line Records, Germany)
Primal Dream (1990), produced by Richard Gottehrer and Don Dixon (MCA Records)
Cool Blue Halo (1987), recorded live at The Bottom Line, New York City (Passport Records); Expanded Special Edition (remastered) released in 2012 (RBM/DigSin)
Nuts and Bolts (1983), with James Mastro; produced by Barone, Mastro, and Mitch Easter (Passport Records)
Frontman: Surviving the Rock Star Myth, Backbeat/Hal Leonard Books, 2007, ISBN 0-87930-912-1, ISBN 978-0-87930-912-1
"Sorrows & Promises SXSW: Greenwich Village in the 1960s" - Various artists including Jesse Colin Young, Robyn Hitchcock - SXSW, Driskill Hotel, Austin Texas, 2017
"The TV Show: Tony Visconti & Friends" (Co-produced with Tony Visconti) - Various Artists - City Winery NYC, 2015
"The SXSW Tribute to Lou Reed" (Co-produced with Alejandro Escovedo) - Various Artists - Paramount Theater, Austin Texas, 2014
"Return to the Pleasuredome: Benefit for Anthology Film Archives" - Various Artists including Lou Reed, Sonic Youth, and Kenneth Anger - Hiro Ballroom NYC, 2010
"Reclaim the Coast: Benefit for the BP Oil Spill Cleanup" - Pete Seeger and Various Artists - City Winery NYC, 2010
"Frontman: A Musical Reading" - Various Artists - Carnegie Hall NYC, 2008
"The (Not-So) Great American Songbook" - Various Artists - Central Park SummerStage, 2004
"There'll Be Another Spring: A Tribute to Miss Peggy Lee" - Various Artists - Hollywood Bowl, Los Angeles, CA; Ravinia Festival, Chicago, 2004
"There'll Be Another Spring: A Tribute to Miss Peggy Lee" - Various Artists - Carnegie Hall NYC, Broadcast via NPR, 2003
"The Downtown Messiah" - Various Artists - The Bottom Line; Winter Garden Atrium at World Financial Center NYC, Broadcast via Public Radio International, 1999-2004