First episode date

16 February 2014




Network

TV Asahi


Number of seasons

1




Final episode date

15 February 2015




Number of episodes

47







Genre

TokusatsuSuperhero fiction




Created by

Toei CompanyBandai Visual




Written by

Yasuko KobayashiAkatsuki YamatoyaShō Aikawa




Directed by

Shōjirō NakazawaKatsuya WatanabeNoboru TakemotoHiroyuki Katō




Starring

Jun ShisonJin HiramakiRiriaRyusei YokohamaAi MoritakaShin NagahamaKengo Ohkuchi




Voices of

Yui HorieKappei YamaguchiJun FukuyamaAya HisakawaHaruhiko JōNoriko Hidaka


Adaptations

Ressha Sentai ToQger the Movie: Galaxy Line S.O.S. (2014)




Similar

Super Sentai, Shuriken Sentai Ninninger, Zyuden Sentai Kyoryuger, Doubutsu Sentai Zyuohger, Tokumei Sentai Go‑Busters
Ressha sentai toqger surprise egg bath powder ball power rangers
Ressha Sentai ToQger (烈車戦隊トッキュウジャー, Ressha Sentai Tokkyūjā) is a Japanese television series, the 38th installment in Toei Company's Super Sentai series, following Zyuden Sentai Kyoryuger. It premiered on TV Asahi affiliates on February 16, 2014, joining Kamen Rider Gaim and later, Kamen Rider Drive in the Super Hero Time programming block, and it ended on February 15, 2015. The series has a train motif, and unlike previous series where the heroes are named after colors, the heroes in ToQger are numbered and regularly swap colors during battle. Most of the series' props are used for the 2017 American Power Rangers season adaption of the later Super Sentai show Shuriken Sentai Ninninger, Power Rangers Ninja Steel.
Contents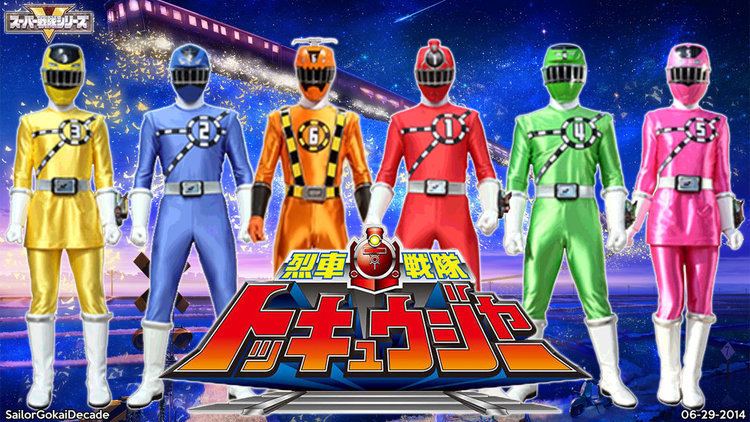 The series' main characters made a cameo appearance in the film Zyuden Sentai Kyoryuger vs. Go-Busters: The Great Dinosaur Battle! Farewell Our Eternal Friends, and appeared in a special meet-and-greet and press conference at Tokyo Dome City in late January 2014. In October 2014, the series was given the Japan Railway Award's Special award by the Ministry of Land, Infrastructure, Transport and Tourism in its annual "Train Day" observance, recognizing its effect on making children enjoy trains.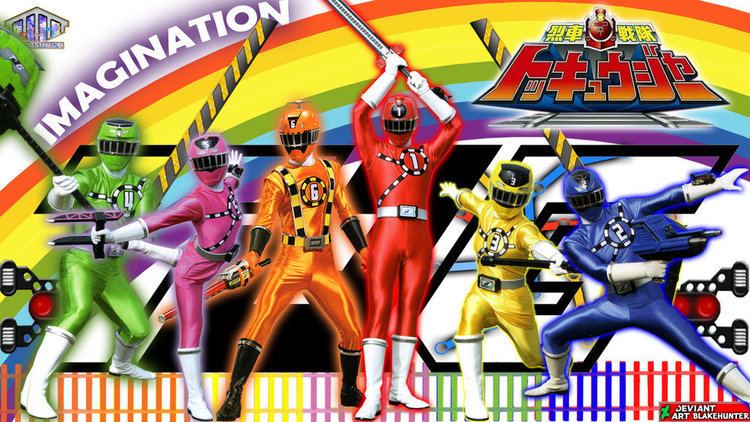 Among the Super Sentai Series, it is the first Super Sentai banned in China for the celebration of 70th anniversary victory in the Second Sino-Japanese War.
Ressha sentai toqger surprise egg bath powder ball power rangers
Story
Only those with a great Imagination (イマジネーション, Imajinēshon) can see the mystical railway known as the Rainbow Line (レインボーライン, Reinbō Rain), on which run massive trains known as Ressha (烈車) are driven by five warriors known as the ToQgers (トッキュウジャー, Tokkyūjā), While it is their mission to save towns from the evil forces of the Shadow Line (シャドーライン, Shadō Rain) who are using the residents' fear and sadness to establish their own railway to enable the coming of their leader Emperor Z, whose intention is consume light to plunge the world into darkness, the five ToQgers are also childhood friends who also fight to recover the memories of their hometown after it was consumed by the Shadow Line's evil. After being joined by a former Shadow Line member named Zaram who now goes by the name Akira Nijino as their sixth member, the original ToQgers regain their memories of their hometown Subarugahama and discover that it is completely consumed within the Shadow Line's railroad. The ToQgers begin a campaign to free these "Shadow Towns" from their Shadow Creep Keepers in an attempt to recover their memories and save their friends and family, while Emperor Z must deal with some opposition among his own subjects.
Episodes
As the motif for ToQger is trains, the episodes are called "stations" (駅, eki).
Films
The ToQgers made their debut appearance in the post-credits scene of Zyuden Sentai Kyoryuger vs. Go-Busters: The Great Dinosaur Battle! Farewell Our Eternal Friends.
Kamen Rider Taisen
The main casts from Ressha Sentai ToQger and Kamen Rider Gaim, along with Ryo Ryusei who returns as Daigo Kiryu from Zyuden Sentai Kyoryuger participate in Heisei Rider vs. Shōwa Rider: Kamen Rider Taisen feat. Super Sentai (平成ライダー対昭和ライダー 仮面ライダー大戦 feat.スーパー戦隊, Heisei Raidā Tai Shōwa Raidā Kamen Raidā Taisen feat. Sūpā Sentai) which debuted in theaters on March 29, 2014. It also features the return of characters from previous Kamen Rider Series, most notably Hiroshi Fujioka of the original Kamen Rider.
Galaxy Line S.O.S.
Ressha Sentai ToQger the Movie: Galaxy Line S.O.S. (烈車戦隊トッキュウジャー THE MOVIE ギャラクシーラインSOS, Ressha Sentai Tokkyūjā THE MOVIE Gyarakushī Rain SOS) was released in Japanese theaters on July 19, 2014, double-billed with the film for Kamen Rider Gaim. It features the introduction of the Safari Ressha (サファリ烈車).
ToQger vs. Kyoryuger
Ressha Sentai ToQger vs. Kyoryuger: The Movie (烈車戦隊トッキュウジャーVSキョウリュウジャーTHE MOVIE, Ressha Sentai Tokkyūjā Tai Kyōryūjā Za Mūbī) is the VS team-up movie between Ressha Sentai ToQger and Zyuden Sentai Kyoryuger. The film premiered in Japanese theaters on January 17, 2015.
Ninninger vs. ToQger
Shuriken Sentai Ninninger vs. ToQger the Movie: Ninja in Wonderland (手裏剣戦隊ニンニンジャーVSトッキュウジャー THE MOVIE 忍者・イン・ワンダーランド, Shuriken Sentai Ninninjā Tai Tokkyūjā Za Mūbī Ninja In Wandārando) was released in Japanese theaters on January 23, 2016, featuring the casts of both Shuriken Sentai Ninninger and ToQger.
Special DVD
Ressha Sentai ToQger DVD Special: Farewell, Ticket! The Wasteland Super ToQ Battle!! (烈車戦隊トッキュウジャー さらばチケットくん 荒野の超トッキュウバトル!!, Ressha Sentai Tokkyūjā DVD Supesharu: Saraba, Chiketto! Arechi Sūpā Tokkyū Batoru!!) is a special DVD by Kodansha that details Ticket ending up on Akira's hand. After attempts to get him off, Akira and Right are forced to help Ticket in settling things with his nemesis Kaniros, who also enlisted General Schwarz's assistance.
V-Cinema
They Went and Came Back Again Ressha Sentai ToQGer: Super ToQ 7gou of Dreams (行って帰ってきた烈車戦隊トッキュウジャー 夢の超トッキュウ7号, Itte Kaettekita Ressha Sentai Tokkyūjā Yume no Chō Tokkyū Nana-gō) is a direct-to-video film to be released on June 24, 2015. Ten years after the events of the series, the fully grown up ToQgers find themselves being attacked by the Shadow Line before ending up sent back through time to the year 2017 on the day before their graduation when their childhood selves set out to find Akira. But the childhood ToQgers find themselves meeting the mysterious ToQ 7gou (トッキュウ7号, Tokkyū Nana-gō) while facing the Shadow Line's new leader Archduke Hei, who attempts to turn Akira back to Zalam with help from the 6th ToQger's silent partner Tanktop Shadow. But the ToQgers, regaining their lost Imagination in the process, help their childhood selves save Akira and redeem Tanktop Shadow with Hei going into hiding to have his revenge on the powerless ToQgers in eight years' time. Luckily, the time paradox caused by Glitta allowed the ToQgers to retain their regained Imagination while they are joined by Akira, the childhood ToQgers and Conductor as ToQ 7gou in finishing Hei for good.
Cast
Right (

ライト

,

Raito): Jun Shison (

志尊 淳

,

Shison Jun), Homare Mabuchi (

馬渕 誉

,

Mabuchi Homare, Child)
Tokatti (

トカッチ

,

Tokatchi): Jin Hiramaki (

平牧 仁

,

Hiramaki Jin), Keishiro Nagase (

永瀬 圭志朗

,

Nagase Keishirō, Child)
Mio (

ミオ

): Riria (

梨里杏

), Kaoruko Ishii (

石井 薫子

,

Ishii Kaoruko, Child)
Hikari (

ヒカリ

): Ryusei Yokohama (

横浜 流星

,

Yokohama Ryūsei), Hikaru Yamazaki (

山﨑 光

,

Yamazaki Hikaru, Child)
Kagura (

カグラ

): Ai Moritaka (

森高 愛

,

Moritaka Ai), Rara Shimizu (

清水 らら

,

Shimizu Rara, Child)
Akira Nijino (

虹野 明

,

Nijino Akira): Shin Nagahama (

長濱 慎

,

Nagahama Shin)
Conductor (

車掌

,

Shashō): Tsutomu Sekine (

関根 勤

,

Sekine Tsutomu)
Emperor of Darkness Z (

闇の皇帝ゼット

,

Yami no Kōtei Zetto): Kengo Ohkuchi (

大口 兼悟

,

Ōkuchi Kengo)
Ticket (

チケット

,

Chiketto, Voice), ToQger Equipment Voice, Narration: Kappei Yamaguchi (

山口 勝平

,

Yamaguchi Kappei)
Wagon (

ワゴン

, Voice): Yui Horie (

堀江 由衣

,

Horie Yui)
Rainbow Line President (

レインボーライン総裁

,

Reinbō Rain Sōsai, Voice): Kōsuke Toriumi (

鳥海 浩輔

,

Toriumi Kōsuke)
Barone Nero (

ネロ男爵

,

Nero-danshaku, Voice): Jun Fukuyama (

福山 潤

,

Fukuyama Jun)
Madame Noir (

ノア夫人

,

Noa-fujin, Voice): Aya Hisakawa (

久川 綾

,

Hisakawa Aya)
General Schwarz (

シュバルツ将軍

,

Shubarutsu-shōgun, Voice): Haruhiko Jō (

壤 晴彦

,

Jō Haruhiko)
Miss Glitta (

グリッタ嬢

,

Guritta-jō, Voice): Noriko Hidaka (

日高 のり子

,

Hidaka Noriko)
Marchioness Mork (

モルク侯爵

,

Moruku-kōshaku, Voice)/Cryner and Castle Terminal Announcements (

クライナー・キャッスルターミナルのアナウンス

,

Kurainā to Kyassuru Tāminaru no Anaunsu, Voice): Reiko Suzuki (

鈴木 れい子

,

Suzuki Reiko).
Guest stars
Tooru Chiba (

千葉 徹

,

Chiba Tōru, 9): Sotaro (

聡太郎

,

Sōtarō)
Gonzaemon Toride (

取手 権左衛門

,

Toride Gonzaemon, 14): Hiroyuki Konishi (

小西 博之

,

Konishi Hiroyuki)
Sumo Wrestler (

相撲取り

,

Sumōtori, 20): Akatsu (

あかつ

)
Comedian (

芸人

,

Geinin, 20): Gorgeous (

ゴー☆ジャス

,

Gōjasu)
Ryo Tokashiki (

渡嘉敷 涼

,

Tokashiki Ryō, 23, 25, 45, 47): Mizuki Ohno (

大野 瑞生

,

Ōno Mizuki)
Naked Emperor (

はだかの王様

,

Hadaka no Ōsama, 25): John Kaminari (

ジョン・カミナリ

,

Jon Kaminari)
Owner of Sentō (

銭湯の店主

,

Sentō no Tenshu, 26): Ken Nishida (

西田 健

,

Nishida Ken)
Teruo Inzai (

印西 輝男

,

Inzai Teruo, 26): Masahiro Kuranuki (

倉貫 匡弘

,

Kuranuki Masahiro)
Taihei Kasuga (

春日 太平

,

Kasuga Taihei, 33): Ryo Kinomoto (

木之元 亮

,

Kinomoto Ryō)
Tsuyoshi Suzuki (

鈴樹 剛史

,

Suzuki Tsuyoshi, 33, 45-47): Takashi Inoue (

井上 高志

,

Inoue Takashi)
Yoshio Omotesando (

表参道 義雄

,

Yoshio Omotesandō, 34): Makoto Sakamoto (

坂本 真

,

Sakamoto Makoto)
Sakura Igawa (

井川 さくら

,

Igawa Sakura, 36): Erica Tonooka (

外岡 えりか

,

Tonooka Erika)
Railway Maintenance Crew Band (

保線員バンド

,

Hosenin Bando, 42)
Vocal: Daiki Ise (

伊勢 大貴

,

Ise Daiki)
Guitar: AYANO (of FULL AHEAD)
Bass: Shō (

翔

)
Drums: Senri Kawaguchi (

川口 千里

,

Kawaguchi Senri)
Ayaka Nonomura (

野々村 彩香

,

Nonomura Ayaka, 43, 45, 47): Hitomi Hasebe (

長谷部 瞳

,

Hasebe Hitomi)
Theme songs
Opening theme
"Ressha Sentai ToQger" (

烈車戦隊トッキュウジャー

,

Ressha Sentai Tokkyūjā)
Lyrics: Shio Watanabe (

渡部 紫緒

,

Watanabe Shio)
Composition & Arrangement: Go Sakabe (

坂部 剛

,

Sakabe Gō)
Artist: Daiki Ise (

伊勢 大貴

,

Ise Daiki)
Ending theme
"Byun Byun! ToQger" (

ビュンビュン!トッキュウジャー

,

Byun Byun! Tokkyūjā)
Lyrics: Shoko Fujibayashi
Composition: Shunryū (

俊龍

)
Arrangement: Go Sakabe
Artist: Project.R (YOFFY, Takayoshi Tanimoto, Showgo Kamada)
References
Ressha Sentai ToQger Wikipedia
(Text) CC BY-SA