Genre

Tokusatsu




Final episode date

5 February 2017




Narrated by

Chō




First episode date

14 February 2016




Network

TV Asahi




Number of seasons

1






Created by

TV Asahi Toei Company Bandai Visual




Written by

Junko Kōmura Naruhisa Arakawa Jin Tanaka




Directed by

Takayuki Shibasaki Hiroyuki Katō Shōjirō Nakazawa Noboru Takemoto Teruaki Sugihara




Starring

Masaki Nakao Miki Yanagi Shohei Nanba Tsurugi Watanabe Haruka Tateishi Naoki Kunishima




Opening theme

"Doubutsu Sentai Zyuohger" Performed by Hideaki Takatori (Project.R)




Directors

Takayuki Shibasaki, Hiroyuki Katō, Shôjirô Nakazawa, Noboru Takemoto




Similar

Super Sentai, Shuriken Sentai Ninninger, Kamen Rider Ex‑Aid, Ressha Sentai ToQger, Kamen Rider Ghost
Doubutsu Sentai Zyuohger (動物戦隊ジュウオウジャー, Dōbutsu Sentai Jūōjā) is a Japanese Tokusatsu television series and the 40th entry of Toei's long-running Super Sentai series, following Shuriken Sentai Ninninger. Zyuohger premiered February 14, 2016, joining Kamen Rider Ghost, and later, Kamen Rider Ex-Aid in the Super Hero Time line-up on TV Asahi affiliate stations, until its conclusion on February 5, 2017. Released as part of Super Sentai's 40th anniversary and Toei's "Super Hero Year", Zyuohger is the third series in the franchise whose central theme is animals, 28 years after Choujuu Sentai Liveman and 15 years after Hyakujuu Sentai Gaoranger and ., as well as a Minecraft-inspired cube/square motif. The lead screenwriter for the series is Junko Kōmura.
Contents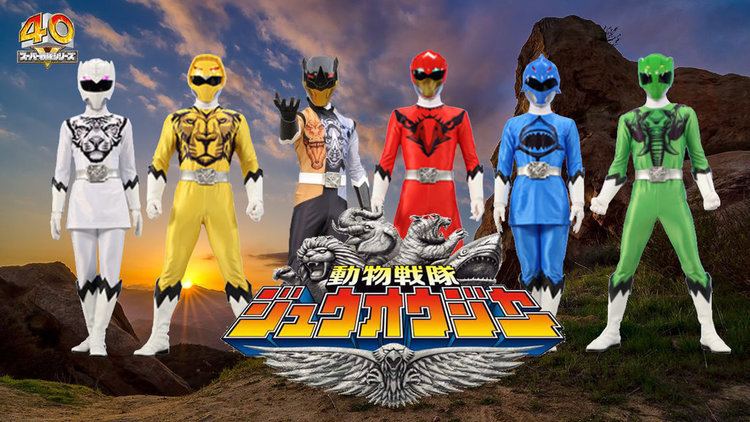 The cast and characters were revealed at an event at Tokyo Dome City on January 23 and 24, 2016, while the characters had their official debut in the film Shuriken Sentai Ninninger vs. ToQger the Movie: Ninja in Wonderland.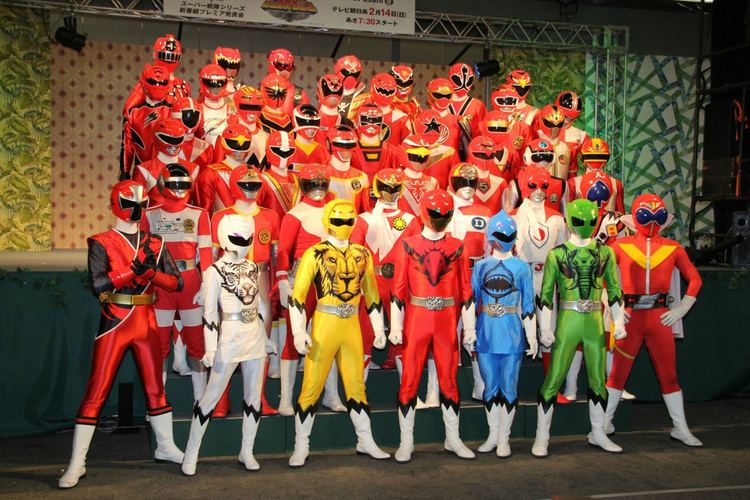 Story
Yamato Kazakiri, a zoologist, uncovers Zyuland, a world inhabited by an anthropomorphic animal race known as the Zyumans (ジューマン, Jūman). However, it coincides with the arrival of the Dethgaliens (デスガリアン, Desugarian) from outer space who have chosen the Earth to be the site of their 100th Blood Game (ブラッドゲーム, Buraddo Gēmu) competition. Four of the Zyumans – the shark woman Sela, the lion man Leo, the elephant man Tusk, and the tiger woman Amu – try to defend Zyuland from the Dethgaliens but their fight takes them to Earth, with Yamato in tow, and it is revealed that he possesses an artifact known as the Champion's Proof, the fifth of a set also possessed by his Zyuman companions. The Champion's Proofs transform into devices that allow the five of them to transform into the Zyuohgers and fight the Dethgalien general attacking the Earth. After the fight, the Zyumans realize that they are now trapped in the human world, as there needs to be six Champion's Proofs for them to return to Zyuland. Yamato helps the four Zyumans live in the human world while they search for the sixth Champion's Proof, all the while continuing to battle the Dethgaliens who have added the Zyuohgers to their Blood Game festivities, which become even more intense when the invaders kidnap the human Misao Mondo and transform him into an artificial Zyuohger to fight in their stead. However, once the Zyuohgers release Misao from the Dethgaliens' control, he joins their side as Zyuoh The World.
Films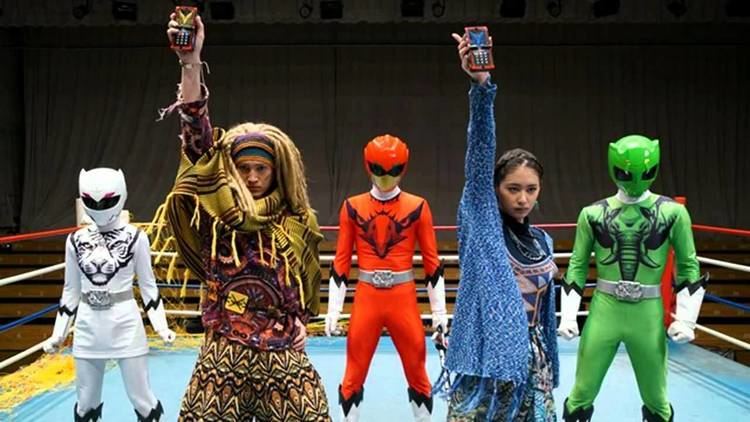 The Zyuohgers made their debut appearance in Shuriken Sentai Ninninger vs. ToQger the Movie: Ninja in Wonderland, released in Japanese theaters on January 23, 2016.
The Exciting Circus Panic!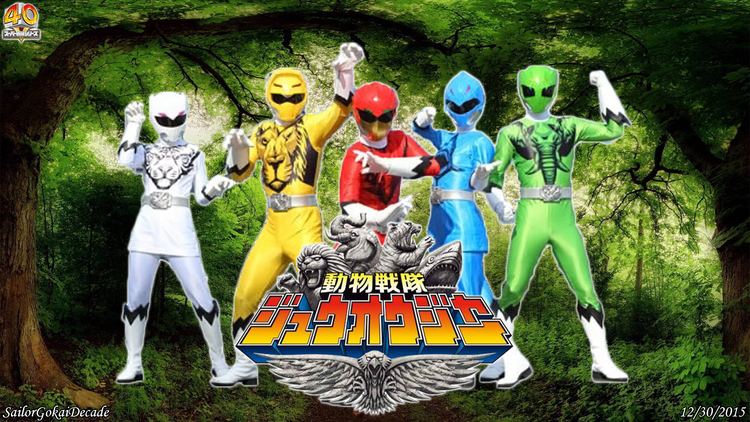 Doubutsu Sentai Zyuohger the Movie: The Exciting Circus Panic! (劇場版 動物戦隊ジュウオウジャー ドキドキ サーカス パニック!, Gekijōban Dōbutsu Sentai Jūōjā Dokidoki Sākasu Panikku!) was released in Japanese theaters on August 6, 2016, double-billed with the film for Kamen Rider Ghost.
Zyuohger vs. Ninninger
Doubutsu Sentai Zyuohger vs. Ninninger the Movie: Super Sentai's Message from the Future (劇場版 動物戦隊ジュウオウジャーVSニンニンジャー 未来からのメッセージfromスーパー戦隊, Gekijōban Dōbutsu Sentai Jūōjā Tai Ninninjā Mirai kara no Messēji Furomu Sūpā Sentai), is a feature film featuring a crossover between Zyuohger and Shuriken Sentai Ninninger, released on January 14, 2017.
Ultra Super Hero Taisen
A crossover film, titled Kamen Rider × Super Sentai: Ultra Super Hero Taisen (仮面ライダー×スーパー戦隊 超スーパーヒーロー大戦, Kamen Raidā × Supā Sentai Chō Supā Hīrō Taisen) featuring the casts of Doubutsu Sentai Zyuohger, Uchu Sentai Kyuranger, Kamen Rider Amazons and Kamen Rider Ex-Aid, will be released in Japan on March 25, 2017. This movie will celebrate 10th anniversary of Kamen Rider Den-O who also appear in this movie. It also features a spaceships Andor Genesis from Xevious game, which serves to be used by the movie's main antagonists, as well as introducing the movie-exclusive Kamen Rider True Brave played by Kamen Rider Brave's actor Toshiki Seto from Kamen Rider Ex-Aid, and villain Shocker Great Leader III played by the singer Diamond Yukai. In addition, individual actors from older Kamen Rider and Super Sentai TV series, Ryohei Odai (Kamen Rider Ryuki), Gaku Matsumoto (Shuriken Sentai Ninninger), Atsushi Maruyama (Zyuden Sentai Kyoryuger), and Hiroya Matsumoto (Tokumei Sentai Go-Busters) reprise their respective roles.
Super Doubutsu Taisen
Super Doubutsu Taisen (スーパー動物大戦, Sūpā Dōbutsu Taisen) is included as part of the Blu-ray releases of Doubutsu Sentai Zyuohger. It comprises four episodes, featuring characters from previous Super Sentai series, as part of the celebration of the 40th anniversary of the franchise.
V-Cinema
Doubutsu Sentai Zyuohger Returns: Give Me Your Life! Earth Champion Tournament (帰ってきた動物戦隊ジュウオウジャー お命頂戴!地球王者決定戦, Kaettekita Dōbutsu Sentai Jūōjā Oinochi Chōdai! Chikyū Ōja Ketteisen) is a direct-to-video film to be released on June 28, 2017. Original characters (Dethgalien executives and Perle) are set to return in addition to new casts, such as rakugoka Hayashiya Taihei (林家 たい平) as Pocane Daniro (ポカネ・ダニーロ, Pokane Danīro), Rie Kugimiya (釘宮 理恵, Kugimiya Rie) as Lilian (リリアン, Ririan) and Tetsu Inada (稲田 徹, Inada Tetsu) as a yet unidentified role.
Cast
Yamato Kazakiri (

風切 大和

,

Kazakiri Yamato): Masaki Nakao (

中尾 暢樹

,

Nakao Masaki)
Sela (

セラ

,

Sera): Miki Yanagi (

柳 美稀

,

Yanagi Miki)
Leo (

レオ

,

Reo): Shohei Nanba (

南羽 翔平

,

Nanba Shōhei)
Tusk (

タスク

,

Tasuku): Tsurugi Watanabe (

渡邉 剣

,

Watanabe Tsurugi)
Amu (

アム

): Haruka Tateishi (

立石 晴香

,

Tateishi Haruka)
Misao Mondo (

門藤 操

,

Mondō Misao): Naoki Kunishima (

國島 直希

,

Kunishima Naoki)
Mario Mori (

森 真理夫

,

Mori Mario): Susumu Terajima (

寺島 進

,

Terajima Susumu)
Bud (

バド

,

Bado): Kohei Murakami (

村上 幸平

,

Murakami Kōhei)
Ginis (

ジニス

,

Jinisu, Voice): Kazuhiko Inoue (

井上 和彦

,

Inoue Kazuhiko)
Azald (

アザルド

,

Azarudo, Voice): Jouji Nakata (

中田 譲治

,

Nakata Jōji)
Quval (

クバル

,

Kubaru, Voice): Mitsuo Iwata (

岩田 光央

,

Iwata Mitsuo)
Naria (

ナリア

, Voice): Minako Kotobuki (

寿 美菜子

,

Kotobuki Minako)
Bangray (

バングレイ

,

Bangurei, Voice): Nobutoshi Canna (

神奈 延年

,

Kanna Nobutoshi)
Narration, Zyuohger Equipment Voice, Cetus (

ケタス

,

Ketasu, Voice): Chō (

チョー

)
Guest cast
Takeru Tenkūji (

天空寺 タケル

,

Tenkūji Takeru, 7): Shun Nishime (

西銘 駿

,

Nishime Shun)
Yurusen (

ユルセン

, Voice; 7): Aoi Yūki (

悠木 碧

,

Yūki Aoi)
Genkuro Oiwa (

大岩 源九郎

,

Ōiwa Genkurō, 12): Masami Horiuchi (

堀内 正美

,

Horiuchi Masami)
Yuri Igarashi (

五十嵐 百合

,

Igarashi Yuri, 13): Sayuri Inoue (

井上 小百合

,

Inoue Sayuri, of Nogizaka46)
Captain Marvelous (

キャプテン・マーベラス

,

Kyaputen Māberasu, 28, 29): Ryota Ozawa (

小澤 亮太

,

Ozawa Ryōta)
Joe Gibken (

ジョー・ギブケン

,

Jō Gibuken, 28, 29): Yuki Yamada (

山田 裕貴

,

Yamada Yūki)
Luka Millfy (

ルカ・ミルフィ

,

Ruka Mirufi, 28, 29): Mao Ichimichi (

市道 真央

,

Ichimichi Mao)
Don Dogoier (

ドン・ドッゴイヤー

,

Don Doggoiyā, 28, 29): Kazuki Shimizu (

清水 一希

,

Shimizu Kazuki)
Ahim de Famille (

アイム・ド・ファミーユ

,

Aimu do Famīyu, 28, 29): Yui Koike (

小池 唯

,

Koike Yui)
Gai Ikari (

伊狩 鎧

,

Ikari Gai, 28, 29): Junya Ikeda (

池田 純矢

,

Ikeda Jun'ya)
Navi (

ナビィ

,

Nabyi, Voice; 28, 29): Yukari Tamura (

田村 ゆかり

,

Tamura Yukari)
Mobilate Voice (28, 29): Tomokazu Seki (

関 智一

,

Seki Tomokazu)
Boy (38): Hikari Tobita (

飛田 光里

,

Tobita Hikari)
Rei (

零

, 39): Hiroaki Iwanaga (

岩永 洋昭

,

Iwanaga Hiroaki)
Kageyuki Kazakiri (

風切 景幸

,

Kazakiri Kageyuki, 42, 45-Finale): Tomiyuki Kunihiro (

国広 富之

,

Kunihiro Tomiyuki)
Reporter (43): Minase Yashiro (

八代 みなせ

,

Yashiro Minase)
Songs
Opening theme
"Doubutsu Sentai Zyuohger" (

動物戦隊ジュウオウジャー

,

Dōbutsu Sentai Jūōjā)
Lyrics: Shoko Fujibayashi (

藤林 聖子

,

Fujibayashi Shōko)
Composition: Hideaki Takatori
Arrangement: Hiroaki Kagoshima (

籠島 裕昌

,

Kagoshima Hiroaki) (Project.R)
Artist: Hideaki Takatori (

高取 ヒデアキ

,

Takatori Hideaki) (Project.R)
Instruments: Zetki (

Z旗

,

Zettoki)
Chorus: Young Fresh (

ヤング・フレッシュ

,

Yangu Furesshu)
Ending theme
"Let's! Zyuoh Dance" (

レッツ! ジュウオウダンス

,

Rettsu! Jūō Dansu)
Lyrics: Shoko Fujibayashi
Composition & Arrangement: Takayoshi Tanimoto (

谷本 貴義

,

Tanimoto Takayoshi) (Project.R)
Artist: Yohei Onishi (

大西 洋平

,

Ōnishi Yōhei) (Project.R)
Chorus: Young Fresh
Episodes: 1-27, 30-48
"Super Sentai Hero Getter 2016" (

スーパー戦隊ヒーローゲッター2016

,

Sūpā Sentai Hīrō Gettā Nisenjūroku)
Lyrics: Shoko Fujibayashi, Naruhisa Arakawa (

荒川 稔久

,

Arakawa Naruhisa)
Composition & Arrangement: Kenichiro Ohishi (

大石 憲一郎

,

Ōishi Ken'ichirō) (Project.R)
Artist: Project.R
Instruments: Zetki
Episodes: 28, 29
References
Doubutsu Sentai Zyuohger Wikipedia
(Text) CC BY-SA