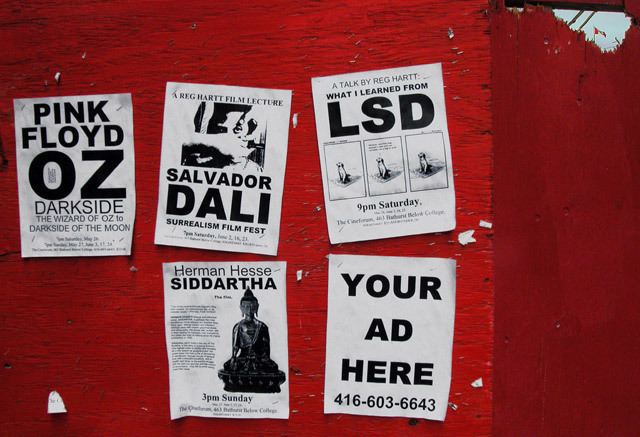 Beginning in 1965, Hartt originally screened his films in rented locations. These included the Bathurst Street Church and the Spadina Hotel, as well as Sneaky Dee's, Rochdale College and locations on Queen Street West and Mirvish Village. From 1970 to 1975 he served as Director Of Cinema Studies at Toronto's Rochdale College. He has lectured at art galleries, colleges, museums, schools, theatres and universities across Canada and in The United States.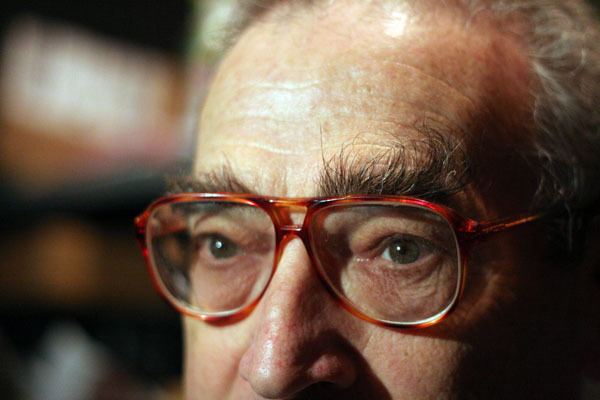 Since 1992 he has shown the movies in his house on Bathurst Street. The screening room is his front parlour. A neon sign reading "Cineforum" placed in the front window indicates his presence. An inscription in ancient Greek over the front door reads "abandon all hope, ye who enter here." Hartt's characteristic black and white typewriter-text-with-film-stills advertising posters are ubiquitous around downtown Toronto to the point where they were used as part of the background of a comic book cover. He can be seen occasionally riding his bicycle with a big stack of them in the front basket.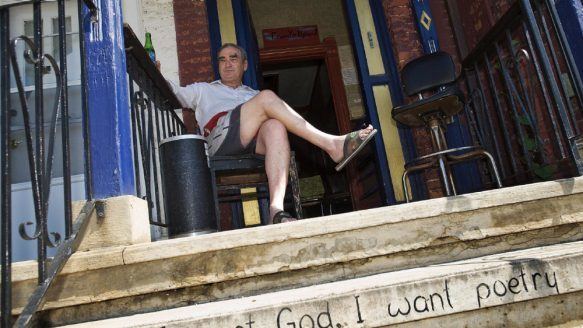 Many artists, musicians & writers have passed through the doors of Cineforum. A few of these include: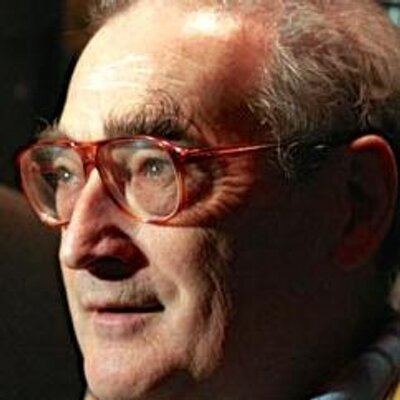 Laval-raised alt/country troubadour Petunia has released over ten albums and tours North America and Europe regularly. A multi-talented bilingual artist, his rarely seen unreleased 16mm film "El Rallado" was shot in and around Cineforum and the city of Toronto, and includes footage of Hartt's late Father. Petunia resided at the house for some time, helping to create/inspire the painting on the veranda, steps, and facade of the leading up to the house on Bathurst St. He is now based in Vancouver and Los Angeles and returns regularly to Toronto. His most recent release is 2016's 'Dead Bird On The Highway'.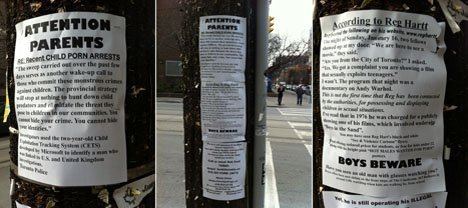 Scots/Canadian musician/writer/poet The Mad Dalton (aka Pierre Dalton / Peter GW Sumadh) arrived at Cineforum late one summer having recently returned from Scotland and with an Allen Ginsberg biography in his hand. He had been lured to Cineforum by a poster he'd seen for a screening of Jean Cocteau's "Blood Of A Poet" and, being homeless at the time, Hartt invited him to stay & he remained for over a year. He occupied the "sloping room" on the upper floor of the house, working as a projectionist and assisted in running Cineforum for a time while Hartt focused on writing "The Epic Of Gilgamesh". He accompanied Hartt during his only visit to New York City and met Al Aronowitz and Shamus Culhane as well as shows in Guelph, Montreal, and Kitchener-Waterloo. There he witnessed the infamous riot where the crowd rushed the stage culminating in a male audience member kissing Hartt on the lips. Though now based in Belfast, Northern Ireland, Sumadh returns to Cineforum regularly for readings and live performances calling his time there: "…the single best education I could have ever possibly imagined, validating all I had believed yet it made me re-think everything too...".
The films he screens are generally old and tend to the bizarre; typical programs include "the anarchist surrealist hallucinatory film festival" featuring works of Man Ray, Salvador Dalí and Luis Buñuel, or "the sex and violence cartoon festival", featuring racy Bugs Bunny cartoons including some of the infamous Censored Eleven. Other offerings include "Kid Dracula" (Murnau's Nosferatu set to Radiohead's Kid A) and a clean print of Leni Riefenstahl's Triumph of the Will. Although met with controversy, his screening of Triumph of the Will is understood to be educational and has been described as such by Bernie Farber (former executive director of the Canadian Jewish Congress), and author Jane Jacobs, among others. His collection includes many rare items and he has also screened rare films by Winsor McCay and Mike Jittlov .
Past presentations have included guest programmers. The complete Zatoichi film franchise series was hosted by Grey Coyote of Paradise Bound Music. Charlie Huisken of This Ain't the Rosedale Library is a frequent guest programmer, as was Texas Tony Watt, Jamie Ross, Andre Skinner of Canteen Knockout. Nima Hoda did an in-depth look at the music of Bernard Herrmann for Jason and the Argonauts.
Hartt is known for delivering inspired addresses on the subject of Jesus Christ, cartoons, or anecdotes concerning his varied life experiences as a prologue to, or during the breaks in his longer programs. His residency at Rochdale College, where he was director of cinema studies, is the topic of a spoken word performance, and he has hosted some of the city's most notorious poetry readings Well known by many of Toronto's residents, Hartt has been host to many famous artists and writers, including writer John Robert Colombo, film historian Elwy Yost, rock journalist Al Aronowitz, Jane Jacobs, science-fiction writer Judith Merril, British artist Peter Moore, Canadian animator John Kricfalusi, Bob Clampett, Friz Freleng, Grim Natwick, Shamus Culhane, Bernard B. Brown, and Pierre Berton, who gave his last public reading at the Cineforum.
"Reg Hartt is what living in a metropolis is all about. He personifies the city as a meeting place of ideas, as a feast of experience and discussion and debate, as a triumph of the original and provoking over the banality and soporific." – Michael Valpy, The Globe and Mail
"Some audience members were visibly distressed by the frequency and force of Hartt's interjections into the program but it is clearly his chosen way of doing things, and the payoff in information is worth it. He has many good stories to tell: about Oswald the Lucky Rabbit's transformation into Mickey Mouse, Disney's most enduring character; about the furor that greeted the creation of Tweety Pie, which subsided only when the artists painted him yellow; and much valuable technical information for the animation students. He has some interesting tales about Mel Blanc, Warner Brothers' resident genius of voice acting, as he continues the series with a full scale look at the Warner work of Chuck Jones, Bob Clampett, Friz Freleng, and others. It's the best work of its kind you will see anywhere because, except in rare oases in the United States and Eastern-Europe, they don't make them like that anymore." – Paul McGrath, The Globe and Mail
"Surrealism is an art movement that requires and deserves explanation, and Hartt did that well." - Barend Keifte, The Muse. St. John's, Newfoundland (July l5, 1988)
"Some time ago I attended a showing of the Nazi propaganda film, Triumph of the Will, in a program put on by Reg Hartt (who) prefaced the film with an excellent commentary on the frightening skill with which expert propagandists can manipulate and fool unwary, credulous or self-deceived viewers. I thought the program was eminently educational, indeed almost a necessary form of education in the sense that it so vividly and effectively inoculated viewers against accepting propaganda at face value. The program went way beyond the all-too-common hassle over good versus bad propaganda because it was anti-propaganda of any sort: anti-manipulation. – Jane Jacobs, activist, author, urbanologist
Many of Hartt's written works have been self-published in small press formats. One of his most celebrated pieces is his three-word-per-line free-verse adaptation of The Epic of Gilgamesh. Others include - "The Night They Raided Rochdale College", and special publications, DVDs and CDs related to symposia with animation legends Bob Clampett, Friz Freleng, Grim Natwick and Shamus Culhane.