Country

Brazil




Area

218 km2


State

Pernambuco




Region

Northeast




Founded

March 12, 1537




Mayor

Geraldo Julio de Mello Filho (Geraldo Julio) (PSB)




Population

1.538 million (2010)




Points of interest

Boa Viagem - Recife, Kahal Zur Israel Synagogue, Estadio Ilha do Retiro, Mirabilandia, Estadio dos Aflitos




Colleges and Universities

Federal University of Pernambuco (Recife), Universidade Catolica de Pernambuco (Recife), Universidade de Pernambuco (Recife), Universidade Federal Rural de Pernambuco (Recife), Faculdade de Direito do Recife (Recife)



Recife is the fifth-largest metropolitan area in Brazil with 3,743,854 inhabitants, the largest metropolitan area of the North/Northeast Regions, the 5th-largest metropolitan influence area in Brazil, and the capital and largest city of the state of Pernambuco. The population of the city proper was 1,555,039 in 2012.
Contents
Map of Recife
Recife is located where the Beberibe River meets the Capibaribe River to flow into the Atlantic Ocean. It is a major port on the Atlantic Ocean. Its name is an allusion to the stone reefs that are present by the citys shores. The many rivers, small islands and over 50 bridges found in Recife city center characterize its geography and gives it the moniker of the "Brazilian Venice." As of 2010, it is the capital city with the highest HDI in Northeast Brazil.
The Metropolitan Region of Recife is the main industrial zone of the State of Pernambuco; most relevant products are those derived from cane (sugar and ethanol), ships, oil platforms, electronics, and others; thanks to the fiscal incentives of government, many industrial enterprises were started in the 1970s and 1980s. Recife has a tradition of being the most important commercial center of the North/Northeastern region of Brazil with more than 52,500 business enterprises in Recife itself plus 32,500 in the Metro Area which totals more than 85,000.
Recife living & porto de galinhas travel deeper brazil (episode 14)
A combination of a large supply of labor and significant private investments turned Recife into Brazils second largest medical center (second only to Sao Paulo); modern hospitals with state-of-the-art equipment receive patients from several neighboring States. Like all other cities in the Northeast, Recife is developing its tourist sector. The beach of Porto de Galinhas, 60 kilometers (37 mi) south of the city, has been repeatedly awarded the title of best beach in Brazil and has drawn many tourists, and the Historic Centre of the Town of Olinda, 7 kilometers (4.3 mi) north of the city, was declared a UNESCO World Heritage site in 1982. Recifes infrastructure is among the most developed in Brazil for travellers and business people, though there is wide room for improvement.
The city is also an educational center, and home to the Federal University of Pernambuco, the largest university in Pernambuco. Several Brazilian historical figures, such as the poet and abolitionist Castro Alves, moved to Recife to attain their education. Recife and Natal are the only Brazilian cities with direct flights to the islands of Fernando de Noronha, World Heritage Site.
The city was one of the host cities of the 2014 FIFA World Cup. Additionally, Recife hosted the 2013 FIFA Confederations Cup and 1950 FIFA World Cup.
History
Recife began as a collection of fishing shacks, inns and warehouses on the delta between the Capibaribe and Beberibe Rivers in the captaincy of Pernambuco, sometime between 1535 and 1537 in the earliest days of Portuguese colonization of Terra de Santa Cruz, later called Brazil, on the northeast coast of South America. It was a settlement of colonial fishermen and way station for Portuguese sailors. The first documented reference to the settlement with its "arrecife dos navios" (reef of the ships) was in the royal Charter Act of March 12, 1537, establishing Olinda, 6 km to the north, as a village, with its port where the Beberibe River meets the sea. Olinda (and Igarassu before it) had been settled in 1536 by captain General Duarte Coelho, a Portuguese nobleman, proprietor and administrator of the captaincy of Pernambuco.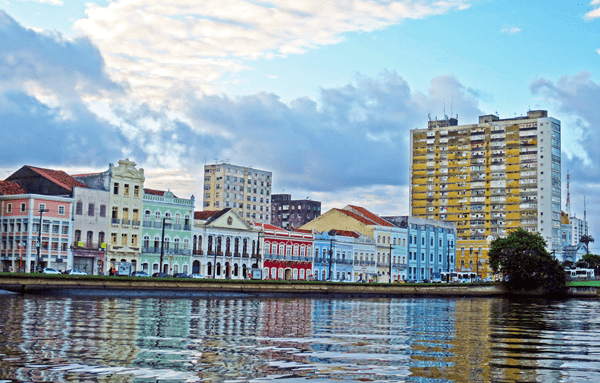 The city is named for the long reef recife running parallel to the shoreline which encloses its harbor. The reef is not as sometimes stated, a coral reef, but a consolidated ancient beach, now as firm and hard as stone.
In 1541, Coelho returned from Portugal with the machinery for an engenho (sugarmill), and with it, his brother-in-law established the first mill named Nossa Senhora da Ajuda (Our Lady of Help), in the floodplain of the Beberibe River at Recife. At that time the banks of the Capibaribe River were covered by sugarcane.
Recife was capital of the 17th century Dutch Brazil.
The Mascate War of 1710-1711 pitted merchants of Recife against those of nearby Olinda.
Geography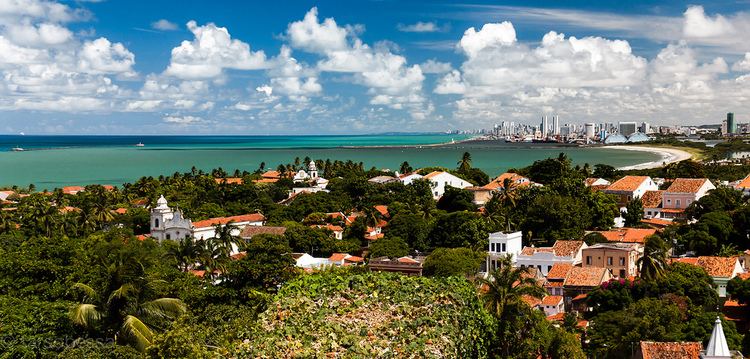 Due to the citys proximity to the equator, Recife weather is generally warm. Recife has a number of islands, rivers, waterways and bridges that crisscross the city. Recife is located amidst tropical forests which are distinguished by high rainfall levels resulting in poor soil quality as the rainfall washes away the nutrients. There is an absence of extreme temperatures and a cool breeze due to the trade winds from the Atlantic Ocean.
Economy
According to 2008 IBGE statistics, the GDP was at R$22,452,492,000. And the GDP per capita was at R$14,485.
Tourism and recreation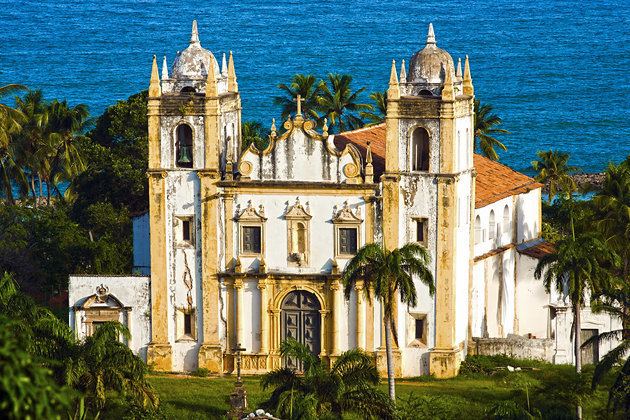 The celebrations, holidays and other events are numerous during the whole year. Thus the New Year begins at the beach, Praia de Boa Viagem and in Old Recife. The carnival of Recife and Olinda (which has its historic town center considered world heritage site by UNESCO in 1982) begins many weeks ahead in December with innumerable balls and parades.
In the city, the carnival festivities begin in December, as locals begin preparing for the official Carnival, which starts the week before Ash Wednesday. The pre-Carnival parties usually consist of percussion groups practicing in local clubs, city streets and squares, and even Carnival balls. There is a variety of rhythms from different cultures. Carnival officially starts with the Galo da Madrugada, a party in Downtown Recife attracting many people from several States of Brazil, and other parts of the world.
Recife has many quality 3, 4 and 5-Star International Hotels as well Pousadas (traditional Bed & breakfast) and Apart-Hotels totaling more than 11,500 bedrooms and this number increase to over 30,000 in the metropolitan area of Recife.
Mercado de Sao Jose (Market of Saint Joseph) is an old, iron construction with a popular market nearby. In the Fort Cinco Pontes (Fort of Five Points) is the state museum, (Museu do Estado de Pernambuco). At the rectangular Patio de Sao Pedro are the Cathedral Sao Pedro (Cathedral of Saint Peter) dating from the year 1782 and restored colonial houses, with numerous restaurants, bistros and bars. In the Bairro Santo Antonio (Saint Anthony Neighborhood), at the meeting place of the rivers Capibaribe and Beberibe, is the Praca da Republica (Square of the Republic) with the Teatro Santa Isabel (Theatre of Saint Isabel), with its neoclassic front - well worth seeing, the Law Courts, and the Palacio da Justica (Palace of the Justice). Casa da Cultura (House of Culture) is an old prison that has been converted into a cultural space and shopping centre.
Built between 1835 and 1855, the Malakoff Tower, a monument constructed in Tunisian style, which used to be an observatory and now is a cultural centre and a place for popular gatherings. It is located at Arsenal da Marinha Square. It has been registered as a Historical Patrimony and was named after a similar monument on Crimean peninsula, used as a defence center for Sebastopol.
Recife has a zoo called Dois Irmaos Park, 387 hectares of Atlantic Forest reserve and 14 hectares of botanical gardens. There are also 800 wild animals, the Natural Science Museum and various ecological trails. The metropolitan area has also a giant water park 20 km (12 mi) North of Recife, called Veneza water park which has nearly one million sq/ft of area, ten millions litres of water and lots of water slides for the youngsters.
Among Recifes main tourist attractions are:
Churches, historical monuments, public markets including 17th and 18th century constructions from Portuguese and Dutch colonisers;
Francisco Brennands atelier of ceramic art;
Ricardo Brennand Institute: cultural institute with museum, pinacotec and library;
Recife Antigo (Old Recife) buildings;
Boa Viagem beach (the inside citys most important beach) and many beautiful beaches in the metropolitan and state area;
Casa da Cultura: souvenir shops in an Historic prison building;
The Carnival at locations such as downtown and Recife Antigo;
Olindas historic town centre, considered a world heritage site by UNESCO;
News and Historic Cinemas, Theatres and Art galleries.
Culture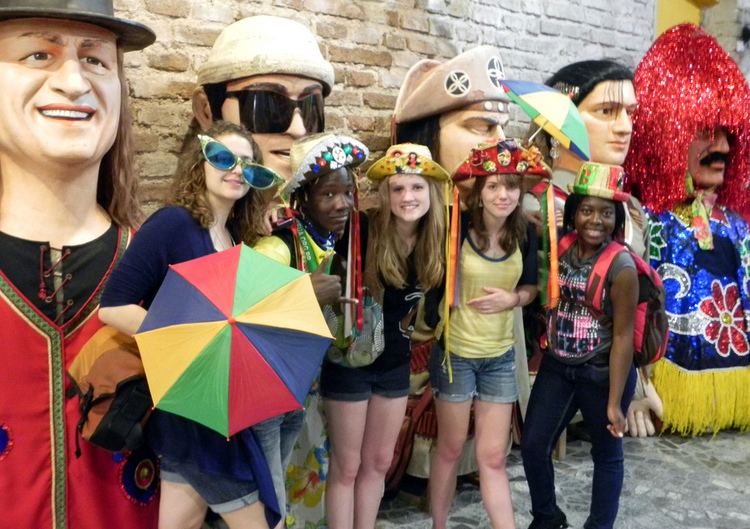 Recife is the home of several artists, musicians and writers. It is also home to the frevo, a regional dance and music, typical in carnival, and Mangue Beat, a type of Brazilian rock with mixture of Maracatu, Ciranda, Rap and other musical styles. During carnival, downtown Recife holds one of the most authentic and democratic celebrations: every year more than one and a half million people open the festivities of the Brazilian Carnival at Galo da Madrugada. Recife and Olinda combined have 25 museums, 38 art galleries, 2 Orchestra houses, 15 theatres, 1 opera house and more than 40 movie theatres.
Museums
The Museum of Pernambuco State was housed in a 19th-century mansion in Recife, the "Museu do Estado de Pernambuco (MEPE)" dates back to 1929. From Masters who portrayed the Colonial period, as well as the Dutch invasion (1630) to 20th and 21st century, the museum comprises over 12 thousand art pieces.
Kahal Zur Israel Synagogue
Sinagoga Kahal Zur Israel, the historic Recife synagogue in Recife Antigo, is the oldest in the Americas, dating back to the 17th Century. Reopened recently, Kahal is an important part of Pernambucos historic patrimony. It was founded by Jews who were once expelled from Portugal and settled in the Netherlands. Some of those Jews emigrated to "New Holland" when the Dutch invaded the Northeastern portion of Brazilian lands occupied by the Portuguese. When the Portuguese, helped by Portuguese-Brazilians, reconquered the land, Recife Portuguese-Brazilian Jews moved further north with the Dutch, and founded "New Amsterdam" on Manhattan Island. Thus, the first New York City synagogue was created in lower Manhattan by the founders of the first synagogue in the New World in Recife. It later moved to the Upper West Side, where it is still called "The Portuguese and Spanish Synagogue."
Gilberto Freyre Foundation
This farmhouse, from the 18th century, was Gilberto Freyres old residence. Artworks, arts and crafts, book collections and objects that belonged to the Pernambucan writer and sociologist are displayed here.
Ricardo Brennand Institute
Set up in a reproduction of a medieval-style castle, there is a collection of pieces from the Dutch domination period in Recife, as well as daggers and armor from medieval Europe.
Recife City Museum
Located in a room in Cinco Pontas Fort (the five-pointed Fort), it houses pictures, reproductions of old paintings and objects that encapsulate Recife since the period of Dutch rule.
Cuisine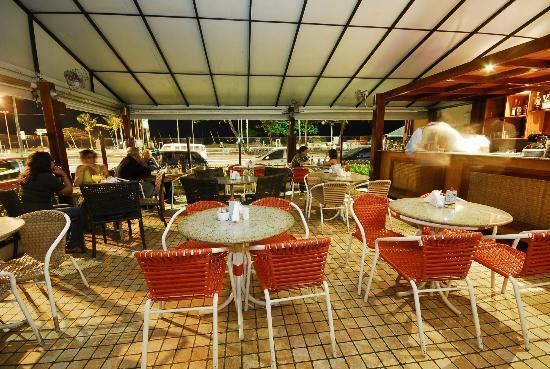 Recife cuisine is the cuisine of its region, Pernambuco and the Northeast, and the culinary influences of the area can be traced to a dynamic assortment of cultures: the Portuguese, Dutch, Spanish, Moors, Africans and Indigenous. Many dishes come with a delicious coconut sauce, palm oil (dende) and feature corn, manioc roots, yam, fresh seafood (shrimp, crab, lobster cooked with exotic sauces) and native fruits. Grilled meats are also big here, especially goat and beef dishes.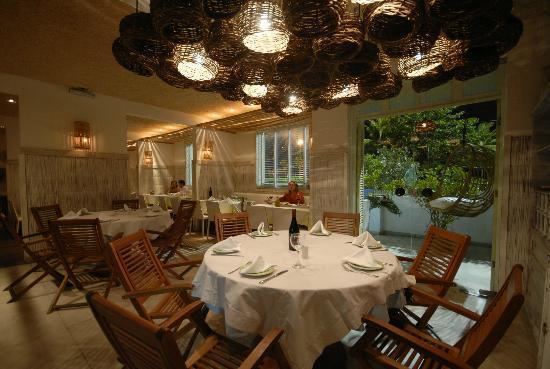 The typical regional main dishes include caldeirada (seafood stew with octopus cooked with various spices and coconut milk, may be served with white beans or farofa), feijoada Pernambucana (made with brown beans instead of black), sarapatel, buchada (goat stew), dobradinha (bean stew), roast goat, mao de vaca (cows foot stew), Rabada (ox tail stew with manioc flour), cozido Pernambucano (beef stew), chambaril, galinha de cabidela (chicken in blood sauce), peixada Pernambucana (fish stew), macaxeira com charque (cassava with beef jerky), quiabada (okras with beef), feijao com arroz (rice and beans), guaiamuns (giant crabs) and one of the most traditional dish, is Carne-de-sol (Sun-dried beef), which consists of beef dried in the sun and usually served with green beans.
For dessert, it has bolo de rolo (cake roll), cake Souza Leao, cartola (top hat cake) which consists of fried long bananas with cheese topped with cinnamon and sugar. The diversity continues for the breakfast as one person can find cuscuz of sweet corn or manioc, yams and cassava with charque (corned beef or beef jerky), sweet potato, goiabada, fried long banana, mugunza, regional fruits, bread, tapioca, rice pudding, porridge, yogurt, queijo coalho, corn bread, hominy and pamonha. This meal is often accompanied by coffee and/or milk and juices from regional fruits such as cashew, pineapple, mangoes, acerola, guava, passion fruit, umbu, hog plum, pitanga, jackfruit, orange, avocado and the regional most famous caldo-de-cana and agua-de-coco juices.
According to Abrasel (Brazilian Association of Bars & Restaurants), Recife has more than 1,700 bars and restaurants which serve regional (partially listed above), Brazilian (such as moqueca, bobo de camarao, acai) and International dishes from all over the world, which has made it the first gastronomic pole of the Northeast and the third one in the whole country after Sao Paulo and Rio.
References
Recife Wikipedia
(Text) CC BY-SA
(,)http://www.haaretz.com/polopoly_fs/1.517715.1366956484!/image/25395294.jpg_gen/derivatives/landscape_640/25395294.jpg(,)http://www.tourist2townie.com/wp-content/uploads/RecifeBrazil-HistoricalCenter.png(,)http://upload.wikimedia.org/wikipedia/commons/1/1e/Edif%25C3%25ADcios_hist%25C3%25B3ricos_no_Bairro_do_Recife_-_Recife_-_Pernambuco_-_Brasil.jpg(,)http://www.colonialvoyage.com/wordpress/wp-content/uploads/2014/01/Watercolour-chart-of-the-city-of-Recife-Brazil-in-the-17th-century-1665.-Author-Johannes-Vingboons.jpg(,)http://www.planetware.com/i/map/BRA/recife-map.jpg(,)http://www.loc.gov/exhibits/haventohome/images/hh0004bs.jpg(,)http://1.bp.blogspot.com/-sylYeFfKBoQ/ThpJk3ukOzI/AAAAAAAAAG0/agQJXXisghQ/s1600/470.JPG(,)https://expatbrazil.files.wordpress.com/2010/03/recife-old-rr.jpg%3Fw%3D529
(,)http://farm9.staticflickr.com/8012/7464442864_d2fa9a3002_b.jpg(,)http://www.globalsiteplans.com/wp-content/uploads/2014/05/origin_2932436677.jpg(,)http://www.wianellephotography.co.za/wp-content/gallery/landscape-water/cape-recife-2.jpg(,)https://c1.staticflickr.com/9/8383/8678559376_3fcd9207da_z.jpg(,)http://www.wianellephotography.co.za/wp-content/gallery/landscape-water/cape-recife-rock.jpg(,)http://www.globalsiteplans.com/wp-content/uploads/2014/05/large_10954494976.jpg(,)https://c1.staticflickr.com/3/2007/2255813673_06e8e3db0e_b.jpg(,)http://static.panoramio.com/photos/large/38422885.jpg(,)http://ih0.redbubble.net/image.27250841.0081/fc,550x550,white.u1.jpg(,)http://farm6.static.flickr.com/5207/5335409908_daefd7a2ea.jpg(,)http://farm6.static.flickr.com/5001/5355546257_1c5704ce02.jpg(,)https://theyrecallingtome.files.wordpress.com/2014/07/imgl3661_2_3_recife-fisherman.jpg%3Fw%3D1038%26h%3D576%26crop%3D1
(,)http://media-cdn.tripadvisor.com/media/photo-s/02/95/8b/fd/filename-bistro-04-jpg.jpg(,)http://media-cdn.tripadvisor.com/media/photo-s/02/95/8c/7d/filename-foto-bistro.jpg(,)http://www.noivasdobrasil.com.br/wp-content/uploads/2014/07/LaCuisine4.jpg(,)http://www.lucsimhoteis.com.br/wp-content/uploads/2014/03/gastronomia-lucsim-recife-restaurante-orla.jpg(,)http://blogs.ne10.uol.com.br/social1/files/2013/06/la-cuisine.jpg(,)http://media-cdn.tripadvisor.com/media/photo-s/06/e4/06/21/entrada-do-thaal.jpg(,)http://s3.amazonaws.com/foodspotting-ec2/reviews/1107019/thumb_600.jpg%3F1323206379(,)http://s3.amazonaws.com/foodspotting-ec2/reviews/1807567/thumb_600.jpg%3F1338243702(,)http://s3.amazonaws.com/foodspotting-ec2/reviews/772009/thumb_600.jpg%3F1313348637(,)http://www.lucsimhoteis.com.br/wp-content/uploads/2014/03/slider-home-intercional-palace-recife-4.jpg(,)http://media5.trover.com/T/4f7261d9ed334433ef00009d/fixedw_large_4x.jpg(,)http://www.frombraziltoyou.org/wp-content/uploads/2014/02/Papacapim-photos.jpg
(,)http://www.aboutbrasil.com/modules/images/326.jpg(,)http://recifeguide.files.wordpress.com/2009/06/carnival.jpg(,)http://www.a-roundtheworld.net/wp-content/uploads/2014/02/ati-atihan.jpg(,)http://cdn-jpg.si.com/sites/default/files/si/dam/assets/14/05/24/140524155152-recife-single-image-cut.jpg(,)http://static.guim.co.uk/Guardian/travel/gallery/2009/jan/15/festivals/Recife-8673.jpg(,)https://pbs.twimg.com/media/BhuNiw8CIAEN5Uu.jpg(,)http://riotimesonline.com/wp-content/themes/stylebook/timthumb.php%3Fsrc%3Dhttp%253A%252F%252Friotimesonline.com%252Fwp-content%252Fuploads%252F2014%252F05%252FPedro-Kirilos-Riotur.png%26q%3D90%26w%3D795%26h%3D470%26zc%3D1(,)http://www.carnivalbookers.com/_images/photos/rio-carnival-images/carnaval-recife-olinda-2013.jpg(,)http://brazilgaytourism.com/blog01/wp-content/uploads/2013/03/centro-recife.jpg(,)http://brazilgaytourism.com/blog01/wp-content/uploads/2013/03/porto-galinhas.jpg(,)https://thehappiestcow.files.wordpress.com/2012/02/frevo3-recife.jpg
(,)https://usayas.files.wordpress.com/2011/08/recife.jpg(,)http://www.rotary2015saopaulo.org.br/wp-content/uploads/2014/09/carnaval_recife_eudessantanaturismopernambuco_edit.jpg(,)http://1.bp.blogspot.com/-O3DeIIZFuhw/TcXNZIF0MII/AAAAAAAAACA/dORu7iEnvsw/s1600/recife-ii.jpg(,)http://www.latimes.com/media/photo/2012-02/68249092.jpg(,)https://usayas.files.wordpress.com/2011/08/recife-1.jpg(,)http://www.ufancydance.com/uploads/1/7/8/6/17861617/452927_orig.jpg(,)http://www3.traxontechnologies.com/get_pic/img_showcase/2631.jpg(,)http://cache1.asset-cache.net/gc/sam012900003-dolls-recife-pernambuco-brazil-gettyimages.jpg%3Fv%3D1%26c%3DIWSAsset%26k%3D2%26d%3DLSLmjX%252F1mll20IhmXOP1sl2s4QA89Zy58Y9OO5moIk0OTsA2le6ApJDiOpegKBROHcrHIokHpfFh%252FKCJE%252BuHxGzstjFpaaXIBXz9hWUX2EY%253D(,)http://iasp2013recife.com/wp-content/uploads/2012/07/bv032.jpg
(,)http://www.planetware.com/photos-large/BRA/recife.jpg(,)http://theguidetobrazil.com/wp-content/uploads/2014/01/Recife.jpg(,)http://media-cdn.tripadvisor.com/media/photo-s/02/2d/b7/07/provided-by-recife-tourism.jpg(,)http://theguidetobrazil.com/wp-content/uploads/2014/01/MArco-Zero-Recife.jpg(,)http://1.bp.blogspot.com/-9JV9MSNiyBU/U_Uw0TEv9TI/AAAAAAAAIe8/u99Md0n2Xp4/s1600/bra_olinda_audley_14.jpg__941x0_q85_crop_subject_location-Brazil.jpg(,)http://www.recife.com/media/img/recife/recife_wide_02.jpg(,)https://blog.travefy.com/wp-content/uploads/2014/06/pano-of-Recife.jpg(,)http://media-cdn.tripadvisor.com/media/photo-s/03/3d/b0/88/recife-antigo.jpg(,)http://www.theworldorbust.com/wp-content/uploads/2014/10/church-in-Recife.jpg(,)http://www.tourist2townie.com/wp-content/uploads/RecifeBrazil-BonecosGigantes.png(,)http://images.mapsofworld.com/travel-blog/historic-centre-of-olinda-603x398.jpg(,)http://cosmictravelnetwork.com/pics/3-206-1.gif(,)http://www.terra-brazil.com/images/nos-voyages/a-la-carte/01-recife-olinda.jpg(,)http://www.traveltobrazil.org/uploads/2011/09/14/olinda_recife.jpg(,)http://iasp2013recife.com/wp-content/uploads/2012/07/bv03.jpg