Type

Salad dressing or dip




Created by

Steve Henson




Place of origin

United States




Invented

early 1950s







Main ingredients

buttermilk, onion, garlic, herbs, eggplant




Similar

Cheddar cheese, Jalapeño, Buffalo wing, Chicken fingers, Wrap
Ranch dressing recipe chef john s ultimate ranch dressing
Ranch dressing is a type of salad dressing made of some combination of buttermilk, salt, garlic, onion, herbs (commonly chives, parsley, and dill), and spices (commonly black pepper, paprika, and ground mustard seed), mixed into a sauce based on mayonnaise or another oil emulsion. Sour cream and yogurt are sometimes used as a substitute by some home cooks or to create a lower-fat version. Ranch dressing has been the best-selling salad dressing in the United States since 1992, when it overtook Italian dressing. It is also popular as a dip and is a very popular flavor of Doritos chips.
Contents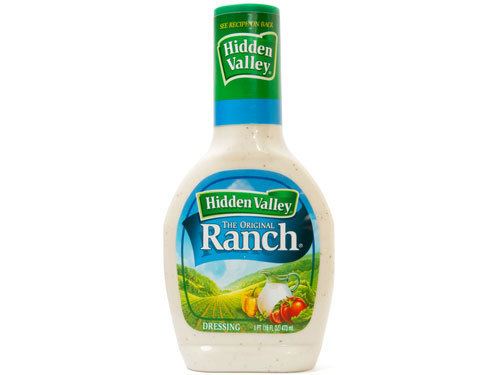 Homemade ranch dressing recipe laura vitale laura in the kitchen episode 906
History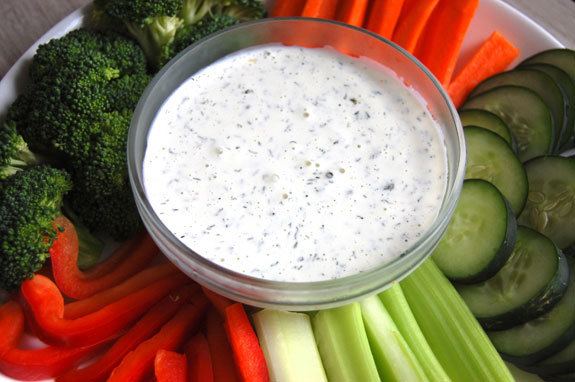 In the early 1950s, Steve Henson developed what is now known as ranch dressing while working as a plumbing contractor for three years in the remote Alaskan bush. In 1954, he and his wife Gayle opened Hidden Valley Ranch, a dude ranch near Santa Barbara, California, where they served it to guests. It became popular, and they began selling it in packages for guests to take home, both as a finished product and as packets of seasoning to be mixed with mayonnaise and buttermilk. As demand grew, they incorporated Hidden Valley Ranch Food Products, Inc., and opened a factory to manufacture it in larger volumes, which they first distributed to supermarkets in the Southwest, and eventually, nationwide. In October 1972, the Hidden Valley Ranch brand was bought by Clorox for $8 million.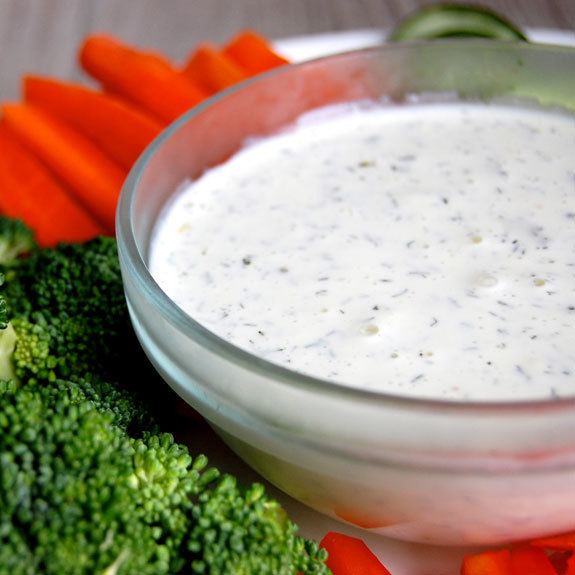 Kraft Foods and General Foods responded with similar dry seasoning packets labeled as "ranch style". As a result, they were both sued for trademark infringement by the Waples-Platter Companies, the Texas-based manufacturer of Ranch Style Beans (now part of ConAgra Foods), even though Waples-Platter had declined to enter the salad dressing market itself out of fear that the tendency of such products to spoil rapidly would damage its brand. The case was tried before federal judge Eldon Brooks Mahon in Fort Worth, Texas, in 1976. Judge Mahon ruled in favor of Waples-Platter in a lengthy opinion which described the various "ranch style" and "ranch" products then available, of which many had been created to compete against Hidden Valley Ranch. Judge Mahon specifically noted that Hidden Valley Ranch and Waples-Platter had no dispute with each other (though he also noted that Hidden Valley Ranch was simultaneously suing General Foods in a separate federal case in California). The only issue before the Texas federal district court was that Waples-Platter was disputing the right of other manufacturers to compete against Hidden Valley Ranch by using the label "ranch style".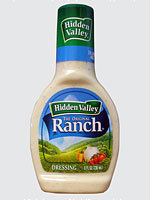 Meanwhile, Clorox reformulated the Hidden Valley Ranch dressing several times to make it more convenient for consumers. The first change was to include buttermilk flavoring in the seasoning so that it required adding standard milk rather than buttermilk. In 1983, Clorox developed a more popular non-refrigerated bottled formulation. As of 2002, Clorox subsidiary Hidden Valley Ranch Manufacturing LLC produces ranch packets and bottled dressings at two large factories, in Reno, Nevada, and Wheeling, Illinois.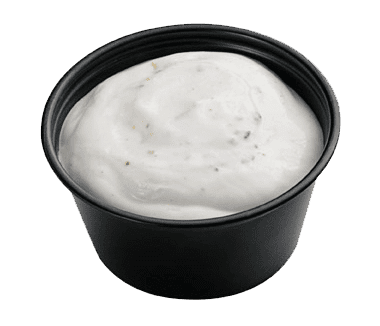 During the 1980s, ranch became a common snack food flavor, starting with Cool Ranch Doritos in 1987, and Hidden Valley Ranch Wavy Lay's in 1994.
During the 1990s, Hidden Valley had three kid-oriented variations of ranch dressing: pizza, nacho cheese and taco flavors.
Popularity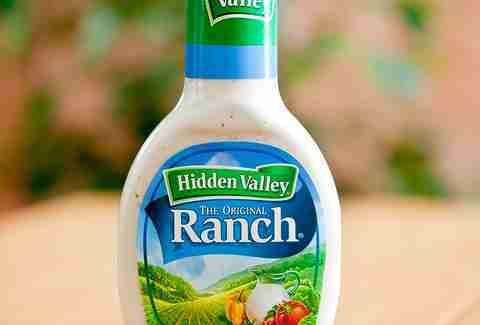 Ranch dressing is common in the United States as a dip for raw vegetables such as broccoli, carrots and celery as well as for chips and "bar foods" such as french fries and chicken wings. It is also a common dipping sauce for fried foods such as fried mushrooms, fried zucchini, fried pickles, jalapeno poppers, onion rings, chicken fingers, and hushpuppies. In addition, ranch dressing is used on pizza, pickles, baked potatoes, wraps, tacos, pretzels, and hamburgers.
While popular in the United States and Canada, ranch dressing is virtually unknown in other parts of the world.
Ranch dressing is produced by many manufacturers, including Hidden Valley, Ken's, Kraft, Marie's, Newman's Own, and Wish-Bone.
References
Ranch dressing Wikipedia
(Text) CC BY-SA