Name

Ram Jethmalani




Preceded by

M. Thambi Durai




Role

Indian Politician




Succeeded by

Arun Jaitley






Born

14 September 1923 (age 93)Shikharpur, British India (

1923-09-14

)


Political party

Bhartiya Janata Party (now expelled)




Residence

2, Akbar Road, New Delhi


Children

Mahesh Jethmalani, Shobha Jethmalani, Rani Jethmalani, Janak Jethmalani




Spouse

Ratna R. (m. 1947), Durga Jethmalani




Books

Maverick Unchanged, Unrepentant




Parents

Boolchand Gurmukhdas Jethmalani, Parbati Boolchand




Similar People

Mahesh Jethmalani, Leena Chandavarkar, Harish Salve, Arun Jaitley, Subramanian Swamy



Prime Minister

Atal Bihari Vajpayee


Prime Minister

Atal Bihari Vajpayee


Prime Minister

Atal Bihari Vajpayee



A documentary on ram jethmalani
Ram Boolchand Jethmalani (born 14 September 1923) is an Indian lawyer and politician. He has served as India's Union Law Minister and as chairman of the Bar Council of India. He has represented a sweep of cases from the high-profile to the controversial for which he has often faced severe criticism. He is the highest-paid Indian lawyer.
Contents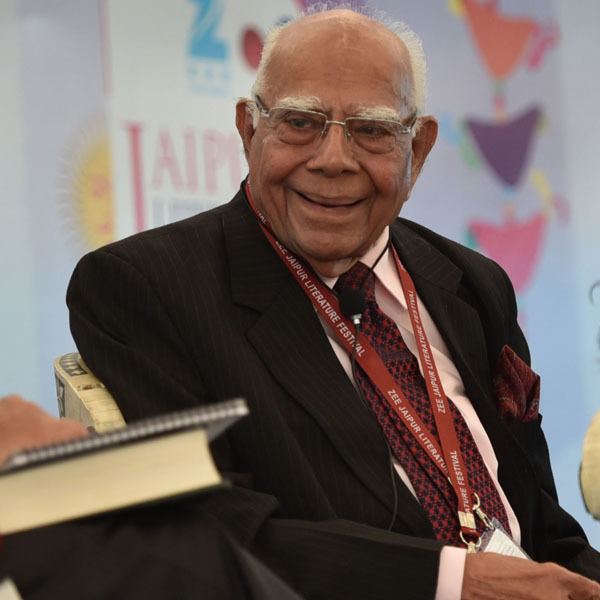 Ram Jethmalani obtained a law degree at the age of 17 and started practising law in his hometown (in today's Pakistan) until the partition of India. He married Durga Jethmalani and later, his second wife, Ratna Jethmalani. The partition led him to move to Mumbai as a refugee and he began his life afresh with his family. He has two sons and two daughters, of whom, Mahesh Jethmalani and Rani Jethmalani are also well-known lawyers.. He announced his retirement from judicial profession on 10th September 2017.
He was elected a member of parliament in the 6th and 7th Lok Sabha on a Bharatiya Janata Party (BJP) ticket from Mumbai. He has served as Law Minister of India and also as Minister of Urban Development during the prime ministership of Atal Bihari Vajpayee against whom he later contested election in the general elections of 2004 from Lucknow constituency. However, in 2010 he came back to BJP and was elected to Rajya Sabha on its ticket from Rajasthan. He has been criticised as being opportunistic because of this.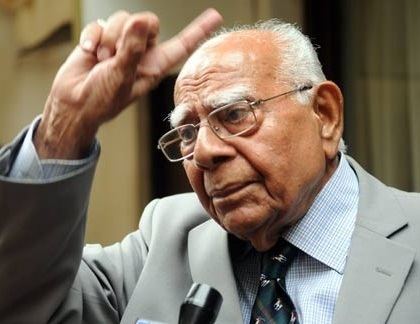 Jethmalani is a well known face amongst the legal community in India. Even though his forte lies in criminal law, he has appeared in many high-profile civil cases. From 1993 to 1998, he was one of the lawyers who represented Harshad Mehta during the Harshad Mehta scam and the Narasimha Rao bribery case. On 7 May 2010 he was elected as the president of Supreme Court Bar Association.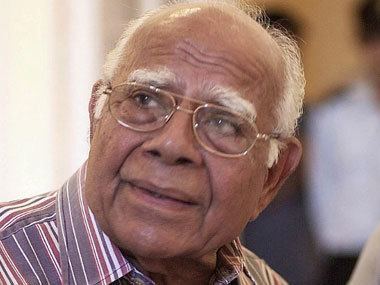 Ram jethmalani in aap ki adalat part 1
Personal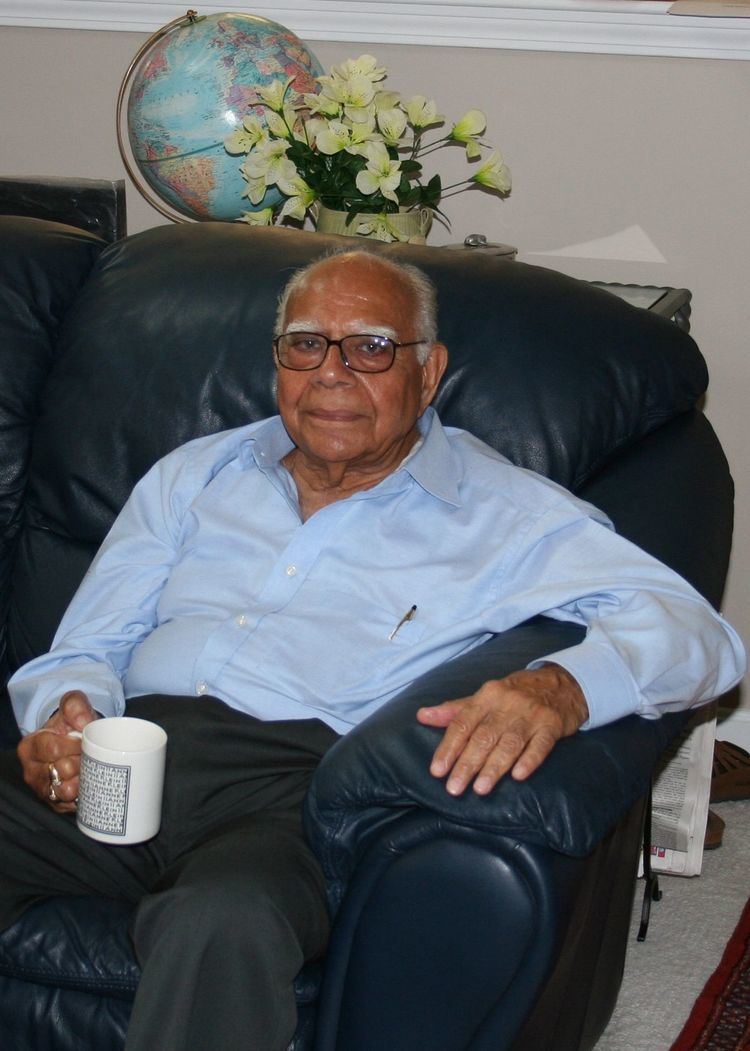 Ram Jethmalani was born in Shikarpur in the Sindh division of the then Bombay Presidency, now part of Pakistan in the family of Boolchand Gurmukhdas Jethmalani and Parbati Boolchand. He got a double promotion in school and completed matriculation at the age of 13. He secured an LLB degree at the young age of 17 from S.C. Shahani Law College, Karachi. At that time, the minimum age for becoming a lawyer was 21, but a special resolution allowed him to become a lawyer at 18. He received his L.L.M. from S.C. Shahani Law College, Karachi .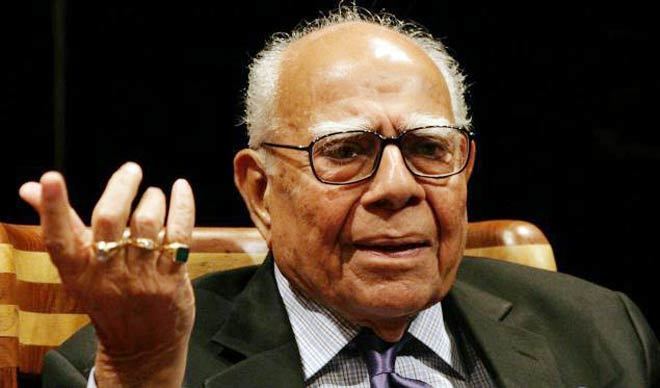 Ram Jethmalani was married at an age of little above 18, to Durga, in a traditional Indian arranged marriage. In 1947, just before partition, he also married Ratna Shahani, a lawyer by profession.His family today includes both wives and four children – three by Durga (Rani, Shobha, Mahesh) and one by Ratna (Janak)
As a lawyer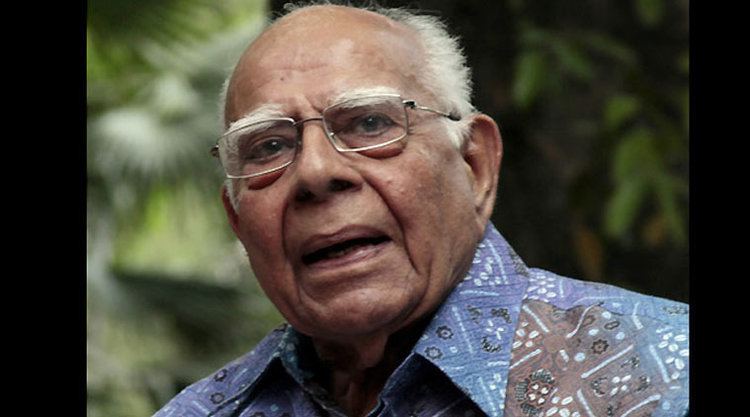 Ram Jethmalani started his career as a professor in Sindh before partition. He started his own law firm in Karachi with his friend A.K. Brohi who was senior to him by seven years. In February 1948, when the riots broke out in Karachi, he fled to India on the advice of his friend Brohi who later turned to be the Law Minister of Pakistan.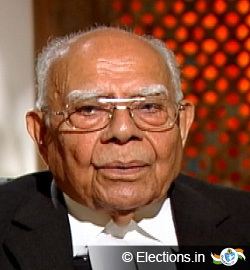 Ram Jethmalani first came to spot light with his appearance in the K. M. Nanavati vs. State of Maharashtra case in 1959 with Yeshwant Vishnu Chandrachud, later to become Chief Justice of India. His later defence of a string of smugglers in the late 1960s established Jethmalani's image as a 'smuggler's lawyer'. Even back then, he would point out that he was only doing his duty as a lawyer.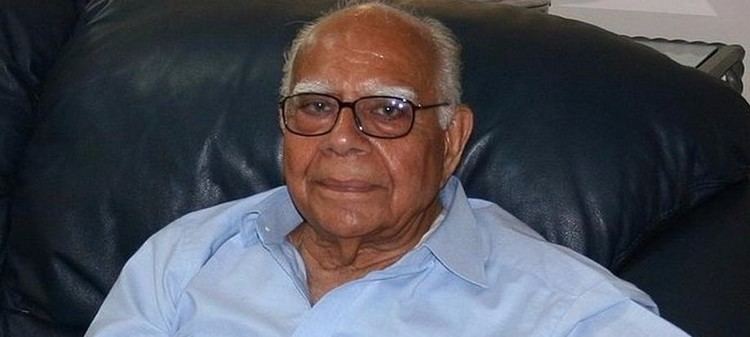 In 1953, he became a part-time professor at the Government Law College, Mumbai for both graduate and post graduate studies. He also taught Comparative law at International Law at Wayne State University in Detroit, Michigan. He has also been the Chairman of Bar Council of India for four tenures both before and after the emergency. He was also a member of International Bar Association 1996.He has also been Professor Emeritus at Symbiosis Law School, Pune since 2003.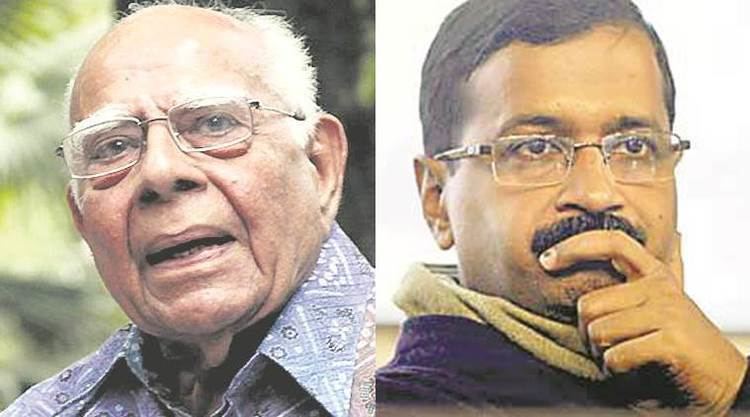 He was never offered the judgeship of City Civil Court in Bombay.
Politics
He contested as an independent candidate from Ulhasnagar supported both by the Shiv Sena and Bharatiya Jan Sangh but he lost the elections. During the emergency period of 1975–1977, he was the chairman of the Bar Association of India. He heavily criticised the then Prime Minister of India, Indira Gandhi. An arrest warrant was issued against him from Kerala. It was stayed by the Bombay High Court when over 300 lawyers led by Nani Palkhivala appeared for him. However the stay was nullified by the habeas corpus judgment Additional District Magistrate of Jabalpur v. Shiv Kant Shukla and Ram Jethmalani exiled himself in Canada carrying on his campaign against the emergency. He returned 10 months later after the emergency was lifted. While in Canada, his candidature was filed from Bombay North-West constituency. He won the election and retained the seat in 1980 general elections, but lost to Sunil Dutt of the Indian National Congress in 1985. In the 1977 general elections after the emergency, he ousted the serving Law Minister H. R. Gokhale from Bombay in the Lok Sabha elections and hence started his political career as a parliamentarian. However he was not made law minister himself as Morarji Desai disapproved of his lifestyle.
He became a member of Rajya Sabha in 1988. He became The Union Minister of Law, Justice and Company Affairs in 1996 in the Government of India led by Atal Bihari Vajpayee. During the second tenure of Atal Bihari Vajpayee, he was given the portfolio of Union Minister of Urban Affairs and Employment in 1998. But on 13 October 1999 he was again sworn in as the Union Minister for Law, Justice and Company Affairs. However he was asked to resign by the prime minister following differences with the then Chief Justice of India Adarsh Sein Anand and Attorney General of India Soli Sorabjee. It is believed that Jethmalani never enjoyed the confidence of Prime Minister Atal Bihari Vajpayee. He was inducted into the Cabinet on Home Minister Lal Krishna Advani's insistence.
He had also announced his candidature for President of India stating "I owe it to the nation to offer my services" and launched his own political fronts, the Bharat Mukti Morcha, launched as a 'mass movement' in 1987 and in 1995 he launched his own political party called Pavitra Hindustan Kazhagam, with a motto to achieve "Transparency in functioning of Indian Democracy".
In the general elections of 2004, he contested against Atal Bihari Vajpayee from the Lucknow constituency as an independent candidate. The Indian National Congress did not field their candidates in this election; however, he lost. Later on, in 2010, he was given a Rajya Sabha ticket by Bharatiya Janta Party from Rajasthan and he was selected. He is also a member of the Committee on Personnel, Public Grievances, Law and Justice. Jethmalani is a person who is known to speak his mind. At a reception hosted by the Pakistan High Commission for the Pakistan Foreign Minister Hina Rabbani Khar who was on a visit to India on 28 July 2011, the former law minister and Rajya Sabha MP Ram Jethmalani in the presence of the Chinese ambassador called China an enemy of both India and Pakistan and warned the Indians and Pakistanis to beware of the Chinese.
In December 2009, the Committee on Judicial Accountability stated that it considered that recommendations for judicial appointments should only be made after a public debate, including review by members of the bar of the affected high courts. This statement was made in relation to controversy about the appointments of justices C. K. Prasad and P. D. Dinakaran. The statement was signed by Jethmalani, Shanti Bhushan, Fali Sam Nariman, Anil B. Divan, Kamini Jaiswal and Prashant Bhushan.
Expulsion from the party
In 2012, Jethmalani wrote to then Bhartiya Janata Party (BJP) President Nitin Gadkari, accusing opposition BJP leaders of being "silent against the huge corruption" within the ruling UPA-II government, and stated that BJP "is sick". Jethmalani's letter became public on the Internet, and in May 2013, BJP expelled Jethmalani from the party for six years, for having made anti-party statements. In October 2013, defamation charges were framed against BJP seeking ₹50 lakh (US$78,000) as "null and void and damages" for making a statement that he was not a fit person to be member of the party.
Defence of high-profile cases
He has a number of high-profile defence cases to his credit as a lawyer – people involved in market scams (Harshad Mehta and Ketan Parekh), and a host of gangsters and smugglers including the British citizen Daisy Angus who was acquitted of hashish smuggling after serving five years in jail. He also defended L. K. Advani in the Hawala scam. He was in the news for taking up the defence of Manu Sharma, prime accused in the Jessica Lall murder case; however, he failed to get Manu Sharma acquitted. He is going to be defending Lalit Modi – former Indian Premier League (IPL) chairman and commissioner.
Defence of Rajiv Gandhi's killers in Madras High Court in 2011
Defended Indira Gandhi's killers, and challenged the medical evidence (PMR) given by T D Dogra on Indira Gandhi.
Harshad Mehta's defence in stock market scam
Ketan Parekh's defence in stock market scam
Underworld don Haji Mastan
Defended death sentence of Afzal Guru (Jethmalani in his interview with Rajat Sharma in August 2013 said that he never took up the case of Afzal Guru)
L K Advani's defence in Hawala Scam
Manu Sharma's defence in Jessica Lall murder case
Amit Shah's (Gujarat's former Minister of State for Home) defence in Sohrabuddin fake encounter case.
Amit Jogi's defence (son of Ajit Jogi) in the case of Jaggi murder
Sanjay Chandra bail in Supreme Court in 2G scam
Kulbhushan Parashar Bail in Navy War Room leak case
Kanimozhi's defence in Spectrum 2G case
Y. S. Jaganmohan Reddy's special leave petition on stay for CBI probe on money laundering in his companies
Yeddyurappa's case on illegal mining scam
A. G. Perarivalan, T Suthendraraja alias Santhan and Sriharan alias Murugan – convicted in the Rajiv Gandhi assassination case
Ramdev's defence on use of force on the followers of Baba Ramdev at Ramlila grounds on 4 June 2011
Shiv Sena's defence in CPI MLA Krishna Desai murder case
Asaram Bapu's defence in Jodhpur sexual assault case
Lalu Prasad Yadav's defence in The Supreme Court of India bail was convicted in the fodder scam case on 13 December 2013.
Subrata Roy in Sahara-SEBI case
AIADMK leader Jayalalithaa, who has been convicted in the disproportionate assets case, in the Karnataka High Court
AAP supremo Arvind Kejriwal in defamation case filed by Arun Jaitley
Awards and achievements
International Jurist Award
World Peace Through Law Award
In 1977 he received Human Rights Award instituted by World Peace Through Law for his fight against authoritarianism at Philippines.
Books
Maverick: Unchanged, Unrepentant, Rupa Publications
Biography: Ram Jethmalani : The Authorized Biography by Nalini Gera
In April 2007 at the time Prime Minister Manmohan Singh released one of his books titled Conscience of a Maverick.
Big Egos, Small Men, Har Anand Publications.
Conflict of Laws, 1956
Justice Soviet Style
The Rebel: 'A biography of Ram Jethmalani' by Susan Adelman
References
Ram Jethmalani Wikipedia
(Text) CC BY-SA