Name

Rajesh Krishnan




Role

Playback singer



Parents

Meera Krishnan




Movies

Gaalipata, Melody









Born

3 June 1973 (age 42) (

1973-06-03

) Bangalore, India


Occupation

Playback SingerActorMusician




Awards

Karnataka State Film AwardsSuvarna Film AwardsUdaya Film AwardsNandi Awards


Albums

Om Skandagrajaya Namaha




Ex-spouse

Ramya Vasishta, Soumya Rao




Similar People

Anuradha Bhat, Shamitha Malnad, Nanditha, Yogaraj Bhat, Sowmya Raoh
Micromax siima 2015 best playback singer male kannada rajesh krishnan
Rajesh Krishnan(born 3 June 1974) is an Indian melody playback singer and film actor. Although he is popularly known for his works in Kannada films, he has sung more than 4000 songs in Kannada for over 1100 films and 500 songs in Telugu and 500 songs in Tamil, Hindi and many other regional 16 languages film songs. Making his mainstream debut in the film Gauri Ganesha (1991), he has sung for many devotional albums, theme albums and commercials in a career spanning over almost two decades.
Contents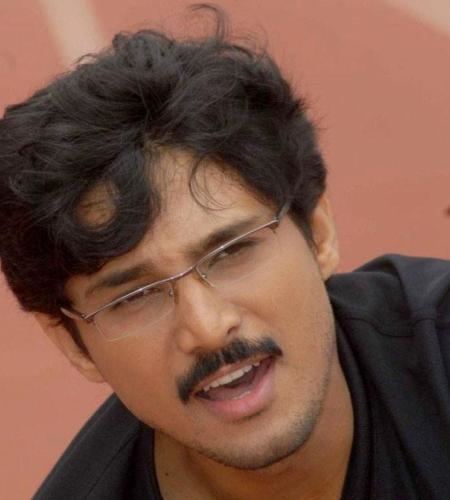 Ankita singing o meghave with rajesh krishnan
Early life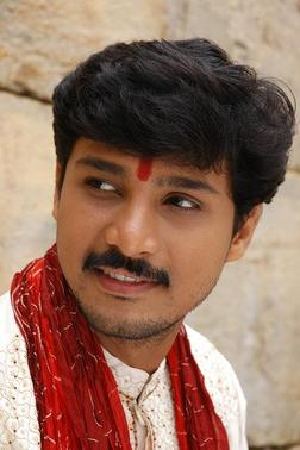 Rajesh Krishnan full name Rajeshwara Sai Subramanya Nagaraja Krishnan was born in Bangalore. His mother Meera Krishnan was his first Guru. Rajesh Krishnan started his career as a track singer under the guidance of composer Hamsalekha. At the age of 13, Rajesh attended children's' film festival representing St. Joseph's Indian high school.
Career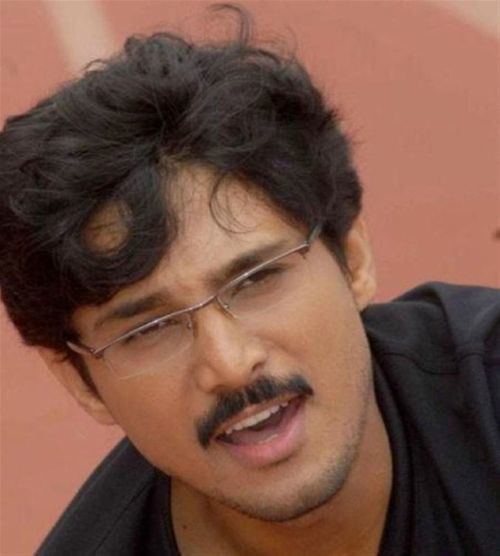 He has sung over 3500 songs in Kannada, 500 in Telugu, 250 plus in Tamil, Hindi. And in about 15 languages for projects like devotional albums, theme albums and commercials in a career spanning over 18 years. He has even dubbed for several Kannada films namely Amrithadhare Nooru Janmaku and "Mr. & Mrs Ramachari".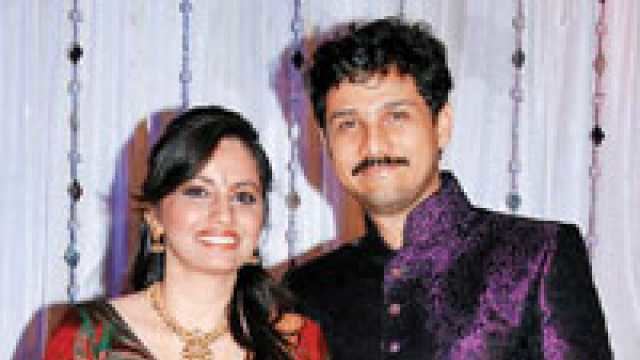 Some of his popular tracks include "Hogabeda Hudugi nanna bittu" (Annavra Makkalu), "Sumsumne Nagthale" (A), "Usire Usire" (Huccha), "Nuru Janmaku" (America America), "Kariya, I Love You" (Duniya), "Ondhondhe Bachitta Mathu" (Inthi Ninna Preethiya), "Prema Chandrama" (Yajamana), "Onde Usrirante" (Snehaloka), "Nagu Nagu" (Aramane), "Let's Dance Jothe Jothe" (Ee Bandhana),"Usire" (Huccha). He has sung the song ' yeto vellipoyindhi Manasu' ( Ninne pelladata ) which is super hit melody in Telugu.
Personal life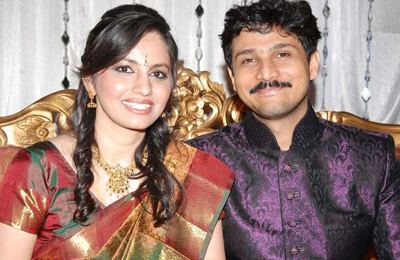 He has been married and divorced to Soumya Rao (Singer), Haripriya (dentist) and Ramya Vasishta (TV anchor and singer).
Acting
Rajesh Krishnan made his debut as an actor in Telugu and then acted the Kannada movies like Santosha and Gaalipata which also starred "Comedy Time" Ganesh and Diganth which was the biggest hit in the year 2008 and for which he was even nominated for the Filmfare for the best supporting actor award.
Albums and concerts
Rajesh has sung for the commercial albums like 'Aadu mathu', 'Anu Bandha','Baa Sangaati..in the journey of love' (an album under banner Techies4Kannada), 'Love — An Album By Suri', 'Usire Nanusire', Composer Sagar S's Dhamani Dhamaniyalu Kannada, Deva Nama and many more and Popular Remix albums and albums based on bhaavgeete such as 'Aakashada Neeliyalli', 'O Nanna Chetana – Kuvempu', 'Shravanada Siri Baralide — Da Ra Bendre'. He has also performed in the US, South East Asia and along concerts across India.
Television, modelling, radio and anchoring
Rajesh has also modeled for Maruti Suzuki Wagonar TV, Manjal soap, Indulekha hair oil commercials and couple of other brands.
He was Judge for many singing reality shows such as SA RE GA MA PA telecast on Zee kannada TV, Confident Star Singer aired on Asianet Suvarna, Music na superstar and also Voice of Bengaluru in TV9.
Rajesh Krishnan appeared in ZeeKannada Weekend With Ramesh in January 2016.
Discography
2017
2016
2012
2011
2011 - Kanasina Hosputa from Lifeu Ishtene (Kannada)
2011 - Kannalle Sambhashane from Villain (Kannada)
2011 - Parijathada from Krishnan Marriage Story (Kannada)
2011 - Onde Ondu Saari (Kannada)
2011 - Kusumadha Baana from Gun (Kannada)
2011 - Nee Nello from Veera Bahu (Kannada)
2011 - Ninna Mukha Nodi from "Murali Meets Meera" (Kannada)
2011 - Haage Summane from Mr. Duplicate (Kannada)
2011 - Karedaaga from AK 56 (Kannada)
2011 - Sona Sona from Boss (kannada)
2011 - Rakshaka Aaptharakshaka from Aaptharakshaka (Kannada)
2011 - Edaru Mane Meenakshi from Dhool (Kannada)
2011 - Kanasondhu Jaari from Thavarina Runa (Kannada)
2010
2011 - 90 90 90 from 90 (Kannada)
2010 - Modalasala from "Modalasala" (Kannada)
2010 - Swayamvara ( Kannada )
2010 - Panchamaveda from Kalgejje (Kannada)
2010 - College College ( Kannada )
2010 - School Master ( Kannada )
2010 - Preethiya Loka from Preethiya Loka (Kannada)
2010 - Shri Harikathe ( Kannada )
2010 - Shambho Shankara ( Kannada )
2010 - Premism ( Kannada )
2010 - He Sarasu ( Kannada )
2010 - Jighi Jighi Jinkhemaari from Karthik (Kannada)
2010 - Ee Sanje ( Kannada )
2010 - Nooru Janmaku from Nooru Janmaku ( Kannada )
2010 - Baanu Bhoomi Seridha from Police Quarters ( Kannada )
2010 - Egiga Nannalli Naanilla Kane from Antharathma ( Kannada )
2010 - Khadak ( Kannada )
2010 - Sihigaali ( Kannada )
2010 - Ninna Usirali Usiraguve from 02 Ninna Usirali Usiraguve (Kannada)
2010 - Ninna naanu nodo from Jugaari ( Kannada )
2010 - Krishna Nee Late Aag Baro ( Kannada )
2010 - Silence ( Kannada )
2010 - Crazy Kutumba ( Kannada )
2010 - Yaare Nee Hudugi ( Kannada )
2010 - Just Math Mathalli ( Kannada )
2010 - Meshtru ( Kannada )
2010 - Aptharakshaka ( Kannada )
2010 - Eshwara ( Kannada )
2010 - Tsunami ( Kannada )
2010 - Lift Kodla ( Kannada )
2010 - Januma Janumadallu ( Kannada )
2010 - Nee Adada Mathu from "Krishan Love Story" ( Kannada )
2010 - Parole ( Kannada )
2010 - Kuku Kokileyanda from Prithvi (Kannada)
2010 - Dildar ( Kannada )
2010 - Meghavarshini ( Kannada )
2010 - Male Bille from FM Radio (Kannada)
2010 - Ninnadhe from FM Radio (Kannada)
2010 - Yenaithu Nang from FM Radio (Kannada)
2009
2009 - Nenedu Nenedu Nonde from Gilli ( Kannada )
2009 - Hrudayagala Vishya ( Kannada )
2009 - Manase Yaava Ragadalli from Kalakaar ( Kannada )
2009 - Muniya ( Kannada )
2009 - Olave Jeevana Lekkachara! ( Kannada )
2009 - Abhimaani ( Kannada )
2009 - Manas Dinji — Album song (Tulu)
2009 - Nirudyogi ( Kannada )
2009 - Yemma Yemmammo from Abhay ( Kannada )
2009 - Eddelu Manjunatha ( Kannada )
2009 - Machaa ( Kannada )
2009 - Yodha ( Kannada )
2009 - Nannedeya Haadu ( Kannada )
2009 - Ee Sambhashane ( Kannada )
2009 - Kallara Santhe ( Kannada )
2009 - Ravana ( Kannada )
2009 - Vayuputra ( Kannada )
2009 - Devaru Kotta Tangi ( Kannada )
2009 - Kencha ( Kannada )
2009 - Uda ( Kannada )
2009 - Nanda ( Kannada )
2008
2008 - Hogi Baa Magale ( Kannada )
2008 - Gange Baare Thunge Baare ( Kannada )
2008 - Bombaat ( Kannada )
2008 - Anthu Inthu Preethi Banthu ( Kannada )
2008 - Sangathi ( Kannada )
2008 - Aleleyo Hadidavu from Slum Bala ( Kannada )
2008 - Neene Neene ( Kannada )
2008 - Hani Hani from Hani Hani ( Kannada )
2008 - Amalu Amalu from Vamshi ( Kannada )
2008 - Nannusire ( Kannada )
2008 - Satya In Love ( Kannada )
2008 - Honganasu ( Kannada )
2008 - Navashakthi Vaibhava ( Kannada )
2008 - Gooli ( Kannada )
2008 - Athmeeya ( Kannada )
2008 - Ganesha Matte Banda ( Kannada )
2008 - Aramane ( Kannada )
2008 - Yuga Yugagale Saagali ( Kannada )
2008 - PUC ( Kannada )
2008 - Hey Hudugi from Patre Loves Padma ( Kannada )
2008 - Akka Tangi ( Kannada )
2008 - Tata Birla ( Kannada )
2008 - Taj Mahal ( Kannada )
2008 - Kodagana Koli Nungitha ( Kannada )
2008 - Endu Endu Mugisada from Inthi Ninna Preethiya ( Kannada )
2008 - Ondonde from Inthi Ninna Preethiya ( Kannada )
2007
2007 - Yaaro Kannalli from Orata I Love You (Kannada)
2007 - Yene Yene from Orata I Love You (Kannada)
2007 - Saddu Saddu from Orata I Love You (Kannada)
2007 - Lets Dance from Ee Bhandhana (Kannada)
2007 - Duniya ( Kannada )
2007 - Guna ( Kannada )
2007 - #73, Shantinivasa ( Kannada )
2007 - Orata I Love U ( Kannada )
2007 - Circle Rowdy ( Kannada )
2007 - Snehana Preetina ( Kannada )
2007 - Snehanjali ( Kannada )
2007 - Tangiya Mane ( Kannada )
2007 - Ninade Nenapu ( Kannada )
2007 - Jeevana Dhare ( Kannada )
2007 - Nanna Stylu Berene from Geleya ( Kannada )
2007 - Savi Savi Nenapu ( Kannada )
2007 - Jambada Hudugi ( Kannada )
2007 - Rakshaka ( Kannada )
2007 - Kshana Kshana ( Kannada )
2007 - Parodi ( Kannada )
2007 - Havaa ( Kannada )
2007 - Biddu Biddu from Pallakki ( Kannada )
2007 - Gunavantha ( Kannada )
2007 - Meera Madhava Raghava ( Kannada )
2007 - Ganesha ( Kannada )
2007 - Janapada ( Kannada )
2007 - Ugaadi ( Kannada )
2007 - Shukra ( Kannada )
2007 - Baaro Nam Terige from Mathad Matadhu Mallige ( Kannada )
2007 - Ondu Preethiya Kate ( Kannada )
2007 - Bhakta ( Kannada )
2007 - Madarangiyalli from "Milana" (Kannada)
2007 - Nanu Neenu Jodi ( Kannada )
2006
2006 - Ene Madonna Namage from Suntaragaali ( Kannada )
2006 - Kallaralli Hoovagi ( Kannada )
2006 - Hubli ( Kannada )
2006 - Ashoka ( Kannada )
2006 - Mandya ( Kannada )
2006 - Student ( Kannada )
2006 - Nannavalu from "My Autograph" (Kannada)
2006 - Malle Hudugi from "My Autograph" (Kannada)
2006 - Honeymoon Express ( Kannada )
2006 - Ambi ( Kannada )
2006 - Neenello Naanalle ( Kannada )
2006 - JAAJIYA HOO CHANDA from Tandege Takka Maga ( Kannada )
2006 - Jothe Jotheyali ( Kannada )
2006 - Care Of Footpath ( Kannada )
2006 - O Priyathama ( Kannada )
2006 - Road Romeo ( Kannada )
2006 - Thangigagi ( Kannada )
2006 - E Dina Kushi Agidhe from 7'O Clock ( Kannada )
2006 - Odahuttidavalu ( Kannada )
2006 - Shubam ( Kannada )
2005
2005 - Maharaja ( Kannada )
2005 - Love Story ( Kannada )
2005 - Olave ( Kannada )
2005 - Samarasimha Naika ( Kannada )
2005 - Kabadi Kabadi from Auto Shankar ( Kannada )
2005 - Yeshwanth ( Kannada )
2005 - Joke Falls ( Kannada )
2005 - Akka Pakka from Abhinandane ( Kannada )
2005 - Devarane Devarane from Abhinandane ( Kannada )
2005 - Hucchu Preethiya from Abhinandane ( Kannada )
2005 - Madhura Madhura from Abhinandane ( Kannada )
2005 - Preethiya Yaardu Akshara from Abhinandane ( Kannada )
2005 - Suriyange Benne from Abhinandane ( Kannada )
2005 - Shambu ( Kannada )
2005 - Gelathi Gelathi from Amrithadhare (Kannada)
2005 - Adalu badalu from Masaala (Kannada)
2005 - Gaali Bandaga from Swamy ( Kannada )
2005 - Yenidu E dina from Akash ( Kannada )
2004
2004 - Oh Priyatham from Monalisa (Kannada)
2004 - Ee Manasella Neene from Monalisa (Kannada)
2004 - Pakkada Mane Hudagi ( Kannada )
2004 - Malage Malage Gubbimari from "Nalla" (Kannada)
2004 - Manase Manase from "Ranga SSLC" (Kannada)
2004 - Chitte Chitte from "Ranga SSLC" (Kannada)
2004 - Darshan ( Kannada )
2004 - Kalasipalya ( Kannada )
2004 - Bidalaare ( Kannada )
2004 - Y2K ( Kannada )
2004 - Praana ( Kannada )
2004 - Bhagavan ( Kannada )
2004 - EE BADUKU SUNDRA from Santosha ( Kannada )
2003
2003 - Pakka Chukka ( Kannada )
2003 - Yendho Kanda Kanasu from Lankesh Patrike (Kannada)
2003 - Andhada Chandadha Krishniya from Swathi Muthu ( Kannada )
2003 - Malagiruva from Swathi Muthu ( Kannada )
2003 - Amma Dharma from Swathi Muthu ( Kannada )
2003 - Laali from Swathi Muthu ( Kannada )
2003 - Suvvi Suvvi from Swathi Muthu ( Kannada )
2003 - Manasu Berda from Swathi Muthu ( Kannada )
2003 - Shubayoga Koodibanthamma from Chigurida Kanasu (Kannada)
2003 - Preethige Januma from Excuaseme (kannada)
2003 - Kanneeridhu Raktha Kanneeridhu from "Raktha Kanneeru" (Kannada)
2002
2002 - I want to kiss my darling from H2O ( Kannada )
2002 - Prema Patra from Ninne Preethisuve (Kannada)
2002 - Kogileya Haadu from Ninne Preethisuve (Kannada)
2002 - Gudi Ganteyu from Ninne Preethisuve (Kannada)
2002 - Olave Nanna Olave from Ninne Preethisuve (Kannada)
2002 - Ninna Preethiya from Ninne Preethisuve (Kannada)
2002 - Nanna Preethiya Devathe from Ninne Preethisuve (Kannada)
2002 - Manasella Neene from Manasella Neene ( Kannada )
2002 - Yede Chipenile from "Nagarahavu" (Kannada)
2002 - I want to say something from "Nagarahavu" (Kannada)
2002 - Thangali Mele from Majestic (Kannada)
2002 - Yellelli Naa Nodali from "Ninagagi" (Kannada)
2002 - Naane Naane from Majestic (Kannada)
2002 - Eno Modi Madide from Ondagona Baa (Kannada)
2001
2001 - Ee Nadiyali from "Shaapa" (Kannada)
2001 - Neela ( Kannada )
2001 - Asura ( Kannada )
2001- Usire Usire from Huchcha (Kannada)
2000
2000 - Suryavamsha ( Kannada )
2000 - Galate Aliyandru ( Kannada )
2000 - Devaramaga ( Kannada )
2000 - Nan Hendthi Chennagiddale ( Kannada )
2000 - Kachaguli Huduga from Krishna Leele (Kannada)
2000 - Premachandrama from "Yajamana" (Kannada)
2000 - Namma Maneyalli from "Yajamana" (Kannada)
2000 - Sree Gandhada Gombe from "Yajamana" (Kannada)
2000 - O Maina O Maina from "Yajamana" (Kannada)
2000 - Nanna Hendthi from Nan Hendthi Chennagidale (Kannada)
2000 - Maduve Madi Nodu from Nan Hendthi Chennagidale (Kannada)
2000 - Bhoomigondu Banna from Nan Hendthi Chennagidale (Kannada)
1999
1999 - Raveena from Upendra (Kannada)
1999 - Minchuhola from "Swasthik" (kannada)
1999 - Edu Yelelu from "Swasthik" (kannada)
1999 - Jee Jee Kyajee from "Swasthik" (kannada)
1999 - "Are Jinga Jingaalee" from "Veerappa Nayaka" (Kannada)
1999 - "Ee Adharadali Garigala" from "Veerappa Nayaka" (Kannada)
1999 - Kubera ( Kannada )
1999 - Prema Prema from Z (Kannada)
1999 - Kele Kishori from Z (Kannada)
1999 - Januma Needuthale from "Bevu Bella" (Kannada)
1999 - Belli Chukki bale from No. 1 (Kannada)
1999 - Namma Oora Chaluve from "Bevu Bella" (Kannada)
1999 - Devarigondhu Kaagadha from "Bevu Bella" (Kannada)
1998
1998 - Yavvi Yaaravvi from Kurubana Rani (Kannada)
1998 - Baare Baare from Kurubana Rani (Kannada)
1998 - Banna Bannada from Kurubana Rani (Kannada)
1998 - Baravva Bhageerathi from Kurubana Rani (Kannada)
1998 - Sa Pa Ni Sa from Bhoomi Thayiya Chochchala Maga (Kannada)
1998 - Le Le Le Le from Bhoomi Thayiya Chochchala Maga (Kannada)
1998 - Naa Preethiya Huduga from Bhoomi Thayiya Chochchala Maga (Kannada)
1998 - Kanasina TV from Gadibidi Krishna (Kannada)
1998 - Baare Baare from Gadibidi Krishna (Kannada)
1998 - Jhumka Jhumka from Bhoomi Thayiya Chochchala Maga (Kannada)
1998 - Nenapu Nenapu from Andaman (Kannada)
1998 - Ah Nidirege from Doni Sagali (Kannada)
1998 - "Sum Sumne Nagatale" from "A" (Kannada)
1997
1997 - Chandana Kampa Laali from Laali (Kannada)
1997 - Maya Maya from Laali (Kannada)
1997 - Suvvi Suvvi Saviyaada from Laali (Kannada)
1997 - Baagale Illade from Laali (Kannada)
1997 - Mungarina Minchu from Mungarina Minchu (Kannada)
1997 Sevanthi Sevanthi from O Mallige (Kannada)
1997 Sura Sundara from O Mallige (Kannada)
1997 - Kudure Eri from Jodi Hakki (Kannada)
1997 - Jolly Jolly Day from Jodi Hakki (Kannada)
1997 - Neela Neela Neelambari from Jodi Hakki (Kannada)
1996
1996 - Huchhara Sante from Ulta Plata (kannada)
1996 - Hombale Hombale from Nannaseya Hoove (Kannada)
1996 - Preethi Embuva from Aadithya (Kannada)
1996 - Hennu Chanda from Nannaseya Hoove (Kannada)
1996 - O Kusumave from Thavarina Thottilu (Kannada)
1996 - Ivanyara Maganu from Janumada Jodi (Kannada)
1996 - Janumada Jodi Neenu from Janumada Jodi (Kannada)
1996 - Hogabeda Hudugi Nanna Bittu from Annavra Makkalu (Kannada)
1996 - Aadabeku Raja from Annavra Makkalu (Kannada)
1996 - Annavra Makkalu Naavu from Annavra Makkalu (Kannada)
1995
1995 - Shame Shame from Operation Antha (Kannada)
1995 - Love Bloody Love from Himapatha (Kannada)
1995 - Oho Monalisa from Anuraga Sangama (Kannada)
1995 - America America Title song from America America (Kannada)
1995 - Hegide Nam Desha from America America (Kannada)
1995 - Baanalli Odo Megha from America America (Kannada)
1995 - Nooru Janmaku from America America (Kannada)
1993
1993 - Manju Manju from Hoovu Hannu (Kannada)
1993 - Kadambari ( Kannada )
1993 - ManiKantana Mahime ( Kannada )
1991
1991 - Chatti ellade from Gauri Ganesha (1991)
Other languages
Ayya Padichavare — Jaihind 2 (2014) (Tamil)
Kiligal Parannatho — Trivandrum Lodge (2012) (Malayalam)
Nee Kosame — Lakshmi (2006) (Telugu)
Idhu Kadhal — Vattaram (2006) (Tamil)
Nuvvante Naakisthtam — Santhosham (2002) (Telugu)
Meghamai Vandhu — Thulladha Manamum Thullum (1999) (Tamil)
Yeto Vellipoyindi — Ninne Pelladatha (1996) (Telugu)
References
Rajesh Krishnan Wikipedia
(Text) CC BY-SA