Coronation

2 May 1956




Successor

Aishwarya of Nepal


Name

Queen of




Religion

Hindu








Reign

13 March 1955 – 31 January 1972




Born

19 August 1928 (age 94) Kathmandu, Nepal (

1928-08-19

)


House

Rana dynasty (by birth)Shah dynasty (by marriage)


Father

Hari Shamsher Jang Bahadur Rana




Mother

Megha Kumari Rajya Laxmi




Spouse

Mahendra of Nepal (m. 1952)


Parents

Megha Kumari Rajya Laxmi, Hari Shamsher Jang Bahadur Rana




Similar People

Mahendra of Nepal, Himani Shah, Birendra of Nepal, Gyanendra of Nepal, Tribhuvan of Nepal




Predecessor

Kanti Rajya Laxmi Devi

Synd11 11 71 king mahendra and queen ratna of nepal arrive in new delhi
Ratna Rajya Laxmi Devi Shah (born 19 August 1928) was Queen consort of Nepal from 1955 to 1972 and Queen Mother from 1972 to 2008 when the royal family were stripped of all titles and privileges.
Contents
She is the second wife of King Mahendra of Nepal (1920–1972). Queen Ratna belongs to the aristocratic Rana family and is the daughter of late Honorary General Hari Shamsher Jang Bahadur Rana and his wife, Megha Kumari Rajya Laxmi.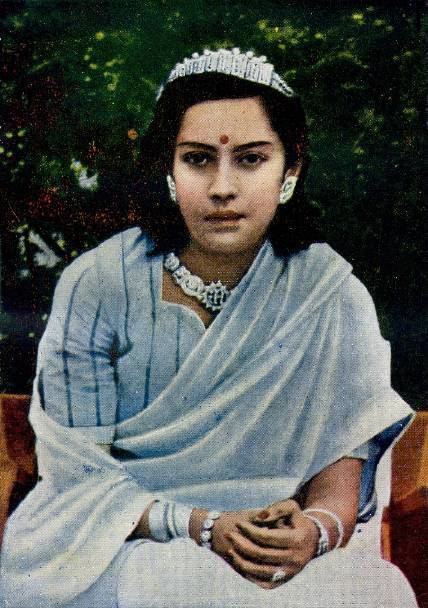 First State Visit of King Mahendra and Queen Ratna of Nepal in United kingdom(Britain)
Life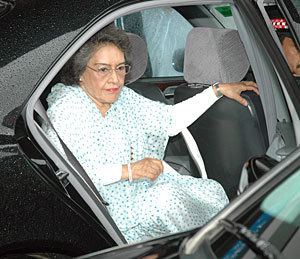 Ratna's older sister Indra had married Crown Prince Mahendra in 1940 but died in 1950. Two years later, Ratna married Mahendra. There were no children by this marriage as the new queen was sterilised to avoid succession problems; Mahendra already had three sons and three daughters by Indra. She became Queen Consort after Mahendra's father King Tribhuvan died in 1955.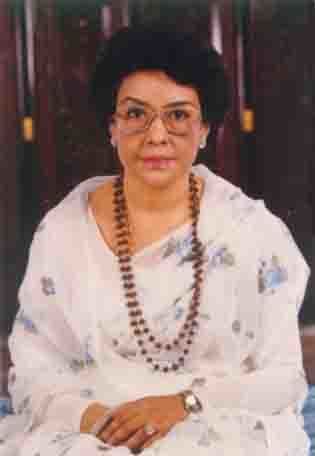 In 1972 Mahendra suffered a fatal heart attack while hunting in Chitwan National Park. Ratna thereby became Queen Mother.
Name Ratna means "Jewel" or "Gem".
On the evening of June 1, 2001- when the Nepalese royal massacre took place - the Queen Mother was sitting with her sister-in-law Princess Helen Shah in the anteroom, and thus survived. The two women heard the gunshots but did not take them seriously. A few minutes later, Prince Paras came and told them that the Crown Prince Dipendra had shot everybody, including the King.
The monarchy was abolished in 2008. All members of the royal family had to leave the Narayanhity Palace, with the exception of the Queen Mother. The former Queen Mother Ratna was allowed to stay in Mahendra Manzil, her House in the Narayanhity Palace, where she is still living.
Public work
Colonel in Chief Corps of Artillery (2 May 1956).
Nepal Children's Organisation (Bal Mandir).
The former Queen Mother was famous for her social work helping children in Nepal. The Nepalese monarchy was abolished in 2008 after the Constituent Assembly election.
Titles and styles
1928 – 1952: Lady Ratna Rajya Laxmi Devi.
1952 – 1955: Her Royal Highness The Crown Princess of Nepal.
1955 – 1972: Her Majesty The Queen of Nepal.
1972 – 2001: Her Majesty The Queen Mother of Nepal.
1–4 June 2001: Her Majesty The Queen Grandmother of Nepal.
4 June 2001 – 2008: Her Majesty The Queen Mother of Nepal.
2008 – present: Her Majesty Queen Ratna of Nepal (titular).
National honours
Nepal Pratap Bhaskara (25 December 1966).
Order of Ojaswi Rajanya, 1st class (1964).
Tribhuvan Order of the Footprint of Democracy, 1st class (2 May 1956).
Order of the Footprint of Nepal, 1st class (16 December 1962).
Order of Om Rama Patta, 1st class.
Ati Suvikhyata Sewalankar [Renowned Service Medal].
King Mahendra Investiture Medal (2 May 1956).
King Birendra Investiture Medal (24 February 1975).
Commemorative Silver Jubilee Medal of King Birendra (31 January 1997).
King Gyanendra Investiture Medal (4 June 2001).
Foreign honours
Japan: Paulwonia Dame Grand Cordon of the Order of the Precious Crown
Germany: Grand Cross of the Order of Merit of the Federal Republic of Germany, Special Issue
Netherlands: Dame Grand Cross of the Order of the Netherlands Lion (25 April 1967).
Laos : Dame Grand Cross of the Order of the Million Elephants and the White Parasol (1970).
Pakistan : Nishan-e-Imtiaz (1970).
Philippines : Golden Heart Medal 1st Class (1971).
Iran : Commemorative Medal of the 2500th Anniversary of the founding of the Persian Empire (14 October 1971).
References
Queen Ratna of Nepal Wikipedia
(Text) CC BY-SA