China




Fujian




1.192 million (2000)


11,218.91 km2


Zhu Ming




Huaqiao University, Quanzhou Normal University, Yang-En University



Quanzhou (formerly called Zayton/Chinchew, Chinese: ; pinyin: ; Wade–Giles: ; Pe?h-oe-ji: ) is the largest city of Fujian Province, Peoples Republic of China. It borders all other prefecture-level cities in Fujian but two (Ningde and Nanping) and faces the Taiwan Strait. In older English works, its name may appear as Chinchew, Chinchu, Choanchew, or Zayton, from Arabic.
The prefecture-level city of Quanzhou has an area of 11,245 square kilometres (4,342 sq mi) and, as of the 2010 Census, a population of 8,128,530 inhabitants. Its extended metropolitan (built-up area) is home to 6,107,475 inhabitants, encompassing the Licheng, Fengze, and Luojiang urban districts, Jinjiang, Nanan, and Shishi cities, Huian county, and the Quanzhou District for Taiwanese Investment. Quanzhou is now the 12th largest Chinese extended metropolitan area (as of 2010).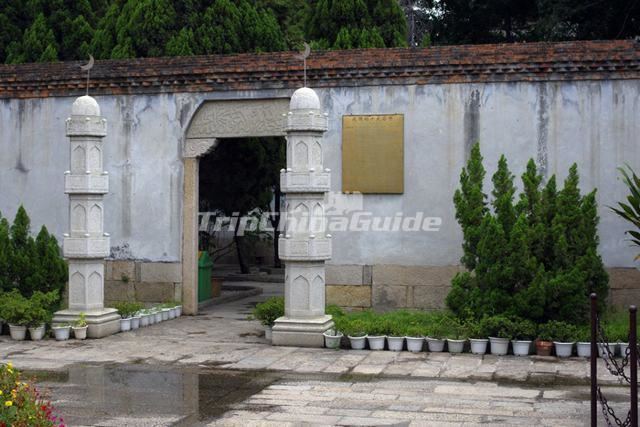 Quanzhou is a coastal prefecture bordered by Xiamen, a sub-provincial city to the southwest. It also borders the Zhangzhou and Longyan prefecture-level city towards the west. Putian and Fuzhou form Quanzhous northeast border and Sanming forms the northwest one.
Quanzhou is mountainous and has many rivers and tributaries originating from the interior. The prefectures two major rivers (Jinjiang and Luojiang) flow into Quanzhou Bay from the west and north, respectively, forming wide estuaries.
Quanzhou has four distinct seasons. Its moderate temperature ranges from 0 to 38 degree Celsius. In summer there are typhoons that bring rain and some damage to the city.
Quanzhou was established in 718 during the Tang Dynasty (618–907). In those days, Guangzhou was Chinas greatest seaport, but this status would be surpassed later by Quanzhou. During the Song Dynasty (960–1279) and Yuan Dynasty (1279–1368), Quanzhou was one of the worlds largest seaports, hosting a large community of foreign-born inhabitants from across the Eurasian world. Today, a number of relics related to that era are preserved and exhibited in the Quanzhou Overseas Relations Museum. A particularly important exhibit is the so-called Quanzhou ship, a seagoing junk that sunk some time after 1272, and was recovered in 1973–74.
Due to its reputation, Quanzhou has been called the starting point of the Maritime Silk Road. From the Arabic name of the city, Zayton ????? (alternately spelt Zaitun or Zaytun), the word satin would be coined. Zayton is also the word for olive and the symbol of peace in the Arabic and Persian languages. Quanzhou may have been given this title by the Muslims in honour of fact that it was a cultural melting pot at the time due to the trade culture.
Zhao Rugua was a customs inspector at Quanzhou. He wrote the Zhufan Zhi (, Chu-fan-chi), which was about foreign places and items which were traded. Zhao wrote on the origin of the frankincense trade into China:
"Ruxiang or xunluxiang comes from the three Dashi countries of Murbat (Maloba), Shihr (Shihe), and Dhofar (Nufa), from the depths of the remotest mountains. The tree which yields this drug may generally be compared to the pine tree. Its trunk is notched with a hatchet, upon which the resin flows out, and, when hardened, turns into incense, which is gathered and made into lumps. It is transported on elephants to the Dashi (on the coast), who then load it upon their ships to exchange it for other commodities in Sanfoqi. This is the reason why it is commonly collected at and known as a product of Sanfoqi."
In The Travels of Marco Polo, Quanzhou (called Zayton, Tswan-Chau, or Chin-Cheu) was listed as the departure point for Marco Polos expedition to escort the 17-year-old Mongol princess bride Kokochin to her new husband in the Mongol Ilkhanate. In 1357 however a military revolt by the local Muslim militia against the Yuan dynasty led to the Ispah Rebellion that resulted in large civilian casualties in Quanzhou, with the Yuan loyalist commander Chen Youding massacring the Muslim community.
Of the Chinese Li family in Quanzhou, Li Nu, the son of Li Lu, visited Hormuz in Persia in 1376, converted to Islam, married a Persian girl, and brought her back to Quanzhou. Li Nu was the ancestor of the Ming Dynasty reformer Li Chih.
Quanzhou was an important port in Yuan dynasty. For example, the Mongol invasion of Java during the reign of Kubilai Khan sailed from this port.
The Ding family of Chendai in Quanzhou claims descent from the Muslim leader Sayyid Ajjal Shams al-Din Omar through his son Nasr al-Din (Nasruddin or Na-su-la-ding in Chinese). The Ding family has branches in Taiwan, the Philippines, and Malaysia among the diaspora Chinese communities there, no longer practicing Islam but still maintaining a Hui identity. The deputy secretary-general of the Chinese Muslim Association on Taiwan, Ishag Ma (???), has claimed "Sayyid is an honorable title given to descendants of the Prophet Mohammed, hence Sayyid Shamsuddin must be connected to Prophet Mohammed". The Ding (Ting) family in Taisi Township in Yunlin County of Taiwan, traces descent from him through the Ding of Quanzhou in Fujian.
Nasruddin was appointed governor in Karadjang, and retained his position in Yunnan till his death, which Rashid, writing about 1300, says occurred five or six years before (according to the Yuan shi, Na-su-la ding died in 1292). Nasr-uddins son Abubeker, who had the surname Bayan Fenchan (evidently the Boyen cha-r of the Yuan shi), was governor in Zaitun at the time Rashid wrote. He bore also his grandfathers title of Sayid Edjell, and was minister of Finance under Kubilais successor (DOhsson, torn, ii, pp. 476, 507, 508). Nasr-uddin is mentioned by M. Polo, who styles him Nescradin (vol. ii, p. 66).
Quanzhou is a city with a long history and rich culture. It also has many religions, people believe in different religions from various countries came to Quanzhou in ancient time, especially during Song and Yuan Dynasty. Religions like Christianity, Islam, Buddhism, Taoism etc. can be seen here, you can visit different places of interest about these religion in Quanzhou city. It was elected as "Ten Most Charm City in China" in 2004 by CCTV Chinas first charm city selected activities.
Historically, Quanzhou exported black tea, camphor, sugar, indigo, tobacco, ceramics, cloth made of grass, and some minerals. They imported, primarily from Guangzhou, wool cloth, wine, and watches, as of 1832. As of that time, the East India Company was exporting an estimated ?150,000 a year in black tea from Quanzhou.
Quanzhou is one of the twenty-four famous historic cultural cities first approved by the Chinese government.
Liyuan Opera ()
Puppet Show ()
Gaojia Opera ()
Dacheng Opera ()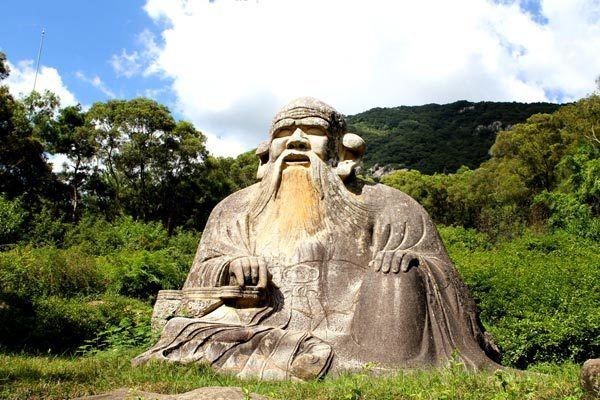 Notable Historical and cultural sites (the 18 views of Quanzhou as recommended by the Fujian tourism board) include:
Qing Yuan mountain () - The tallest hill within the city limits, which hosts a great view of West lake.
East Lake Park () - Located in the city center. It is home to a small zoo.
West lake Park () - The largest body of fresh water within the city limits.
Kaiyuan Temple () - A very old and famous pair of giant stone pagodas surrounded by temples and wonderful gardens and trees.
Ashab Mosque () - Said to date to 1009, it is thought to be one of the oldest Mosques in the world and the only one build in that century in China.
Scholar Street () - Champion street about 500 meters long, elegant environment, mainly engaged in tourism and cultural crafts.
Notable Modern cultural sites include:
Fengze Square - Located in the city center and acts as a venue for shows and events.
Da Ping Shan - The second tallest hill within the city limits, crowned with an enormous equestrian statue of Zheng Chenggong.
The Embassy Lounge - Situated in the "1916 Cultural Ideas Zone" which acts as a platform for mixing traditional Chinese art with modern building techniques and designs. It also acts as the unofficial headquarters for the expats of Quanzhou.
Quanzhou Wikipedia
(,)http://www.thehindu.com/multimedia/dynamic/01523/TH20_PAGE_1_ANANTH_1523758g.jpg(,)http://www.thehindu.com/multimedia/dynamic/01523/TH20_PAGE_ANANTH_S_1523759g.jpg(,)http://www.whatsonxiamen.com/travel_images/Quanzhou-Nanyin-music2_814c7.jpg(,)http://www.babelstone.co.uk/Blog/Images/MS_BODL_264_259v.jpg(,)http://www.whatsonxiamen.com/travel_images/Quanzhou-twin-pagodas1_a16c9.jpg(,)http://www.koh-antique.net/blog/b1.JPG(,)http://upload.wikimedia.org/wikipedia/commons/d/db/Mosque_in_Quanzhou,_Fujian,_China.jpg(,)http://www.cnshscj.com/ysmj/images/mj/baikui/10.jpg(,)http://traditions.cultural-china.com/chinaWH/images/arbigimages/2aab7bbbc55424dea3587d890a74a096.jpg(,)http://www.westheimphoto.com/lightbox/gallery/Stock_Photos_China/CHNtp08300.jpg(,)http://usf.usfca.edu/ricci/events/lotusandcross/images/big21_excavation1(500).jpg
(,)http://www.tripchinaguide.com/public/upload/photo/qingjing-mosque/img_752_d20131028100308.jpg(,)http://www.patricksiah.com/uploads/1/6/1/2/16129450/1405487786.jpg(,)http://www.stone-fushi.com/Case/C028b.jpg(,)http://www.chinatouradvisors.com/members/4209/Quanzhou-Tian-Lake-7.jpg(,)http://fujian.chinadaily.com.cn/images/attachement/jpg/site1/20130910/001ec94e654613990cc320.jpg(,)http://l.b2b168.com/2011/12/27/11/201112271132179217324.jpg
(,)http://journey26.com/blog/wp-content/uploads/2010/05/P5027155-640x480.jpg(,)http://journey26.com/blog/wp-content/uploads/2010/05/P5017143-640x480.jpg(,)http://media-cache-ec0.pinimg.com/736x/99/72/35/9972354ccb0052b9f2ee8d6112d23700.jpg(,)http://english.cri.cn/mmsource/images/2014/05/16/d5d48245e7d44877a8e5e367ed02adc4.jpg(,)http://www.i-china.org/admin/eWebEditor/UploadFile/20109146240892.jpg(,)http://www.whatsonxiamen.com/infobank_images/1143117628769_9ouHX1vMr7gI.jpg(,)http://www.chinatourguide.com/china_photos/fujian/dining/fotiaoqiang.jpg(,)http://accidentaloriental.files.wordpress.com/2013/12/20131224-img_5544.jpg(,)http://farm1.static.flickr.com/244/447074995_87dda151b2.jpg
(,)http://www.chinaculture.org/chineseway/images/attachement/jpg/site1/20140528/0023ae606f1714ef81c001.jpg(,)http://www.whatsonxiamen.com/travel_images/Quanzhou-Lao-Tzu-statue3_bddaf.jpg(,)http://images.china.cn/attachement/jpg/site1007/20140527/00016c42b42314ee2d1702.jpg(,)http://www.whatsonxiamen.com/travel_images/006_a5181.jpg(,)http://data.en.yibada.com/data/images/full/14532/quanzhou-jpg.jpg%3Fw%3D685(,)http://arts.cultural-china.com/chinaWH/upload/upfiles/2010-04/14/quanzhou_chest_slapping_dance98764b4cc68ea45fd6c3.jpg(,)http://www.unesco.org/culture/ich/img/photo/thumb/01721-BIG.jpg(,)http://www.unesco.org/culture/ich/img/photo/thumb/01714-BIG.jpg(,)http://www.whatsonxiamen.com/photo_images/3_0341.jpg(,)http://www.chinesetimeschool.com/Portals/2/cms/images/201306/635072625719980000.jpeg(,)http://www.jiamei.us/upfiles/hexie.jpg(,)http://arts.cultural-china.com/chinaWH/upload/upfiles/2010-07/15/chengtian_temple_in_quanzhouf878bc89bf847e846d31.jpg(,)http://arts.cultural-china.com/chinaWH/upload/upfiles/2010-07/09/kaiyuan_temple_in_quanzhoud8296634e1f37a204e3e.jpg(,)http://arts.cultural-china.com/chinaWH/upload/upfiles/2009-06/22/quanzhou_chest_slapping_dance761c5d9c79fadb13f866.jpg