Covid-19
7

/

10

1

Votes

Alchetron

Rate This





Joel J. Richard




2






Joshua Safran




United States




27 September 2015






Terrorism thriller Drama Conspiracy thriller




Priyanka Chopra Josh Hopkins Jake McLaughlin Aunjanue Ellis Yasmine Al Massri Johanna Braddy Tate Ellington Graham Rogers Anabelle Acosta Russell Tovey Pearl Thusi Blair Underwood




American Broadcasting Company




People's Choice Award for Favorite Actress in a New TV Series




Priyanka Chopra, Jake McLaughlin, Johanna Braddy, Yasmine Al Massri, Graham Rogers





Facebook

Twitter

Instagram
Quantico is an American drama thriller series that premiered on ABC on September 27, 2015. The series was created by Joshua Safran and was produced by ABC Studios. Mark Gordon and Safran serve as executive producers.

Priyanka Chopra stars as Alex Parrish, a bright FBI recruit, who after graduating from the FBI Academy, joins the agency and later becomes a prime suspect of a terrorist attack on Grand Central Terminal. The cast includes Priyanka Chopra, Jake McLaughlin, Yasmine Al Massri, Johanna Braddy, Tate Ellington, Graham Rogers, Anabelle Acosta as her fellow recruits, and Josh Hopkins and Aunjanue Ellis as their trainers at the FBI academy, Quantico, Virginia. In season two, Russell Tovey, Pearl Thusi, Aarón Díaz and Blair Underwood were added to the main cast following the CIA plot elements.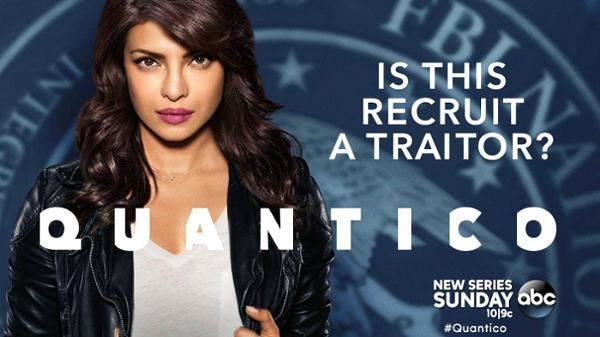 ABC originally ordered 13 episodes for the first season, and picked up the show for a full season with subsequent orders in October and November to a total of 22 episodes. On March 3, 2016, ABC renewed Quantico for a second season, which premiered on September 25, 2016.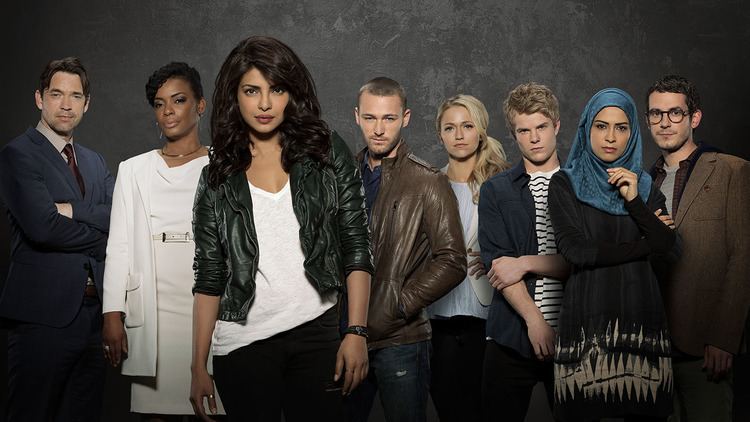 Alex Parrish, a promising FBI recruit, becomes a prime suspect following a terrorist attack on Grand Central Terminal. Alex is then taken into custody, where she finds out that she had been charged with the terrorist attack on Grand Central. Her initial escape is orchestrated by Deputy Director Miranda Shaw, her primary instructor at Quantico, who refuses to believe that she is guilty. Flashbacks show her and fellow agents training at the Quantico Academy. Alex met Ryan Booth on her way to the Academy. Ryan was later revealed to have been ordered by Liam O'Connor, a former partner/friend of Alex's father, to spy on Alex. While living at the Academy, she learned of her father's double-agent identity. She became friends with Shelby Wyatt and other recruits.
Alex is able to prove her innocence in the Grand Central Terminal bombing with the help of her classmates at Quantico and discovers that the bomber is former FBI analyst-trainee Elias Harper who had planted the bomb under the instructions of a mastermind terrorist. Having cleared her name in a congressional hearing, Alex is reinstated as an FBI agent and assigned to the field office in New York, specifically the operations section and now strives to uncover the true mastermind behind the bombings, as the 2016 Presidential election looms ever closer.
Liam is eventually revealed to be the person responsible and is killed by both Alex and Ryan. Alex is fired from the FBI as a result of the events of the bombing and the subsequent publicity. Two months later, Alex is approached by the CIA director Matthew Keyes, who offers her a position at the organization.
Even after clearing her name, saving millions of lives, and discovering the mastermind behind the Grand Central bombing, Alex has been fired from the FBI but still works undercover. Six months after the events in the season one finale, Alex is working as an analyst at the CIA, while living with Shelby and is still in a romantic relationship with Ryan. After waiting for months, Alex finds herself at "The Farm", the CIA's mysterious training facility, where she must go undercover with Ryan for the FBI. In the future, the President of the United States, the First Lady of the United States, and several other world leaders are being held hostage at the G-20 summit in New York by a group of terrorists called the Citizens Liberation Front. The real aim of the group is to generate public fear and highlight to the world leaders that the ongoing mass surveillance of the public is a necessary outcome in current global affairs.
Priyanka Chopra as Alexandra "Alex" Parrish, a promising FBI agent who becomes a prime suspect of the Grand Central bombing case. Framed, she goes into hiding to track down those responsible and clear her name. At the end of season one, Alex is fired by the FBI and is given the chance to work for the CIA. Six months after her termination from the FBI, Alex was seen working a desk job as an analyst at the CIA while living with Shelby and continuing her relationship with Ryan. Sometime later, she becomes a CIA recruit. In the future timeline, Alex manages to escape the hostage situation at the G-20 summit in New York.
Josh Hopkins as Liam O'Connor, a seasoned FBI agent who had a fling with Miranda Shaw, demoted to work at the FBI academy as a teacher. He and Alex's father had graduated from the FBI academy together many years ago, and one of their first undercover operations in Omaha was a blown sting killing over 200 people. He had a one-night stand with Alex on New Year's Eve. Liam was killed by Alex and Ryan after exposing himself as a terrorist. (season 1)
Jake McLaughlin as Ryan Booth, an undercover FBI agent who was tasked to surveil Alex, but fell in love with her instead. He takes over Miranda's role as staff counselor. Ryan is working in the New York Office and has taken over Hanna Wyland's position given to him by Liam O'Connor. In the future timeline, after completing his CIA training and undercover mission at Camp Peary, Ryan joins the terrorist group, the Citizens Liberation Front.
Aunjanue Ellis as Miranda Shaw, Assistant Director of the FBI Academy at Quantico, director of the training program at Quantico and Alex's mentor. She is removed from her prestigious role at Quantico, after allowing an undercover operation involving a trainee, Raina, to continue. At the end of season one, Miranda is named Deputy Director of the FBI. In the future, she is shown to be a representative of the terrorist group, the Citizens Liberation Front.
Yasmine Al Massri as Nimah and Raina Amin, twins brought into the program by Miranda, who masquerade as one person under Nimah's name. The aggressive and secular Nimah desperately wants to be a special agent but is not quite up to the physical and mental challenge, while the more religious Raina is better suited to the role, but only entered training because Nimah wanted it so much. Eventually, they are allowed to be revealed to the NATs. In the future timeline, Nimah and Raina are working undercover in a terrorist cell. Three months after the second bombing hit, Nimah is working as an agent in the New York branch, and Raina has left the FBI because Nimah reported her for being too emotionally involved with Hamza, whose terrorist cell they were infiltrating prior to the second bombing. Raina initially moved home to Detroit, Michigan, but later became a high-level diplomatic translator, while Nimah stayed on at the FBI. In the future, Nimah joins the terrorist organization, the Citizens Liberation Front, while Raina becomes the conference interpreter at the 2018 G-20 summit in New York.
Johanna Braddy as Shelby Wyatt, Alex's best friend and an excellent shot. She is wealthy and her family owns a couple of corporations. Shelby's parents were supposedly killed on 9/11, leading her to join the FBI to try to stop terrorist attacks in the future. She later learns her parents faked their deaths after unknowingly selling weapons software to the Taliban. After a scandal, Shelby was no longer considered an FBI agent because her relationship with Clayton was exposed as part of the process of the congressional testimony for the Command Center bombing. At the end of season one, Miranda reinstates Shelby as an agent. In the future, Shelby is working on a case to prevent further threats stemming from the hostage crisis, perpetuated by the Citizens Liberation Front.
Tate Ellington as Simon Asher. He is Jewish and has a fascination with Nimah and Raina, who discover that he spent part of his life in Gaza. Simon was officially kicked out of Quantico, but is secretly a deep cover agent, who is now in the hands of the terrorist. At the end of season one, Simon sacrifices himself to save the team, takes the bomb, and drives it off a bridge. (season 1)
Graham Rogers as Caleb Haas, who originally flunked out of the Academy as an agent, but was brought back to train as an analyst, and then reinstated as an agent-trainee again. Prior to the Grand Central Terminal Attack, Caleb was stationed as an analyst in San Diego, but requested a transfer to New York. Later in the events of the show, he commenced study at a law school in UC Berkeley. (season 1)
Anabelle Acosta as Natalie Vasquez, Alex's former rival in academy standings and for Ryan's heart as well. In the events after the attack, she is shown to have become an FBI agent and is one of the agents hunting down Alex. Shortly after Natalie helps Alex discover the real terrorist, Natalie is killed by an explosion. (season 1)
Russell Tovey as Harry Doyle, a mysterious character who is best described as part Thomas Crown, part grown-up Artful Dodger. He can be anything to anybody and is just as likely to seduce your husband as he is to pick his pocket when it is over. (season 2)
Pearl Thusi as Dayana Mampasi, a driven, disciplined, type-A lawyer working at her parents' Boston firm who struggles to fit into the world of espionage. After graduating from her CIA training, Dayana joins the terrorist organization, the Citizens Liberation Front. (season 2)
Aarón Díaz as León Velez, a thrill-seeking photojournalist with no home or life outside his backpack. After being forced out of Camp Peary, León joins the terrorist organization, the Citizens Liberation Front. (season 2)
Blair Underwood as Owen Hall, a charming, intelligent and inspirational CIA officer who every fledgling operative wishes he or she could learn from. (season 2)
On September 17, 2014, ABC announced the network had bought the original concept for the drama series written by Joshua Safran and produced by Mark Gordon Company, described as Grey's Anatomy meets Homeland. ABC ordered the pilot on January 23, 2015 for the 2015–16 television season. The pilot episode was filmed in Atlanta and directed by Marc Munden. On May 7, 2015, ABC picked up the pilot to series with an order of 13 episodes. ABC picked up the show for a full season on October 13, 2015, with an additional six episodes, increasing the episode count to 19 and in November to 22 episodes. On March 3, 2016, ABC announced that Quantico had been renewed for a second season, which premiered on September 25, 2016.
The pilot episode was filmed in Atlanta, with the series moving to film episodes after the pilot to Quebec, specifically the Montreal area in late summer 2015, using settings within downtown Montreal and Sherbrooke to stand in for New York and Quantico, respectively. Multiple scenes of the Quantico Academy were taken at the campus of the Université de Sherbrooke. Production of the first 13 episodes began on July 20, 2015 and ended on December 17, 2015. Production on season one continued in Montreal through to the season finale. On April 22, 2016, The New York Times reported that the production of the show would be moving to New York City for the second season. Show-creator Joshua Safran said that the reason for the move was because "Season 2 is going to be very much more a New York story." Filming for the second season started on July 13, 2016, confirmed by Priyanka Chopra.
Casting advertisements began in February 2015. Tate Ellington was the first actor, cast as an FBI trainee on February 9, 2015. On February 9, Graham Rogers joined the series as another FBI trainee. On February 25, it was announced that Aunjanue Ellis would play the leading role of Miranda Shaw, the assistant director of the training academy; Ellis was cast in this role following the success of ABC's How to Get Away with Murder, which also features an African American lead. Later, it was announced that Dougray Scott, initially cast as Ellis' character's former partner, had been re-cast as her subordinate. On February 25, Indian actress Priyanka Chopra landed the role of FBI trainee Alex Parrish, the series' young female lead. On March 3, it was announced that Jake McLaughlin would play Alex Parrish's love interest, while Johanna Braddy and Yasmine Al Massri were cast in the final co-starring roles.
After picking up the pilot, ABC began making casting changes. On May 19, 2015, it was announced that Dougray Scott, who played FBI Special Agent Liam O'Connor, had left the show and the role would be recast; Josh Hopkins replaced him in that role on July 17, 2015. On July 15, 2015, it was announced that Anabelle Acosta was cast for a multi-episode arc as a Quantico recruit and former cop. On July 20, 2015, Rick Cosnett signed on to play a recurring role as a gay former defense attorney and analyst recruit.
On September 4, 2015, it was announced that Acosta had been promoted to series regular. On September 11, 2015, Jacob Artist was cast in the recurring role of a friendly and confident FBI Agent in Training, who is a former quarterback from a wealthy, prominent family. It was announced on November 6, 2015, that Marcia Cross was cast as Claire Haas, Caleb's mother and wife of FBI Deputy Director Clayton Haas, who is a high-ranking senator and now Vice Presidential candidate. It was also announced in November 2015 that three people were cast for recurring characters, Jay Armstrong Johnson, Lenny Platt, and Li Jun Li, to be added after the first season's midseason break.
For the second season, the show added several series regulars, including Russell Tovey as Harry Doyle, Blair Underwood as CIA officer Owen Hall and Pearl Thusi as Dayana Mampasi. Aarón Díaz was announced to have joined the show for the second season in a recurring role as photojournalist León Velez. Díaz was later upgraded as a series regular for the second season of Quantico. On July 19, 2016, The Hollywood Reporter reported that Tracy Ifeachor and David Lim were added as recurring cast, and will be playing Lydia Hall and Sebastian Chen, respectively. Showrunner Joshua Safran revealed in an interview after the first-season finale, that the producers were in discussion of getting Revenge-alum Henry Czerny in the second season as the character he played in the finale is important for the story in season 2. Deadline reported on July 28, 2016, that Czerny had been added as a major recurring role as Matthew Keyes. On January 12, 2017, it was announced that Hunter Parrish was cast in a major recurring role in the second season of Quantico. On March 13, 2017, it was announced that Krysta Rodriguez was cast in the recurring role of Maxine Griffin in the second season of Quantico.
Quantico has received positive reviews from television critics. The review aggregator website Rotten Tomatoes reports an 84% approval rating with an average rating of 6.6/10 based on 54 reviews. The website's consensus reads, "Obvious copycatting aside, Quantico provides ludicrously entertaining thrills from a well-balanced cast." On Metacritic, the series holds a score of 70 out of 100 based on 25 reviews, indicating "generally favorable reviews".
Quantico was initially scheduled to air Tuesdays at 10:00 pm, but was moved to Sundays at 10:00 pm, due to Of Kings and Prophets (which was canceled after two late winter airings in that timeslot) being retooled. The show premiered on ABC on Sunday September 27, 2015. The episodes are approximately forty-three minutes, and are broadcast in both high-definition and standard. In India, the series premiered on October 3, 2015 on Star World Premiere. In Australia, the series premiered on the Seven Network on October 11, 2015. The series was acquired by Alibi in the UK. In South Africa, the series was acquired by pay-tv broadcaster DStv and airs on its Vuzu Amp channel a day after its US airing.
The series' episodes are also available for download at the iTunes Store in standard and high-definition version, and Amazon Video. ABC video on demand also releases recent episodes of the show for temporary viewing. Recent episodes (Season 1) were on Hulu, and are now (Season 2) available at ABC's official Quantico website and on Xfinity. On August 23, 2016, the first season became available to stream instantly on Netflix in various countries.
Quantico (TV series) Wikipedia