India




Marathi




Maharashtra




Yavatmal



Pusad is a city and a second largest municipal council in Yavatmal district after Yavatmal of Vidarbha region in the Indian state of Maharashtra.
Pusad gets its name from River Pus, as the town is located on bank of river Pus. Pusad falls under Yavatmal district. Pusad is known as "Educational City" Because it has many schools and colleges from long time when it was uncommon in the surrounding area. When Lokmanya Tilak visited Pusad (in pre-independence era), he called Pusad as "Swarajyachi Pandhari". Although officially a Taluka place, Pusad is comparable to the size of a District in terms of size and revenue. A proposal of declaring Pusad a district officially is under procedure at the moment.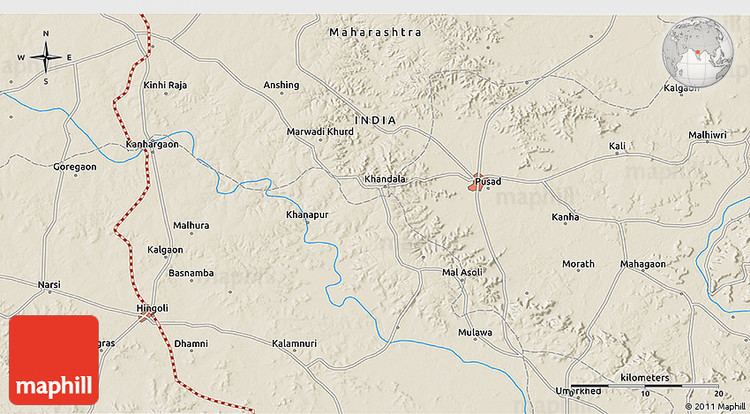 Pusad is located at 19.9°N 77.58°E? / 19.9; 77.58. It has an average elevation of 315 metres (1033 feet). Pusad is surrounded by hills from almost all the sides and is at little lower elevation than these hills. The name of the city originates from the name of the adjoining river called Pus Nadi. Pus nadi is lifeline of the city and also a source of drinking water and irrigation water. Pusad is also believed to be derived its name from its ancient name "Pushpawanti Nagari".
Pusad Wikipedia
(,)http://maps.maphill.com/atlas/19n50-77e25/3d-maps/shaded-relief-map/shaded-relief-3d-map-of-19n50-77e25.jpg(,)http://maps.maphill.com/atlas/19n50-77e25/location-maps/physical-map/physical-location-map-of-19n50-77e25.jpg(,)http://maps.maphill.com/atlas/19n50-77e25/location-maps/satellite-map/satellite-location-map-of-19n50-77e25.jpg(,)http://maps.maphill.com/atlas/19n50-77e25/3d-maps/satellite-map/satellite-3d-map-of-19n50-77e25.jpg(,)https://s-media-cache-ak0.pinimg.com/736x/5d/1a/aa/5d1aaa955736b94619cd69ea59df8115.jpg(,)http://maps.maphill.com/atlas/19n50-77e25/location-maps/gray-map/gray-location-map-of-19n50-77e25.jpg(,)http://upload.wikimedia.org/wikipedia/et/0/05/Pusad.jpg(,)http://i.ytimg.com/vi/2zX0dD1dOQg/0.jpg(,)http://i.ytimg.com/vi/ztQvzfmknIo/0.jpg
(,)http://photos.wikimapia.org/p/00/03/62/84/94_big.jpg(,)http://rangde-org-gen.s3-ap-southeast-1.amazonaws.com/newsletter/jan10/chapter_chatter.jpg(,)http://photos.wikimapia.org/p/00/01/69/72/03_big.jpg(,)http://images2.mygola.com/fdbfd2b55befbc1002f55d35bdaf71ad_1390666643_l.jpg(,)http://mw2.google.com/mw-panoramio/photos/medium/48367908.jpg(,)http://mw2.google.com/mw-panoramio/photos/medium/56312098.jpg(,)http://mw2.google.com/mw-panoramio/photos/medium/56312114.jpg